What's Up?
I went down to the lake on Sunday morning determined to find some birds to photograph. And I did. I swapped out the FlexShooter Mini for the Levered-Clamp FlexShooter Pro. It was the first time that I gave the Levered-Clamp head a good field test and I am happy to report that I fell in love with it; the levered-clamp is very easy to use as compared to a knob. In addition, I appreciated the stronger spring-loaded counter-balanced tension (as compared to the Mini). I will begin using the Levered-Clamp FlexShooter Pro whenever and whereever I use the 600 GM. I will stick with the FlexShooter Pro for my macro work as it is much easier to move the plate as a sort of focusing rail with the Pro, especially when you need to point the lens down at a steep angle.
We will be receiving our next shipment of Levered-Clamp FlexShooter Pro heads this afternoon; several folks took my advice and placed their credit card orders with Jim via phone: 1-863-692-0906. We will ship those heads today or tomorrow at which time we will run the credit cards.
While the hurricane did not get anywhere near us, the unsettled weather showed up mid-morning yesterday and continues today, Monday 3 AUG 2020. I will be heading down to the lake at about 7:30am.
I put in several hours of work on the RawDigger e-Guide yesterday and hope to get lots more done this week. Best of all, I came up with a fabulous revelation.
I recently upped my swims to 72 lengths (88 to a mile). Do not be too impressed as I swim very slowly …
Please Remember
If you enjoy and learn from the blog, please remember to use one of my two affiliate programs when purchasing new gear. Doing so will not cost you a single penny and if you use Bedfords, you will save at least $50.00 on all orders greater than $1000.00. In these crazy times — I am out at least forty to sixty thousand dollars so far due to COVID 19 (with lots more to come) — remembering to use my B&H link or shop at Bedfords will help me out a ton and will be greatly appreciated. Overseas folks who cannot order from the US because of import fees, duties, and taxes can always help out by clicking here if they see fit.
BIRDS AS ART
BIRDS AS ART is registered in the U.S. Patent and Trademark Office.
Via e-Mail from Multiple IPT veteran and good friend, Donna Bourdon
Donna is a long-time Canon shooter who is dipping her toes into the SONY waters. After purchasing her a9 ii and 200-600 from Steve Elkins at Bedfords, she enjoyed a healthy discount on the SONY guide. She sent me this last night:
I never could have set my new a9 ii without the video. It is amazing that you and Patrick were able to figure out this complex camera so quickly and then develop and shar the guide and the videos with us. Donna
SONY e-Guide Discount Program
Purchase a (new) qualifying SONY camera body (a7r iii, a7r iv, a9, a9 ii) from Bedfords or using a BIRDS AS ART B&H affiliate link, and you will receive a $40 discount on the SONY e-guide. Purchase a (new) SONY 200-600mm G lens from Bedfords or using a BIRDS AS ART B&H affiliate link, and you will receive a $25 discount on the SONY e-guide. Purchase a (new) SONY 600mm f/4 GM lens from Bedfords or using a BIRDS AS ART B&H affiliate link, and you will receive a free SONY e-guide with one or two videos.
Please send your Bedford's or B&H receipts to me via e-mail to receive your discount and your ordering instructions. Folks purchasing from Bedfords and using the BIRDSASART code will save $50. Folks sending their B&H receipts may need to wait a few days to have their purchases confirmed. Folks using Bedfords will have their purchases confirmed immediately.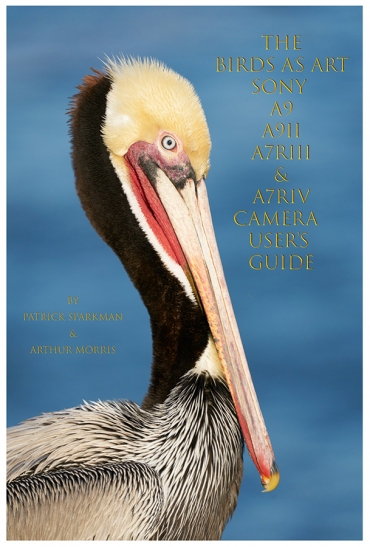 108 sold to rave reviews.
The SONY e-Guide by Patrick Sparkman and Arthur Morris
The Sony Camera User's e-Guide (and Videos)
Click here to purchase the guide with one Camera Set-up Video. Be sure to e-mail us by clicking here to specify your camera body so that we can send you a link for the correct video.
Click here to purchase the guide with two Camera Set-up Videos. Be sure to e-mail us by clicking here to specify your two camera bodies so that we can send you links for the correct videos.
Click here to learn more about the SONY e-Guide.
The BAA Used Gear Page
The BAA Used Gear Page is the place to sell your used photographic equipment. We will help you to get your gear sold quickly for 20 to 60% more than what the big guys are offering … Doubt me? Check out the Past Sales list at the bottom of the page.

Money Saving Reminder
If you need a hot photo item that is out of stock at B&H, would enjoy free overnight shipping, and would like a $50 discount on your first purchase over $1000.00, click here to order and enter the coupon code BIRDSASART at checkout. If you are looking to strike a deal on Canon or Nikon gear (including the big telephotos) or on a multiple item order, contact Steve Elkins via e-mail or on his cell at (479) 381-2592 (Eastern time) and be sure to mention your BIRDSASART coupon code and use it for your online order. Steve has been great at getting folks the hot items that are out of stock at B&H. Those include the SONY a7r IV, the SONY 200-600, the SONY 600mm f/4 GM, and the Nikon 500mm PF. Steve is eager to please.
Gear Questions and Advice
Too many folks attending BAA IPTs and dozens of photographers whom I see in the field and on BPN, are–out of ignorance–using the wrong gear especially when it comes to tripods and more especially, tripod heads… Please know that I am always glad to answer your gear questions via e-mail. Those questions might deal with systems, camera bodies, accessories, and/or lens choices and decisions.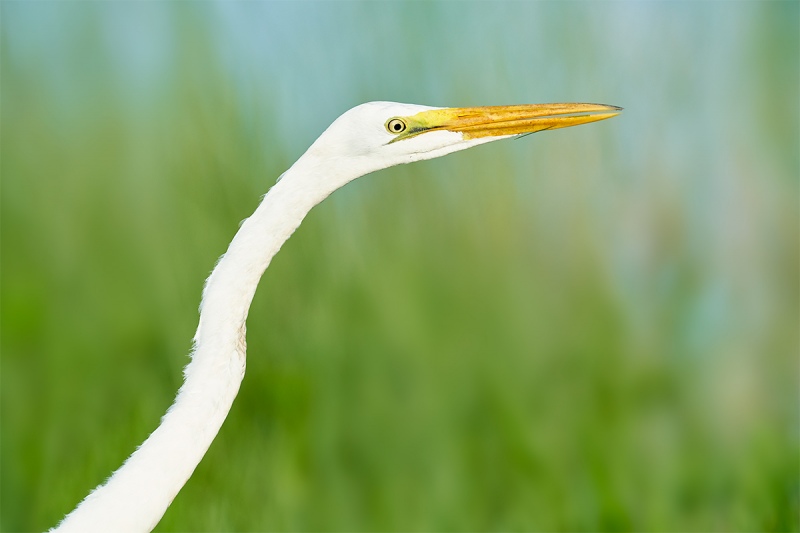 This image was created on 2 AUG 2020 on the edge of the lake near my home at Indian Lake Estates. Working from my SUV, I used the Induro GIT 204/Levered-Clamp FlexShooter Pro-mounted Sony FE 600mm f/4 GM OSS lens, the Sony FE 1.4xteleconverter, and the 61-MP Sony Alpha a7R IV Mirrorless Digital Camera Body. ISO 800. Exposure determined by Zebras with ISO on the rear dial: 1/2000 sec. at f/6.3 in Manual mode was confirmed as perfect by RawDigger. AWB at 8:05am only cloudy morning.
Tracking Flexible Spot (M) AF-C performed perfectly and produced a razor-sharp eye.
Click the image to see a larger version.
Image #1: Juvenile Great Egret hunting in marsh

Your browser does not support iFrame.
My Critique and Comments
I love the diagonal of the head and neck, a result of the hunting pose. The image design is spot-on, the image is sharp, and the exposure is dead-solid perfect. I like the marsh background. I considered greening up the three light-toned areas in the lower-right corner of the frame but eventually passed on that idea. I also considered removing the single blade of grass from the bill but decided against that as well. The only negative for me is the small patch of dirty feathers front-middle of the long neck …
Shutter Speed Choice
I raised the ISO from 400 to 800 so that I could utilize a faster shutter speed, 1/2000 as compared to 1/1000. Why? The bird was hunting and I wanted to be sure to freeze the action if it struck.
RawDigger
With my flower photography I bracket the exposures (manually) like a maniac. We cannot, however, do that when photographing birds (unless you are in the process of learning RawDigger and find a bird that is simply not moving). IAC, once you master the concept of mega-exposing to the right (M-ETR) with RawDigger (RD), you will learn to mesh your current method of determining the best exposure with what you learn in RD. For me that involves correlating Zebras with what I have learned in RD. As with today's featured image, I am finding that I am routinely and consistently able to create perfect exposures in a variety of situations.
7r iv
Note that unless I am in a pure flight or action situation, I find myself going more and more to the a7r iv. For pure flight and action, I will usually stick with the a9 ii …
If In Doubt …
If you are in doubt about using the BAA B&H affiliate link correctly, you can always start your search by clicking here. Please note that the tracking is invisible. Web orders only. Please, however, remember to shoot me your receipt via e-mail.
Please Remember to use my Affiliate Links and to Visit the BAA Online Store 🙂
To show your appreciation for my continuing efforts here, we ask, as always, that you get in the habit of using my B&H affiliate links on the right side of the blog or Bedfords, for all of your photo and electronics purchases. Please check the availability of all photographic accessories in the New BIRDS AS ART Online Store, especially the Mongoose M3.6 tripod head, Wimberley lens plates, Delkin flash cards and accessories, and LensCoat stuff.
As always, we sell only what I have used, have tested, and can depend on. We will not sell you junk. We know what you need to make creating great images easy and fun. And please remember that I am always glad to answer your gear questions via e-mail.
I would, of course, appreciate your using our B&H affiliate links or Bedfords for all of your major gear, video, and electronic purchases. For the photographic stuff mentioned in the paragraph above, and for everything else in the new store, we, meaning BAA, would of course greatly appreciate your business. Here is a huge thank you to the many who have been using our links on a regular basis and those who regularly visit the New BIRDS AS ART Online Store as well.
Facebook
Be sure to like and follow BAA on Facebook by clicking on the logo link upper right.
Typos
In all blog posts and Bulletins, feel free to e-mail or to leave a comment regarding any typos or errors. Just be right :).