What's Up?
On Friday morning I did not dare to drive the fields down by the lake because on Thursday afternoon it rained torrentially for about four hours …
I drove the side streets looking for wildflowers but pickings were slim. First I photographed the purple berries of the appropriately named American Beautyberry (Callicarpa americana). Next I returned to the spot where the pretty low-growing yellow flowers had been mown. Several had new blosssoms and I found a second yellow flower species growing nearby. I photographed both and am working on the IDs.
This morning — Saturday 8 AUG 2020 I will try for birds as it did not rain at all yesterday and the fields dry up pretty quickly. I will try not to get stuck in the mud …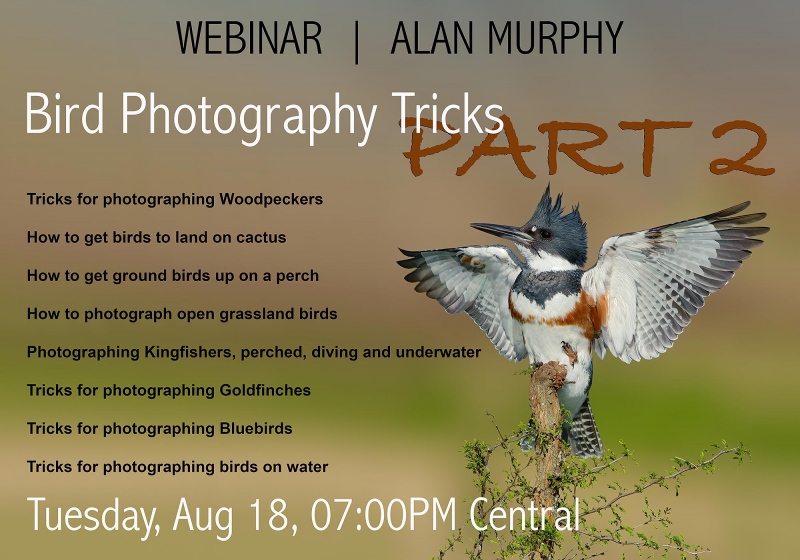 Bird Photography Tips Part II Webinar with Alan Murphy
To register for Alan's August 18th webinar, click here or on the image above. Alan's abililty to create surreally perfect set-ups and attract birds into photographic range is remarkable … I will be there and am looking forward to it with anticipation as I am in the process of turning my living room into a bird photography blind!
Those who register are requested to enter "BAA Blog" in the How did you hear about this webinar? box.
Alan Murphy
Alan is an award-winning photographer with numerous publications, a Nikon Professional Service Member, a Wimberley Professional Service Member, and the author of several e-books and educational videos. He enjoys traveling the country, speaking at festivals and photo clubs. Alan and his wife, Kim, raised their children in the Houston area, travel domestically and abroad, enjoy nature and their rescue dogs.