What's Up?
I did not have much photographic success on Friday morning but will try again today — Saturday 29 AUGUST 2020. I took the whole day off from exercising yesterday but will be back in the pool and on the StairMaster today. Patrick Sparkman will be reviewing the RawDigger e-Guide this weekend so it should be available for purchase this coming week.
I hope that you and yours are safe and have a great day.
Please Remember
If you enjoy and learn from the blog, please remember to use one of my two affiliate programs when purchasing new gear. Doing so will not cost you a single penny and if you use Bedfords, you will save at least $50.00 on all orders greater than $1000.00. In these crazy times — I am out at least forty to sixty thousand dollars so far due to COVID 19 (with lots more to come) — remembering to use my B&H link or shop at Bedfords will help me out a ton and will be greatly appreciated. Overseas folks who cannot order from the US because of import fees, duties, and taxes can always help out by clicking here if they see fit.
The BAA Used Gear Page
The BAA Used Gear Page is the place to sell your used photographic equipment. We will help you to get your gear sold quickly for 20 to 60% more than what the big guys are offering … Doubt me? Check out the Past Sales list at the bottom of the page.
Two Nikon Super-Telephotos!
Nikon AF-S NIKKOR 400mm f/2.8E FL ED VR Lens
BAA Record-low Price!
Price Dropped $300.00 on 8/21!
Angie Birmingham is offering a Nikon AF-S NIKKOR 400mm f/2.8E FL ED VR in like-new condition for $7696.95 (was $7,996.95). The sale includes the rear lens cap, the lens trunk, the original tough front lens cover, the lens strap, and insured ground shipping via major courier to lower-48 US addresses only.
Your item will not ship until your payment clears unless other arrangements are made.
Please contact Angie via e-mail or by phone at 1-361-815-8852 (Central time zone).
This, the lightest, latest/greatest version of the Nikon 400mm f/2.8 lenses, is superb for large mammals in low light and birds at close range. It is superbly sharp alone or with the TC-14E III. It offers the world's sweetest Bokeh. As a new goes for $11,196.95 right, you can save a very smooth $3,500 by grabbing Angie's lens. artie
This super telephoto prime is designed for FX-format Nikon F-mount cameras; however, it can also be used with DX models where it will provide a 600mm equivalent focal length. Its impressively bright f/2.8 maximum aperture excels in difficult lighting conditions and also enables extensive control over depth of field for isolating subjects using selective focus techniques. Two fluorite and two extra-low dispersion lens elements work to reduce chromatic aberrations, improve overall image sharpness, clarity, and color fidelity; and help to minimize the overall weight of the lens. Vibration Reduction image stabilization helps to reduce the appearance of camera shake by up to four shutter speed stops, benefiting this lens's use in low-light conditions. Additionally, a designated Sport Mode is well-suited to working in fast-paced conditions and a Tripod Mode helps to suppress subtle ground vibrations when working atop a support system. The Silent Wave Motor affords quick, quiet, and precise autofocus performance along with full-time manual focus override. An internal focusing design is also used, where only the internal lens groups are moved during focusing, to maintain the overall length of the lens during use and to promote faster focusing speeds. Dust- and moisture-resistant magnesium-alloy lens barrel benefits the lens' use in inclement conditions. A removable tripod collar is included with the lens for well-balanced support when working from a monopod or tripod. The collar ring also incorporates ball bearings for smooth transitions between horizontal and vertical shooting orientations. Specialized electromagnetic aperture mechanism provides greater exposure control stability that is especially beneficial when working with fast continuous shooting rates. This 400 f/2.8 is compatible with optional AF-S Teleconverter TC-14, TC-17, and TC-20 teleconverters. B&H
Nikon AF-S NIKKOR 600mm f/4E FL ED VR Lens (with extras)
BAA friend and skilled photographer Dr. Greg Gulbransen is offering a Nikon AF-S NIKKOR 600mm f/4E FL ED VR lens in like-new condition (with extras) for a very handsome $9296.95. As the lens was only used six times and Greg take great care of his gear, the front element is immaculate as is the entire lens. This one is a gem. The sale includes the original product box, the lens trunk, the strap, the front cover, the rear lens cap, the original lens foot, a RRS LCF-18 Replacement Foot for NIKON AF-S 500mm & 600mm f/4E FL ED VR lenses (a $120.00 value — installed), and insured ground shipping via major courier to lower-48 US addresses only. Your item will not ship until your check clears unless other arrangements are made.
Please contact Greg via e-mail. Photos are available upon request.
In all systems, the 600 f/4 lenses are the weapons of mass destruction when it comes to birds and wildlife. I loved my Nikon 600 both alone and with the 1.4X teleconverter. If you use Nikon gear and have been dreaming of moving up to the big leagues, do get in touch with Greg ASAP to save #3,000.00; this lens sells new for $12,296.95. artie
BIRDS AS ART
BIRDS AS ART is registered in the U.S. Patent and Trademark Office.
SONY e-Guide Discount Program
Purchase a (new) qualifying SONY camera body (a7r iii, a7r iv, a9, a9 ii) from Bedfords or using a BIRDS AS ART B&H affiliate link, and you will receive a $40 discount on the SONY e-guide. Purchase a (new) SONY 200-600mm G lens from Bedfords or using a BIRDS AS ART B&H affiliate link, and you will receive a $25 discount on the SONY e-guide. Purchase a (new) SONY 600mm f/4 GM lens from Bedfords or using a BIRDS AS ART B&H affiliate link, and you will receive a free SONY e-guide with one or two videos.
Please send your Bedford's or B&H receipts to me via e-mail to receive your discount and your ordering instructions. Folks purchasing from Bedfords and using the BIRDSASART code will save $50. Folks sending their B&H receipts may need to wait a few days to have their purchases confirmed. Folks using Bedfords will have their purchases confirmed immediately.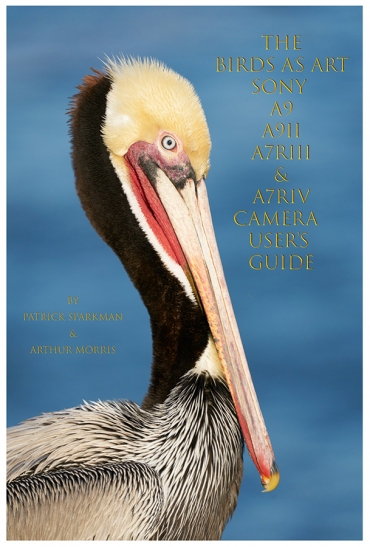 107 sold to rave reviews.
The SONY e-Guide by Patrick Sparkman and Arthur Morris
The Sony Camera User's e-Guide (and Videos)
Click here to purchase the guide with one Camera Set-up Video. Be sure to e-mail us by clicking here to specify your camera body so that we can send you a link for the correct video.
Click here to purchase the guide with two Camera Set-up Videos. Be sure to e-mail us by clicking here to specify your two camera bodies so that we can send you links for the correct videos.
Click here to learn more about the SONY e-Guide.

Money Saving Reminder
If you need a hot photo item that is out of stock at B&H, would enjoy free overnight shipping, and would like a $50 discount on your first purchase of more than $1000.00, click here to order and enter the coupon code BIRDSASART at checkout. If you are looking to strike a deal on Canon or Nikon gear (including the big telephotos) or on a multiple item order, contact Steve Elkins via e-mail or on his cell at (479) 381-2592 (Eastern time) and be sure to mention your BIRDSASART coupon code and use it for your online order. Steve has been great at getting folks the hot items that are out of stock at B&H. Those include the SONY a7r IV, the SONY 200-600, the SONY 600mm f/4 GM, and the Nikon 500mm PF. Steve is eager to please.
Gear Questions and Advice
Too many folks attending BAA IPTs and dozens of photographers whom I see in the field and on BPN, are–out of ignorance–using the wrong gear especially when it comes to tripods and more especially, tripod heads… Please know that I am always glad to answer your gear questions via e-mail. Those questions might deal with systems, camera bodies, accessories, and/or lens choices and decisions.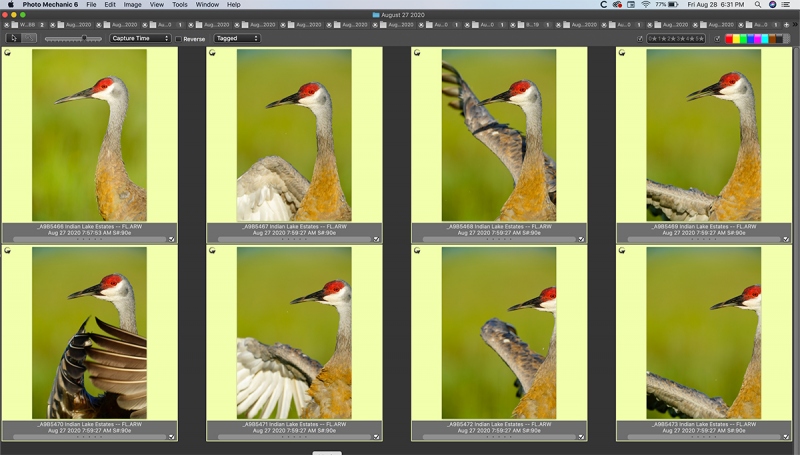 This image was created on Thursday 27 August 2020 at Indian Lake Estates. Working from my SUV, I used the Levered Clamp FlexShooter Pro/Induro/GIT 204-mounted Sony FE 600mm f/4 GM OSS lens, the Sony FE 1.4x teleconverter, and the blazingly fast AF King, the Sony Alpha a9 II Mirrorless Digital Camera Body. ISO 400. Exposure determined by Zebras with ISO on the rear dial: 1/800 sec. at f/6.3 in Manual mode. The exposure was confirmed as perfect by RawDigger. ABW at 7:59:53am on a mostly sunny morning.
Upper Right Zone Continuous AF was active at the moment of exposure and performed miraculously well.
Click on the composite to see a larger version.
A seven-frame sequence in the same second: Sandhill Crane adult flapping rapidly in place

Your browser does not support iFrame.
Spray and Pray!
In Avian Moderator Gail Bisson's BPN Semipalmated Plover preening post here, she wrote, I love this particular pose and always "spray and pray" when I see them do this. She got a wonderful frame with the bird preening a tiny feather in its tiny bill. It is a fine image and well worth a click.
Her spray and pray comment got me thinking. I have written here often that when unexpected action occurs, folks should press and hold the shutter button. Spray and pray is pretty much the same idea. With both Gail's image and my image there was no time to decide which is the best pose when you are in the moment. The human eye cannot see the individual poses and even if we could discern the ideal pose, our reaction-time is so slow that we would miss it be a mile every time. So the best option is to press the shutter button and hold it down while hoping that you get lucky with a great pose (assuming sharp focus and a perfect exposure) …
Learning from the Composite
I was creating some simple vertical head and shoulders portraits. The first frame in the sequence, 5466 suffers because the bird's head is turned ever-so-slightly away from us. When the bird began to flap I fired off seven quick frames. The key was to trust the AF system and press and hold the shutter button down until the bird quit flapping. I adjust the silver knob on my a href="https://birdsasart-shop.com/levered-clamp-flexshooter-pro/" rel="noopener noreferrer" target="_blank">Levered Clamp FlexShooter Pro so that I am able to move the lens fairly easily to re-compose as needed. Part of the beauty of the FlexShooter Pro heads is that because of the counter-balanced spring tension, you can do without having to worry about the big lens flopping down; it stays where you point it. But despite the ease of re-framing, note that the last three frames in the sequence — 5471, 5472, and 5473 were mis-framed with the back of the bird's head and neck cut off by the frame-edge.
Amazingly, the eye was sharp in every single image. You gotta love a9 ii autofocus.
Which of the other frames would you keep? Why?
Winner, Winner, Chicken Dinner!
As fate would have it, frame 5470, which featured the perfect orchestra-conductor pose, was the Family Jewel of the series. I wouldn't change a single pixel and I even love the degree of blurring in the flapping wings. Note: the image as presented above is full frame. Again, it is important to understand that it would not have been possible to pre-visualize or even imagine the pose that would result in the winning image. In the same vein it would have been close to impossible to think that the autofocus system would have ignored those flapping wings and stay glued to the crane's eye. Upper Right Zone Continuous AF was the key! Those who use SONY and own and have studied The Sony Camera User's e-Guide (and Video for one body) will be well versed as to which SONY AF Area Modes to activate and use in this or that situation. Those who do not own the guide might be amazed to learn at how Patrick Sparkman and I set Animal Eye AF with both our a9 and a7r series bodies for bird photography …
If In Doubt …
If you are in doubt about using the BAA B&H affiliate link correctly, you can always start your search by clicking here. Please note that the tracking is invisible. Web orders only. Please, however, remember to shoot me your receipt via e-mail.
Please Remember to use my Affiliate Links and to Visit the BAA Online Store 🙂
To show your appreciation for my continuing efforts here, we ask, as always, that you get in the habit of using my B&H affiliate links on the right side of the blog or Bedfords, for all of your photo and electronics purchases. Please check the availability of all photographic accessories in the New BIRDS AS ART Online Store, especially the Mongoose M3.6 tripod head, Wimberley lens plates, Delkin flash cards and accessories, and LensCoat stuff.
As always, we sell only what I have used, have tested, and can depend on. We will not sell you junk. We know what you need to make creating great images easy and fun. And please remember that I am always glad to answer your gear questions via e-mail.
I would, of course, appreciate your using our B&H affiliate links or Bedfords for all of your major gear, video, and electronic purchases. For the photographic stuff mentioned in the paragraph above, and for everything else in the new store, we, meaning BAA, would of course greatly appreciate your business. Here is a huge thank you to the many who have been using our links on a regular basis and those who regularly visit the New BIRDS AS ART Online Store as well.
Facebook
Be sure to like and follow BAA on Facebook by clicking on the logo link upper right.
Typos
In all blog posts and Bulletins, feel free to e-mail or to leave a comment regarding any typos or errors. Just be right :).