What's Up?
The weather on Wednesday morning was perfect for bird photography — sunny and clear with a decent east wind. The bird photography, however, was fair at best.
I spent four hours online and on the phone today before finally ordering a roof-top cargo box for the upcoming cross-country drive in my new SUV. Am I switching back to Canon? Who knows? Right now, I doubt it. But anything is possible.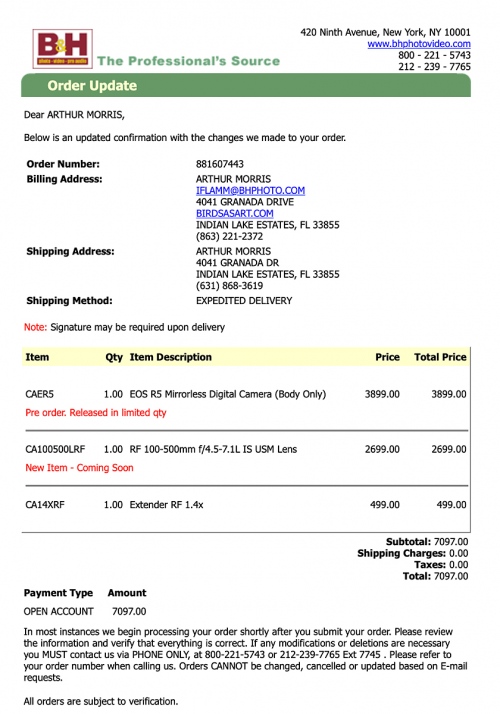 My B&H Loaner Order!
This Week's Sign that the Apocalypse May be Upon Us …
As a B&H affiliate, I am entitled to some very generous loaner gear opportunities. I am not sure when this will ship but I am curious and will be uniquely qualified to compare with Nikon and SONY. I am hoping to get this set-up in time to try it out at DeSoto as I will be there three times before the big road trip. Questions and comments welcome. For more on the R5 and the RF lenses see The skinny on everything that you wanted to know about Canon Mirrorless but were afraid to ask … blog post here.
Photographing Incoming Brandt's Cormorants: As Tough As It Gets …
Photographing incoming Brandt's Cormorants as they return to their nests is as tough as it gets. Try as I might, I had maybe one semi-sharp image in this situation over many years with various Canon bodies and lenses, that in many hundreds of attempts. I did, however, have many that were razor sharp on the feet. With both the D5 and the D850, I would usually get two or three fairly sharp images out of ten. From that moment on I knew that the a9 was the AF King.
A Bargain-priced Mint SONY a9 Mirrorless Camera Body
Multiple IPT veteran Morris Herstein is offering a Sony a9 in mint condition (with about 900 actuations) for the bargain price of $2498.00. The sale includes the strap, the front body cap, the battery and charger, and insured ground shipping via major courier to lower-48 US addresses only. Your item will not ship until your check clears unless other arrangements are made.
Please contact Morris via e-mail.
I was sold on SONY five minutes after trying my SONY a9 on the Brandt's Cormorants at La Jolla, CA. The AF system is identical to the AF system on the more expensive a9 ii which costs $4,498.00. The a9 ii body is about 1/8 inch thicker than the a9 ii. If you do not have large hands or if you like the feel of a smaller body, you will want to get in touch with Morris ASAP. The a9 sells for $3,498.00 so you can save a very handsome $1,000 on this great body. artie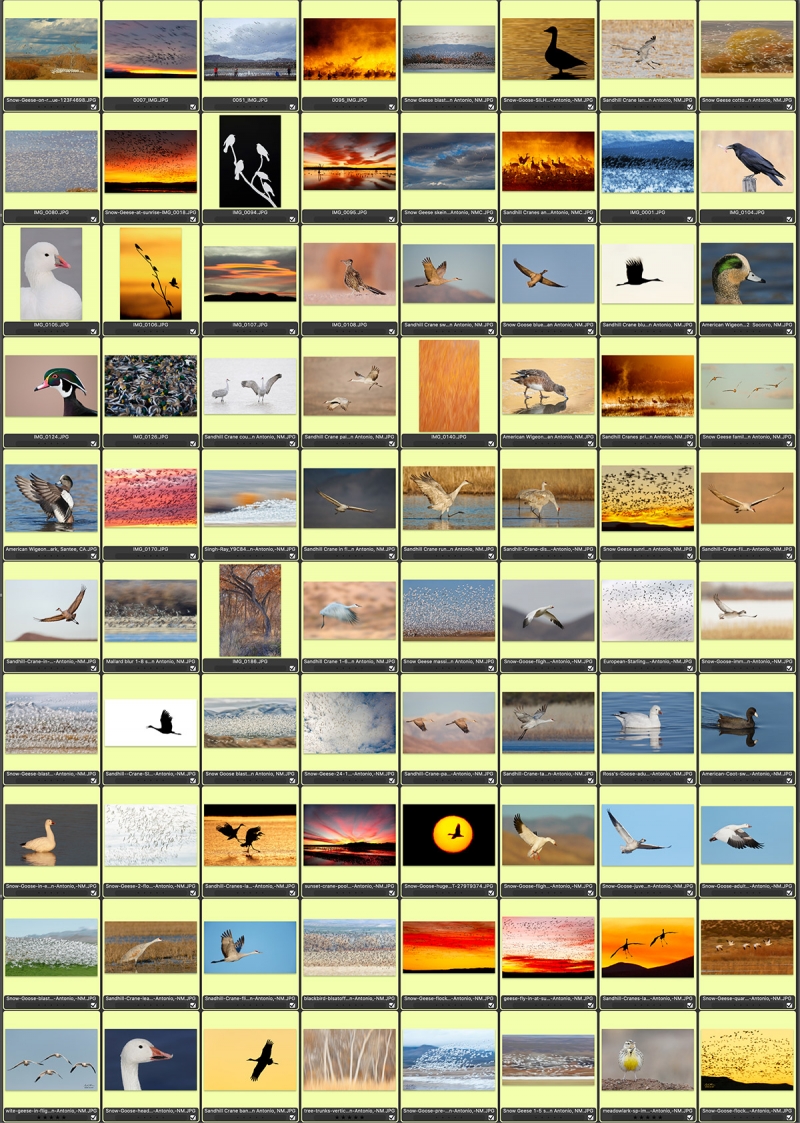 Bosque del Apache 2019 IPT
Notice the incredible variety of images that you can learn to make by developing your skills and your creative vision on a BAA IPT.
Bosque del Apache NWR 2020 IPT
NOV 18 (afternoon session) thru the morning session on November 23, 2020. 5 DAYS. Four full and two half days. $1999.00. Deposit: $500.00. Limit: 8 photographers/Openings: 6.
Extra Day Options: Please e-mail to learn about the before or after In-the-Field Day options.
The very best news is that the 2020 Festival of the Cranes has been canceled so we will be able to visit on what are usually the perfect dates!
I quit going to Bosque several years ago as conditions had worsened each year for several seasons running. In 2018, things had improved dramatically and in 2019 the photography was great. Simply put, I know Bosque better than anyone. Join me to learn how wind and sky conditions influence bird photography, how to create dramatic sunrise and sunset silhouettes, how to be in the right place at the right time, and how to create contest-winning blurs. As usual, you will learn to get the right exposure every time, to use your camera's AF system to create pleasing, balanced image designs, and to improve your flight photography skills.
We should get to photograph many thousands of Snow Geese, more than a few blastoffs, some Ross's Geese, and lots of Sandhill Cranes in the water, taking flight and flying. Depending on local conditions we may get to shoot some ducks: point-blank American Wigeon and Wood Duck. With any luck, we might enjoy sunrises and sunsets that leave you in tears. Live, eat, and breathe photography with one of (if not the) world's premier photographic educators at one of his very favorite locations on the planet. Top-notch Photoshop instruction. Join me to learn to think like a pro and to recognize situations and to anticipate them based on the weather. Every time we make a move, I will let you know why. When you get home, applying what you learned will prove to be invaluable.
Lunch is included.
To Register
To register, send your $500 deposit — check made out to BIRDS AS ART — via US Mail to PO Box 7245, Indian Lake Estates, FL 33855. Or call Jim weekdays at 863-692-0906 to put your non-refundable deposit on a credit card. Balances must be paid in full by check no later than two months before the IPT. If you cancel, all but your deposit will be refunded only if the IPT sells out.
Travel Insurance
Travel insurance for both big international trips and US-based IPTs is highly recommended as we never know what life has in store for us. I strongly recommend that you purchase quality travel insurance. Travel Insurance Services offers a variety of plans and options. Included with the Elite Option or available as an upgrade to the Basic & Plus Options you can also purchase Cancel for Any Reason Coverage that expands the list of reasons for your canceling to include things such as sudden work or family obligation and even a simple change of mind. My family and I use and depend on the great policies offered by TIS whenever we travel. You can learn more here: Travel Insurance Services. Do note that many plans require that you purchase your travel insurance within 14 days of our cashing your deposit check or running your credit card. Whenever purchasing travel insurance, be sure to read the fine print carefully even when dealing with reputable firms like TSI.
Typos
In all blog posts and Bulletins, feel free to e-mail or to leave a comment regarding any typos or errors. Just be right :).