What's Up?
In the past 24 hours, many things did not go well. Despite them all, I am feeling great and happy. See the Loving What Is feature below.
On Sunday and Monday morning I photographed at Sebastian Inlet with friend Anita North. The Osprey action was so-so, but we had lots of good chances with the fishing terns. On Sunday we photographed in cloudy very dark conditions interspersed by several downpours. We used our a9 ii bodies with the 1.4X TC and ISOs of 10,000 and higher. That morning and the next we tried the a7r iv alone on the 600 GM and crop plan (to save a full stop of ISO). Anita used Wide AF and did fairly well. I used Zone and did not do so well. a7r iv AF accuracy definitely suffers when compared to the a9 ii. I've noticed that once the sun comes out, a7 r iv AF does pretty well with the 600 GM, but has lots of problems making crisp images in low light.
Monday morning was totally wild at the Inlet. See the tarpon feature below. Tuesday was less wild and a lot drier and they were catching snook rather than tarpon. I forgot to mention that on Monday morning I made one of the most incredible photos in my 37 years of bird and nature photography. It was not a bird photograph. I will share the image and the story here in the next blog post.
It is now midday on Tuesday and I just finished picking my keepers from our Monday session. Once things brightened up a bit and I got to 1/2500 sec. at f/4 at ISO 1000, a7r AF performance improved drastically (as compared to AF performance in the images made at ISO 4000 and 5000 in very low light, low contrast situations.
EOS R5/24-105 Kit and several RF 100-500mm lenses available from Bedfords
I spoke with Steve Elkins on Monday and he let me know that he is getting an EOS R5/24-105 Kit at the end of this week. It has been close to impossible to get an R5. In addition, he has several RF 100-500 lenses in stock right now. See Steve's contact info immediately below. But do not tarry. In addition, he may have several EOS R6 bodies in stock now or soon … Remember to use the BIRDSASART coupon code at checkout to save $50 on your order.

Money Saving Reminder
If you need a hot photo item that is out of stock at B&H, would enjoy free overnight shipping, and would like a $50 discount on your first purchase of more than $1000.00, click here to order and enter the coupon code BIRDSASART at checkout. If you are looking to strike a deal on Canon or Nikon gear (including the big telephotos) or on a multiple item order, contact Steve Elkins via e-mail or on his cell at (479) 381-2592 (Eastern time) and be sure to mention your BIRDSASART coupon code and use it for your online order. Steve has been great at getting folks the hot items that are out of stock at B&H. Those include the SONY a7r IV, the SONY 200-600, the SONY 600mm f/4 GM, and the Nikon 500mm PF. Steve is eager to please.
The BAA Used Gear Page
Right now, the Used Gear page is red hot! It is BAA Used Gear Page is the place to sell your used photographic equipment. We will help you to get your gear sold quickly for 20 to 60% or more than what the big guys are offering … Doubt me? Check out the Past Sales list at the bottom of the page.
Please Remember
If you enjoy and learn from the blog, please remember to use one of my two affiliate programs when purchasing new gear. Doing so will not cost you a single penny and if you use Bedfords and remember to enter the BIRDSASART code at checkout, you will save at least $50.00 on all orders greater than $1000.00. In these crazy times — I am out at least forty to sixty thousand dollars so far due to COVID 19 (with lots more to come) — remembering to use my B&H link or to shop at Bedfords will help me out a ton and will be greatly appreciated. Overseas folks who cannot order from the US because of import fees, duties, and taxes can always help out by clicking here if they see fit.
BIRDS AS ART
BIRDS AS ART is registered in the U.S. Patent and Trademark Office.
Gear Questions and Advice
Too many folks attending BAA IPTs and dozens of photographers whom I see in the field and on BPN, are–out of ignorance–using the wrong gear especially when it comes to tripods and more especially, tripod heads… Please know that I am always glad to answer your gear questions via e-mail. Those questions might deal with systems, camera bodies, accessories, and/or lens choices and decisions.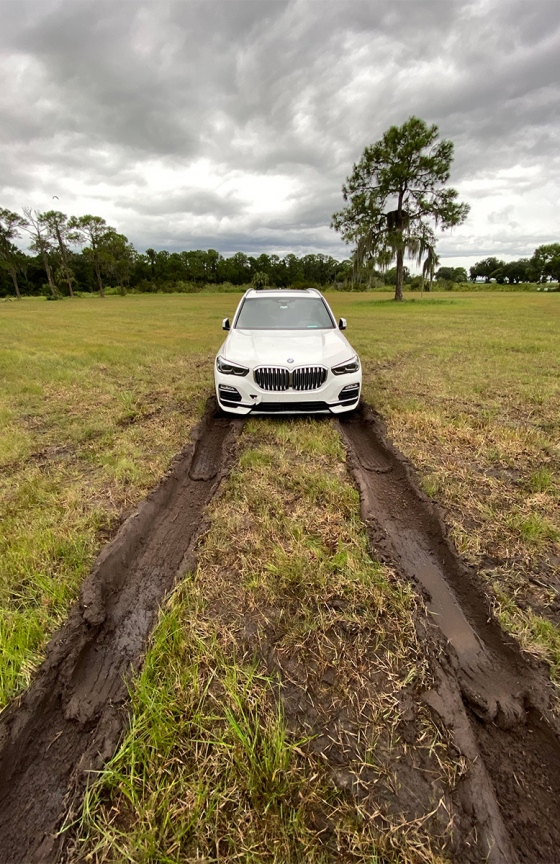 Stuck in the mud with X-Drive (full time 4WD)
Hilarious Tale
I've been mentioning the heavy rains and my fear of getting stuck down by the lake for many weeks if not months …
On Monday, Matt, a BMW Genius, drove from Lakeland to teach me about my new X5. He was cordial and bright and extremely helpful. After an hour of lessons while sitting in my driveway, we opted to head down to the lake. We saw an adult Bald Eagle right off the bat. We made a u-turn in the driveway at the end of Banyan Drive adjacent to the South Field. As we headed back north I mentioned that though I had driven on the fields in some wet sloppy conditions, I did not completely trust the X-Drive. So, I pulled onto the grass for a road test. After a while the car began to slip. In short order, we were stuck in the mud. That was at about 2:20pm. I almost got out a few times but eventually we simply could not get any traction in the mud that was the consistency of oatmeal.
We locked the car. My friend Ralph responded to my phone call but was unable to help. Then Jim came down and drove us all back to my home. Almost six hours later, the car was safely towed out of the mud by Seasall LLC. The best news? The tow was provided free by BMW roadside assistance. It was not the fastest service, but everything worked out just fine. The car will be getting a serious bath this morning.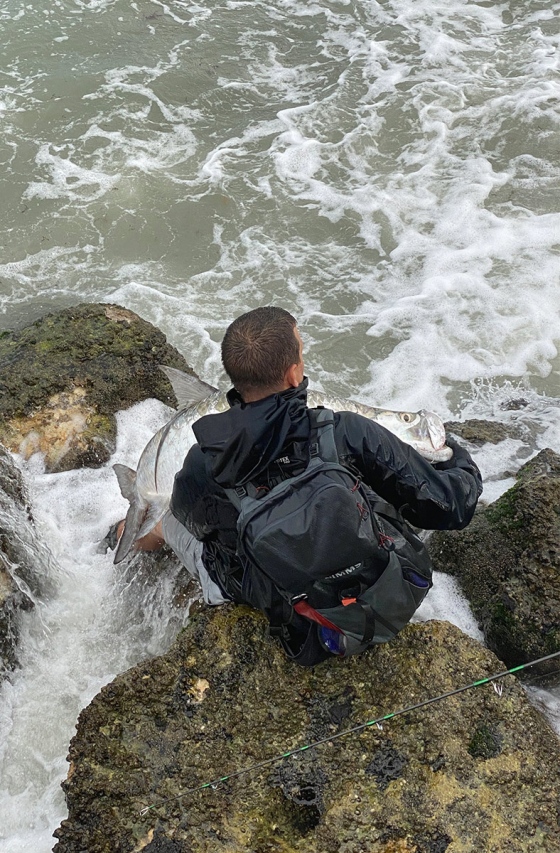 Releasing a Tarpon
Releasing Tarpon
On Sunday morning it was windy and wild at Sebastian Inlet. Tarpon ranging from 40 to 60 pounds were jumping clear out of the water. Fisherman hooked about a dozen of these strong, spectacular fighters. With their steel-like scales, nearly all shook the hook after short fights. One guy — with a lot of help from his friend — managed to secure the fish, remove his lure, and then release the fish. Any guesses on the weight of the fish in the image above?
Every thing that could have gone wrong …
In less than a day the following things went wrong:
1- I got stuck in the mud and could not get out.
2- The towing service took more than five hours to arrive.
3- On Tuesday morning I woke at 4:50am, late for me. My plan was to do this blog post before we went out to photograph. At first I could not get online with either our WiFi or via my cell phone.
4- When I did get online I could not access the blog because of a Trojan horse program called Cloudfare. Don't ask. If you have experience removing this monster from a Mac computer please get in touch via e-mail.
5- Next my new MacBook Pro decided to update even though it was not plugged in. That took about 40 minutes.
6- Once I was online and ready to get to work, I discovered that the blog was down: "Cannot Access Server."
7- I got onto the office computer to try to log in to our provider, HomePage Universe. I was unable to do so.
8- I noticed an e-mail from HomePage Universe stating that our automatic payment credit card payment had failed. The card had expired.
Anita and I left for a morning photo session at about 7:30am. I asked Jim to try to chat with the provider. He was 100% successful and by the time we got home at 9:30am, the blog was back up. Great work by Jim.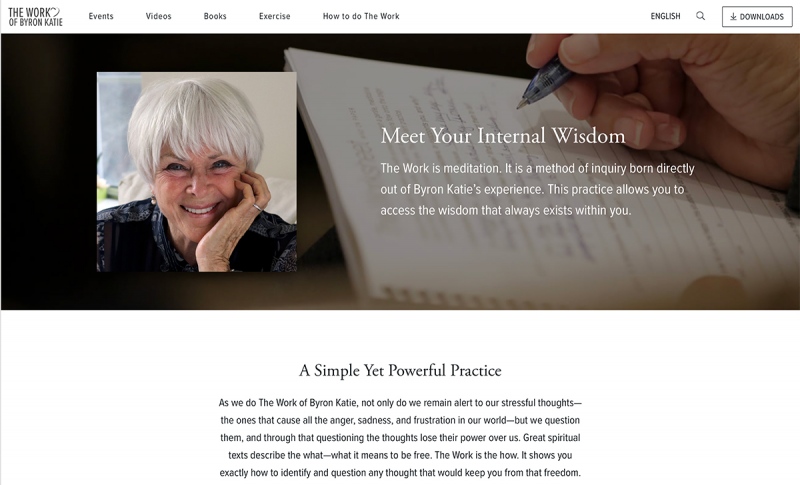 Click on the image for a larger version to make reading the fine print easier.
Learn to know peace with The Work of Byron Katie
Loving What Is
Years ago, I would have cursed my own stupidity for getting the X5 stuck in the mud, and the difficulties with the blog and Cloudfare and the expired credit card would have had me pulling my hair out. Now, thanks to The Work of Byron Katie, my stress levels for were past 24 hours were close to zero. I laughed out loud at getting stuck in the mud. And the stuff with the blog was a non-issue. I've gone from "these are the worst things that could have happened" to "no big deal, everything will be fixed in short order. To simplify, I have simply learned to love what is. I can hear Katie saying, "If you want to bang your head against the wall of reality, just grab your ears and have at it."
I first became aware of The Work when struggling to heal from the loss of my beloved second wife, Elaine Belsky Morris in 1994. Doing the work on Elaine's death helped me to heal. Finally, in 2017 I attended the Nine-Day School for the Work in Ojai, CA (along with more than 200 other folks), met Katie, and enhanced my practice of The Work. Today, The Work does not take much work as learning to hold my thoughts and beliefs up to inquiry, has become second nature. I have been told that The Work is Buddhist-like, and have been told by respected psychologists that the work is simply mumbo jumbo and could not be helping me. But it has helped me tremendously to fine peace in my life.
If you would like to see what it's all about, click on this link. You might wind up realizing the peace and happiness are choices. You might wish to begin by reviewing some of the free YouTube videos. Then you can print a free worksheet and get to work!
Typos
In all blog posts and Bulletins, feel free to e-mail or to leave a comment regarding any typos or errors. Just be right :).