What's Up?
I state often that one of the best ways to improve your nature photography is to look at as many really good photographs as possible. I do that often on Bird Photographer's.Net (though not as often as I should). And I am continually looking at the websites of the world's best avian photographers in an effort to be inspired and to improve my skills. I have found some great new ones recently. Over the next month or so I will be sharing some of my top finds with you.
Walter Baliero has been a friend for about a decade. I learned of him through a mutual friend. My travels to the Falklands and to the Southern Oceans often require a one or a two day stop in Santiago, Chile. On those visits, I always try to work in a trip or two with Walter as my guide. On the first day of a two-day layover, we ride up into the mountains in search of some good condor photography. The second day, we travel west and a bit south to Viña del Mar on the coast to photograph Inca Tern, Peruvian Pelican, Peruvian Gannet, and a host of other coastal species.
To read the entire article (excerpted below) and see a few additional images, click here. If you will be stopping over in Santiago, Chile and would like to explore the possibility of a day or two with Walter, get in touch with me by e-mail and I will put you in touch with Walter.
I mentioned that there have been as many as 15 spoonbills feeding in the rain pools — some as deep as eight inches! — adjacent to the North Beach parking lots. When they are actively feeding, it is very difficult to make a decent image. On Friday afternoon, we combined some good luck with excellent technique and got some stunning photos at 1200mm. Images and the complete story here soon.
I was glad to learn recently of the following:
IPT veteran Mark Overgaard sold his Canon 11-24mm f/4L USM lens in near mint condition for $1530.00 (was $1599.00) in mid-September 2020.
Multiple IPT veteran Morris Herstein sold his Sony a9 in mint condition (with about 900 actuations) for the bargain price of $2498.00 just a few days after listing it in early September.
BIRDS AS ART
BIRDS AS ART is registered in the U.S. Patent and Trademark Office.
The BAA Used Gear Page
Right now, the Used Gear page is red hot! It is BAA Used Gear Page is the place to sell your used photographic equipment. We will help you to get your gear sold quickly for 20 to 60% or more than what the big guys are offering … Doubt me? Check out the Recent Sales list at the bottom of the page.
New and Better Bedfords Discount Policy!
You can now save 3% on all of your Bedfords photo gear purchases by entering the BIRDSASART coupon code at checkout. Your discount will be applied to your pre-tax total (without the shipping). Grab a Nikon AF-S Teleconverter TC-14E III and save $14.99. Purchase a Canon EOS R5 and your discount will be $116.97. Purchase a Sony FE 600mm f/4 GM OSS lens and save a remarkable $389.94! Your Bedford's purchase no longer need to be greater than $1,000.00 for you to receive a discount. The more you spend, the more you save.

Money Saving Reminder
Many have learned that if you need a hot photo item that is out of stock at B&H and would enjoy free overnight shipping, your best bet is to click here, place an order with Bedfords, and enter the coupon code BIRDSASART at checkout. If an item is out of stock, contact Steve Elkins via e-mail or on his cell phone at (479) 381-2592 (Eastern time). Be sure to mention the BIRDSASART coupon code and use it for your online order. Steve has been great at getting folks the hot items that are out of stock at B&H and everywhere else. The wait lists at the big stores can be a year or longer for the hard to get items. Steve will surely get you your gear long before that. For the past year, he has been helping BAA Blog folks get their hands on items like the SONY a9 ii, the SONY 200-600 G OSS lens, the Canon EOS R5, the Canon RF 100-500mm lens, and the Nikon 500mm PF. Steve is personable, helpful, and eager to please.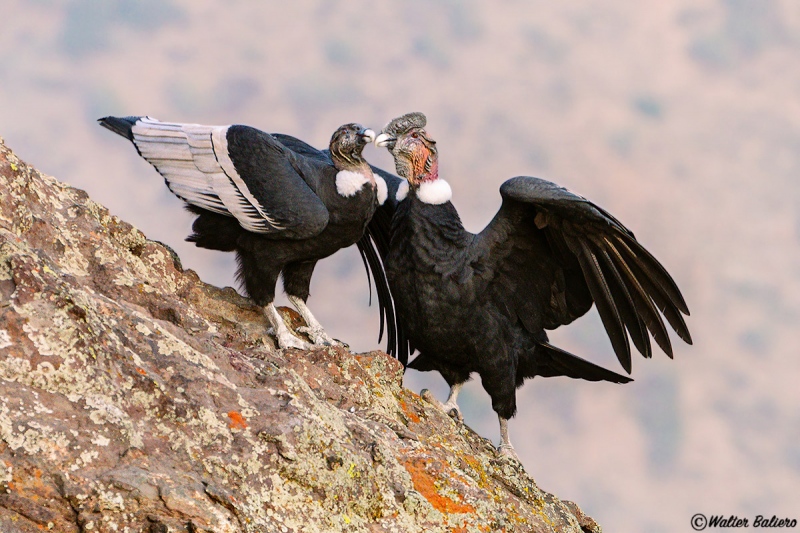 This image was created in the Andes Mountains of Chile with the Nikon 200-400 at 400mm and the Nikon D7000.
Image courtesy of and copyright 2019: Walter Baliero
Please click on the image to see a larger and inexplicably sharper version.
Image #1: Andean Condor pair aloo-preening
For Love of the Andean Condor
The Andean Condor is emblematic of the Andes. Thinking of a condors evokes images of towering mountains punctuated by snow-capped peaks and a large dark bird crossing the skies at great height. In this photographic journey Walter Baliero tells us about his experiences photographing the Andean Condor.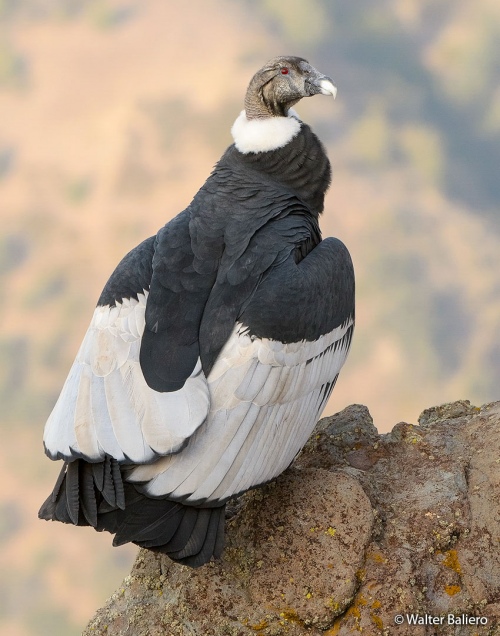 This image was created in the Andes Mountains of Chile with the Nikon 200-400 at 280mm and the Nikon D7000.
Image courtesy of and copyright 2019: Walter Baliero
Please click on the image to see a larger and inexplicably sharper version.
Image #2: Andean Condor perched female
Photographing the Andean Condor In the Andes of Chile
by Walter Baliero
The magnificent Andean Condor (Vultur gryphus) is a lure to photographers, but getting photos of them has its challenges. Getting a shot of this adult male and female took some preparation. I had to carry the appropriate bait and my photographic equipment over Chilean Andean mountains at an elevation of 3,000 m (9842.52 ft) to access a cliff known to have Condors riding the thermals. At this location, the world's largest flying bird is seen regularly.
Although its distribution extends throughout most of the high Andes of South America, it is from Peru to southern Chile, where the Andean Condor occurs in higher numbers. I have been lucky to have had up to 35 birds in front of me (at one time). The Andean Condor is a rather curious and confident bird that is not afraid of humans, at least in flight. When perched or standing near a carcass, they are more skittish. On several occasions adults and juvenile condors have flown within about 15 meters above my head; I was able to hear the sound of their wing feathers cutting through the oxygen-thin Andean air.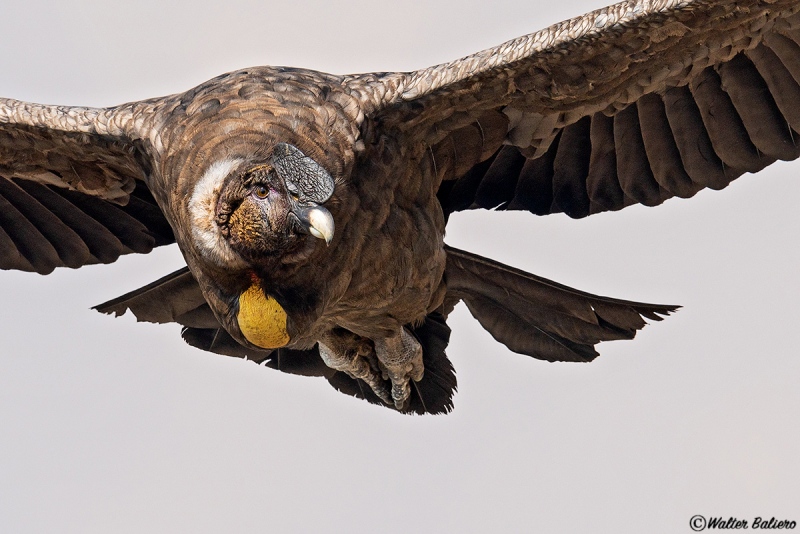 This image was created in the Andes Mountains of Chile with a Nikon 500mm f/4 VR lens, the TC-E14, and the the Nikon D810.
Image courtesy of and copyright 2019: Walter Baliero
Please click on the image to see a larger and inexplicably sharper version.
Image #3: Immature Andean Condor in flight
Condors around Santiago, Chile
The spot where I photograph the condors is just 40 km away from the capital city, Santiago de Chile. The proximity of this location allows me to arrive in the morning and return home at night, without having to spend the night in the area. It gets cold up there. The spot where I shot these pictures is located near Farellones – a small mountain town at 2,600 m of altitude – the road s paved; therefore, getting there does not require a four-wheel-drive vehicle. In just under an hour from the city, I'm with the condors nearly every day. One can see condors near the town but, I prefer to walk a kilometer up to a spot where I can isolate myself from interference from curious people and the background noise of cars on the nearby road.
It is not uncommon to see the Andean Condor flying over urban areas. Condors are cathartids; they belongs to the vulture family. The Andean Condor is a scavenger. Personally, and for many years photographing this species, I have never seen a condor attack even a small live lizard; it always feeds on decomposing carcasses. After detecting a carcass, condors tend to watch it staying in the air in the vicinity until it is rotten enough for them to begin feeding. The guts and other parts of the carcass's insides are accessed through the animal's orifices. The Condor's claws are weak, and its hind toe is small without the ability to grasp. They use their strong hooked beak to tear pieces of flesh from the carcass.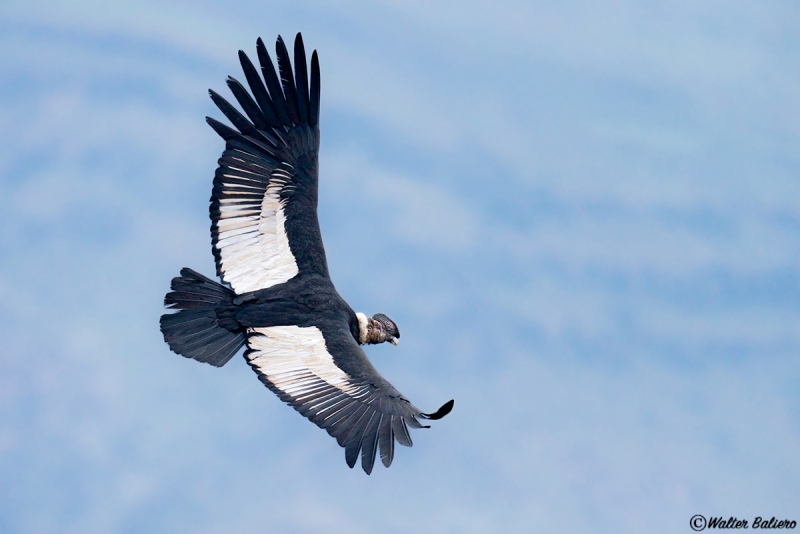 This image was created in the Andes Mountains of Chile with a Nikon 500mm f/4 VR lens, the TC-E14, and the the Nikon D810.
Image courtesy of and copyright 2019: Walter Baliero
Please click on the image to see a larger and inexplicably sharper version.
Image #4: Male Andean Condor in flight
Condors, the Masters of Flight
Condors are masters of flight, gliding their way through the Andean mountain tops. They roost and breed on the ledges and small caves of vertical cliffs known as condoreras. But such places with the right conditions for condors to use as roosting and breeding sites are few and far between. Many condoreras are likely to have been used by condors for thousands of years.
The Andean Condor can glide for hours without flapping its wings. Yes, they flap when they take off from the ground after feeding. Other than that, they can cover long distances without flapping their wings once. The cold morning air trapped in deep ravines where condors roost begins to warm up with the rising sun. When the conditions are right, condors jump off their perches and effortlessly begin to soar in circles as they gain altitude. Some stay on the ledges incubating eggs or taking care of the young.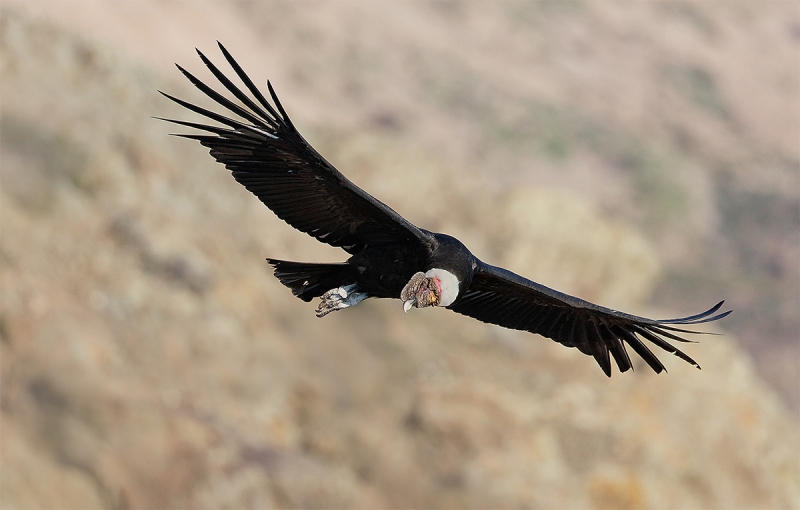 This image was created by me on a trip with Walter to the Andes Mountains with Canon 500mm f/4L IS, the 1.4X TC, and the EOS 5D Mark III.
Image copyright 2012: Arthur Morris/BIRDS AS ART
Please click on the image to see a larger and inexplicably sharper version.
Image #5: Male Andean Condor in flight
Condors on the Decline …
Unfortunately, the Andean Condor is often an unintended victim of the fight between ranchers and pumas (mountain lions) (Puma concolor) that often kill their livestock. When a puma starts killing sheep, it often becomes used to such easy prey and keeps returning for more. Ranchers bait pumas with poisoned carcasses. However, these carcasses are also found by condors looking for food. They consume the poisoned bait and die. This unintended killing of condors is a severe problem and a substantial source of condor mortality.
Walter Baliero is a professional photographer specializing in bird photography; he is based in Chile. For many years he has been conducting photo safaris, guiding photographers of different nationalities, especially those interested in the Andean Condor. He also gives workshops on this species.
If In Doubt …
If you are in doubt about using the BAA B&H affiliate link correctly, you can always start your search by clicking here. Please note that the tracking is invisible. Web orders only. Please, however, remember to shoot me your receipt via e-mail.
The Greatest-ever Bald Eagle Experience IPTs
IPT #1: SAT 20 FEB 2021 through the full day on THURS 25 FEB, 2021. Six full days: $5499.00. Limit 5 photographers/Openings: 4.

IPT #2: SAT 27 FEB 2021 through the full day on WED 3 MAR 2021. Five full days: $4599.00. Limit 5 photographers/Openings: 4
Please note the slightly revised dates for IPT #2 above.
From Homer, Alaska
We will do two 2-hour or one 4-hour boat trip to Kachemak Bay each day (weather permitting). Our schedule will be flexible and driven by the wind and sky conditions. We will have numerous and varied mind-boggling opportunities to photograph Bald Eagle, a hugely popular species. We will be feeding the eagles to attract them into photographic range. The trip is costly because chartering the boat is expensive, the fish are very expensive at $1.25/pound (all on me), the cost of breakfasts and one sit-down meal/day are included, hotel to dock transfers are included, as is lodging (double-occupancy). The cost of a single supplement is $90.00/night
We will do lots of flight photography from the boat and on land until you can no longer lift your lens. We will get off the boat on various islands to photograph the birds both perched and in flight. This species takes five years to reach maturity; we will get to photograph birds of all age-classes from juvenile plumage to full adults with their gleaming white heads (and everything in between). There will be numerous informal Image Editing, Photoshop, and Image Review sessions throughout each trip. As I am conversant in Canon, Nikon, and SONY I can help you better understand your gear no matter what you are shooting.
Going up earlier than all other tours this year proved to be fantastic with tons of snow on the ground to light up the eagle's underwings. You will usually not enjoy those conditions on the March tours (unless you are very lucky). In addition, the eagles are more ravenous early in the season. In FEB 2020 we often had 30-40 or more eagles in the air around the boat with as many as 75 perched in trees or resting on the black sand beaches. Folks who want to do some photography locally during downtime may wish to rent a vehicle.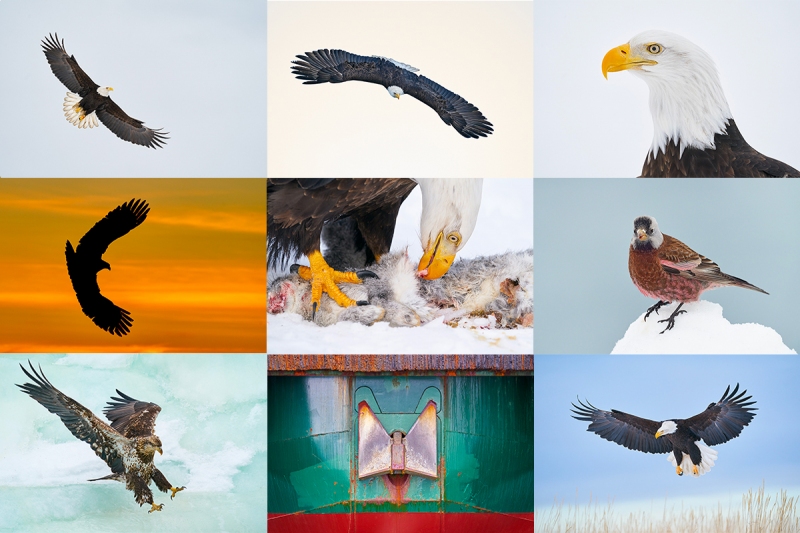 All images copyright 2020: Arthur Morris/BIRDS AS ART
Click on the card to enjoy a larger version
Homer 2020 IPT Images
It is best to register right now to save your spot. Register for both trips and apply a $300 discount.
A $2000 credit card deposit is required to hold your spot. Call Jim ASAP at the office weekdays at 863-692-0906 to leave your deposit. Your balance will be payable only by check no later than November 31, 2020. If you fail to pay your balance, your spot will be forfeited to someone on the waiting list and you will lose your deposit. If you plan on joining me, please e-mail immediately or try me on my cell at 863-221-2372 with any questions or to let me know of your plans. First come, first served.
Not included: your round-trip airfare from home to Homer, AK through Anchorage and back. Your second sit-down meal each day. Alcoholic beverages at our sit-down meal.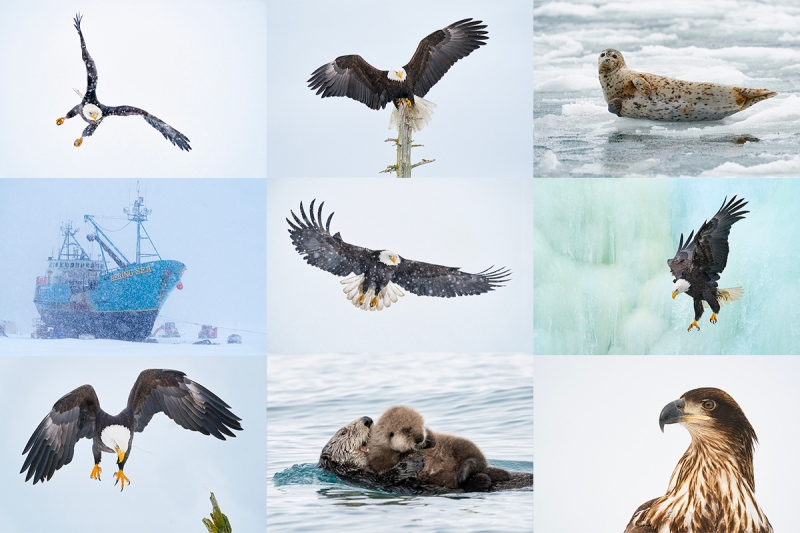 All images copyright 2020: Arthur Morris/BIRDS AS ART except for Sea Otter with pup which is courtesy of and copyright 2020: Anita North
Click on the card to enjoy a larger version
Homer 2020 IPT Images
On the Homer IPTs you will learn:
1- The basics and fine points of digital exposure; how to get the right exposure every time after making a single test exposure (or before if you are using SONY gear).
2- How and why to work in Manual mode (even if you're scared of it).
4- Lots about bird behavior and how to use that knowledge to help you create better images.
6- To spot good situations and to choose the best perspective.
7- To see, evaluate, and understand the light.
8- To design pleasing images by mastering your camera's AF system.
9- And perhaps most importantly, to evaluate wind and sky conditions and understand how they affect bird photography.
11- More than you could ever imagine.
Typos
In all blog posts and Bulletins, feel free to e-mail or to leave a comment regarding any typos or errors. Just be right :).