What's Up?
DeSoto was fabulous on Thursday, the first day of the first-ever COVID-conscious IPT. In the morning, we enjoyed a mostly Great Egret fishing spree — white birds in butter light set against still blue water — followed by lots of incoming tern flight photography. We ordered lunch in and ate a socially distanced lunch on our spacious patio. The afternoon began well as we worked a flock of 300 recently-arrived White Pelicans and finished the day off with lots of bathing terns and a nice sunset.
We meet at the park just after 7:00am, today — Friday 20 October 2020.
We have a great AirBNB in Socorro, NM for the Bosque IPT. We will eat all of our lunches there. The same is true for San Diego. Click here for more details or scroll down for info on the Bosque IPT.

Click on the screen capture to see a larger version.
Photo Mechanic four image comparison screen capture — square
For Comparative Purposes …
After clicking on each screen capture, please leave a comment and let me know if you prefer the horizontal presentation above or the square approach below when comparing four images.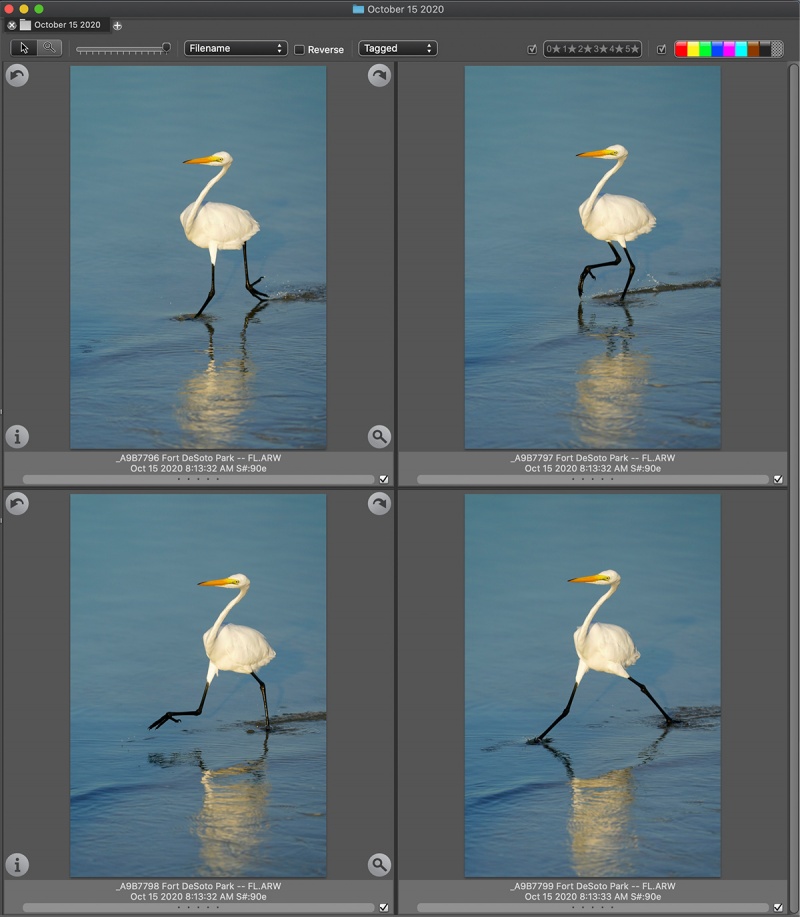 Click on the screen capture to see a larger version.
Photo Mechanic four image comparison screen capture — horizontal
The Strongest Image?
Which of the four poses do you feel makes for the strongest image? Why? The four images were created in about one second with the handheld Sony FE 200-600mm f/5.6-6.3 G OSS lens (at 467mm) and the blazingly fast AF King, the Sony Alpha a9 II Mirrorless Digital camera body. Exposure was determined via Zebra evaluation with ISO on the rear dial as detailed in The Sony Camera User's e-Guide and One Camera Set-up Video. ISO 640: 1/2500 second at f/6.3 (wide open) in Manual mode. ABW at 8:13am on a clear morning with just a hint of moisture in the air.
Upper Center Zone AF-C kills for tall birds when you are working vertically.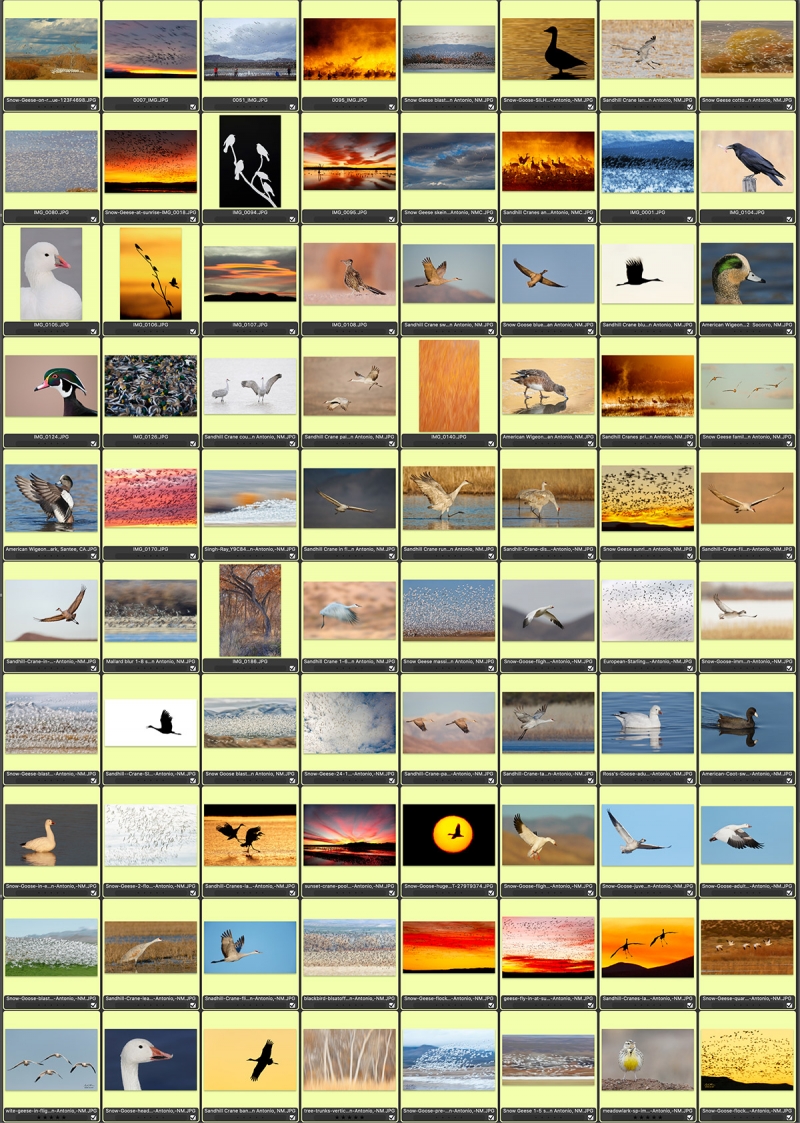 Bosque del Apache 2019 IPT
Notice the incredible variety of images that you can learn to make by developing your skills and your creative vision on a BAA IPT.
Bosque del Apache NWR 2020 IPT
NOV 18 (afternoon session) thru the morning session on November 23, 2020. 5 DAYS. Four full and two half days. $1999.00. Deposit: $500.00. Limit: 8 photographers/Openings: 6.
Extra Day Options: Please e-mail to learn about the before or after In-the-Field Day options.
The very best news is that the 2020 Festival of the Cranes has been canceled so we will be able to visit on what are usually the perfect dates!
I quit going to Bosque several years ago as conditions had worsened each year for several seasons running. In 2018, things had improved dramatically and in 2019 the photography was great. Simply put, I know Bosque better than anyone. Join me to learn how wind and sky conditions influence bird photography, how to create dramatic sunrise and sunset silhouettes, how to be in the right place at the right time, and how to create contest-winning blurs. As usual, you will learn to get the right exposure every time, to use your camera's AF system to create pleasing, balanced image designs, and to improve your flight photography skills.
We should get to photograph many thousands of Snow Geese, more than a few blast-offs, some Ross's Geese, and lots of Sandhill Cranes in the water, taking flight and flying. Depending on local conditions we may get to shoot some ducks: point-blank American Wigeon and Wood Duck. With any luck, we might enjoy sunrises and sunsets that leave you in tears. Live, eat, and breathe photography with one of (if not the) world's premier photographic educators at one of his very favorite locations on the planet. Top-notch Photoshop instruction. Join me to learn to think like a pro and to recognize situations and to anticipate them based on the weather. Every time we make a move, I will let you know why. When you get home, applying what you learned will prove to be invaluable.
Lunch is included.
To Register
To register, send your non-refundable $500 deposit — check made out to BIRDS AS ART — via US Mail to PO Box 7245, Indian Lake Estates, FL 33855. Or call Jim weekdays at 863-692-0906 to put your non-refundable deposit on a credit card. Balances must be paid in full by check no later than two months before the IPT. If you cancel due to COVID-19 concerns, all of your payments will be refunded.
Travel Insurance
Travel insurance for both big international trips and US-based IPTs is highly recommended as we never know what life has in store for us. I strongly recommend that you purchase quality travel insurance. Travel Insurance Services offers a variety of plans and options. Included with the Elite Option or available as an upgrade to the Basic & Plus Options you can also purchase Cancel for Any Reason Coverage that expands the list of reasons for your canceling to include things such as sudden work or family obligation and even a simple change of mind. My family and I use and depend on the great policies offered by TIS whenever we travel. You can learn more here: Travel Insurance Services. Do note that many plans require that you purchase your travel insurance within 14 days of our cashing your deposit check or running your credit card. Whenever purchasing travel insurance, be sure to read the fine print carefully even when dealing with reputable firms like TSI.
Typos
In all blog posts and Bulletins, feel free to e-mail or to leave a comment regarding any typos or errors. Just be right :).