What's Up?
I began this blog post at 2:55am on Friday 23 October 2020, Day 2 of the Great Roadtrip Adventure. After speaking with old friend Charlie Bush of Houme, Louisiana yesterday, we decided to get to bed early, wake early, and head to Grande Isle State Park, below New Orleans, LA in search of a few birds to photograph.
We took our time yesterday getting from ILE to Gulfport, MS. With classic wind-againstsun conditions in the afternoon — bright sun and a 20 mph wind from the east, we decided to stay in and rest rather than to explore the beach between Waveland and Bay St. Louis about 30 minutes to the west. My streak began on 17 March 2020 and I had made at least one keeper every day since then. Most of the photography was done near my home at Indian Lake Estates, FL. In addition, I spent two afternoons at the Brandon Rookery and a few weeks in all at Fort DeSoto County Park in Pinellas County, FL. If my calendar-counting is correct, the streak that ended yesterday totaled 218 days-in-a-row with at least one nice image. As is usually the case, I have been blessed. And I felt good about the streak being over. We needed the rest.
I hope to start a new streak today at Grand Isle. After our morning session, we head to Texas and then down the coast to our next AirBNB at Anahuac, TX.
Canon EOS R5 Bodies Still Available from Bedfords!
Three lucky BAA Blog readers ordered their Canon EOS R5 bodies yesterday from Steve Elkins at Bedfords and enjoyed a handsome 3% discount by using the BIRDSASART code at checkout. Each saved $116.97! I believe that Steve still has an R5 or two available. If one of them has your name on it, get in touch with him today ASAP. His contact info is below.
Topaz on Sale!
Right now Topaz is offering price reductions on the Utility Bundle and the Creator Bundle. The former normally sells for $359.96. It is on sale for an amazingly low $199.95. Click here, scroll all the way down to the sale, and enter the ARTHUR15 code at checkout to save an additional 15%! The Creator Bundle usually sells for #279.97 and is now on sale for $249.99. Using the the ARTHUR15 code at checkout brings the price down to $212.49!
Thanks to Sachin S for bringing the sale to my attention.
Please Remember
With income from IPTs approaching zero, please, if you enjoy and learn from the blog, remember to use one of my two affiliate programs when purchasing new gear. Doing so just might make it possible for me to avoid having to try to get a job as a Walmart greeter and will not cost you a single penny more. And if you use Bedfords and remember to enter the BIRDSASART code at checkout, you will save 3% on every order and enjoy free second-day air shipping. In these crazy times — I am out at least forty to sixty thousand dollars so far due to COVID 19 (with lots more to come) — remembering to use my B&H link or to shop at Bedfords will help me out a ton and be greatly appreciated. Overseas folks who cannot order from the US because of import fees, duties, and taxes can always help out by clicking here if they see fit.
The BAA Used Gear Page
The Used Gear page continues to be red hot! It is BAA Used Gear Page is the place to sell your used photographic equipment. We will help you to get your gear sold quickly for 20 to 60% or more than what the big guys are offering … Doubt me? Check out the Recent Sales list for the past ten months at the bottom of the page.
BIRDS AS ART is registered in the U.S. Patent and Trademark Office
Great Topaz News!
Folks who use the BAA Topaz link to purchase Sharpen AI, DeNoise AI, or the Utility Bundle (or any other Topaz plugins) will receive a 15% discount by entering the ARTHUR15 code at checkout. To get the discount you must use my link and you must enter the discount code. Be sure to start with this link.
Topaz Stuff
As I said just a while back and have said often many times before, I should have listened sooner. If you, like me, are new to the Topaz party, please use this link to purchase. Right now I can wholeheartedly recommend both Topaz Sharpen AI and Topaz DeNoise AI. Though I have not yet worked with JPEGtoRAW AI or Gigapixel AI, I have installed both of these plug-ins and look forward to trying them on some I-Phone 11 images fairly soon. If you are thinking like me, consider the Utility Bundle that includes all four plug-ins mentioned above at a money-saving price.
Again, those who purchase Sharpen AI or DeNoise AI using my link, can e-mail to request a short Getting Started with Topaz e-Guide. I had a bit of trouble getting the two plug-ins installed and having them appear in the Photoshop Filter Menu. In addition, I will explain how to best learn about the two plug-ins by applying them on a Layer (in Photoshop). I amazed myself yesterday by completing this guide in the car on the way to and from Sebastian. Huge thanks to Anita for doing the driving. Please include a copy of your Topaz order when requesting the guide.
New and Better Bedfords Discount Policy!
You can now save 3% on all of your Bedfords photo gear purchases by entering the BIRDSASART coupon code at checkout. Your discount will be applied to your pre-tax total. In addition, by using the code you will get 2nd day air shipping via Fed Ex.
Grab a Nikon AF-S Teleconverter TC-14E III and save $14.99. Purchase a Canon EOS R5 and your discount will be $116.97. Purchase a Sony FE 600mm f/4 GM OSS lens and save a remarkable $389.94! Your Bedford's purchase no longer needs to be greater than $1,000.00 for you to receive a discount. The more you spend, the more you save.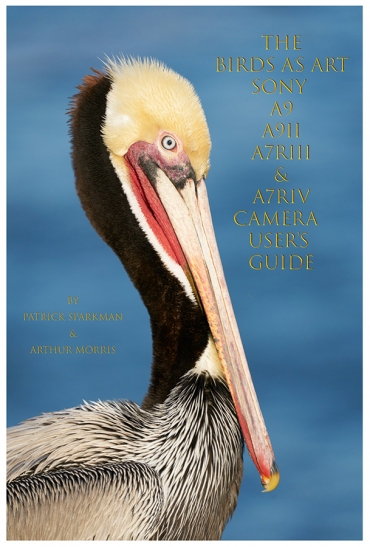 117 sold to rave reviews.
The SONY e-Guide by Patrick Sparkman and Arthur Morris
The Sony Camera User's e-Guide (and Videos)
Click here to purchase the guide with one Camera Set-up Video. Be sure to e-mail us by clicking here to specify your camera body so that we can send you a link for the correct video.
Click here to purchase the guide with two Camera Set-up Videos. Be sure to e-mail us by clicking here to specify your two camera bodies so that we can send you links for the correct videos.
Click here to learn more about the SONY e-Guide.

Money Saving Reminder
Many have learned that if you need a hot photo item that is out of stock at B&H and would enjoy free overnight shipping, your best bet is to click here, place an order with Bedfords, and enter the coupon code BIRDSASART at checkout. If an item is out of stock, contact Steve Elkins via e-mail or on his cell phone at (479) 381-2592 (Eastern time). Be sure to mention the BIRDSASART coupon code and use it for your online order. Steve has been great at getting folks the hot items that are out of stock at B&H and everywhere else. The wait lists at the big stores can be a year or longer for the hard to get items. Steve will surely get you your gear long before that. For the past year, he has been helping BAA Blog folks get their hands on items like the SONY a9 ii, the SONY 200-600 G OSS lens, the Canon EOS R5, the Canon RF 100-500mm lens, and the Nikon 500mm PF. Steve is personable, helpful, and eager to please.
Gear Questions and Advice
Too many folks attending BAA IPTs and dozens of photographers whom I see in the field and on BPN, are–out of ignorance–using the wrong gear especially when it comes to tripods and more especially, tripod heads… Please know that I am always glad to answer your gear questions via e-mail. Those questions might deal with systems, camera bodies, accessories, and/or lens choices and decisions.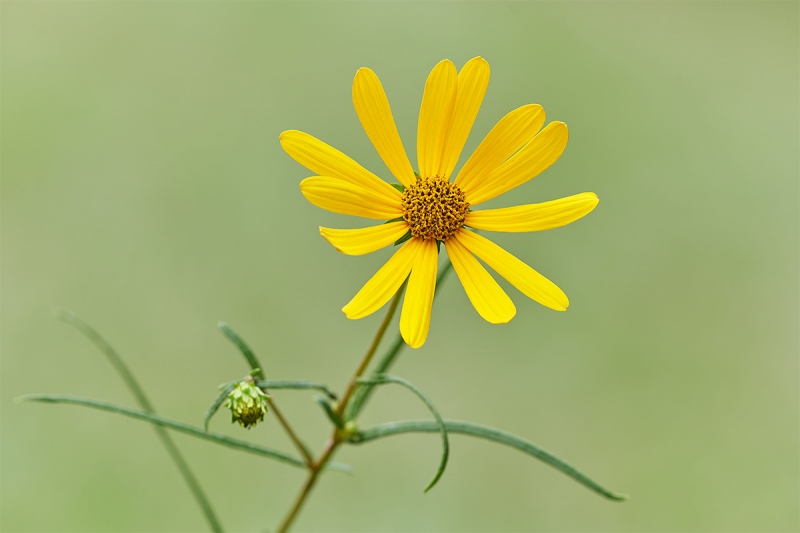 This image was created on the morning of 21 October 2020, the day before we left on Great Roadtrip Adventure. I used the Induro GIT 304L/Levered-clamp FlexShooter-mounted Canon EF 180mm f/3.5L Macro USM lens with the Metabones Canon EF/EF-S Lens to Sony E Mount T Smart Adapter (Fifth Generation) and the 61MP monster, the Sony Alpha a7R IV Mirrorless Digital camera body ISO 800. Multi metering +2 stops: 1/250 sec. at f/8 in Av mode. This exposure was confirmed as absolutely perfect by RawDigger from a series of images made with Exposure Compensations raining from +1 to + 2 1/3 stops. AWB at 11:58am on a still and cloudy morning.
Manual focus using the combination of Manual Focus Toggle and Focus Magnifier tips from the SONY e-guide along with the 2-second timer. The flower was picked from a roadside that is mowed regularly and then Plamped.
Click on the image to enjoy a larger version.
Sunflower or Aster? John Bradford — can you help? All of my flower guides are back at home.

Your browser does not support iFrame.
The Streak is Over: the last keeper …
I thought that the streak would end on Tuesday October 20, but as we were pretty much finished packing the car by late morning, I decided to head down to the lake. But when I was 1 1/2 blocks from my home, I noticed a nice stand of flowers. I worked quickly as I had an appointment to have my teeth cleaned at one pm. I did not realize at the time that this image would be the last keeper.
Av Mode for Macro
Once I got the Canon EF 180mm f/3.5L Macro USM lens and the Metabones Canon EF/EF-S Lens to Sony E Mount T Smart Adapter (Fifth Generation) I was able to see the aperture in the EXIF and in addition, Zebras work with this combo. So why so many different exposures? Why not? If there is no wind, you might as well do a bit of extra work to ensure winding up with an absolutely perfect exposure.
Once I began creating long series of flower images each with a different exposures, it only made sense to work in Av mode instead of Manual so that I could note the Exposure Compensation (EC) after the fact. When editing a series of flower images in Capture One (C-1) I first pick the best exposures using RawDigger and then check for sharpness and image design back in C-1. Then, when I review the keepers in Photo Mechanic, I can note the ECs and see which one wound up being best. I note the lighting conditions (sun or shade), the tonality and size in the frame of the subject, and the tonality of the background. The more of that you do, the more proficient you will become at nailing the right exposure when you only have one chance at it.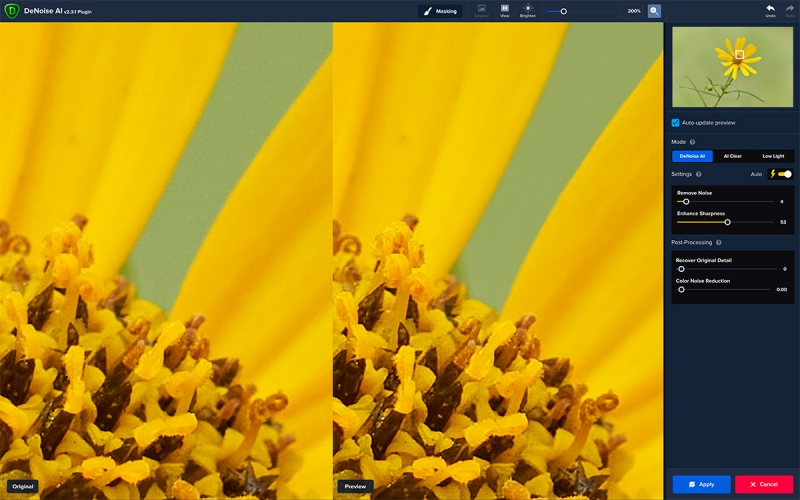 Click on the image to view a larger version.
Topaz DeNoise AI on Auto at 200%
Topaz DeNoise AI on Auto
With this flower image, click on the image to see the larger version and note that the background noise was completely eliminated with the Topaz DeNoise AI Auto setting of 4. And note also that the Enhance Sharpening setting of 53 did not cause any problems. Sometimes the AI Auto settings are simply best.
Typos
In all blog posts and Bulletins, feel free to e-mail or to leave a comment regarding any typos or errors. Just be right :).