What's Up?
Still uncertain as to whether or not we will be visiting Bosque, Anita and I decided to spend some extra time in the Rio Grande Valley and possibly head back up the Texas coast for a bit. On Sunday and Monday we spent two great days in the songbird blinds at the Santa Clara Ranch north of Rio Grande City with the talented, skilled, and hard-working Hector Astorga as our guide. On Tuesday we moved to Laguna Seca Ranch in Hidalgo County with old friend Ruth Hoyt as our guide. We killed on caracaras in the morning and a slow afternoon ended in spectacular fashion as a male cardinal and two Great Kiskadees finally found the red berry set-up.
Wednesday at Laguna Seca was pretty much a repeat of the previous day with lots of great caracara flight in the morning despite little wind and some Green Jays visiting the set-up and the berries late in the day. Today is Thursday 4 November 2020 and we will be heading back to the raptor blind early for another session with the Crested Caracaras.
If you have a half a moment, please leave a comment and let us know which of today's four featured images you like best. And why.
Topaz Still on Sale!
Right now Topaz is offering price reductions on the Utility Bundle and the Creator Bundle. The former normally sells for $359.96. It is on sale for an amazingly low $199.95. Click here, scroll all the way down to the sale, and enter the ARTHUR15 code at checkout to save an additional 15%! The Creator Bundle usually sells for #279.97 and is now on sale for $249.99. Using the ARTHUR15 code at checkout brings the price down to $212.49!
Please Remember
With income from IPTs approaching zero, please, if you enjoy and learn from the blog, remember to use one of my two affiliate programs when purchasing new gear. Doing so just might make it possible for me to avoid having to try to get a job as a Walmart greeter and will not cost you a single penny more. And if you use Bedfords and remember to enter the BIRDSASART code at checkout, you will save 3% on every order and enjoy free second-day air shipping. In these crazy times — I am out at least forty to sixty thousand dollars so far due to COVID 19 (with lots more to come) — remembering to use my B&H link or to shop at Bedfords will help me out a ton and be greatly appreciated. Overseas folks who cannot order from the US because of import fees, duties, and taxes can always help out by clicking here if they see fit.
The BAA Used Gear Page
The Used Gear page continues to be red hot! It is BAA Used Gear Page is the place to sell your used photographic equipment. We will help you to get your gear sold quickly for 20 to 60% or more than what the big guys are offering … Doubt me? Check out the Recent Sales list for the past ten months at the bottom of the page.
BIRDS AS ART is registered in the U.S. Patent and Trademark Office
Great Topaz News!
Folks who use the BAA Topaz link to purchase Sharpen AI, DeNoise AI, or the Utility Bundle (or any other Topaz plugins) will receive a 15% discount by entering the ARTHUR15 code at checkout. To get the discount you must use my link and you must enter the discount code. Be sure to start with this link.
Topaz Stuff
As I said just a while back and have said often many times before, I should have listened sooner. If you, like me, are new to the Topaz party, please use this link to purchase. Right now I can wholeheartedly recommend both Topaz Sharpen AI and Topaz DeNoise AI. Though I have not yet worked with JPEGtoRAW AI or Gigapixel AI, I have installed both of these plug-ins and look forward to trying them on some I-Phone 11 images fairly soon. If you are thinking like me, consider the Utility Bundle that includes all four plug-ins mentioned above at a money-saving price.
Again, those who purchase Sharpen AI or DeNoise AI using my link, can e-mail to request a short Getting Started with Topaz e-Guide. I had a bit of trouble getting the two plug-ins installed and having them appear in the Photoshop Filter Menu. In addition, I will explain how to best learn about the two plug-ins by applying them on a Layer (in Photoshop). I amazed myself yesterday by completing this guide in the car on the way to and from Sebastian. Huge thanks to Anita for doing the driving. Please include a copy of your Topaz order when requesting the guide.
New and Better Bedfords Discount Policy!
You can now save 3% on all of your Bedfords photo gear purchases by entering the BIRDSASART coupon code at checkout. Your discount will be applied to your pre-tax total. In addition, by using the code you will get 2nd day air shipping via Fed Ex.
Grab a Nikon AF-S Teleconverter TC-14E III and save $14.99. Purchase a Canon EOS R5 and your discount will be $116.97. Purchase a Sony FE 600mm f/4 GM OSS lens and save a remarkable $389.94! Your Bedford's purchase no longer needs to be greater than $1,000.00 for you to receive a discount. The more you spend, the more you save.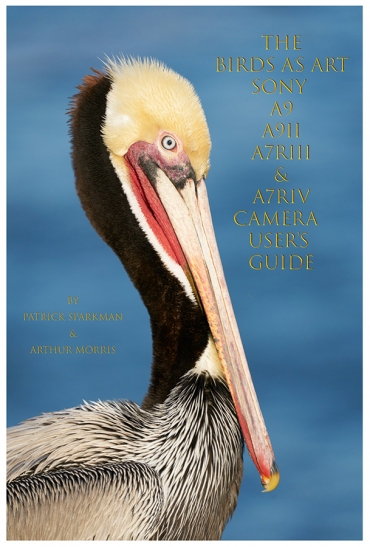 120 sold to rave reviews.
The SONY e-Guide by Patrick Sparkman and Arthur Morris
The Sony Camera User's e-Guide (and Videos)
Click here to purchase the guide with one Camera Set-up Video. Be sure to e-mail us by clicking here to specify your camera body so that we can send you a link for the correct video.
Click here to purchase the guide with two Camera Set-up Videos. Be sure to e-mail us by clicking here to specify your two camera bodies so that we can send you links for the correct videos.
Click here to learn more about the SONY e-Guide.

Money Saving Reminder
Many have learned that if you need a hot photo item that is out of stock at B&H and would enjoy free overnight shipping, your best bet is to click here, place an order with Bedfords, and enter the coupon code BIRDSASART at checkout. If an item is out of stock, contact Steve Elkins via e-mail or on his cell phone at (479) 381-2592 (Eastern time). Be sure to mention the BIRDSASART coupon code and use it for your online order. Steve has been great at getting folks the hot items that are out of stock at B&H and everywhere else. The wait lists at the big stores can be a year or longer for the hard to get items. Steve will surely get you your gear long before that. For the past year, he has been helping BAA Blog folks get their hands on items like the SONY a9 ii, the SONY 200-600 G OSS lens, the Canon EOS R5, the Canon RF 100-500mm lens, and the Nikon 500mm PF. Steve is personable, helpful, and eager to please.
Gear Questions and Advice
Too many folks attending BAA IPTs and dozens of photographers whom I see in the field and on BPN, are–out of ignorance–using the wrong gear especially when it comes to tripods and more especially, tripod heads… Please know that I am always glad to answer your gear questions via e-mail. Those questions might deal with systems, camera bodies, accessories, and/or lens choices and decisions.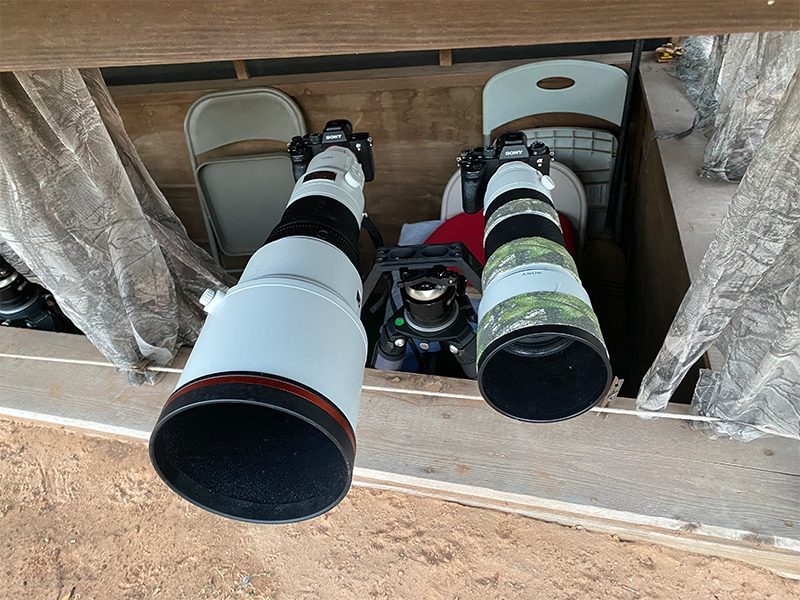 I-Phone 11 image.
The TwinShooter in Action — front view
The TwinShooter in Action — front view
Above is a bird's eye view of the TwinShooter in action. The SONY 600mm f/4GM lens is on our left, the SONY 200-600 G lens on our right.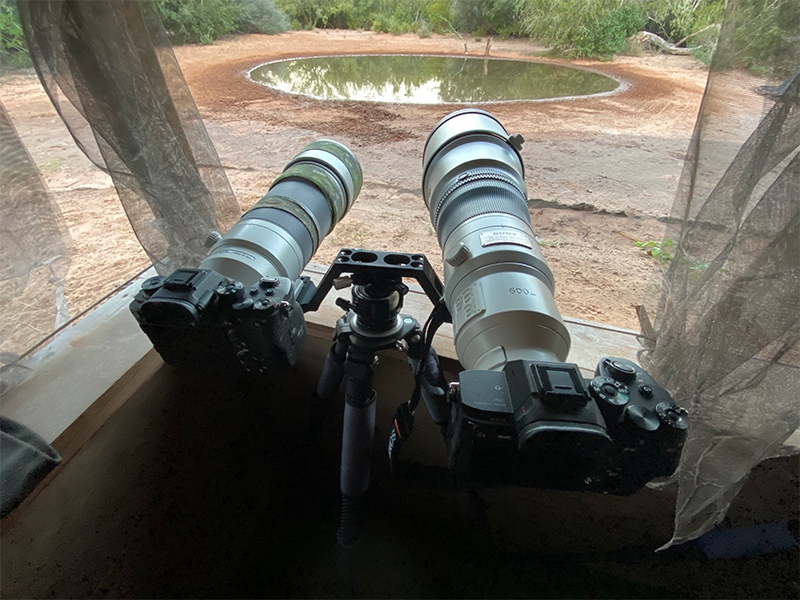 I-Phone 11 image.
The TwinShooter in Action — rear view
The TwinShooter in Action — front view
Above is a view of the TwinShooter in action at one of the ground-level morning songbird blinds at Santa Clara. The SONY 600mm f/4GM lens is on our right, the SONY 200-600 G lens on our left. Note that in reality the two lenses are perfectly parallel to each other as seen in the front view above. The distortion is the result of using the I-Phone 11 image at 1/2X, a wide angle setting. We photographed subjects ranging in size from the tiny Painted Bunting to the much bigger Green Jay to the big fat White-tipped Dove to Cottontail Rabbit to a young White-tailed Deer buck with a nice set of antlers. This set-up gives me coverage of from 200 to 600mm at f/6.3 along with 600mm at f/4, 840mm at f/5.6, and — as you will see below — 1200mm at f/8.
I first mentioned the TwinShooter when I introduced the FlexShooter Pro in the blog post here.. At the time, I was quite confident that I would never use a TwinShooter, in part because I thought that it would be quite clunky and difficult to work from. I could not have been more wrong.
I set up the tripod as I usually do in a blind — two legs forward parallel to and pressed against the lower front wall of the blind, and the other shortened leg pointed back at me. Once the tripod is firmly in place, I center the floating bubble in the scribed circle on the sliver ball and set the tension on the Silver Bullet Knob. This allows smooth panning with either lens while everything stays perfect level. Then I mount the 600 on the right as my primary weapon and the 200-600 on the left for larger subjects or shorter focal lengths (as needed). The last step is to balance the rig, usually by moving the 600 GM back a bit. Once your two lenses are set-up and balanced, the Levered-clamp FlexShooter or the FlexShooter Pro makes handling either lens a dream — smooth as silk and always square to the world.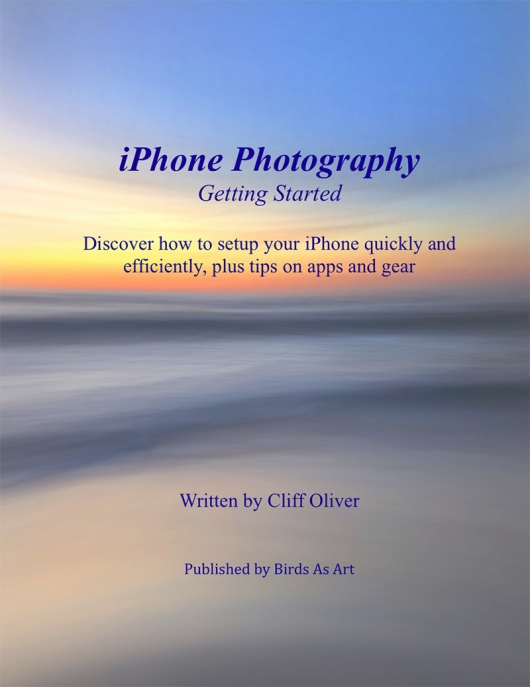 The iPhone Photography e-Guide

To order your copy of the iPhone Photography e-Guide, please click here.
The PDF is sent link by e-mail for downloading: the file is relatively huge at 216 MB.
Hard to Believe
Yes, Cliff has a great eye and wonderfully creative vision. Yet it is still hard for me to believe that he can make so many great images with "just" an i-phone. Almost more amazingly Cliff captures with his iPhone and does all of his post-processing on the phone! In this great new e-Guide written for BIRDS AS ART you will learn to use set up you iPhone quickly and efficiently and how to use it. In addition, there are dozens and dozens of tips on Cliff's favorite apps and his favorite gear. Scroll down to the bottom to see the Table of Contents.
The iPhone Photography e-Guide: $20.00.
To order your copy of the iPhone Photography e-Guide please click here.
Dr. Cliff Oliver
Dr. Cliff Oliver is an award-winning photographer, former photography instructor for the San Diego Natural History Museum, cutting-edge integrative health care professional, and international workshop leader. He created and taught the first 5-day immersion iPhone photography workshop at Hollyhock, Canada's premier Leadership Learning Center. He teaches quarterly iPhone photography classes at the Athenaeum Music & Arts Library School of the Arts (these include Art on the iPhone, iPhoneography, Portraits and Selfies, and Practicing in the Field). His images have been on the cover of WildBird magazine, on display at Scripps Oceanography Institute, and been honored with multiple first-place finishes in the International Exhibition of Photography Del Mar. The San Diego Natural History Museum's, "Birds of the World" centennial exhibit featured several of his images. One of his iPhone images received an honorable mention in the Athenaeum 23rd annual juried exhibition. He has displayed images at Art Speaks: Expressions of Hope and Healing and has produced a series of books, called Zen I, II, III, IV, V, VI and VII that feature original images that promote inner peace. The last 4 books feature only images taken on the iPhone. He teaches individuals and groups the skills of capturing iPhone/mobile photographs and then how to create personalized works of art.
To see some of Cliff's iPhone images, click here. Learn more about Cliff and what he does on his Center for Balance website here. And don't forget, if I had never met Cliff I would be pushing up daisies somewhere. To request my Health Basics File that contains the whole story, please shoot me an e-mail by clicking here..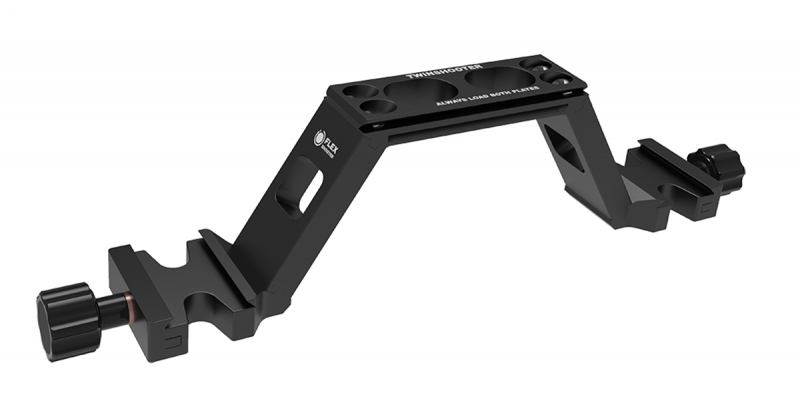 TwinShooter Product Shot
What the heck is a TwinShooter? Two for the Price of One!
If you work in a situation where you are seated in a blind, under cover, or somewhere in the field where you need two tripod-mounted lenses side by side, always level, and instantly available, then the TwinShooter was made for you. It sells for $209.00 US plus shipping. We are currently sold out. We are expecting new stock in a week to ten days. At present, we are accepting phone orders only. Please call Jim any weekday at 863-692-0906 to secure one from our next batch. Your credit card will not be billed until your order is shipped.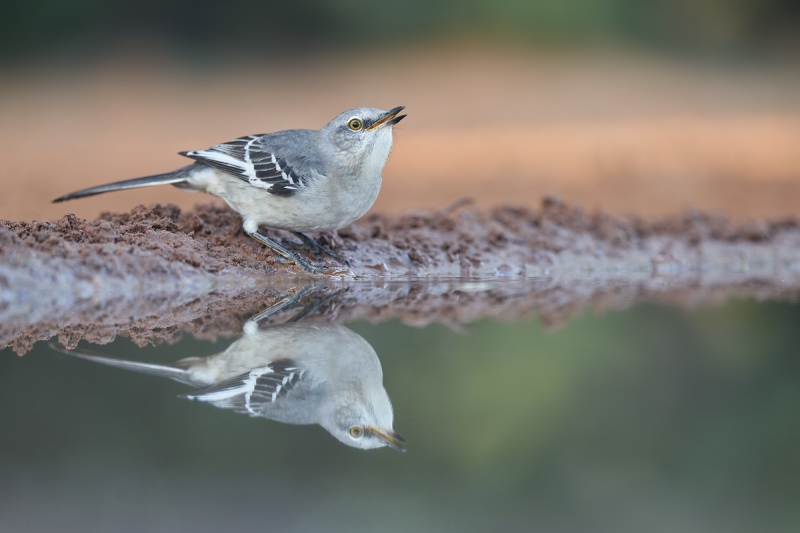 This image was created on 1 November 2020 at the Santa Clara Ranch north of Rio Grande City with Hector Astorga as our guide. I used the Induro GIT 304/Levered-clamp FlexShooter/TwinShooter-mounted Sony FE 600mm f/4 GM OSS lens and the 61-MP Sony Alpha a7R IV Mirrorless Digital Camera Body. ISO 2000. Exposure determined by Zebras with ISO on the rear dial: 1/320 sec. at f/4.4 in Manual mode. AWB at 7:14am before the sun came up on what would be a clear morning.
Tracking Flexible Spot AF-C was active at the moment of exposure and performed to perfection. Click the image to see a larger version.
Image #1: Northern Mockingbird drinking

Your browser does not support iFrame.
Working with Soft Pre-dawn Light
In the soft, sweet light of pre-dawn I usually will go to the 600 f/4GM wide open at f/4 to take advantage of its speed. I love the soft, no-shadows look.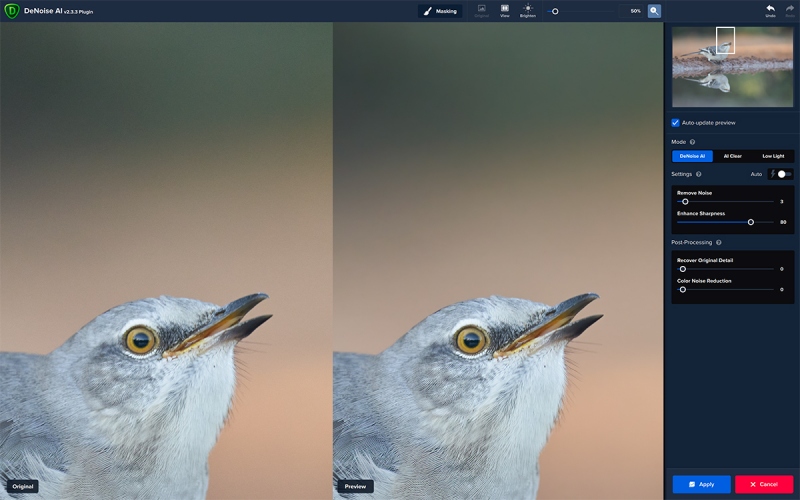 Click on the screen capture to view the larger version.
Image #1A: Topaz DeNoise AI on the ISO 2000 Northern Mockingbird drinking image at 100%.
Topaz DeNoise AI on the ISO 2000 Northern Mockingbird drinking image
As part of my now regular workflow, I began with Topaz DeNoise AI on Auto on the whole image to clean up the noise and sharpen it up just a bit. Here, the Auto settings were spot on. Be sure to click on the image to enlarge it and note the complete elimination of noise in the background.
Getting Wider When Needed
Here, 600 would have been too long a focal length; it would not have been possible to include the whole bird along with its whole reflection. Switching from one lens to another is a snap; you can often do so without even shifting your position in the chair. One big advantage of the TwinShooter solution is that with your auxiliary zoom lens already in place, you will not be scaring off shy subjects when you stick a second lens out of the blind …
840mm on the TwinShooter
For this image made in sweet, late afternoon light, I was working on the TwinShooter with the 600 GM and the 1.4X TC. Note the inclusion of the shadow in the image design. That was determined both by the focal length and my position in the blind.
After running Topaz DeNoise AI at Auto on the whole image as the first step in my workflow, I selected the bird's face and upper body with the Quick Selection Tool and applied Topaz Sharpen AI to that layer only. As I usually do, I roughly doubled the sharpening setting while moving the Noise Suppression slider to zero.
1200mm on the TwinShooter
Once the sun was on the birds on our first morning, I went super-tight with the 2X TC on the 600 GM to best isolate the bathing birds that were facing right at me right down sun angle.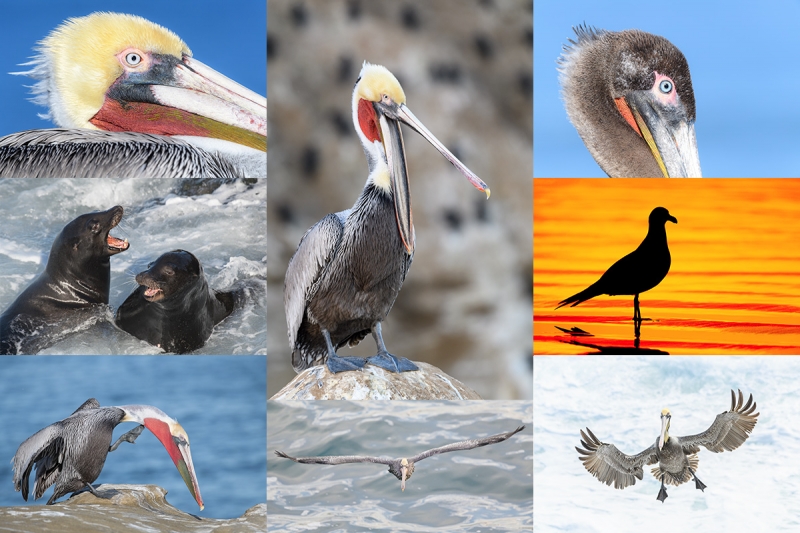 San Diego offers a wealth of very attractive natural history subjects, including and especially the Pacific race of California Brown Pelican. With annual visits spanning more than four decades, I have lots of photographic experience there … Click on the composite to enjoy a larger version.
San Diego 2021 COVID-conscious Brown Pelican IPT
January 12 thru the morning session on January 16, 2021. Four full and one-half day: $2299.00. Deposit: $599.00. Limit: 8 photographers/Openings: 7.
Introductory Meet and Greet at 7:00pm on the evening before the IPT begins; MON JAN 11, 2021.
Join me in San Diego to photograph the spectacular breeding plumage Brown Pelicans with their fire-engine red and olive green bill pouches; Brandt's (nesting with eggs and possibly chicks) and Double-crested Cormorants; breeding plumage Wood and Ring-necked Duck; other duck species possible including Lesser Scaup, Redhead, and Surf Scoter; a variety of gulls including Western, California, and the gorgeous Heermann's, all in full breeding plumage; shorebirds including Marbled Godwit, Willet, Sanderling and Black-bellied Plover; many others are possible including Least, Western, and Spotted Sandpiper, Whimbrel, Black and Ruddy Turnstone, Semipalmated Plover, and Surfbird; Harbor Seals (depending on the current regulations) and California Sea Lions; and Bird of Paradise flowers. And as you can see by studying the IPT cards, there are some nice bird-scape and landscape opportunities as well. Not to mention a ton of excellent flight photography opportunities and instruction.
Please note: where permitted and on occasion, ducks and gulls may be attracted (or re-located) with offerings of grains or healthy bread.
Learning Exposure, Whether You Like It Or Not
Whether you like it or not, we will be beating the subject of exposure like a dead horse. In every new situation, you will hear my thoughts on the exposure situation along with my thoughts on both Nikon and Canon histograms and the subject of blinkies. Whether you like it or not, you will learn to work in manual mode and to get the right exposure every time as long as a bird gives you ten seconds with the light constant. And you will learn what to do when the light is changing constantly. What you learn about exposure will be one of the great takeaways on every IPT.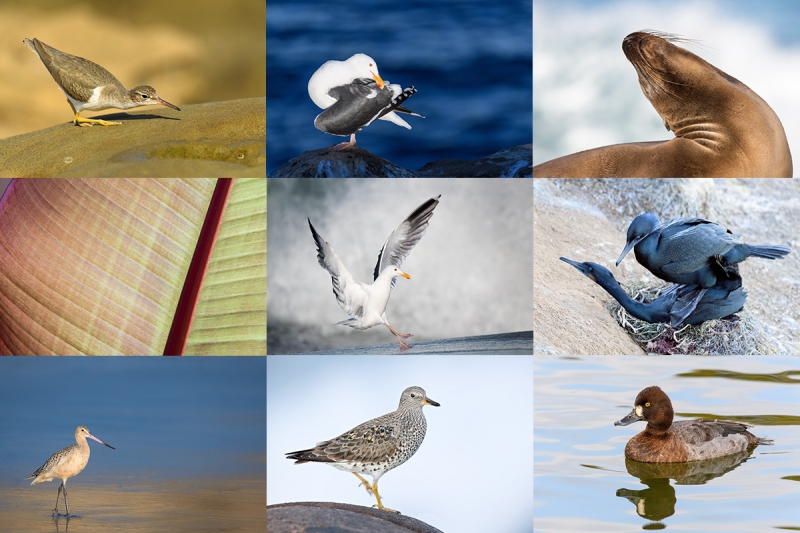 Though the pelicans will be the stars of the show on this IPT, there will be many other handsome and captivating subjects in wonderful settings. Click on the composite to enjoy a larger version.
It Ain't Just Pelicans
With gorgeous subjects just sitting there waiting to have their pictures taken, photographing the pelicans on the cliffs is about as easy as nature photography gets. With the winds from the east almost every morning there is usually some excellent flight photography as well. And the pelicans are almost always doing something interesting: preening, scratching, bill pouch cleaning, or squabbling. And then there are those crazy head throws that are thought to be a form of intra-flock communication. You will be guided as to how to make the best of all of those opportunities. And depending on the weather and local conditions and tides, there are a variety of fabulous photo chances available in and around San Diego.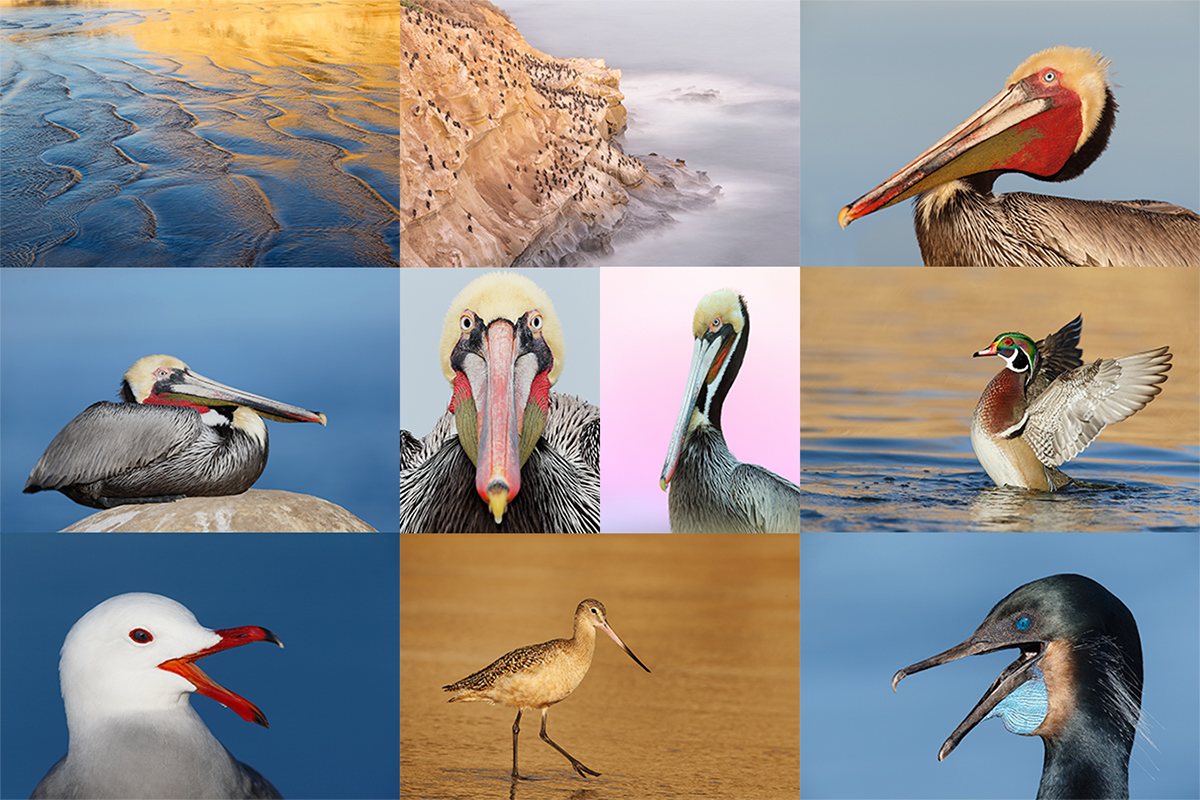 Did I mention that there are lots of great birds and natural history subjects in San Diego in winter? Click on the composite to enjoy a larger version.
The San Diego Details
This IPT will include five 3 1/2 hour morning photo sessions, four 2 1/2 hour afternoon photo sessions, four lunches, and after-brunch image review and Photoshop sessions. To ensure early starts, breakfasts will be your responsibility. And so that we can get some sleep, dinners will be on your own as well.
A $599 deposit is required to hold your slot for this IPT. You can send a check (made out to "BIRDS AS ART) to us here: BIRDS AS ART, PO Box 7245, Indian Lake Estates, FL, 3385, or call Jim or Jennifer at the office with a credit card at 863-692-0906. Your balance, payable only by check, is due immediately after you sign up. Please print, complete, and sign the form that is linked to here and shoot it to us along with your deposit check. If you register by phone, please print, complete and sign the form as noted above and either mail it to us or e-mail the scan. If you have any questions, please feel free to contact me via e-mail. If you cancel due to COVID 19 concerns, all of your payments will be refunded.
Travel Insurance
Travel insurance for both big international trips and US-based IPTs is highly recommended as we never know what life has in store for us. I strongly recommend that you purchase quality travel insurance. Travel Insurance Services offers a variety of plans and options. Included with the Elite Option or available as an upgrade to the Basic & Plus Options you can also purchase Cancel for Any Reason Coverage that expands the list of reasons for your canceling to include things such as sudden work or family obligation and even a simple change of mind. My family and I use and depend on the great policies offered by TIS whenever we travel. You can learn more here: Travel Insurance Services. Do note that many plans require that you purchase your travel insurance within 14 days of our cashing your deposit check or running your credit card. Whenever purchasing travel insurance, be sure to read the fine print carefully even when dealing with reputable firms like TSI.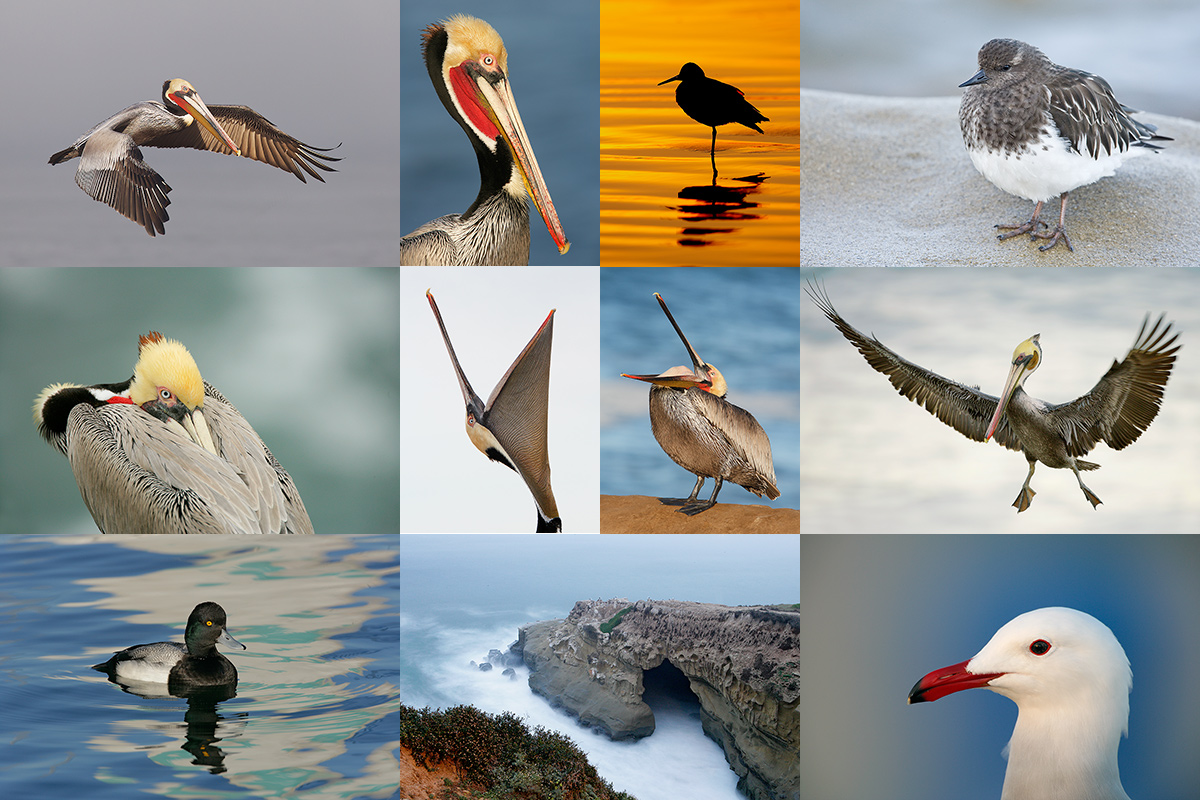 Variety is surely the spice of life in San Diego. Click on the composite to enjoy a larger version.
Getting Up Early and Staying Out Late
On all BIRDS AS ART IPTS including and especially the San Diego IPT, we get into the field early to take advantage of unique and often spectacular lighting conditions and we stay out late to maximize the chances of killer light and glorious sunset silhouette situations. We often arrive at the cliffs a full hour before anyone else shows up to check out the landscape and seascape opportunities.
Typos
In all blog posts and Bulletins, feel free to e-mail or to leave a comment regarding any typos or errors. Just be right :).