What's Up?
On Saturday, we spent our fourth straight morning at the great raptor blind on the Laguna Seca Ranch with Gene Gwin. The day began with some fog so we started with the 600 f/4 lenses in the low light conditions. Yesterday, we paid our first visit to the raptor blind at the Santa Clara Ranch, again with Hector Astorga as our guide. Sunday began mercifully cloudy so again we went with the 600s for the additional speed. But, the 600s are a bit too long for most raptor flight photography at both of the ranches we visited; we had lots of clipped wings … SONY sorely needs to add a lightweight 500mm lens to their line-up; either an f/4 or possibly an even lighter f/4.5 version would have been great at the raptor blinds …
With continuing reports on the poor conditions at the refuge, the lack of water, and the requirement of a negative COVID test to enter New Mexico, Anita and I have decided to cancel our visit to Bosque del Apache NWR. Today is Monday 9 NOV 2020. Amazingly, we decided to take a day off from photography. We will unpack the car completely, wash it, go shopping, do some laundry, clean our photo gear, and repack the X5. We will leave early on Tuesday for a few days at South Padre Island.
Topaz Still on Sale!
Right now Topaz is offering price reductions on the Utility Bundle and the Creator Bundle. The former normally sells for $359.96. It is on sale for an amazingly low $199.95. Click here, scroll all the way down to the sale, and enter the ARTHUR15 code at checkout to save an additional 15%! The Creator Bundle usually sells for #279.97 and is now on sale for $249.99. Using the ARTHUR15 code at checkout brings the price down to $212.49!
Please Remember
With income from IPTs approaching zero, please, if you enjoy and learn from the blog, remember to use one of my two affiliate programs when purchasing new gear. Doing so just might make it possible for me to avoid having to try to get a job as a Walmart greeter and will not cost you a single penny more. And if you use Bedfords and remember to enter the BIRDSASART code at checkout, you will save 3% on every order and enjoy free second-day air shipping. In these crazy times — I am out at least forty to sixty thousand dollars so far due to COVID 19 (with lots more to come) — remembering to use my B&H link or to shop at Bedfords will help me out a ton and be greatly appreciated. Overseas folks who cannot order from the US because of import fees, duties, and taxes can always help out by clicking here if they see fit.
The BAA Used Gear Page
The Used Gear page continues to be red hot! It is BAA Used Gear Page is the place to sell your used photographic equipment. We will help you to get your gear sold quickly for 20 to 60% or more than what the big guys are offering … Doubt me? Check out the Recent Sales list for the past ten months at the bottom of the page.
BIRDS AS ART is registered in the U.S. Patent and Trademark Office
Great Topaz News!
Folks who use the BAA Topaz link to purchase Sharpen AI, DeNoise AI, or the Utility Bundle (or any other Topaz plugins) will receive a 15% discount by entering the ARTHUR15 code at checkout. To get the discount you must use my link and you must enter the discount code. Be sure to start with this link.
Topaz Stuff
As I said just a while back and have said often many times before, I should have listened sooner. If you, like me, are new to the Topaz party, please use this link to purchase. Right now I can wholeheartedly recommend both Topaz Sharpen AI and Topaz DeNoise AI. Though I have not yet worked with JPEGtoRAW AI or Gigapixel AI, I have installed both of these plug-ins and look forward to trying them on some I-Phone 11 images fairly soon. If you are thinking like me, consider the Utility Bundle that includes all four plug-ins mentioned above at a money-saving price.
Again, those who purchase Sharpen AI or DeNoise AI using my link, can e-mail to request a short Getting Started with Topaz e-Guide. I had a bit of trouble getting the two plug-ins installed and having them appear in the Photoshop Filter Menu. In addition, I will explain how to best learn about the two plug-ins by applying them on a Layer (in Photoshop). I amazed myself yesterday by completing this guide in the car on the way to and from Sebastian. Huge thanks to Anita for doing the driving. Please include a copy of your Topaz order when requesting the guide.
New and Better Bedfords Discount Policy!
You can now save 3% on all of your Bedfords photo gear purchases by entering the BIRDSASART coupon code at checkout. Your discount will be applied to your pre-tax total. In addition, by using the code you will get 2nd day air shipping via Fed Ex.
Grab a Nikon AF-S Teleconverter TC-14E III and save $14.99. Purchase a Canon EOS R5 and your discount will be $116.97. Purchase a Sony FE 600mm f/4 GM OSS lens and save a remarkable $389.94! Your Bedford's purchase no longer needs to be greater than $1,000.00 for you to receive a discount. The more you spend, the more you save.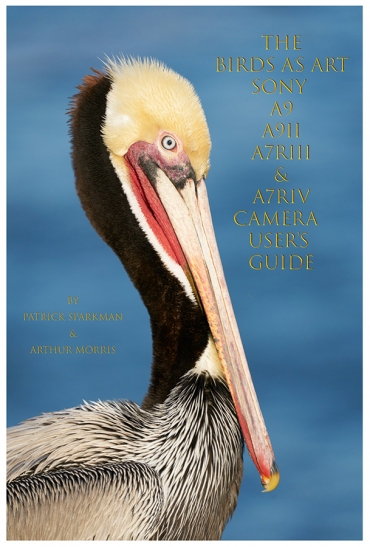 120 sold to rave reviews.
The SONY e-Guide by Patrick Sparkman and Arthur Morris
The Sony Camera User's e-Guide (and Videos)
Click here to purchase the guide with one Camera Set-up Video. Be sure to e-mail us by clicking here to specify your camera body so that we can send you a link for the correct video.
Click here to purchase the guide with two Camera Set-up Videos. Be sure to e-mail us by clicking here to specify your two camera bodies so that we can send you links for the correct videos.
Click here to learn more about the SONY e-Guide.

Money Saving Reminder
Many have learned that if you need a hot photo item that is out of stock at B&H and would enjoy free overnight shipping, your best bet is to click here, place an order with Bedfords, and enter the coupon code BIRDSASART at checkout. If an item is out of stock, contact Steve Elkins via e-mail or on his cell phone at (479) 381-2592 (Eastern time). Be sure to mention the BIRDSASART coupon code and use it for your online order. Steve has been great at getting folks the hot items that are out of stock at B&H and everywhere else. The wait lists at the big stores can be a year or longer for the hard to get items. Steve will surely get you your gear long before that. For the past year, he has been helping BAA Blog folks get their hands on items like the SONY a9 ii, the SONY 200-600 G OSS lens, the Canon EOS R5, the Canon RF 100-500mm lens, and the Nikon 500mm PF. Steve is personable, helpful, and eager to please.
Gear Questions and Advice
Too many folks attending BAA IPTs and dozens of photographers whom I see in the field and on BPN, are–out of ignorance–using the wrong gear especially when it comes to tripods and more especially, tripod heads… Please know that I am always glad to answer your gear questions via e-mail. Those questions might deal with systems, camera bodies, accessories, and/or lens choices and decisions.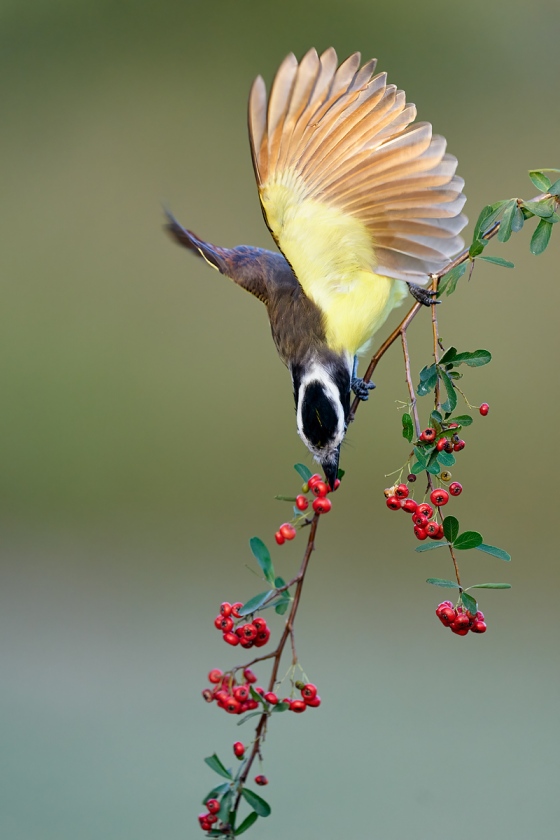 This image was created on the morning of 3 November 2020 at an afternoon songbird blind on the Laguna Seca Ranch in Hidalgo County, TX. I used the Induro GIT 404L/Levered-Clamp FlexShooter Pro-mounted Sony FE 600mm f/4 GM OSS lens and the blazingly fast AF King, the Sony Alpha a9 II Mirrorless Digital Camera Body. Exposure determined by Zebras with ISO on the rear dial: 1/1250 sec. at f/4 in Manual mode. This was a bit of an underexposure. AWB at 5:19pm in the shade.
Tracking Expand Flexible Spot AF-C was active at the moment of exposure and performed perfectly. Click on the image to see a larger version.
Image #1: Great Kiskadee grabbing berry

Your browser does not support iFrame.
We've All Been There …
The light is low. We are anticipating action. We struggle on choosing a fast enough shutter speed balanced with a not-too-high ISO. We often wind up with a RAW file that is a bit too dark and a shutter speed that is not quite fast enough. That is exactly what happened here as the berry set up became enveloped by shade late in the day. RawDigger showed the file to be more than one stop too dark. And there was some motion blur in the head as the bird grabbed the berry.
For the raw conversion in Capture One, I increased the exposure by 1.22 stops (thus increasing the noise), set the Brightness slider to -15, the Highlight slider to -17, and the Shadow slider to +30 to bring up sufficient detail in the dark feathers of the cap (and again increasing the noise levels). All of those changes were made to taste.
It is likely that in the past, before Topaz DeNoise AI and especially before Topaz Sharpen AI came onto the scene, I would have deleted this image. With the lovely raised wing, hitting the delete key would have been done with some remorse. Keep reading to see the miraculous Topaz plug-ins results up close.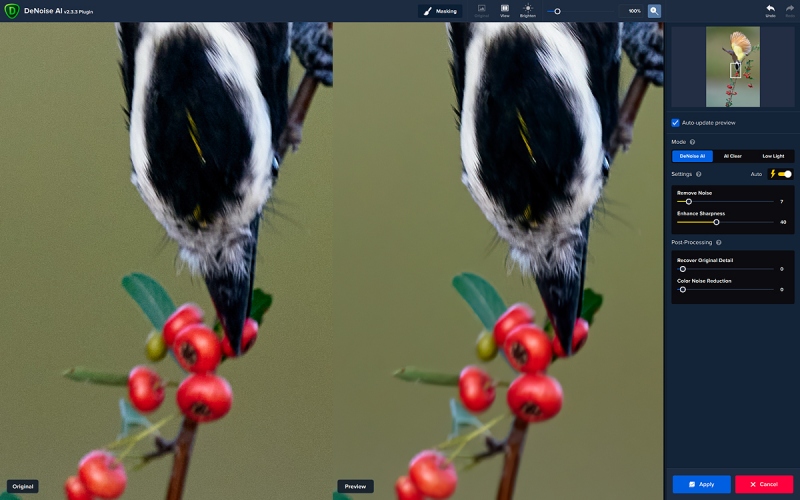 Click on the screen capture to view the larger version.
Image #1A: Topaz DeNoise AI on the Great Kiskadee grabbing berry image at 100%.
Topaz DeNoise AI on the Great Kiskadee grabbing berry image
As part of my now-regular workflow, I began with Topaz DeNoise AI on Auto on the whole image to clean the noise and sharpen it up just a bit. With most properly exposed images, Auto typically sets the Remove Noise slider to 2 or 3. Here, it chose the relatively high value of 7. Be sure to click on the image to enlarge it and note the completely amazing elimination of noise (especially in the background). At 100%, it is easy to see the motion blur — especially when you take a close look at the bird's eye.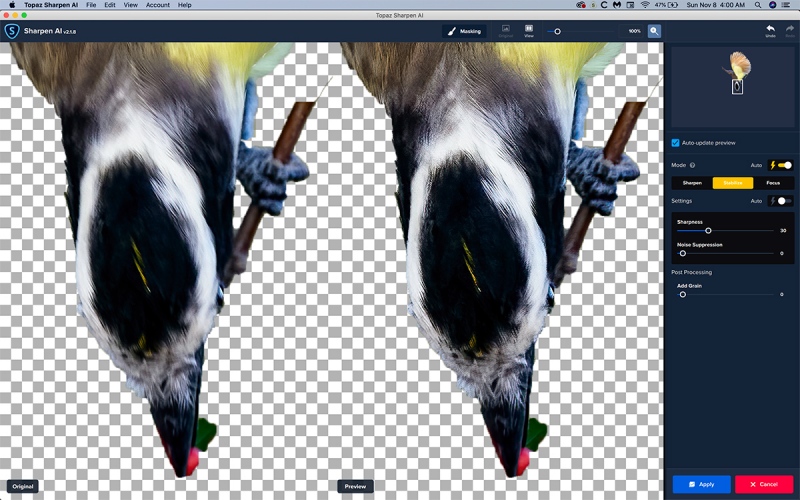 Click on the screen capture to view a larger version.
Image #1B: Topaz Sharpen AI on the head of the Great Kiskadee (selected) at 100%.
Topaz Sharpen AI on the head of the Great Kiskadee (selected).
After running DeNoise AI on the whole image as above, I selected the bird's head and bill, opened the selection in Topaz Sharpen AI and hit Auto. As I suspected, the plug-in selected Stabilize, indicating that the sharpness problems were indeed caused by motion blur. As I typically do in Sharpen AI, I moved the Noise Suppression slider to zero.
If you enlarge the image and take a good look at the birds eye, and are not totally amazed, I would be flabbergasted. And all that is done without a hint of crunchiness or any sharpening halos. I am not sure how Sharpen AI works but it has something to do with re-aligning the pixels. Whatever it is, it is amazing technology.
I'd have no problem making a 16 X 24″ print of this image or submitting it for publication. As I said, amazing.
Typos
In all blog posts and Bulletins, feel free to e-mail or to leave a comment regarding any typos or errors. Just be right :).