What's Up?
Not much. It is cloudy here today at ILE and a big cold front will be arriving tonight. I am publishing this just before noon and will be doing my swim right after I hit Publish. I have been doing my slow half-mile (44 lengths) every day since I got back.
I will be sharing a ton with you here very soon by way of a comparison of the R5/100-500 with the SONY 200-600/a9 ii.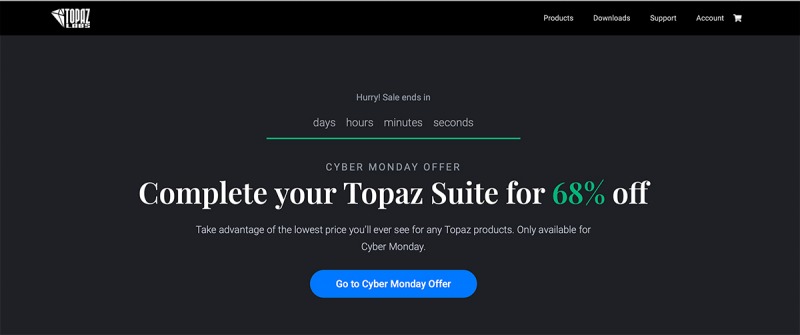 Topaz Cyber Monday Sale till midnight tonight!
Click on the logo link above or here to save 68% on the complete Topaz Suite (or the items you need to complete your Suite). The regular price for the Complete Suite is $939.92. On sale till midnight tonight for only $299.99. Enter the ARTHUR15 code at checkout to save an additional 15%!
Topaz Still on Sale!
Right now Topaz is offering price reductions on the Utility Bundle and the Creator Bundle. The former normally sells for $359.96. It is on sale now for $249.95. Click here, scroll all the way down to the sale, and enter the ARTHUR15 code at checkout to save an additional 15%! The Creator Bundle usually sells for $279.97 and is now on sale for $149.99. Using the ARTHUR15 code at checkout brings the price down to $127.49!
Great Topaz News!
Folks who use the BAA Topaz link to purchase Sharpen AI, DeNoise AI, or the Utility Bundle (or any other Topaz plugins) will receive a 15% discount by entering the ARTHUR15 code at checkout. To get the discount you must use my link and you must enter the discount code. Be sure to start with this link.
Topaz Stuff
As I said just a while back and have said often many times before, I should have listened sooner. If you, like me, are new to the Topaz party, please use this link to purchase. Right now I can wholeheartedly recommend both Topaz Sharpen AI and Topaz DeNoise AI. Though I have not yet worked with JPEGtoRAW AI or Gigapixel AI, I have installed both of these plug-ins and look forward to trying them on some I-Phone 11 images fairly soon. If you are thinking like me, consider the Utility Bundle that includes all four plug-ins mentioned above at a money-saving price.
Again, those who purchase Sharpen AI or DeNoise AI using my link, can e-mail to request a short Getting Started with Topaz e-Guide. I had a bit of trouble getting the two plug-ins installed and having them appear in the Photoshop Filter Menu. In addition, I will explain how to best learn about the two plug-ins by applying them on a Layer (in Photoshop). I amazed myself yesterday by completing this guide in the car on the way to and from Sebastian. Huge thanks to Anita for doing the driving. Please include a copy of your Topaz order when requesting the guide.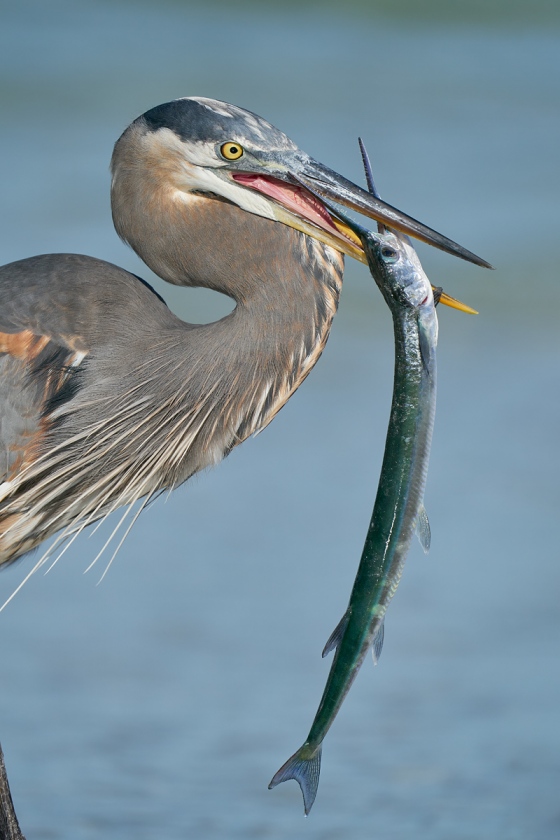 This image was created on 27 November 2020 at Fort DeSoto. I used the handheld Sony FE 200-600mm f/5.6-6.3 G OSS lens (at 600mm) and the blazingly fast AF King, the Sony Alpha a9 II Mirrorless Digital camera body. ISO 500. Exposure determined by Zebras with ISO on the rear wheel: 1/2000 sec. at f/8 in Manual mode. AWB at 9:54am on a sunny morning.
Upper Center Zone AF-C was active at the moment of exposure and performed superbly.
Image #1: Great Blue Heron with large needlefish

Your browser does not support iFrame.
A Generous Fisherman
A generous fisherman donated his catch — a very large needlefish — to the ecosystem. A typically cooperative Great Blue Heron did the rest. This occurred right after my R5 battery died; my SONY gear performed perfectly to the tune of 45 keepers each carefully framed with the SONY 2-6.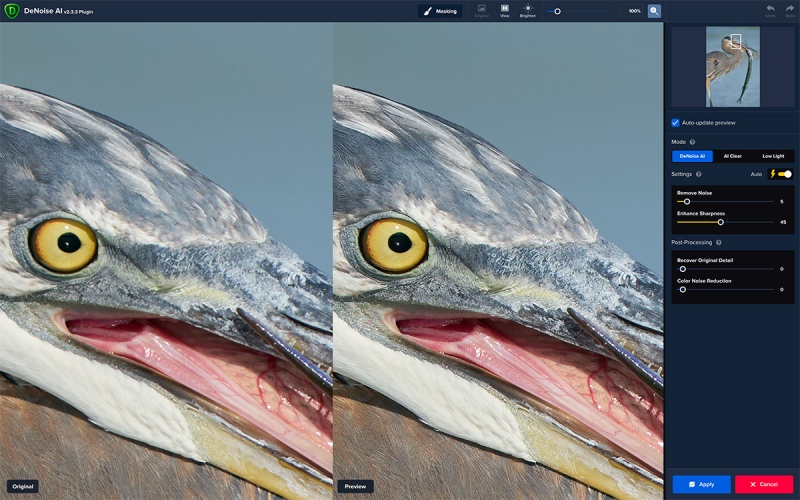 Be sure to click on the image to better see the noise reduction and especially the increase in sharpness.
Image #1A: Topaz DeNoise AI on Auto on the Great Blue Heron with large needlefish image at 100%
Topaz DeNoise AI on the Great Blue Heron Great Blue Heron with large needlefish image
This is yet another example of Topaz DeNoise AI improving an image that came out of the camera pretty-much-perfect. Topaz AI on Auto. The converted TIF here was close to being noise-free (thanks to the work I have done with RawDigger) and it was sharp. DeNoise AI completely removed the noise from the sky background and sharpened the image non-destructively as well.