What's Up?
I woke early today — Saturday 5 December 2020 — and checked the weather forecast for Indian Lake Estates: cloudy with NW winds. So I worked in bed till almost 8am helping out BPN-friend Paul Burdett with a White-faced Heron image. You can see this interesting post here.. I got out of bed and pulled back the blinds to see a bright sun, clear skies, and zero wind … I dressed quickly, drove down to the lake with only the Canon gear in the car, and enjoyed lots of good chances on the usual subjects: the Mother's Day crane family and a slew of Black Vultures.
The more that I work with the Canon gear the more I learn, the more fun I have, and the more impressed I become. Several folks who have left comments on the last two blog posts have been amazingly helpful. If you own or are considering getting an R5 (or an R6), it would behoove you to go back and read the great exchange of ideas in the Comments sections.
Most Importantly
As always, if what you read or learn here inspires or convinces you to purchase an R5 or 6, and/or the RF 100-500 lens, and/or the RF Extender 1.4X, please use my B&H affiliate links or get in touch with Steve Elkins at Bedford to save 3% on your new gear and get it a lot quicker …
Great R5/RF 100-500 News from Bedfords
I spoke to Steve Elkins at Bedford Camera on Thursday and was excited to learn that he will be getting his biggest-yet shipment of Canon R5 bodies and RF 100-500 lenses early next week. You can save 3% on your order by entering the BIRDSASART coupon code at checkout. Your discount will be applied to your pre-tax (if any is due) total. In addition, by using the code you will get free 2nd day air shipping via Fed Ex.
If you buy the Canon rig that I am testing you will save a very handsome $212.91. As most of you know and too many of you forget, using either of my affiliate partners is the best way to thank me for the work that I do here on the blog.
Back in Stock
We now have eighteen of the hugely popular Levered-Clamp FlexShooter Pro tripod heads in stock. Click on the preceding link to learn more about this amazing head, the ballhead that thinks it's a gimbal head and — thanks to the amazing counter-balanced spring mechanism — works great with any rig from the longest, heaviest super-telephoto lens to a camera-body-mounted wide angle. The latter is possible because of the bi-directional clamp; it is no longer necessary to travel with a gimbal head for long lens photography and a ballhead for scenic photography. And after just a moment's adjustment, the double ball enables you to ensure that every image you take is on the level.
Please Remember
With income from IPTs approaching zero, please, if you enjoy and learn from the blog, remember to use one of my two affiliate programs when purchasing new gear. Doing so just might make it possible for me to avoid having to try to get a job as a Walmart greeter and will not cost you a single penny more. And if you use Bedfords and remember to enter the BIRDSASART code at checkout, you will save 3% on every order and enjoy free second-day air shipping. In these crazy times — I am out at least forty to sixty thousand dollars so far due to COVID 19 (with lots more to come) — remembering to use my B&H link or to shop at Bedfords will help me out a ton and be greatly appreciated. Overseas folks who cannot order from the US because of import fees, duties, and taxes can always help out by clicking here if they see fit.
Topaz Still on Sale!
Right now Topaz is offering price reductions on the Utility Bundle and the Creator Bundle. The former normally sells for $359.96. It is on sale now for $249.95. Click here, scroll all the way down to the sale, and enter the ARTHUR15 code at checkout to save an additional 15%! The Creator Bundle usually sells for $279.97 and is now on sale for $149.99. Using the ARTHUR15 code at checkout brings the price down to $127.49!
The BAA Used Gear Page
The Used Gear page continues to be red hot! It is BAA Used Gear Page is the place to sell your used photographic equipment. We will help you to get your gear sold quickly for 20 to 60% or more than what the big guys are offering … Doubt me? Check out the Recent Sales list for the past ten months at the bottom of the page.
BIRDS AS ART is registered in the U.S. Patent and Trademark Office
Great Topaz News!
Folks who use the BAA Topaz link to purchase Sharpen AI, DeNoise AI, or the Utility Bundle (or any other Topaz plugins) will receive a 15% discount by entering the ARTHUR15 code at checkout. To get the discount you must use my link and you must enter the discount code. Be sure to start with this link.
Topaz Stuff
As I said just a while back and have said often many times before, I should have listened sooner. If you, like me, are new to the Topaz party, please use this link to purchase. Right now I can wholeheartedly recommend both Topaz Sharpen AI and Topaz DeNoise AI. Though I have not yet worked with JPEGtoRAW AI or Gigapixel AI, I have installed both of these plug-ins and look forward to trying them on some I-Phone 11 images fairly soon. If you are thinking like me, consider the Utility Bundle that includes all four plug-ins mentioned above at a money-saving price.
Again, those who purchase Sharpen AI or DeNoise AI using my link, can e-mail to request a short Getting Started with Topaz e-Guide. I had a bit of trouble getting the two plug-ins installed and having them appear in the Photoshop Filter Menu. In addition, I will explain how to best learn about the two plug-ins by applying them on a Layer (in Photoshop). I amazed myself yesterday by completing this guide in the car on the way to and from Sebastian. Huge thanks to Anita for doing the driving. Please include a copy of your Topaz order when requesting the guide.
New and Better Bedfords Discount Policy!
You can now save 3% on all of your Bedfords photo gear purchases by entering the BIRDSASART coupon code at checkout. Your discount will be applied to your pre-tax total. In addition, by using the code you will get 2nd day air shipping via Fed Ex.
Grab a Nikon AF-S Teleconverter TC-14E III and save $14.99. Purchase a Canon EOS R5 and your discount will be $116.97. Purchase a Sony FE 600mm f/4 GM OSS lens and save a remarkable $389.94! Your Bedford's purchase no longer needs to be greater than $1,000.00 for you to receive a discount. The more you spend, the more you save.

Money Saving Reminder
Many have learned that if you need a hot photo item that is out of stock at B&H and would enjoy free overnight shipping, your best bet is to click here, place an order with Bedfords, and enter the coupon code BIRDSASART at checkout. If an item is out of stock, contact Steve Elkins via e-mail or on his cell phone at (479) 381-2592 (Eastern time). Be sure to mention the BIRDSASART coupon code and use it for your online order. Steve has been great at getting folks the hot items that are out of stock at B&H and everywhere else. The wait lists at the big stores can be a year or longer for the hard to get items. Steve will surely get you your gear long before that. For the past year, he has been helping BAA Blog folks get their hands on items like the SONY a9 ii, the SONY 200-600 G OSS lens, the Canon EOS R5, the Canon RF 100-500mm lens, and the Nikon 500mm PF. Steve is personable, helpful, and eager to please.
Gear Questions and Advice
Too many folks attending BAA IPTs and dozens of photographers whom I see in the field and on BPN, are–out of ignorance–using the wrong gear especially when it comes to tripods and more especially, tripod heads… Please know that I am always glad to answer your gear questions via e-mail. Those questions might deal with systems, camera bodies, accessories, and/or lens choices and decisions.
An Exercise in Thinking Part I
Please feel free to share your thoughts on this image. Can you guess the ISO? What direction was the slight breeze from? Do you see anything funky in the processing? Any and all comments are welcome.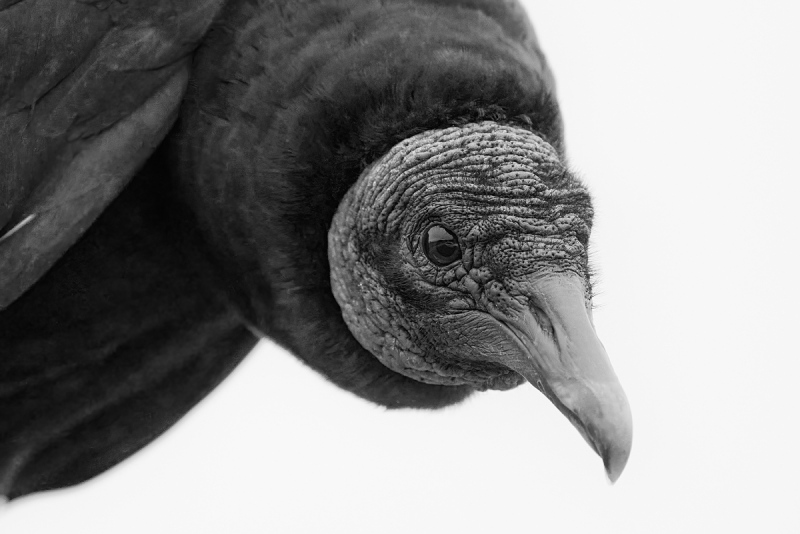 This image was created on 4 December 2020 at Indian Lake Estates, FL. I used the handheld Canon RF 100-500mm f/4.5-7.1L IS USM lens (at 500mm) and the highly touted 45MP Canon EOS R5 Mirrorless Digital camera body. ISO ???. Exposure determined using the in-camera histogram: 1/1000 sec. at f/7.1 (wide open!) in Manual mode. AWB at 7:53am on cloudy very dark morning.
Face detection + Tracking/AI Servo AF was active at the moment of exposure and performed well.
Click the image to see a larger version.
Image #2: Black Vulture in B&W

Your browser does not support iFrame.
An Exercise in Thinking Part II
Please feel free to share your thoughts on this image. Can you guess the ISO? How would you rate the sharpness of this image? How did I get so close to this bird? Can you detect any Photoshop trickery in Image #2? Any and all comments are welcome.
Typos
Feel free to e-mail or to leave a comment regarding any typos or errors. Just be right :). with love, artie