What's Up?
It is 7:13am on Tuesday 22 December 2020. I spent several hours working on the RawDigger e-Guide yesterday and will do the same today. As soon as I hit publish, I will be heading down to the lake to photograph for a bit. This blog post makes seven straight days with a new blog post. Enjoy.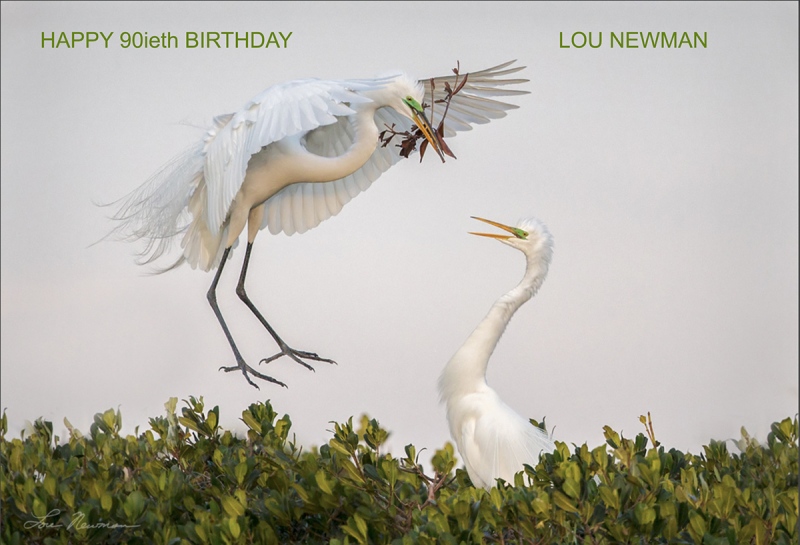 Great Egret — returning with material for nest
Photo courtesy of and copyright: Lou Newman Photography
Card design by BIRDS AS ART
Happy 90ieth Birthday Lou!
On November 14 past, Lou Newman celebrated his 90ieth birthday. Mazel tov, Lou.
Dr. Lou Newman developed a curiosity about photographic techniques as a teenager that evolved into a lifelong calling. Photography was a significant activity throughout his years as a rancher and veterinarian in Montana, and became of major importance when he left practice to become a veterinary college faculty member and pursue an advanced degree. Photography was important in his roles as professor, pathologist, diagnostician, research scientist, clinician and administrator.
During the 1990s Lou prepared for a photographic "career in retirement" and the change to digital imaging. Large animal medicine/surgery and wildlife studies had always been major interests, and reinforced the progression to wildlife photography. Lou's passion as a wildlife photographer is photographing birds in flight.
Lou has volunteered as a veterinary pathologist at Mote Marine Laboratory, as a veterinary surgeon at the former Pelican Man Bird Sanctuary and as an Emergency Veterinary Medical Officer overseas. He taught photography and digital imaging classes on cruise ships. Lou's career has taken him to every state, to 73 countries, and to all seven continents.
Lou is an active member of the North American Nature Photography Association, National Association of Photoshop Professionals, several local photography clubs, the Sarasota Audubon Society, and the Sarasota Bay Estuary Program Citizens Advisory Committee. His work is held in several private collections and is on display at Sarasota Memorial Hospital, Pines of Sarasota, Sarasota Memorial Healthcare Foundation and Plymouth Harbor on Sarasota Bay's Smith Care Center. He frequently participates in regional art gallery and photographic exhibits.
The above is adapted from the About page on Lou's Zenfolio website here. Click on the link to see Lou's work.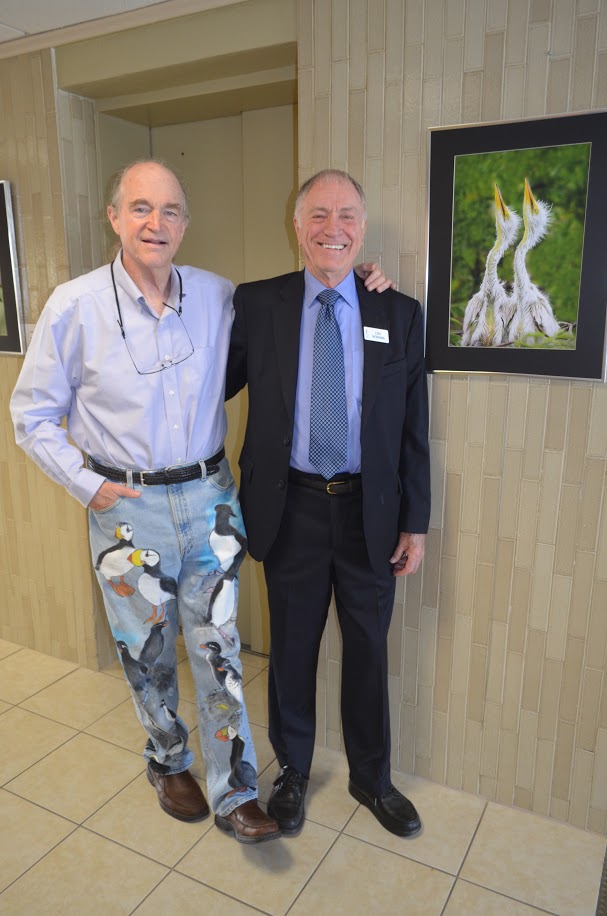 artie (on the left in his Pribilofs pants) and Lou Newman at the opening of Lou's photo exhibit opening in Sarasota, FL in 2016. The two baby Great Egrets in the nest image that you see on the wall in the image above was one of my very favorites from the exhibit.
Photo courtesy of and copyright 2016: Kristen Herhold, Community Editor of the Sarasota Observer
Lou and Me
I've known Lou Newman for at least two decades. He has attended a record-by-far 26 BIRDS AS ART Instructional Photo Tours, often with one of his children. He's been to the Galapagos and to the Southern Ocean with me. At age 90, he still gets out often to photograph. By his own admission, he has had a blessed life. And he is not done yet.
Note: to learn more and see close-up photos of my Pribilofs pants, see the blog post here .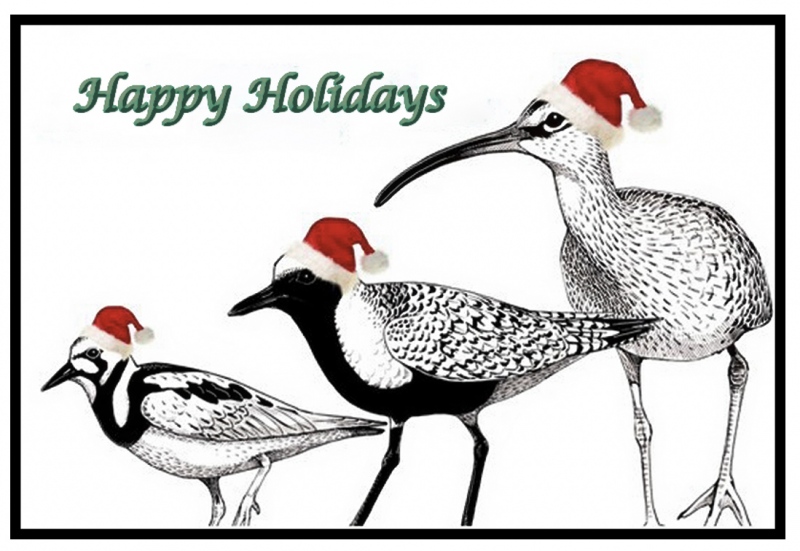 Holiday card by Lou Newman
Lou Newman's Holiday Wishes
My Christmas Card is a little bit different this year. I want to wish all of you a wonderful Christmas and New Year; however, I also want to express my appreciation and thankfulness for my family, friends, and a full life. I just passed my 90th birthday. I have 9 children, 9 grandchildren, and 7 great grandchildren. And all are well. I retired after 50 years during which I enjoyed over a dozen careers including everything from cowboy/rancher to veterinary pathologist/professor. For the last 20 years I have been a wildlife photographer with opportunities to travel throughout the world. Now I live in what for me is paradise. Even in lockdown mode, I can isolate and distance while spending time photographing wildlife. Myakka River State Park, Oscar Scherer State Park, the Venice Rookery, the Celery Fields, and Lido Beach are all at my doorstep. Each has a unique habitat with migratory and resident bird populations so photographic opportunities abound year around. It is with a joyful heart that a thankful Lou Newman wishes you happiness and a special 2021.
Lou Newman
Typos
Feel free to e-mail or to leave a comment regarding any typos or errors. Just be right :). with love, artie