What's Up?
I got a few decent Belted Kingfisher images yesterday morning from the car working at 1200mm with the a7r iv. I got a lot of work done on the RawDigger e-Guide and should have it finished today or tomorrow. That will free me up to work on the Canon R5/R6 User's Guide full time this coming week.
The new pump for the pool was a bargain at only $789.00. The good news is that with the heater/chiller back in action, the temperature of the pool rose an amazing 8 degrees in less than 24 hours. I got back in the water and did my slow 1/2-mile swim yesterday afternoon.
Today — as you probably know — is Friday 25 December 2020. The forecast for this morning is for clear and cold with 10-15mph north winds. If I do head down to the lake, it will almost surely be a short session as wind against sun makes things very difficult for bird photography. Enjoy the day.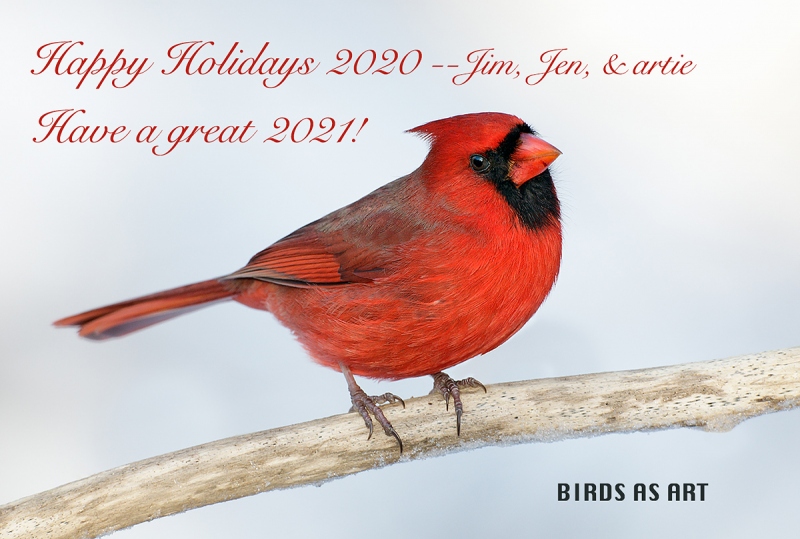 Northern Cardinal on snowy day, Elizabeth A. Morton NWR, Sag Harbor, NY. Click on the card to enjoy a larger version.
This image is on the Top 100 CD.
Seasons Greetings 2020/2021
Happy Holidays 2020/2021
Jim, Jennifer, and I wish you a safe, happy, and healthy holiday season. May 2021 be a happy, healthy, productive, satisfying, and fun year for your and yours. We hope that it is filled with love, great friends, and lots of photography. Do your best to have a PMA (positive mental attitude). And remember that happiness is choice.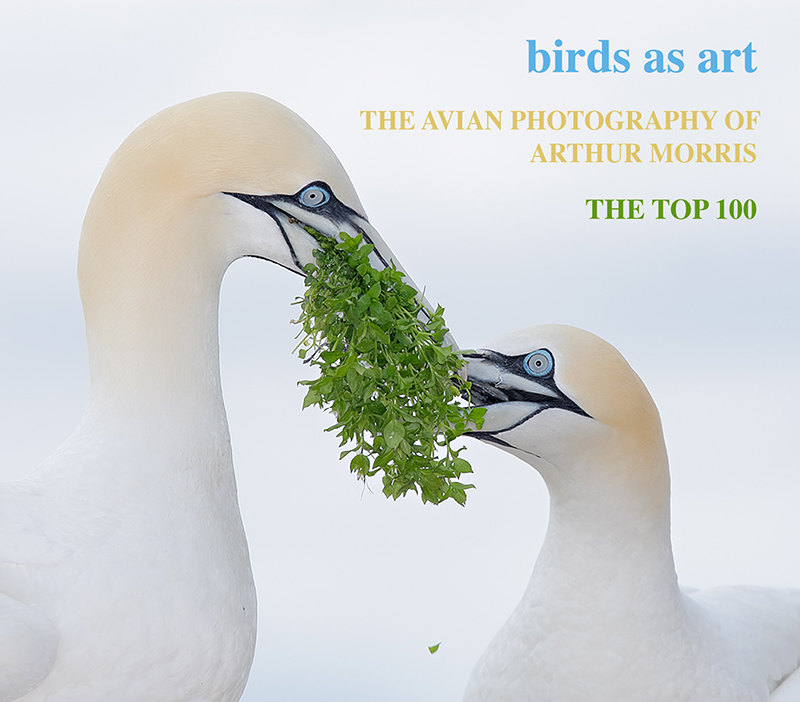 birds as art: The Avian Photography of Arthur Morris/The Top 100
The companion e-book to the solo exhibit at TheNat, San Diego, California
birds as art: The Avian Photography of Arthur Morris/The Top 100
This inspirational e-book, created on a wing and a prayer in less than two weeks back in 2016 — see the Harebrained Scheme blog post here — includes the 67 spectacular images that hung in the Ordover Gallery at the San Diego Natural History Museum in a career-retrospective solo exhibition. In addition, there are an additional 33 images in the spectacular e-book that barely missed making the show.
This exhibition companion e-book makes it possible for everyone to "visit" TheNAT gallery and, in addition, to enjoy seeing my top one hundred bird photographs under one roof. Each image includes a title, the species name, the location, relevant EXIF data, and an anecdotal caption. Click here to order the CD or here to purchase the download-able version.
Typos
Feel free to e-mail or to leave a comment regarding any typos or errors in this blog post. Thanks with love, artie