What's Up?
The road-kill cafe provided lots of action on Wednesday morning. I sat in the car nearby until the first vulture flew in and by the time I got in position one of the two circling Bald Eagles struck the opossum carcass and tried to fly away with it. But missed. I worked exclusively with the R5/RF 100-500 rig hand held. In the relatively low light of a cloudy early morning the Canon AF system did not impress. And the color noise in the black feathers of both vultures continues to be problematic. As I wrote when responding to a comment the other day, if my life depended on making a single sharp flight image I'd want a SONY a9 series body in my hands.
That said, the R5 is a very fine mirrorless body. It has an excellent AF system, Face Detection + Tracking is nothing short of remarkable, 45 MP are nothing to sneeze at, and an R5 is much lighter than and much less expensive than th vaunted EOS-1DX Mark III.
Today is Thursday 31 December (goodbye to) 2020. Jim and I are headed to Sebastian Inlet as I type. I will have the SONY 600 GM/1.4X/a9 ii rig on the tripod with the Canon R5/RF 100-500 combo on my shoulder via a Black Rapid Curve Breathe Camera Strap.
As I no longer own any Canon super-telephoto lens, I will soon be sharing some amazing flight images created with an R5 and the Canon 600mm f/4L IS III lens. All with an adapter of course, and some with the 1.4X III TC. Those images will be courtesy of BPN friend Brian Sump. I addition, I will be doing a post featuring the images of blog regular Geoff Newhouse who shoots the SONY 600 GM/a9 ii and has recentlyadded the Canon R5/RF 100-500 lens to his kit. I can assure you that the images will blow you away.
This blog post took about 1 1/2 hours to create. Please remember …
Please Remember
With income from IPTs approaching zero, please, if you enjoy and learn from the blog, remember to use one of my two affiliate programs when purchasing new gear. Doing so just might make it possible for me to avoid having to try to get a job as a Walmart greeter and will not cost you a single penny more. And if you use Bedfords and remember to enter the BIRDSASART code at checkout, you will save 3% on every order and enjoy free second-day air shipping. In these crazy times — I am out at least forty to sixty thousand dollars so far due to COVID 19 (with lots more to come) — remembering to use my B&H link or to shop at Bedfords will help me out a ton and be greatly appreciated. Overseas folks who cannot order from the US because of import fees, duties, and taxes can always help out by clicking here if they see fit.
The BAA Used Gear Page
The Used Gear page continues to be very active. The BAA Used Gear Page is the place to sell your used photographic equipment. We will help you to get your gear sold quickly for 20 to 60% or more than what the big guys are offering … Doubt me? Check out the Recent Sales list for the past eleven months at the bottom of the page.
Canon EF 600mm f/4L IS II USM Lens
BIRDS AS ART Record Low Price
Jerry Taylor is offering a Canon EF 600mm f/4L IS USM Lens in very good plus condition for $a BAA record-low $5199.00. The sale includes the rear lens cap, the lens trunk, the original tough front lens cover, the lens strap, a LensCoat, andd insured ground shipping via major courier to lower-48 US addresses only.
Your item will not ship until your check clears unless other arrangements are made.
Please contact Jerry via e-mail or by text to 1-406-579-1291.
The 600 II has been the state of the art super-telephoto for birds, nature, wildlife, and sports for many years. When I was using Canon and could get it to my location, it was always my go-to weapon. It is fast and sharp and deadly alone or with either TC. With a new 600 III going for $12,999 and used version IIs hard to find, you'd do well to grab Jerry's lens now. artie
Canon EOS 5D Mark III
BIRDS AS ART Record Low Price
Roger Dietrich is offering a Canon EOS 5D Mark III in excellent condition for the BAA recored-low price of $499.00. The rear LCD was covered with a screen protector from day one and there is one very small scratch on the body. The camera works perfectly. The sale includes the front body cap, the lens strap, the cable, two manuals, one Canon battery, the original product box, an easyCover Skin, two books (David Busch's Compact Field Guide for the Canon EOS 5D Mark III & David Busch's Canon EOS 5D Mark II Guide to Digital SLR Photography), and insured ground shipping via major courier to lower-48 US addresses only. Your item will not ship until your check clears unless other arrangements are made.
Please contact Roger via e-mail or by phone at 605-660-6247 (Central time zone).
I owned and used this superb, full-frame, 22mp digital body for several years. It was always my first choice for scenic, Urbex (urban exploration), and flower photography until I fell in love for a while with the 5DS R (for a lot more money!). Then I switched to the 5D IV body. In addition, I loved my 5D III body for birds with my big lenses and both TCs. I used mine to create many dozens of high-quality images. Then I switched to Nikon. Roger's body can be yours right now for a ridiculously low price. artie
Canon Battery Grip BG-E16 the Canon 7D Mark II
BIRDS AS ART Record Low Price
Roger Dietrich is offering a Canon Battery Grip BG-E16 the Canon 7D Mark II in like-new condition for a BIRDS AS ART record-low $99.00. The sale includes the battery magazine, the original product box, and insured ground shipping via major courier to lower-48 US addresses only. Your item will not ship until your check clears unless other arrangements are made.
Please contact Roger via e-mail or by phone at 605-660-6247 (Central time zone).
Dedicated to the EOS 7D Mark II DSLR, the BG-E16 Battery Grip from Canon offers both enhanced handling capabilities as well as extended battery life. It accepts two LP-E6 lithium-ion battery packs to increase the camera's battery life or, alternatively, AA batteries can be used in conjunction with the included BGM-E16 Battery Magazine. Additionally, the grip is also compatible with the optional ACK-E16 AC Adapter Kit for continuous power.
The design of the grip improves shooting in the vertical orientation and also provides an overall more ergonomic structure for holding the 7D Mark II. A second shutter release button, main dial, multi-controller, AF point selection button, AE/FE lock button, AF start button, and multi-function button are all integrated into the grip for improved and versatile handling. B&H
Upgrade your 7D II while saving $100.00. artie
Canon R5/R6 AF e-Guide Info
So far, 56 folks have sent PayPals for their copy of the Canon R5/R6 AF e-Guide. And 27 who used my affiliate links to purchase their R5 have e-mailed for and received their free copy of the guide. If you e-mailed or sent a PayPal and did not receive your guide, please LMK immediately via e-mail.
Feedback has been overwhelmingly positive so far. Three folks wrote stating that they had a better way of setting up AF on their R5s. When I wrote back explaining why they were in error, two of them back-tracked. One stubborn guy is still doing it his way — less efficiently. Be sure to scroll down to read about my plans for a Canon R5/R6 User's e-Guide. Understand that the info in the BAA Canon R5/R6 Autofocus e-Guide is so important that I opted to publish the AF guide immediately as the R5/R6 User's Guide will take at least a month to finish.
BAA Canon R5/R6 Autofocus e-Guide
Twenty-one pages. 3,452 words. 28-DPP4 screen captures showing the R5's vaunted AF system in action. Note: the AF system of the R5 is identical to the AF system of the R6.
You will learn:
1- The two most useful AF Methods for general bird photography and for birds in flight.
2- How to set up your R5/R6 AF Menus.
3- What boxes to check (and un-check) under Limit AF Methods.
4- How to change the AF Method quickly, easily, and efficiently. Note: the default way of doing this is clunky, cumbersome, and inefficient at best. One person replied that this tip alone was worth the price of admission.
5- The only setting that should be used for Initial Servo AF pt for Face Detection + Tracking.
I you are currently using multiple back buttons either for general bird photography or for birds in flight, what you learn in this guide will change your life. For the better.
Here are the first three paragraphs of this e-Guide:
From the moment I learned about the new Canon mirrorless bodies, I read about using two or three back-buttons to focus using different AF methods. The word on the street said that the way to go for birds in flight was to use one button to acquire focus with Zone AF or with Large Zone: Horizontal AF and then switch to another button to activate Face Detection + Tracking AF and then use the shutter button to make an image. My immediate thought was, "This is insanity! There has got to be a better way." In short, there is a far superior way to set up AF on your R5 or R6.
Remember that I got away from any form of back-button or rear focusing many years ago after finally realizing that it is always easier to do one thing (press the shutter button), than it is to do two things (press a back button and then press the shutter button).
The default method of switching AF Methods with the R5/R6 bodies is cumbersome at best. It involves first pressing the grid button (my name) on the upper right back of the camera and then pressing the hard-to-access M-Fn button to toggle through the AF Methods. This method is so bad that it will not be mentioned again in this guide.
The guide is free to all who have ordered an R5 or an R6 using my B&H affiliate link or from Steve Elkins/Bedfords using the BIRDSASART coupon code at checkout. Please send your receipt to me via e-mail. It will take me a few days to a week to verify the B&H purchases. Bedfords folks should expect their free e-Guides fairly quickly.
To purchase your copy of the e-Guide, please send a PayPal for $25.00 to birdsasart@verizon.net and be sure to include the words R5/R6 AF Guide in your PayPal e-mail.
Everyone who gets the guide will receive a free update no later than the first week in January.
Canon R5/R6 User's e-Guide
I am working on a complete Canon R5/R6 User's e-Guide. This will require a lot of research, a lot of time, and a lot of effort. I am hoping to have it complete by mid- to late January. As always, folks who use the BAA affiliate links to purchase their Canon gear will receive a substantial discount.
Understand that the info in the BAA Canon R5/R6 Autofocus e-Guide is so important that I opted to publish the AF guide right off the bat to help folks get started with their new camera bodies.
Great Topaz News!
30% Off Sale Right Now!
Folks who use the BAA Topaz link to purchase Sharpen AI, DeNoise AI, or the Utility Bundle (or any other Topaz plugins) will receive an additional 15% discount by entering the ARTHUR15 code at checkout. To get the discount you must use my link and you must enter the discount code. Be sure to start with this link.
Topaz Stuff
As I said just a while back and have said often many times before, I should have listened sooner. If you, like me, are new to the Topaz party, please use this link to purchase. Right now I can wholeheartedly recommend both Topaz Sharpen AI and Topaz DeNoise AI. Though I have not yet worked with JPEGtoRAW AI or Gigapixel AI, I have installed both of these plug-ins and look forward to trying them on some I-Phone 11 images fairly soon. If you are thinking like me, consider the Utility Bundle that includes all four plug-ins mentioned above at a money-saving price.
Again, those who purchase Sharpen AI or DeNoise AI using my link, can e-mail to request a short Getting Started with Topaz e-Guide. I had a bit of trouble getting the two plug-ins installed and having them appear in the Photoshop Filter Menu. In addition, I will explain how to best learn about the two plug-ins by applying them on a Layer (in Photoshop).
New and Better Bedfords Discount Policy!
You can now save 3% on all of your Bedfords photo gear purchases by entering the BIRDSASART coupon code at checkout. Your discount will be applied to your pre-tax total. In addition, by using the code you will get 2nd day air shipping via Fed Ex.
Grab a Nikon AF-S Teleconverter TC-14E III and save $14.99. Purchase a Canon EOS R5 and your discount will be $116.97. Purchase a Sony FE 600mm f/4 GM OSS lens and save a remarkable $389.94! Your Bedford's purchase no longer needs to be greater than $1,000.00 for you to receive a discount. The more you spend, the more you save.

Money Saving Reminder
Many have learned that if you need a hot photo item that is out of stock at B&H and would enjoy free overnight shipping, your best bet is to click here, place an order with Bedfords, and enter the coupon code BIRDSASART at checkout. If an item is out of stock, contact Steve Elkins via e-mail or on his cell phone at (479) 381-2592 (Central time). Be sure to mention the BIRDSASART coupon code and use it for your online order to save 3% and enjoy free 2nd-day air shipping. Steve has been great at getting folks the hot items that are out of stock at B&H and everywhere else. The wait lists at the big stores can be a year or longer for the hard to get items. Steve will surely get you your gear long before that. For the past year, he has been helping BAA Blog folks get their hands on items like the SONY a9 ii, the SONY 200-600 G OSS lens, the Canon EOS R5, the Canon RF 100-500mm lens, and the Nikon 500mm PF. Steve is personable, helpful, and eager to please.
Gear Questions and Advice
Too many folks attending BAA IPTs and dozens of photographers whom I see in the field and on BPN, are–out of ignorance–using the wrong gear especially when it comes to tripods and more especially, tripod heads… Please know that I am always glad to answer your gear questions via e-mail. Those questions might deal with systems, camera bodies, accessories, and/or lens choices and decisions.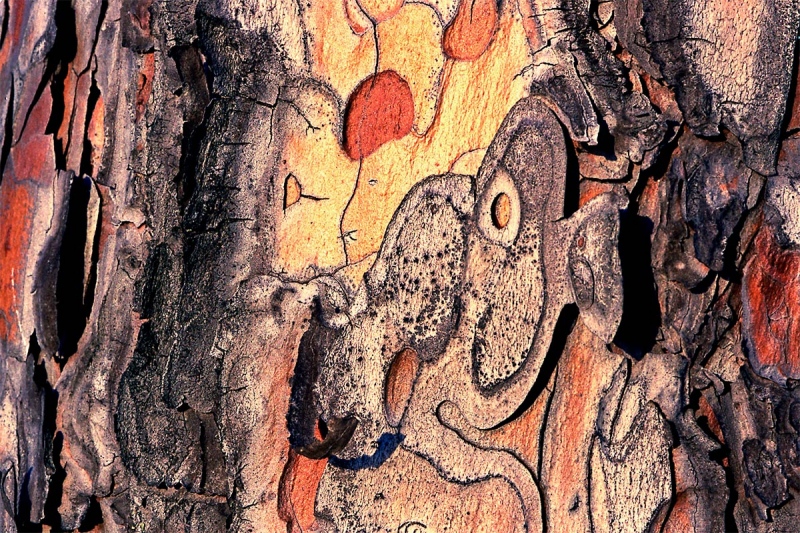 This image is courtesy of and © 1998: Jim Brandenburg.
Click the image to enjoy a larger version.
Image #1: Norway Pine Bark/Day 20 image from Chased by the Light
Chased by the Light
Renowned nature photographer, friend, and colleague Jim Brandenburg gave himself a challenge: for ninety days between the autumnal equinox and the winter solstice, he would make only one photograph a day. On film! As his shutter opened and closed on that first day, his 90-day journey began. The exquisite book, Chased by the Light, is the result of that bold and immensely personal project. All ninety images were published in a single issue of National Geographic magazine.
Thanks to Jim and his daughter Heidi for providing the inspiring JPEG above. To see what Jim is up to now, check out his blog here. If you are interested in getting a signed copy of this or other books by Jim, please contact me via e-mail and I will put you in touch with Heidi.
If you do not own the book, you can learn the backstory of this incredible project in the video above.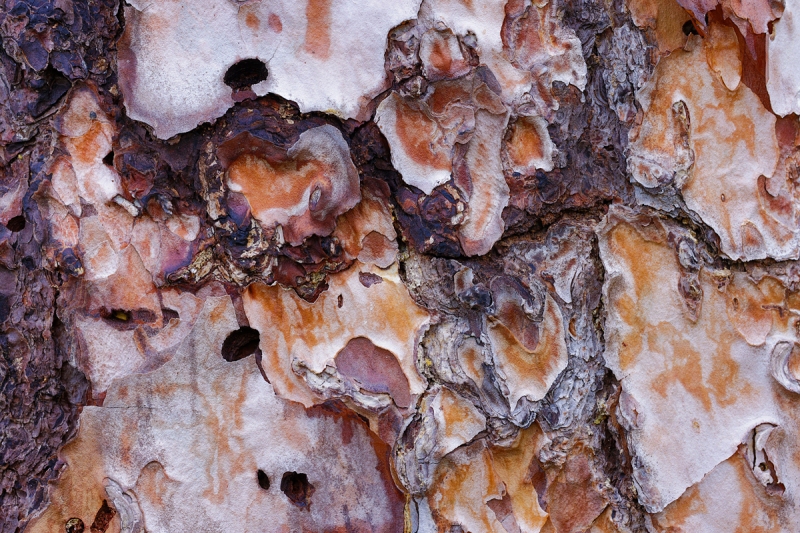 This in-camera HDR image was created on 7 December 2020 down by the lake at Indian Lake Estates. I used the Induro GIT 304L tripod/Levered-clamp FlexShooter Pro-mounted Canon RF 100-500mm f/4.5-7.1L IS USM lens (at 254mm) and the highly touted 45MP Canon EOS R5 Mirrorless Digital camera body. ISO 400. Exposure determined using the in-camera histogram followed by a histogram/blinkies evaluation and some luck. 1/8 sec. at f/11 in Manual mode. AWB at 9:02am on a cloudy morning.
Manual focus with focus peaking. Click on the image to see a larger version.
Image #2: Pine Bark patterns

Your browser does not support iFrame.
Inspiration
As I have said a thousand times, looking at as many good images as you can is a great way to improve your own photography. About a month ago, I re-read Chased by the Light. Jim's writing is insightful and often mystical. His Norway Pine Bark image, #1 above, is my favorite image in the book. It teaches us that we need to open our eyes and see what is before us.
While scouting around on a cloudy morning near the vulture tree at the south end of the South Field, I found just what I was looking for. Inspired by Jim's image, I went to work.
A Fine Line?
Is there a fine line between being inspired by the work of others, or just plain copying it? In nature photography, I do not believe that the line is a fine one. The only way to truly copy someone's work is to have them set up an image and put a card in their camera. Otherwise, every situation is so different the while we can be inspired and influenced by the work of others, it is not — in my opinion — possible to copy someone else's photograph. What do you think?
Remember that early on, my bird photography was strongly influenced by John Shaw's flowers and by the work of Tim Fitzharris and Rod Planck.
R5 HDR (and Multiple Exposure) Features
After switching full time to Nikon and then to SONY, I really missed the HDR and Multiple Exposure features of the 5D Mark IV. I spent several hours writing the sections for these two quite complex items for the BA R5/R6 Camera User's Guide.
Typos
In all blog posts and Bulletins, feel free to e-mail or to leave a comment regarding any typos or errors.