What's Up?
I did half-way decent with Cattle Egrets and vultures on a very still Wednesday morning. And yesterday evening was quite good. I spent most of the day selecting images for the second RawDigger video, this one on the Adapted Histogram that Patrick Sparkman came up with to make everyone's life easier, no matter what camera body or system they are using.
I am headed into town in the dark to have my teeth cleaned. After that I am headed to Lakeland to check out the White Pelicans and friends. On the way home, I will stop in Lake Wales for an Active Release Therapy (ART) session with chiropractor and good friend, TJ McKeon.
I will be creating the Adapted Histogram video very soon. Today is Thursday 21 January 2021. The forecast for Lakeland this morning is for clear skies early with no wind. Not bad.
This blog past makes thirty-two days in a row with a new blog post. This one took about 2 hours to prepare. Please remember …
Please Remember
With income from IPTs approaching zero, please, if you enjoy and learn from the blog, remember to use one of my two affiliate programs when purchasing new gear. Doing so just might make it possible for me to avoid having to try to get a job as a Walmart greeter and will not cost you a single penny more. And if you use Bedfords and remember to enter the BIRDSASART code at checkout, you will save 3% on every order and enjoy free second-day air shipping. In these crazy times — I am out at least forty to sixty thousand dollars so far due to COVID 19 (with lots more to come) — remembering to use my B&H link or to shop at Bedfords will help me out a ton and be greatly appreciated. Overseas folks who cannot order from the US because of import fees, duties, and taxes can always help out by clicking here if they see fit.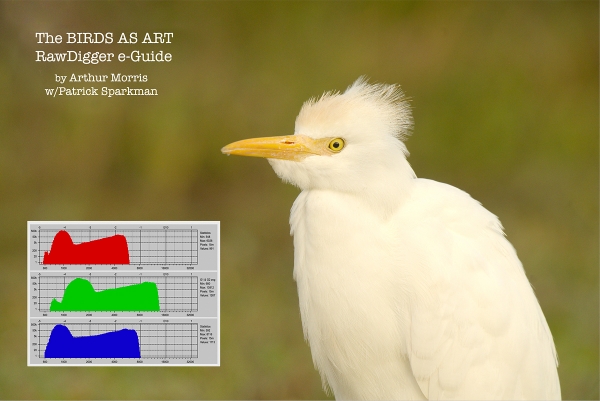 RawDigger e-Guide pre-publication version
RawDigger e-Guide and Video Advance Copy Still Available — but not for long …
Save $10 Now
The RawDigger e-Guide and Video is almost finished. It will sell for $51.00. If you are anxious to get started with RawDigger, learn to mega-Expose to the Right, and wind up with the highest quality image files, you can save $10.00 and have a chance to review a recently updated pre-publication version of the guide by sending a PayPal for $41.00 to birdsasart@verizon.net with the words RawDigger e-Guide and Video Pre-publication Copy cut and pasted into the Subject line. The recent delay is the result of my recent conversations with Iliah Borg, the brains behind RawDigger. It is very likely that the Shock-your-World section will shock you.
In the new guide, we teach you why the GREEN channel is almost always the first to over-expose. We teach you how to interpret the Max G values. And most recently, we teach you a simple way to evaluate your exposures using an adapted RawDigger histogram. And tons more, of course. I am planning on having the completed RawDigger e-Guide ready for sale by this coming Wednesday. Folks who saved $10.00 by pre-ordering will of course receive a link to the final PDF.
The BAA Used Gear Page
The Used Gear page continues to be very active. The BAA Used Gear Page is the place to sell your used photographic equipment. We will help you to get your gear sold quickly for 20 to 60% or more than what the big guys are offering … Doubt me? Check out the Recent Sales list for the past eleven months at the bottom of the page.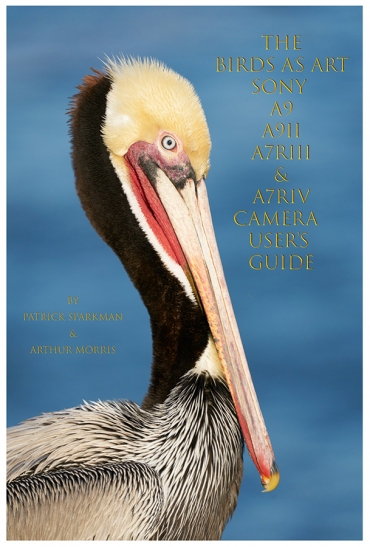 134 sold to rave reviews.
The SONY e-Guide by Patrick Sparkman and Arthur Morris
The Sony Camera User's e-Guide (and Videos)
Click here to purchase the guide with one Camera Set-up Video. Be sure to e-mail us by clicking here to specify your camera body so that we can send you a link for the correct video.
Click here to purchase the guide with two Camera Set-up Videos. Be sure to e-mail us by clicking here to specify your two camera bodies so that we can send you links for the correct videos.
Click here to learn more about the SONY e-Guide.
Folks who have used my B&H affiliate links or purchased their SONY gear are invited to e-mail for discount information.
Great Topaz News!
Folks who use the BAA Topaz link to purchase Sharpen AI, DeNoise AI, or the Utility Bundle (or any other Topaz plugins) will receive a 15% discount by entering the ARTHUR15 code at checkout. To get the discount you must use my link and you must enter the discount code. Be sure to start with this link.
Topaz Stuff
As I said just a while back and have said often many times before, I should have listened sooner. If you, like me, are new to the Topaz party, please use this link to purchase. Right now I can wholeheartedly recommend both Topaz Sharpen AI and Topaz DeNoise AI. Though I have not yet worked with JPEGtoRAW AI or Gigapixel AI, I have installed both of these plug-ins and look forward to trying them on some I-Phone 11 images fairly soon. If you are thinking like me, consider the Utility Bundle that includes all four plug-ins mentioned above at a money-saving price.
Again, those who purchase Sharpen AI or DeNoise AI using my link, can e-mail to request a short Getting Started with Topaz e-Guide. I had a bit of trouble getting the two plug-ins installed and having them appear in the Photoshop Filter Menu. In addition, I will explain how to best learn about the two plug-ins by applying them on a Layer (in Photoshop).
New and Better Bedfords Discount Policy!
You can now save 3% on all of your Bedfords photo gear purchases by entering the BIRDSASART coupon code at checkout. Your discount will be applied to your pre-tax total. In addition, by using the code you will get 2nd day air shipping via Fed Ex.
Grab a Nikon AF-S Teleconverter TC-14E III and save $14.99. Purchase a Canon EOS R5 and your discount will be $116.97. Purchase a Sony FE 600mm f/4 GM OSS lens and save a remarkable $389.94! Your Bedford's purchase no longer needs to be greater than $1,000.00 for you to receive a discount. The more you spend, the more you save.

Money Saving Reminder
Many have learned that if you need a hot photo item that is out of stock at B&H and would enjoy free overnight shipping, your best bet is to click here, place an order with Bedfords, and enter the coupon code BIRDSASART at checkout. If an item is out of stock, contact Steve Elkins via e-mail or on his cell phone at (479) 381-2592 (Central time). Be sure to mention the BIRDSASART coupon code and use it for your online order to save 3% and enjoy free 2nd-day air shipping. Steve has been great at getting folks the hot items that are out of stock at B&H and everywhere else. The wait lists at the big stores can be a year or longer for the hard to get items. Steve will surely get you your gear long before that. For the past year, he has been helping BAA Blog folks get their hands on items like the SONY a9 ii, the SONY 200-600 G OSS lens, the Canon EOS R5, the Canon RF 100-500mm lens, and the Nikon 500mm PF. Steve is personable, helpful, and eager to please.
Gear Questions and Advice
Too many folks attending BAA IPTs (remember those?) and dozens of photographers whom I see in the field and on BPN, are–out of ignorance–using the wrong gear especially when it comes to tripods and more especially, tripod heads… Please know that I am always glad to answer your gear questions via e-mail. Those questions might deal with systems, camera bodies, accessories, and/or lens choices and decisions.
But Sometimes …
In yesterday's blog post, I wrote, I headed back down to the lake at 5:40pm, right before sunset and was very glad that I did. I had some light clouds on the western horizon and the wind was from the northeast. Since I was shooting silhouettes, the wind against sun conditions were perfect. I worked some single birds and small groups coming in just over the reeds. Just as the sun disappeared below the horizon, all hell broke lose: about 80 roosting birds took flight at once, flushed by one of the local Bald Eagles they swirled around frantically in front of the still-richly-colored sky. Though I have not edited those images yet, I glanced at them and I did get a few very good frames. Some with the silhouetted eagle in the frame.
But sometimes in really exciting situations when you think that you did really well, it turns out that you did not … Such was the case when I took a closer look at Tuesday evening's images. I kept 21 silhouetted images after the first edit. I will likely have less than five left after the second edit. The exposures are very tough when you work in manual mode as you need to avoid over-exposure when the bird or birds are set against the brightest areas of the sky, those right next to the setting sun. But as the birds get away from those brightly colored skies, away from the sun or the spot where it just set, you will wind up with too-dark raw files.
If you can think of a solution to this problem, please, please pretty please leave a comment. And please be specific. What exposure mode? What Exposure Compensation ?
Last night, I did get one family jewel at 1200mm using my newly-thought-out exposure methodology. For sure. I will share the solution and the image with you here soon.
The second problem even with the best images, was that there was no flow to the image design. The patterns made by the birds as they blasted off at the eagle's approach had no flow to them, no balance; they were hodgepodge at best. As with Image #1 above. With the groups, there were too many merges. And many were too tight at 840mm. So I re-thought my approach. There was a decent sunset on Wednesday evening so I set up the 600 GM with the 2X TC and an a9 ii on the Induro 404L, and the 200-600 on my shoulder with the other a9 ii via a Black Rapid Curve Breathe Strap.As it turned out there were no heron/egret blast-offs and no big flocks of Boat-tailed Grackles in flight last night. But at least I was ready. As I set up in one spot I might try the TwinShooter so that I will not have to be concerned about keeping the horizon level with either the big lens or the zoom lens. Another thought is that I might drop down from the 200-600 to the 100-400 …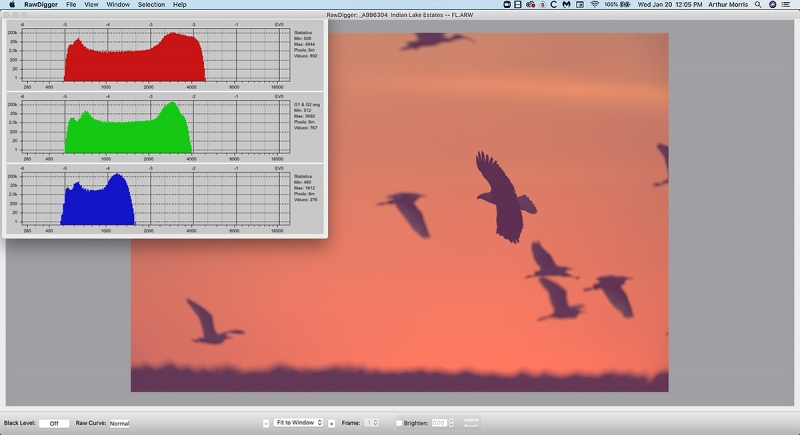 Image #1A: the RawDigger Adapted Histogram
The RawDigger Adapted Histogram
Note that the histogram in Image #1, the Photo Mechanic screen capture showing the original, indicates that the RED channel is totally over-exposed. Looking carefully at the RawDigger Adapted Histogram on the other hand, we see that the RED channel is actually very close to 1 2/3 stops too dark. In the guide we teach you how to set up the adapted histogram, and how to interpret the data. Here is a hint: from the 8000 line to the 16000 line is one full stop …
As noted yesterday, the illustrated text portion of the RawDigger e-Guide is pretty much complete. On Wednesday, I e-mailed the link to the last pre-publication copy of the RawDigger e-Guide for review. If you purchased an advance copy and did not receive your new link, please let me know via e-mail.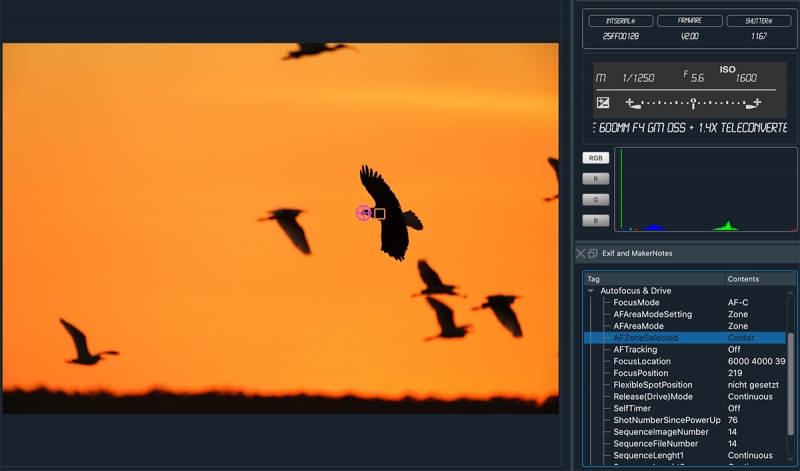 Image #1B: SONY AF Points

Your browser does not support iFrame.
SONY AF Points!
As noted recently I learned of an amazing new program that shows the SONY AF points. Patrick and I have pretty much figured it out but we still have some work to do. I plan on e-mailing the creator of the program today and ask for help. The SONY EXIF does not make things easy … We will soon be sharing the link at no cost while offering an inexpensive e-guide.
As you can see above, Center Zone AF performed absolutely perfectly with today's featured image.
The Final Image: a Photo Illustration
In the original (under-exposed) image, there was too much empty space on the left side of the frame, no compositional balance at all, and no flow to the image. Two birds were cut off by the frame-edges. And the strip of vegetation at the bottom of the frame was too small. First I expanded canvas quickly and easily using the Crop-Tool method and Content-Aware Fill. (My bad: I had been too lazy to level the FlexShooter head.) Then, I leveled the image and cropped it to 3X2 while deleting the unwanted pixels. Topaz DeNoise AI on Auto took care of the noise.
Next, I eliminated the two clipped birds and the bird directly in front of the eagle using the Patch Tool, and at times, Content-Aware Fill. Then, using a single Quick Mask, I moved the group of three birds from the right side of the frame to the left side of the frame and then eliminated the upper bird in that group. I needed to do some fancy stepping to even out the tonality in the sky. Last, because I did not like the wing position of the front bird in the now-group of three, I grabbed the wing of another bird with a Quick Mask, transformed and re-shaped it so that it would not be recognizable, and then moved it into place on that front bird.
Yes. Dirty bumper pool. But I am pleased with the results; sometimes it is necessary to create a Photo Illustration in order to create something decent. As always, I left folks know what has been done to an image. Here is the caption: Bald Eagle silhouette w/wading birds PHOTO ILLUSTRATION _A9B6304 Indian Lake Estates — FL 1. I find that honesty is always the best policy.
Feel free to leave a comment revealing your thoughts on the image clean-up.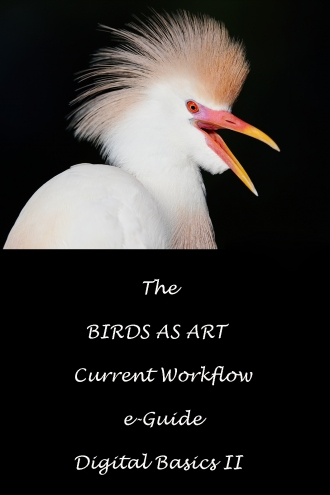 The BIRDS AS ART Current Workflow e-Guide (Digital Basics II).
You can order your copy from the BAA Online Store here, by sending a PayPal for $40 here, or by calling Jim or Jennifer weekdays at 863-692-0906 with your credit card in hand. Be sure to specify Digital Basics II.
The BIRDS AS ART Current Workflow e-Guide (Digital Basics II)
The clean-up techniques mentioned above and tons more great Photoshop tips and techniques (with the exception of Capture One RAW Conversions) — along with all of my personalized Keyboard Shortcuts — are covered in detail in the BIRDS AS ART Current Workflow e-Guide (Digital Basics II), an instructional PDF that is sent via e-mail. Learn more and check out the free excerpt in the blog post here. While the new e-Guide reflects my MacBook Pro/Photo Mechanic/DPP 4/Photoshop workflow, folks using a PC and/or BreezeBrowser will also benefit greatly by studying the material on DB II. Note: folks working on a PC and/or those who do not want to miss anything Photoshop may wish to purchase the original Digital Basics along with DB II while saving $15 by clicking here to buy the DB Bundle.
Folks who learn well by following along rather than by reading can check out the complete collection of MP 4 Photoshop Tutorial Videos by clicking here. Note: all of the videos are now priced at an amazingly low $5.00 each.
You can learn how and why I used to convert all of my Canon digital RAW files in DPP 4 in the DPP 4 RAW Conversion Guide here. More recently, I became proficient at converting my Nikon RAW (NEF) files in Adobe Camera Raw. About two years ago I began converting my Nikon and Sony RAW files in Capture One Pro 12 and continue to do so today (along with my R5 images).
To purchase Capture One, please use this link. Then you can learn more about Capture One in the Capture One Pro 12 Simplified MP4 Video here. The next step would be to get a copy of Arash Hazeghi's "The Nikon Photographers' Guide to Phase One Capture One Pro e-Guide" in the blog post here.
You can learn advanced Quick Masking and advanced Layer Masking techniques in APTATS I & II. You can save $15 by purchasing the pair. Folks can learn sophisticated sharpening and (NeatImage) Noise Reduction techniques in The Professional Post Processing Guide by Arash Hazeghi and edited by yours truly. Please use this link to purchase NeatImage.
Typos
In all blog posts and Bulletins, feel free to e-mail or to leave a comment regarding any typos or errors.