What's Up?
Photographically speaking, Sunday morning was an interesting one. I worked at the Vulture Tree for a while when the sun broke through, got some nice tight stuff on a sweet Anhinga with a distant, killer-green background working from the car at 1200mm, and had a Red-shouldered Hawk atop the new, tall perch. With the latter situations, I auto-bracketed (gasp!) the exposures. (Working with RawDigger will do that to you!)
When I got home, I had my brunch and created the RawDigger Adapted Histogram video. Several folks did serious reviews and copy edits of the last pre-publication version that was sent out last week. This coming week I will make corrections, put the finishing touches on the e-guide, and — with Jim's help — get the RawDigger e-Guide by Arthur Morris with Patrick Sparkman into the BIRDS AS ART Online Store.
There was a nice sunset on Sunday evening and the wind from the east was perfect. I did not, however, do very well as the sun went down without the benefit of any light clouds or haze low in the western sky.
All are invited to leave a comment letting us know which of today's two featured images they feel is the more dramatic. And why.
Kudos to old man Tom Brady and the Tampa Bay Buccaneers for sending the Green Bay Packers home and advancing to the Super Bowl in two weeks. As a lifelong NY Giants fan, I had long hated pretty boy Brady for being too good and too good-looking. But I dislike the surly Aaron Rodgers even more, and was rooting hard for Brady and the Bucs. It will be Tom Brady's tenth Super Bowl. John Elway is second with five appearances. Long-retired Buffalo QB Jim Kelly started in four Super Bowls and lost them all. 🙁
Concussion-healed quarterback Patrick Mahomes masterfully led his Kansas City Chiefs in their destruction of the still-hapless Buffalo Bills. Tight-end Travis Kelce and receiver Tyreek Hill performed in their usual spectacular fashion. Hill had nine receptions for 172 yards, including a 71-yard slashing catch-and-run play deep in Kansas City's own territory that set up a touchdown. And Kelce caught 13 passes for 118 yards including a short, KC-patented inside-shovel-pass for a touchdown in the third quarter. The Chiefs meet Brady and the Bucs in Super Bowl LV in Tampa on February 7. If Brady wins that match-up all discussion of the GOAT (greatest of all time) quarterback will be ended. Unless the young Mahomes keeps it up. 🙂
The forecast for today, Monday 25 January 2021, is for cloudy skies with south/southeast winds. I will surely be headed down to the lake early with relatively high hopes.
This blog past makes thirty-six days in a row with a new blog post. It took about three hours to prepare. Please remember …
Please Remember
With income from IPTs now at zero, please, if you enjoy and learn from the blog, remember to use one of my two affiliate programs when purchasing new gear. Doing so just might make it possible for me to avoid having to try to get a job as a Walmart greeter and will not cost you a single penny more. And if you use Bedfords and remember to enter the BIRDSASART code at checkout, you will save 3% on every order and enjoy free second-day air shipping. In these crazy times — I am out at least forty to sixty thousand dollars so far due to COVID 19 (with lots more to come) — remembering to use my B&H link or to shop at Bedfords will help me out a ton and be greatly appreciated. Overseas folks who cannot order from the US because of import fees, duties, and taxes can always help out by clicking here if they see fit.
The BAA Used Gear Page
The Used Gear page continues to be very active. The BAA Used Gear Page is the place to sell your used photographic equipment. We will help you to get your gear sold quickly for 20 to 60% or more than what the big guys are offering … Doubt me? Check out the Recent Sales list for the past eleven months at the bottom of the page.
Levered-Clamp & FlexShooter Pro News
We have just zero Induro GIT 404L/Levered-Clamp FlexShooter Pro heads in stock. Two dozen are being shipped from Hungary tomorrow. Best to place your order now to be assured of getting one from our next shipment.
We do have FlexShooter Pro heads in stock; B&H does not … The ballhead that acts like a (but is much lighter than) a gimbal-head, and that serves all purposes, has — as I predicted when I first used a FlexShooter head — taken the world of nature photography by storm. And it's all on the level too!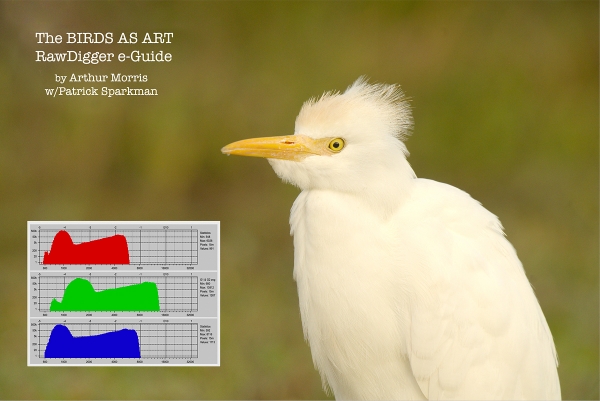 RawDigger e-Guide pre-publication version
RawDigger e-Guide and Video Advance Copy Still Available — but not for long!
Save $10 Now
The RawDigger e-Guide and Video is almost finished. It will sell for $51.00. If you are anxious to get started with RawDigger, learn to mega-Expose to the Right, and wind up with the highest quality image files, you can save $10.00 and have a chance to review a recently updated pre-publication version of the guide by sending a PayPal for $41.00 to birdsasart@verizon.net with the words RawDigger e-Guide and Video Pre-publication Copy cut and pasted into the Subject line. The recent delay is the result of my recent conversations with Iliah Borg, the brains behind RawDigger. It is very likely that the Shock-your-World section will shock you.
In the new guide, we teach you why the GREEN channel is almost always the first to over-expose. We teach you how to interpret the Max G values. And most recently, we teach you a simple way to evaluate your exposures using an adapted RawDigger histogram. And tons more, of course. I am planning on having the completed RawDigger e-Guide ready for sale by this coming Wednesday. Folks who saved $10.00 by pre-ordering will of course receive a link to the final PDF.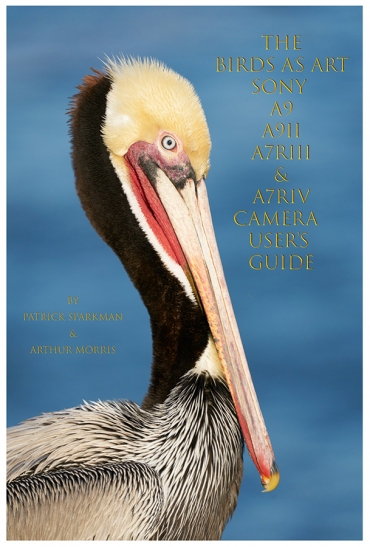 134 sold to rave reviews.
The SONY e-Guide by Patrick Sparkman and Arthur Morris
The Sony Camera User's e-Guide (and Videos)
Click here to purchase the guide with one Camera Set-up Video. Be sure to e-mail us by clicking here to specify your camera body so that we can send you a link for the correct video.
Click here to purchase the guide with two Camera Set-up Videos. Be sure to e-mail us by clicking here to specify your two camera bodies so that we can send you links for the correct videos.
Click here to learn more about the SONY e-Guide.
Folks who have used my B&H affiliate links or purchased their SONY gear are invited to e-mail for discount information.
Great Topaz News!
Folks who use the BAA Topaz link to purchase Sharpen AI, DeNoise AI, or the Utility Bundle (or any other Topaz plugins) will receive a 15% discount by entering the ARTHUR15 code at checkout. To get the discount you must use my link and you must enter the discount code. Be sure to start with this link.
Topaz Stuff
As I said just a while back and have said often many times before, I should have listened sooner. If you, like me, are new to the Topaz party, please use this link to purchase. Right now I can wholeheartedly recommend both Topaz Sharpen AI and Topaz DeNoise AI. Though I have not yet worked with JPEGtoRAW AI or Gigapixel AI, I have installed both of these plug-ins and look forward to trying them on some I-Phone 11 images fairly soon. If you are thinking like me, consider the Utility Bundle that includes all four plug-ins mentioned above at a money-saving price.
Again, those who purchase Sharpen AI or DeNoise AI using my link, can e-mail to request a short Getting Started with Topaz e-Guide. I had a bit of trouble getting the two plug-ins installed and having them appear in the Photoshop Filter Menu. In addition, I will explain how to best learn about the two plug-ins by applying them on a Layer (in Photoshop).
New and Better Bedfords Discount Policy!
You can now save 3% on all of your Bedfords photo gear purchases by entering the BIRDSASART coupon code at checkout. Your discount will be applied to your pre-tax total. In addition, by using the code you will get 2nd day air shipping via Fed Ex.
Grab a Nikon AF-S Teleconverter TC-14E III and save $14.99. Purchase a Canon EOS R5 and your discount will be $116.97. Purchase a Sony FE 600mm f/4 GM OSS lens and save a remarkable $389.94! Your Bedford's purchase no longer needs to be greater than $1,000.00 for you to receive a discount. The more you spend, the more you save.

Money Saving Reminder
Many have learned that if you need a hot photo item that is out of stock at B&H and would enjoy free overnight shipping, your best bet is to click here, place an order with Bedfords, and enter the coupon code BIRDSASART at checkout. If an item is out of stock, contact Steve Elkins via e-mail or on his cell phone at (479) 381-2592 (Central time). Be sure to mention the BIRDSASART coupon code and use it for your online order to save 3% and enjoy free 2nd-day air shipping. Steve has been great at getting folks the hot items that are out of stock at B&H and everywhere else. The wait lists at the big stores can be a year or longer for the hard to get items. Steve will surely get you your gear long before that. For the past year, he has been helping BAA Blog folks get their hands on items like the SONY a9 ii, the SONY 200-600 G OSS lens, the Canon EOS R5, the Canon RF 100-500mm lens, and the Nikon 500mm PF. Steve is personable, helpful, and eager to please.
Gear Questions and Advice
Too many folks attending BAA IPTs (remember those?) and dozens of photographers whom I see in the field and on BPN, are–out of ignorance–using the wrong gear especially when it comes to tripods and more especially, tripod heads… Please know that I am always glad to answer your gear questions via e-mail. Those questions might deal with systems, camera bodies, accessories, and/or lens choices and decisions.
Sun-ball Silhouettes
I have been playing with this type of image for several decades. The first successful one was created at Anhinga Trail at sunrise. On film. I used a Canon 600mm f/4 lens with stacked teleconverters. The image — of a screaming Belted Kingfisher — graced the cover of Outdoor Photographer magazine. I am not sure why it took me more than 30 years to come up with Sun-ball Silhouettes, but I like it! I coined it at 6:42am today while searching my brain for a title for this blog item. 🙂
In any case, as I have mentioned here before, as the earth is spinning quite rapidly you need to move your tripod every thirty seconds or so to keep the subject properly framed by the sun. That is always an exciting venture. RawDigger showed significant over-exposure of the slightly-muted sun, but I could have done better. Working with Auto ISO limited me to a low of ISO 100. Had I been in Manual mode, I could have gained one full stop by setting ISO 50 and another one-third stop by upping the shutter speed to 1/8000 second.
Diffraction?
Working at f/22 is supposed to cause diffraction. I am not quite sure what that is supposed to look like, but I see no problems at all with the sharpness and/or image quality with today's first featured image …
AF Question
Why did I go to One-Shot AF here???
A Coming-or-Going? Optical Illusion
I stayed on the Osprey after the sun set and upped my EC to +2 stops. (See more on that below …) IAC, this is the question of the day: is the Osprey flying away from us or toward us? Be careful as these can be very tricky.
BTW, how do you like them talons?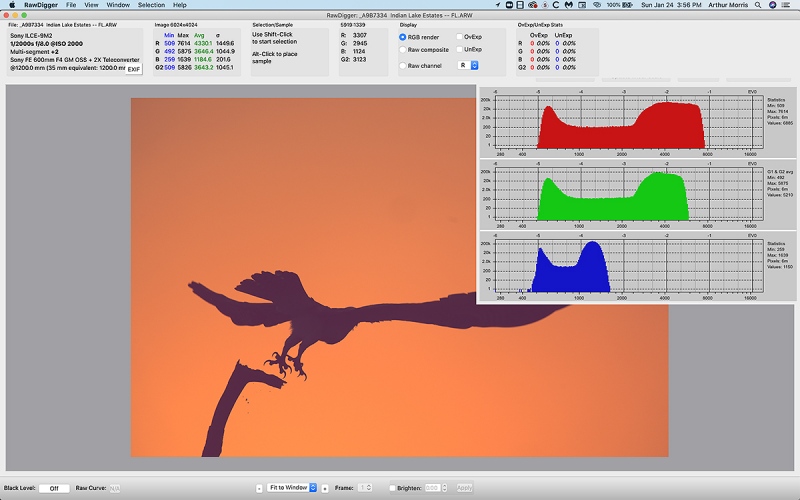 Image #2A: the RawDigger Adapted Histogram for the Osprey taking flight just after sunset image

Your browser does not support iFrame.
The RawDigger Adapted Histogram
With the RED channel just inside the 8000-line, this image is right at one stop too dark. It is rare for an image to have a Max-R value that is higher than the Max-G value. In the RawDigger e-guide, we show that everybody under-exposes when creating silhouettes (without the sun in the frame). That in part to the fact that the RGB histograms on our cameras always show the RED channel as over-exposed with richly colored skies (whether it is or not). Also in this great guide, we explain when it fine to under expose at one ISO but not at another.
In the guide, you will — of course — learn how to set up the Adapted Histogram and use it to evaluate the exposures and raw file brightness for files from pretty much every dSLR and Mirrorless camera body in use today. It performs perfectly with my Canon CR.2 files from 2001, and with all of my Nikon NEF files as well. Like me, you will probably find that you were severely under-exposing everything, especially overall light-toned images that were created in low light. RawDigger has been a game-changer for me.
Typos
In all blog posts and Bulletins, feel free to e-mail or to leave a comment regarding any typos or errors.