What's Up?
The blog post planned for today has been postponed until tomorrow so that I can share the news of the beyond-amazing SONY mirrorless digital camera body that was announced yesterday. You will have to wait a day to find out if the Osprey was flying away or toward us. The short story is that I ordered two Sony Alpha a1 bodies yesterday from Steve Elkins at Bedfords. Many have known of the rumors of a new SONY body. The specs, however, far exceed what folks might have been dreaming of. I will share much of the manufacturer's promotional hype with you below. The bold italics are mine and are intended to emphasize the features that will likely be of greatest importance to bird, wildlife, and nature photographers. While the new camera is surely an incredible camera for video, I have excised all info on creating movies below.
The new body has an updated menu structure that is supposed to be more intuitive than that of previous SONY mirrorless bodies and enable users to save different workflows and groups of settings selections. Patrick and I will be doing a BAA Camera User's e-Guide for the Alpha a1. The guide will be free to those who purchase their a1 using the BAA B&H affiliate link and those who save 3% by ordering with Bedfords and using the BIRDSASART code at check-out. It will be priced punitively for those who did not use a BAA affiliate.
Yes. I have lots of questions about the new body… I am already working hard to get to get answers and will of course share them with you here. One thing is for sure, it will be very difficult to get your hands on an Alpha a1.
I enjoyed a wonderfully eclectic morning of photograph on Tuesday. On that note, if you can help me identify the turtle I photographed yesterday morning, please get in touch via e-mail. I finished the textual portion of the RawDigger e-guide and will add the promotional materials and links today. I hope. Sunset last night was promising but turned into a dud. 🙂
Today is Wednesday 27 January 2021. It is foggy/very-bright and promising here at ILE, but I have decided to stay in and finish working on this blog post. The sun broke through at 8:18am and the world is glowing, but I stayed in anyway!
Ordering a Sony Alpha a1
10am Eastern or 9am Central or ASAP
If you — like Patrick and me — want to get your Alpha a1 before the next Ice Age begins, it would be best to order it today at exactly 10am Eastern time (or ASAP after that). Best to do that right now as the queues for this amazing new body will surely be very long. The first ship date is 4 March 2021.
To order from B&H, please click here and you will be good to go. Folks living in Arkansas, Oklahoma, Missouri, California, and Pennsylvania will want to use their B&H Payboo Card to save the sales tax. You can do that when you use the link above and are asked to pay.
To pre-order your SONY a1 from Bedford Camera, click here at 9am Central time (or ASAP after that). To save 3% and enjoy free second-day air shipping, be sure to use the BIRDSASART discount code at checkout. SONY Pro Support (SPS) members should place their orders and then send Steve an e-mail with their SPS membership number. In addition to getting on Bedford's priority list, you will also be placed on SONY's priority list. In addition, doing so will help Steve get more cameras faster.
Learn More About the Alpha a1
Learn lots more about the new camera in the B&H Explora blog post here. Scroll down to view the promotional video. And there is lots in the post on a1 video capabilities.
There will be a live panel discussion today, Wednesday 27 January 2021 here on the B&H site at noon.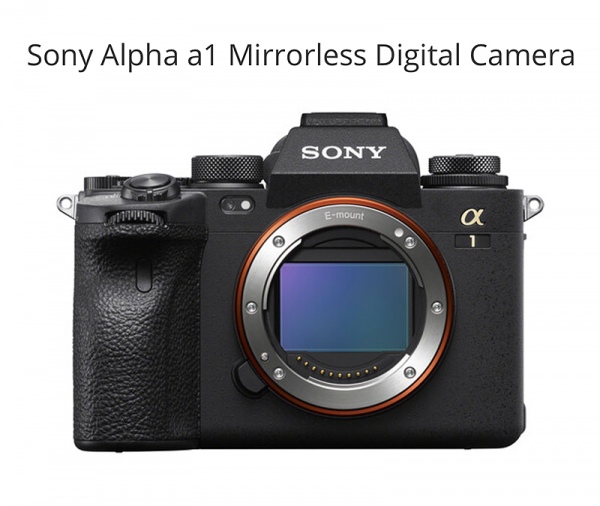 The Sony Alpha a1 Mirrorless Digital Camera
Relevant Info/Hype on the Sony Alpha a1 Mirrorless Digital Camera
Everybody always wants to find the one. For imaging professionals, "the one" is the one camera that can do it all. The Sony Alpha 1, or a1, is that camera. An unbelievable array of high-end specs makes this mirrorless flagship the one to beat. A quick look reveals a brand-new full-frame 50.1MP Exmor RS stacked CMOS sensor capable of 30 frames per second full-resolution shooting (only when using the Electronic Shutter with a CFexpress Type A card). When working with the Mechanical Shutter, you will get 10 frames per second. The camera has dual memory card slots, both of which support working with CFexpress Type A or SD UHS-II memory cards for flexible and high-speed file storage.
The large buffer memory permits recording up to 155 compressed raw frames in a single single burst at 30 fps. Note: the a1 offers a compressed lossless raw format to save space on your cards and drives. (Important note: If you are shooting uncompressed RAW or lossless compressed RAW, the maximum frame rate is 20 fps… As always, you gotta read the fine print.) To pull off these speeds, the a1 relies on an advanced electronic shutter capable of speeds of up to 1/32,000 second. And the anti-distortion shutter claims rolling shutter has been improved by 1.5x from the a9 ii (that was already the rolling shutter champ).
The newly-developed 50.1MP Exmor RS full-frame sensor features a stacked back-illuminated design with integrated memory that maintains high image clarity, expandable sensitivity up to ISO 102400, and a 15-stop dynamic range while also enabling fast 30 fps shooting and and phase-detection AF. A revised BIONZ XR engine greatly benefits image processing capabilities throughout the camera system, including up to 8x faster processing, greatly reduced rolling shutter, and more fluent interface and file management handling speeds.
The Alpha 1 offers a range of selectable continuous shooting speeds: 20, 15, 10, or 5 fps assignable to the Hi, Mid, and Lo drive modes. Continuous shooting is fixed at 30 fps in the Hi+ mode. This makes it easier to set a continuous shooting speed that best suits the subject and shooting environment, while an expanded range of speed and compression combinations offers new flexibility.
The a1 features a fast hybrid AF system that covers 92% of the image area. It incorporates 759 phase-detection points along with 425 contrast-detection areas for quick and precise focusing in a variety of lighting conditions with sensitivity down to -6 EV. It will lock onto subjects quickly using Real-time Tracking for AI-based tracking on moving subjects. Real-time Eye AF, suitable for both humans and animals, also ensures critical sharpness when shooting portraits. Dedicated Real-time Eye AF Bird Mode lets you select the bird to be tracked and the camera will automatically detect the bird's eye and track it, whether the bird is in flight or just sitting there. It works even when a sitting bird takes flight. . (I am of course anxious to see how true this is …) Helping to fine-tune how the focusing system performs, seven-step AF transition speed and five-step AF subject shift sensitivity controls let you refine how quickly focus shifts from point to point and how smoothly focusing shifts occur.
The Alpha a1 has an enhanced 5.5-stop effective 5-axis SteadyShot INSIDE image stabilization system that compensates for five different types of camera shake encountered during handheld shooting. It allows users to confidently use any lens, even adapted lenses, for critical shooting without encountering blur from camera shake. For long focal lengths, the system will correct for pitch and yaw adjustments. Macro and high-magnification imagery, on the other hand, will benefit from the inclusion of horizontal and vertical shift compensation. All shooting styles will get usage out of the roll compensation. All 5 axes of stabilization will function at all times, even when used with third-party lenses and adapters or lenses with built-in optical stabilization.
The a1 weighs 1.6 lbs (737 grams). That is only 1.76 ounces more than the a9 ii (1.49 lbs or 678 grams). But, once again, we need to read the fine print. The weight for the a1 says "body only." The weight for the a9 ii says "body and battery." As the battery weighs a shade under 3 ounces, the a1 is actually a shade under 5 ounces heavier than an a9 ii (each with a battery). While that might seem like a ton, the a1 is 21% heavier than the a9 ii.
Speaking of batteries, the a1 takes an NP-FZ100 Rechargeable Lithium-Ion battery (7.2 VDC, 2280 mAh). The battery is rated for "approximately 430 shots" as compared to "500 shots" with the a9 ii.
For those who like the feel of a larger body, the a1 works with the same Sony VG-C4EM Vertical Grip that fit the a9 ii and the a7r iv (among others). Kudos to SONY for not changing the design to force folks to buy a new one.
A final note: The a1 will work with all SONY e-mount lenses. All features work with the SONY GM (Grand Master) lenses like the 600mm f/4 OSS GM. That means that some will not work with the G series lenses like the SONY 200-600mm.
If you have any questions or comments, please leave them below.
Typos
In all blog posts and Bulletins, feel free to e-mail or to leave a comment regarding any typos or errors.