What's Up?
Monday morning provided little action, and Monday evening's sunset was not too good at all. Well after the sun was down, I watched one young and two adult Bald Eagles cavorting over the marsh to the north. The youngster kept diving into the marsh grasses and coming up empty. It was fun to watch. I tried some blurs at shutter speeds ranging from 1/30 to 1/8 second. And deleted them all.
Again I got a ton of work done on the BAA Canon R5 Camera User's e-Guide. As far as the text is concerned, I have a very few loose ends to tighten up. I decided to do an educational video gallery. It is not yet 5:00am as I type so once I hit publish, the plan is to do the video before I head down to the lake.
Today is Tuesday 9 March 2021. The forecast for this morning is for partly cloudy skies with gentle winds from the northeast. I will head down to the lake for a look-see early this morning.
Wherever you are and whatever you are doing, I hope that you have a great day.
This blog post took a bit more than 1 1/2 hours to prepare and makes seventy-eight days in a row with a new one. Please remember to use my B&H affiliate links or to save money at Bedfords by using the BIRDSASART discount code at checkout.
A Tough Year for Sandhill Cranes at ILE
At about 6:00pm on Sunday evening, while checking on the crane family at the south end of the South Field, I was pleased to see that both chicks were doing well and that the family had crossed back over the canal and was over-nighting on the original nest. They had been spending their nights at an unknown location in the South Marsh. When I went to check on them on Monday morning, there was only one large chick with the parents. I sat on a slope with the R5/RF 100-500 as the family foraged their way toward me. I made some nice vertical of the surviving chick as it walked right toward me. As it kept coming I turned the camera to horizontal format and made the sweetest chick head portrait ever. Because I was relatively low, the background was absolutely creamy.
When I returned 30 minutes later, I could not — though I looked everywhere — find the family. Before sunset on Monday, I returned to the location of the nest. A friend was there, and we could only find the two adults. But just before I left, I spotted the chick foraging in the thick vegetation near the nest. Whew!
With the loss of the two colts at the north end of the North Field last Wednesday evening, only a single young crane of the four hatched this season survives. One out of four is bad news. And the surviving chick has a long way to go. I wish it luck. The typical mortality rate for young cranes here at ILE has been about 50% so 2021 has indeed already been a very poor year. I am hoping that there might be a pair on a late nest as there was last year …
I have never seen so many eagles along the lakefront …
The BAA Used Gear Page
The Used Gear page continues to be very active. The BAA Used Gear Page is the place to sell your used photographic equipment. We will help you to get your gear sold quickly for 30 to 70% or more than what the big guys are offering … Doubt me? Check out the Recent Sales list at the bottom of the page.
Price Drops
Canon EOS 5D Mark III dSLR Converted to Infrared (with Extras)
Price reduced $100.00 8 MAR 2021
BIRDS AS ART friend and multiple IPT veteran Morris Herstein is offering a Canon EOS 5D Mark III dSLR converted to infrared (830 nanometers) by Life Pixel in excellent plus condition with extras for $899.00 (was $999.00). The sale include two Canon LP-E6N batteries, the charger, the front body cap, two Lexar 128GB 1066X flash cards, and insured ground shipping via major courier to lower-48 US addresses only. Your item will not ship until your check clears unless other arrangements are made.
Please contact Morris via e-mail.
When I shot Canon exclusively, I had a ton of fun making landscapes, tree-scapes, and cloud-scapes with a 5D Mark II that had been converted to infrared. The 5D III is a step up from that. These infrared-converted bodies pair well with the 24-105 and any of the 70-200s. artie
FlexShooter Pro Tripod Head
Price reduced $50.00 8 MAR 2021
BIRDS AS ART friend and multiple IPT veteran Morris Herstein is offering a barely used FlexShooter Pro head in for a BAA record-low $448.00 (was $498.00). The sale includes insured ground shipping via major courier to lower-48 US addresses only. Your item will not ship until your check clears unless other arrangements are made.
Please contact Morris via e-mail.
The FlexShooter Pro is a ballhead that thinks and acts like a gimbal head. Thanks to the bi-directional clamp, it is great for lenses short and long. Once your rig is set up properly, long lenses stay right where you point them without your having to lock up the head! Where you point the lens is what you get. That thanks to the patented counter-balanced spring system design. I predicted that these heads would take the world of nature photography by storm. And they have. They sell new for $599.00. artie
Canon EOS R5 Camera User's e-Guide
Ten days ago, I sent out about a dozen copies of the almost finished Canon EOS R5 Camera User's e-Guide for review to folks who had previously gotten free copies of the R5/R6 AF e-Guide by using my affiliate links to purchase their Canon mirrorless gear. In the same vein, I contacted everyone who purchased the R5/R6 AF e-Guide last week. More recently, folks who purchased the R5/R6 AF Guide were offered the opportunity to purchase a copy the pre-publication guide for review.
Because the camera and the Menus are so complex, this guide has required a ton of research, a lot of time, and a lot of effort (and will continue to do so until it is complete). It should be finished by the first week in March. 2021. The final update of the R5/R6 AF e-Guide has become part of the complete Camera User's e-Guide; it will be revised if warranted.
The complete Camera User's guide will sell for $75.00. Folks who purchased their Canon gear using my links will receive a $65.00 discount; the guide will cost them a nominal $10.00. Folks who spent more than $7500.00 on Canon mirrorless gear using either of my affiliate links (B&H or Bedfords), will receive the Camera User's e-Guide for free. Folks who purchased the R5/R6 AF e-Guide will receive a $10.00 discount on the User's e-Guide. The best news is that the end is in sight.
New and Better Bedfords Discount Policy!
You can now save 3% on all of your Bedfords photo gear purchases by entering the BIRDSASART coupon code at checkout. Your discount will be applied to your pre-tax total. In addition, by using the code you will get 2nd day air shipping via Fed Ex.
Grab a Nikon AF-S Teleconverter TC-14E III and save $14.99. Purchase a Canon EOS R5 and your discount will be $116.97. Purchase a Sony FE 600mm f/4 GM OSS lens and save a remarkable $389.94! Your Bedford's purchase no longer needs to be greater than $1,000.00 for you to receive a discount. The more you spend, the more you save.

Money Saving Reminder
Many have learned that if you need a hot photo item that is out of stock at B&H and would enjoy free second-day air shipping, your best bet is to click here, place an order with Bedfords, and enter the coupon code BIRDSASART at checkout. If an item is out of stock, contact Steve Elkins via e-mail or on his cell phone at (479) 381-2592 (Central time). Be sure to mention the BIRDSASART coupon code and use it for your online order to save 3% and enjoy free 2nd-day air shipping. Steve has been great at getting folks the hot items that are out of stock at B&H and everywhere else. The wait lists at the big stores can be a year or longer for the hard to get items. Steve will surely get you your gear long before that. For the past year, he has been helping BAA Blog folks get their hands on items like the SONY a9 ii, the SONY 200-600 G OSS lens, the Canon EOS R5, the Canon RF 100-500mm lens, and the Nikon 500mm PF. Steve is personable, helpful, and eager to please.
Gear Questions and Advice
Too many folks attending BAA IPTs (remember those?) and dozens of photographers whom I see in the field and on BPN, are–out of ignorance–using the wrong gear especially when it comes to tripods and more especially, tripod heads… Please know that I am always glad to answer your gear questions via e-mail. Those questions might deal with systems, camera bodies, accessories, and/or lens choices and decisions.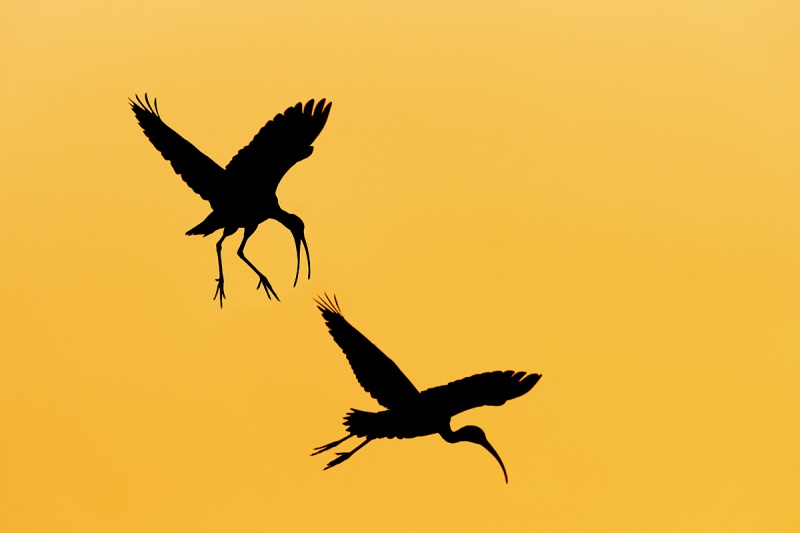 This image was created on 7 March 2021 down by the lake at ILE. I used the Induro GIT 404L/Levered-clamp FlexShooter Pro-mounted Sony FE 600mm f/4 GM OSS lens, the Sony FE 2.0x Teleconverter, and the blazingly fast AF King, the Sony Alpha a9 II Mirrorless Digital camera body. ISO 4000. The exposure was determined by experience or lack thereof. Muti metering +2 stops: 1/2000 sec. at f/8 (wide open) in Shutter Priority (S) mode. Surprisingly, RawDigger showed this raw file to be more than 1 1/2 stops too dark. AWB at 6:28pm on a clear evening. Technically, this was three minutes before sunset at Lake Wales but at ILE, the sun had already disappeared behind the distant woods on the far lakeshore.
Wide AF-C was active at the moment of exposure and performed to absolute perfection by nailing focus on the upper bird.
Click on the image to see a larger version.
Image #1: White Ibis sunset squabble

Your browser does not support iFrame.
Making Good on a Second Chance
The wind had swung to the northeast late on Wednesday afternoon and with relatively clear skies, I figured that sunset might be outstanding. It began with two Ospreys chasing each other through the color, and then another diving right through the reddish/yellow in the western sky. I pretty much fanned on the latter chance and disregarded my own oft-given advice: Don't chimp! When I looked away from the back of the camera, my heart sank as I saw two White Ibises fighting in mid-air right in the richest colored part of the sky just above where the sun had been a minute before. Drats! I got back to paying attention and somewhat miraculously, the two birds rose from the roost to tangle again in midair. Hooray! Of the five keepers that had both birds in the frame, this was my favorite.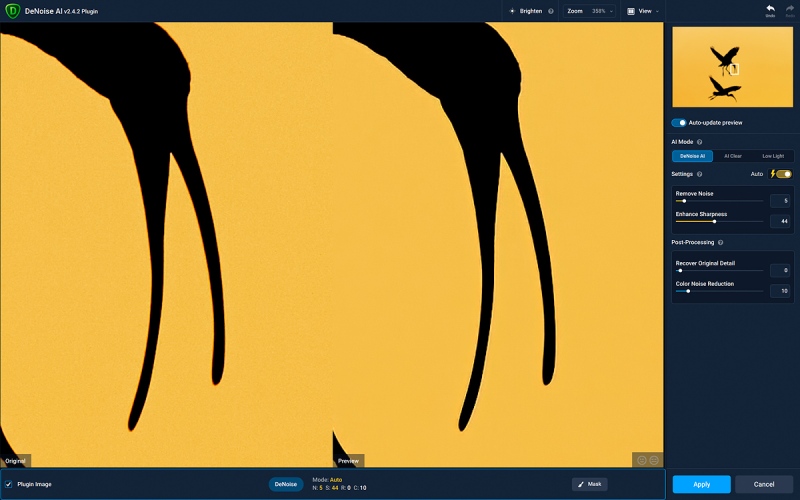 Image #1A: Topaz DeNoise AI on the White Ibis sunset squabble image
Topaz DeNoise AI
For an ISO 5000 image that was more than 1 1/2 stops too dark, there was not a whole lot of noise in the original (on our left). Be sure to click on the screen capture to view the larger version and check on the effectiveness of this amazing plug-in. DeNoise AI on DeNoise completely eliminated the noise in smooth-as-a-baby's butt fashion. As usual, it was a close call between DeNoise and Low Light.
The lower bird was slightly behind the plane of focus, so I selected that in Photoshop using Select > Subject. Since that selected both birds, I deselected the sharp upper bird, and placed the lower bird on its own layer. Then I ran Topaz Sharpen AI on Focus on that layer. The improvement was noticeable but not dramatic.
Great Topaz News!
Folks who use the BAA Topaz link to purchase Sharpen AI, DeNoise AI, or the Utility Bundle (or any other Topaz plug-ins) will receive a 15% discount by entering the ARTHUR15 code at checkout. If the stuff is on sale (as it usually is), you save 15% off of the sale price! To get the discount you must use my link and you must enter the discount code. Be sure to start with this link.
Those who purchase Sharpen AI, DeNoise AI, or any other Topaz plug-ins using my link and then entering the ARTHUR15 code at checkout can e-mail to request a short Getting Started with Topaz e-Guide. Please include a copy of your Topaz receipt that shows the discount. Aside from the basics, the guide explains how to install the plug-ins so that they appear in the Photoshop Filter Menu.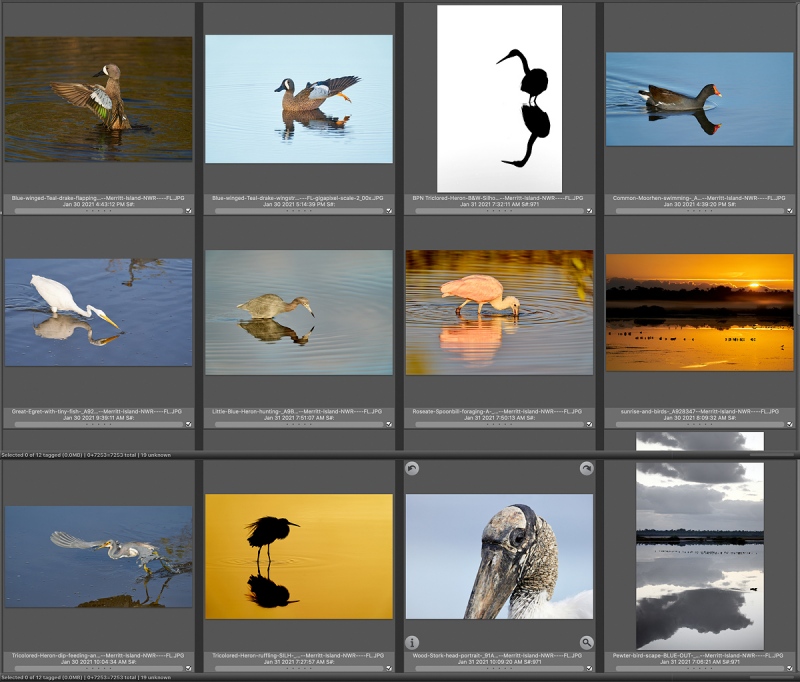 All of the images (plus lots more) were created on a very short visit at the end of January. Click on the card to enjoy a larger version.
Merritt Island NWR IPT card
Merritt Island NWR IPT
Merritt Island NWR IPT. 3 1/2 DAYS. MON 15 MAR thru the morning session on THURS 18 MAR 2021. $1499 includes three lunches. Limit: 6. Openings: 3 1/2.
When I visited — and later lived — in Deltona, FL, I made many trips to Black Point Wildlife Drive and environs. On a recent visit, I did quite well. The birds were much tamer than I remembered. I know the place well. Early spring was always best. There are tons of ducks, and wading birds including and especially both ibises. It can be great at sunrise with large flocks of shorebirds, waterfowl, ibises, and American White Pelicans filling the skies. We should get to do lots of flight photography on the causeway. At least a few good chances with Roseate Spoonbill are possible.
A $499 deposit is required to hold your spot for this IPT. You can send a check (made out to "BIRDS AS ART) to us here: BIRDS AS ART, PO Box 7245, Indian Lake Estates, FL, 3385, or call Jim or Jennifer at the office with a credit card at 863-692-0906. Your balance, payable only by check, is due immediately after you sign up. If you have any questions, please feel free to contact me via e-mail. If you cancel due to COVID 19 concerns, all of your payments will be refunded.
Typos
With all blog posts, feel free to e-mail or to leave a comment regarding any typos or errors.