The BAA Used Gear Page
The Used Gear page continues to be very active. The BAA Used Gear Page is the place to sell your used photographic equipment. We will help you to get your gear sold quickly for 30 to 70% or more than what the big guys are offering … Doubt me? Check out the Recent Sales list at the bottom of the page.
Sony Alpha a9 ii Mirrorless Digital Camera Body
How Much Do I Love My Sony Alpha a1?
BAA Record-Low Price
Arthur Morris is offering a SONY a9 ii conservatively rated as being in excellent plus condition for a BAA record-low $3177.00. The sale includes the original box and everything that came in it (except for the battery charger) and insured UPS ground shipping to lower-48 US addresses. I will throw in a copy of The Sony Camera User's e-Guide and One Camera Set-up Video (a $100.00 value). Your new camera will not ship until your check clears unless other arrangements are made.
Please contact artie via e-mail or by phone (or text) at 1-863-221-2372 (Eastern time zone).
From the moment I tracked that first incoming Brandt's Cormorant, I knew that SONY a9 series bodies featured the world' best AF. I upgraded to the a9 ii as soon as it was released for the slightly larger body size. I currently own two of them. A new a9 ii sells for $4,498.00 so you can save a very nice $1321.00 by grabbing my a9 ii ASAP. Not to mention that the new Sony A1 sells for $6498.00 … artie
What's Up?
Clemens Van der Werf, Donna Bourdon, and I, enjoyed a pretty good Thursday morning on Lake Blue Cypress aboard Clemens' flats boat. There was a bit too much north in the wind but by waiting until the birds turned toward us we had some pretty good chances. I used my new Sony Alpha a1 with the hand held 200-600GM to make 1837 flight images. 1836 were razor sharp on the Osprey's eye. I gave it a great test drive and learned a ton, especially about how the amazing Face/Eye Subject: Bird technology works. The short answer is very well indeed. In fact, it performed much better than as shown in online videos by various reviewers. Read and see more about our crappie day below.
If you got your Sony Alpha a1 using my affiliate links from B&H or Bedfords, please shoot me your receipt via e-mail and I will send you my brief but very helpful set-up notes.
The wind strengthened by 9:30am and it quickly became impossible to photograph from the rocking boat. So we headed home for a smoked salmon and cream cheese brunch. At about five, joined by my right-hand man Jim Litzenberg and older daughter Jennifer, we dined on fresh tuna and Brussels' sprouts. We went down to the lake at sunset. Conditions were perfect. Clemens made the winning image of two Ospreys fighting. The wading birds were not terribly cooperative and the sunset fizzled a bit early.
Today is Friday 12 March and the three of us are headed for Lakeland in hopes of doing some American White Pelican photography. The forecast is for clear skies with an east/northeast breeze. Wherever you are and whatever you are doing, I hope that you have a great day.
I completed a final draft of the R5 guide early this morning. It will take me a day or two to get the PDF created. I will send the link to all who earned or purchased the guide soon thereafter. In addition, a link for the Educational R5 Gallery will be included. After any errors in this version are identified and corrected (thank you very much), I will send the final PDF. There will be no updates after that. Any new stuff will be shared in the blog.
Folks who wish to purchase a copy of the final draft and the video are invited to send a Paypal for $75.00 to birdsasart@verizon.net. They will of course receive the final PDF when it is completed in a week or ten days. Your guide may not be sent until Monday as I need to get the PDF done.
I was glad to learn last night that Used Gear Page regular Don Busby sold his Canon EOS-1DX Mark III dSLR in like-new condition with less than 10,000 shutter actuations for a very low $4500.00 (was $5499.00) in early February 2021.
This blog post took about 1 1/2 hours to prepare and makes eighty-one days in a row with a new one. Please remember to use my B&H affiliate links or to save money at Bedfords by using the BIRDSASART discount code at checkout.
Canon EOS R5 Camera User's e-Guide
Two weeks ago, I sent out about a dozen copies of the almost finished Canon EOS R5 Camera User's e-Guide for review to folks who had previously gotten free copies of the R5/R6 AF e-Guide by using my affiliate links to purchase their Canon mirrorless gear. In the same vein, I contacted everyone who purchased the R5/R6 AF e-Guide last week. More recently, folks who purchased the R5/R6 AF Guide were offered the opportunity to purchase a copy the pre-publication guide for review. Many folks have responded with thoughtful reviews, most recently, IPT veteran Warren Howe. And Bruce Dudek has continued to be a valuable resource.
Because the camera and the Menus are so complex, this guide has required a ton of research, a lot of time, and a lot of effort (and will continue to do so until it is complete). It should be finished by the first week in March. 2021. The final update of the R5/R6 AF e-Guide has become part of the complete Camera User's e-Guide; it has already been revised and expanded.
The complete Camera User's guide will sell for $75.00. Folks who purchased their Canon gear using my links will receive a $65.00 discount; the guide will cost them a nominal $10.00. Folks who spent more than $7500.00 on Canon mirrorless gear using either of my affiliate links (B&H or Bedfords), will receive the Camera User's e-Guide for free. Folks who purchased the R5/R6 AF e-Guide will receive a $10.00 discount on the User's e-Guide. The best news is that the end is in sight.
New and Better Bedfords Discount Policy!
You can now save 3% on all of your Bedfords photo gear purchases by entering the BIRDSASART coupon code at checkout. Your discount will be applied to your pre-tax total. In addition, by using the code you will get 2nd day air shipping via Fed Ex.
Grab a Nikon AF-S Teleconverter TC-14E III and save $14.99. Purchase a Canon EOS R5 and your discount will be $116.97. Purchase a Sony FE 600mm f/4 GM OSS lens and save a remarkable $389.94! Your Bedford's purchase no longer needs to be greater than $1,000.00 for you to receive a discount. The more you spend, the more you save.

Money Saving Reminder
Many have learned that if you need a hot photo item that is out of stock at B&H and would enjoy free second-day air shipping, your best bet is to click here, place an order with Bedfords, and enter the coupon code BIRDSASART at checkout. If an item is out of stock, contact Steve Elkins via e-mail or on his cell phone at (479) 381-2592 (Central time). Be sure to mention the BIRDSASART coupon code and use it for your online order to save 3% and enjoy free 2nd-day air shipping. Steve has been great at getting folks the hot items that are out of stock at B&H and everywhere else. The wait lists at the big stores can be a year or longer for the hard to get items. Steve will surely get you your gear long before that. For the past year, he has been helping BAA Blog folks get their hands on items like the SONY a9 ii, the SONY 200-600 G OSS lens, the Canon EOS R5, the Canon RF 100-500mm lens, and the Nikon 500mm PF. Steve is personable, helpful, and eager to please.
Gear Questions and Advice
Too many folks attending BAA IPTs (remember those?) and dozens of photographers whom I see in the field and on BPN, are–out of ignorance–using the wrong gear especially when it comes to tripods and more especially, tripod heads… Please know that I am always glad to answer your gear questions via e-mail. Those questions might deal with systems, camera bodies, accessories, and/or lens choices and decisions.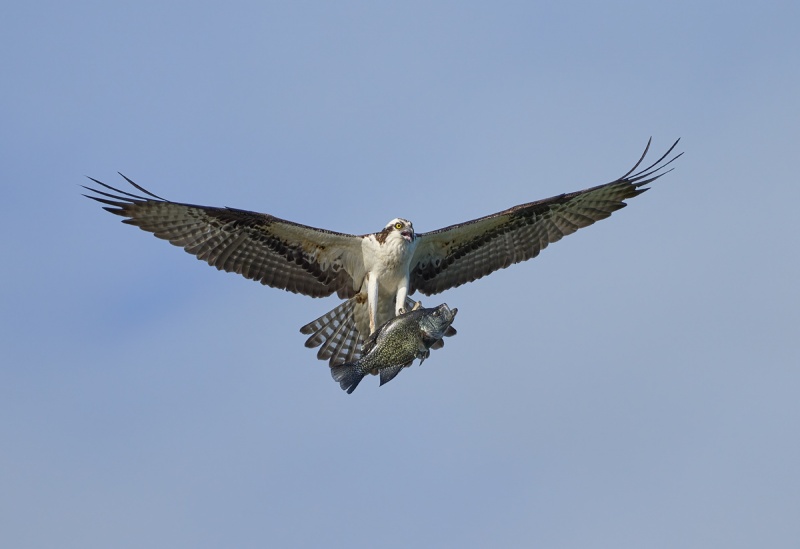 This image was created on 11 March 2021 on Lake Blue Cypress. I used the hand held Sony FE 200-600mm f/5.6-6.3 G OSS lens (at 600mm) and The One, the Sony Alpha 1 Mirrorless digital camera. ISO 640. Exposure determined with ISO on the Thumb Wheel. The exposure was confirmed as perfect by RawDigger: 1/3200 sec. at f/6.3 (wide open). AWB at 8:21am with clear morning.
Wide/AF-C was active at the moment of exposure and performed perfectly. Click on the image to enjoy a larger version.
Image #1: Osprey with whole crappie

Your browser does not support iFrame.
A Crappie Morning on Lake Blue Cypress
crap·pie
(/ˈkräpē) noun
A North American freshwater fish of the sunfish family, the male of which builds a nest and guards the eggs and young.
The first thing that Ospreys do when they land with a fresh-caught fish is to rip the head off. For some reason, this bird kept landing and taking flight with his prized catch. It circled cooperatively several times giving us our very best chance of the morning. With too much north in the northeast winds, landing shots were tough as almost all of the birds landed slightly way from us. With east or southeast winds we would have been famous as the birds would have been landing right at us.
Typos
In all blog posts and Bulletins, feel free to e-mail or to leave a comment regarding any typos or errors.