What's Up?
Tuesday morning with Mike and Morris was very good. Wednesday morning with Mike and Morris was superb. There was little wind and we had lots of spoonies fly in directly at us right down sun angle. We hung around until after eleven thirty in hopes that a few birds might bathe. None did.
Today is Thursday 8 April 2021. The forecast for Stick Marsh is for clear sunny skies with a gentle breeze from the south/southwest. I will get there early for a busman's holiday and then head back to ILE in time for brunch. Wherever you are and whatever you are doing, I hope that you have a great day.
Apologies for being about two days behind in answering e-mails. I have been very busy preparing for the Wednesday evening webinar; I should be able to catch up in a day or two. The webinar was a great success. The key for me was putting question breaks into the presentation; it was good to know that there were actually live folks out there who were both awake and interested. Thanks to Howie Weinick and Pat Walsh of the South Shore Camera Club, Long Island, NY for putting the whole thing together. And to all who attended.
This blog post took almost two hours to prepare and makes 107 consecutive days with a new one. Please remember to use my B&H affiliate links or to save money at Bedfords by using the BIRDSASART discount code at checkout. Doing either often earns you free guides or discounts. And doing so always earns my great appreciation.
New and Better Bedfords Discount Policy!
You can now save 3% on all of your Bedfords photo gear purchases by entering the BIRDSASART coupon code at checkout. Your discount will be applied to your pre-tax total. In addition, by using the code you will get 2nd day air shipping via Fed Ex.
Grab a Nikon AF-S Teleconverter TC-14E III and save $14.99. Purchase a Canon EOS R5 and your discount will be $116.97. Purchase a Sony FE 600mm f/4 GM OSS lens and save a remarkable $389.94! Your Bedford's purchase no longer needs to be greater than $1,000.00 for you to receive a discount. The more you spend, the more you save.

Money Saving Reminder
Many have learned that if you need a hot photo item that is out of stock at B&H and would enjoy free second-day air shipping, your best bet is to click here, place an order with Bedfords, and enter the coupon code BIRDSASART at checkout. If an item is out of stock, contact Steve Elkins via e-mail or on his cell phone at (479) 381-2592 (Central time). Be sure to mention the BIRDSASART coupon code and use it for your online order to save 3% and enjoy free 2nd-day air shipping. Steve has been great at getting folks the hot items that are out of stock at B&H and everywhere else. The wait lists at the big stores can be a year or longer for the hard to get items. Steve will surely get you your gear long before that. For the past year, he has been helping BAA Blog folks get their hands on items like the SONY a9 ii, the SONY 200-600 G OSS lens, the Canon EOS R5, the Canon RF 100-500mm lens, and the Nikon 500mm PF. Steve is personable, helpful, and eager to please.
Gear Questions and Advice
Too many folks attending BAA IPTs (remember those?) and dozens of photographers whom I see in the field and on BPN, are–out of ignorance–using the wrong gear especially when it comes to tripods and more especially, tripod heads… Please know that I am always glad to answer your gear questions via e-mail. Those questions might deal with systems, camera bodies, accessories, and/or lens choices and decisions.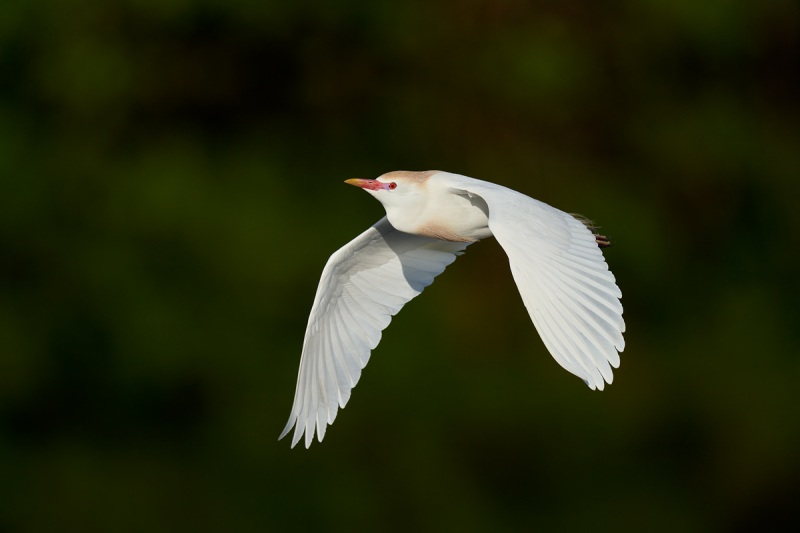 This image was created on 7 April 2021 at Stick Marsh during an In-the-Field Instructional session with IPT veterans Mike Gotthelf and 86-year old Morris Herstein. I used the hand held (gasp!) Sony FE 600mm f/4 GM OSS lens with the Sony FE 1.4x Teleconverter and The One, the Sony Alpha 1 Mirrorless digital camera (while standing –double gasp!). ISO 800. Exposure determined via Zebras with ISO on the rear dial: 1/5000 sec. at f/6.3 (wide open) in Manual mode. AWB at 8:43am on a clear morning.
Wide/AF-C was active at the moment of exposure and performed perfectly. Click on the image to see a larger version.
Image #1: Breeding plumage Cattle Egret in flight (downstroke)

Your browser does not support iFrame.
Hand Held 840mm Flight While Standing (Double Gasp!)
My hand held shooting with the 600 GM lens is usually limited to times when I am sitting on my butt and employing the knee-pod technique with my left forearm placed atop my bent left leg to support the rig. When I tried handholding for flight photography in San Diego in January 2020, there was so much action that I did some damage to my left shoulder. It took a few weeks to heal. But after shooting thousands of images of incoming Roseate Spoonbills for the past three weeks with the intermediate telephoto zoom lens, I was looking for something different, for a new challenge.
I knew that by switching locations there would not be a ton of action, but that we — Mike Gotthelf had joined me — might have some good chances with birds flying against dark green backgrounds (rather than soft blue water). We did have some good chances with several spoonbills and Great Egrets, along with this single fly-by Cattle Egret. It gave us a good chance to practice our long lens hand holding technique. Today's featured image was the last and best of a twelve-frame sequence. Though I clipped only one wing, today's featured image was the last and the best by far. And the only keeper.
The image presented above is the full frame original and the background is untouched. I love the dark background, the wings-down pose, and the position of the bird in the frame. The bird was almost exactly on sun angle with the light coming over my right shoulder at the moment the image was created. I might try more of this today. On the tripod 🙂
Sony Alpha a1 AF Magic …
The AF system of the a1 — set up as detailed in e-mails to the Sony Alpha a1 Info & Updates group, continues to amaze me. Early on there was lots of discussion within the group with many preferring multiple back button approaches. For me a simple shutter button approach with the right AF settings that yield 99% sharp on the eye images is best. By far. Super-simple and mega-effective. Note: info on the program that I use to ascertain SONY AF point information is detailed in one of the SONY Alpha a1 Set-up and Info Group e-mails. I plan on making that information available here soon for all SONY camera users.
SONY Alpha a1 Set-up and Info Group
The SONY Alpha a1 Set-up and Info Group is going great guns as folks chime in with thoughtful questions and experience-based advice. We are now up to 21 folks. Early on, we discussed many of the myriad AF options. I gave my opinion as to the best one for flight and general bird photography. More recently, we have been in contact with folks at SONY sharing our thoughts, experiences, and frustrations with the EVF blackout problem.
All who purchased their Alpha a1 bodies via a BAA affiliate link will receive a free subscription to the Sony Alpha a1 Set-Up and Info Updates after shooting me their receipts via e-mail. This same service may be purchased by anyone with an a1 body via a $150.00 PayPal sent to birdsasart@verizon.net indicating payment for Alpha a1 Info Updates. Alternatively, they can call Jim weekday afternoons at 1-863-692-0906 to pay via credit card. New members will receive composite e-mails that summarize all previous discussions.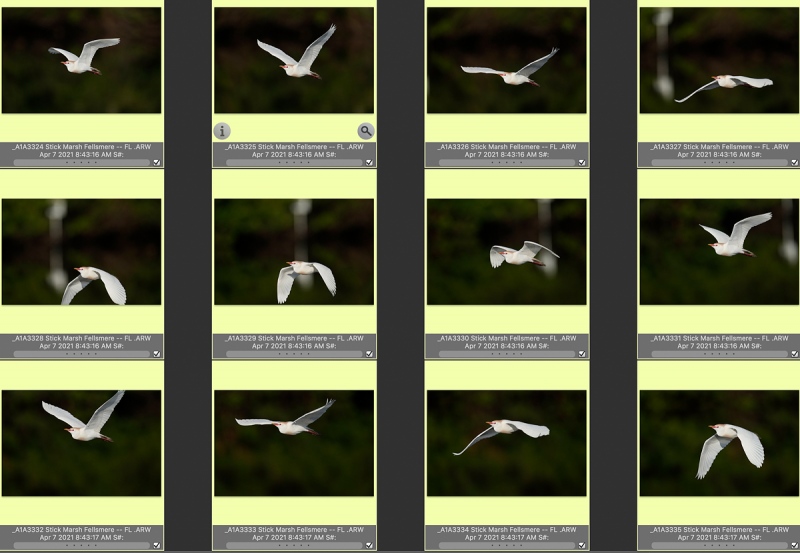 Click on the screen capture to see a larger version.
Image #1A: The twelve-frame sequence of the hand held breeding plumage Cattle Egret in flight
The Sequence
A quick glance at the screen capture above reveals that as I say here often, I am not very skilled at panning. Even with the much lighter 200-600 (and for several months recently with the Canon RF 100-500), I simply have trouble keeping a single bird centered in the frame and panning smoothly. I almost decided to keep the second image in the series, but did not like the shadow on the primary feathers of the near-underwing. So I deleted that one along with the other ten rejects.
I am not sure if my determination led to the creation of the last image (the only keeper), but it sure helped.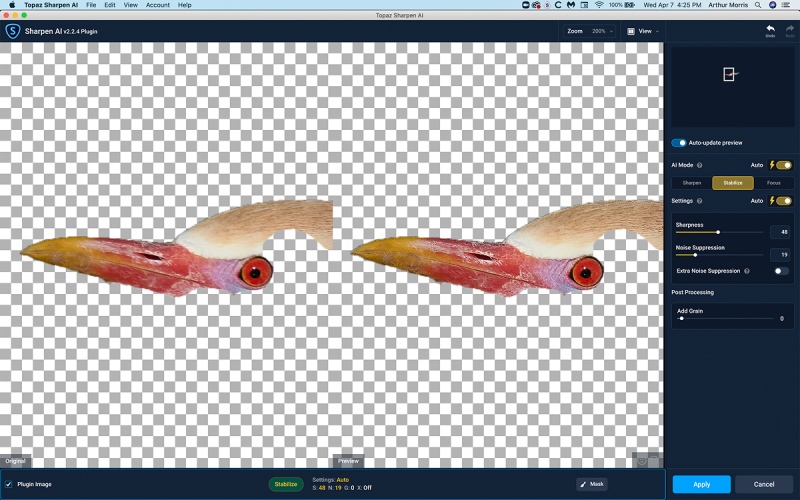 Image #1B: Topaz Sharpen AI on a selection of the face and breeding plumes of the Breeding plumage Cattle Egret in flight (downstroke) image
Topaz Sharpen AI
Be sure to click on the screen capture and check out the amazing job that Sharpen AI on Stabilize did on what began as a pretty sharp flight image. That the bird was not centered in most of the frames in the sequence reveals that I was not panning smoothly. That of course results in at least some degree of motion blur. And that is why Sharpen AI on Auto chose Stabilize. How in the world this plug-in can reposition the pixels is simply beyond (a very thankful) me.
Great Topaz News!
Folks who use the BAA Topaz link to purchase Sharpen AI, DeNoise AI, or the Utility Bundle (or any other Topaz plug-ins), will receive a 15% discount by entering the ARTHUR15 code at checkout. If the stuff is on sale (as it usually is), you save 15% off the sale price! To get the discount you must use my link and you must enter the discount code. Be sure to start with this link.
Those who purchase Sharpen AI, DeNoise AI, or any other Topaz plug-ins using my link and then entering the ARTHUR15 code at checkout can e-mail to request a short Getting Started with Topaz e-Guide. Please include a copy of your Topaz receipt that shows the discount. Aside from the basics, the guide explains how to install the plug-ins so that they appear in the Photoshop Filter Menu.
Typos
With all blog posts, feel free to e-mail or to leave a comment regarding any typos or errors.