Your Fave?
Please take a moment to let us know which of today's three featured items — two photos and a video — that you like best. And why you made your choice. Comments on either or both of the images are of course welcome.
What's Up?
John Johnson and I enjoyed yet another great morning at Stick Marsh with incoming spoonbills galore. We were headed back to ILE by 9:30. For me it was pack and swim and drive asap. We left just before two and arrived at out our AirBnB in Gulfport just after four. After getting our stuff in the house, we enjoyed a sumptuous dinner at Grace Restaurant on St. Pete Beach. (Our unique menu featuring special weekly additions represents the best of what our local area has to offer. Our passion for sourcing the freshest ingredients from local farmers and suppliers, combined with traditional flavor and rewriting familiar recipes into exceptional cuisine is our mission and greatest joy. We strive to present the highest level of flavorful satisfaction for the most discriminating taste.) Marlin Kaplan, the chef-owner, originally an advertising executive from New York, is John's good friend; they met in John's hometown of Cleveland, OH where Marlin had several restaurants. IAC, I loved my dinner: crispy cauliflower with a trio of sauces, seared sea scallops, and key lime pie for dessert.
I am still far behind on e-mails. Thanks for your patience. I should be doing some catching up today. I have five new folks for the a1 group to process today.
Speaking of today, it is Saturday 10 April 2021. John and I are headed to Fort DeSoto for Day 1 of the IPT. The forecast is perfect: clear with a 12mph wind from the southeast. Wherever you are, and whatever you are doing, I hope that you have a great day.
This blog post took more than an hour to prepare and makes 109 consecutive days with a new one. Please remember to use my B&H affiliate links or to save money at Bedfords by using the BIRDSASART discount code at checkout. Doing either often earns you free guides or discounts. And doing so always earns my great appreciation.
Please Remember
With income from IPTs now at zero, please, if you enjoy and learn from the blog, remember to use one of my two affiliate programs when purchasing new gear. Doing so just might make it possible for me to avoid having to try to get a job as a Walmart greeter and will not cost you a single penny more. And if you use Bedfords and remember to enter the BIRDSASART code at checkout, you will save 3% on every order and enjoy free second-day air shipping. In these crazy times — I am out at least forty to sixty thousand dollars so far due to COVID 19 (with lots more to come) — remembering to use my B&H link or to shop at Bedfords will help me out a ton and be greatly appreciated. Overseas folks who cannot order from the US because of import fees, duties, and taxes, are invited to help out by clicking here to leave a blog thank you gift if they see fit.
New and Better Bedfords Discount Policy!
You can now save 3% on all of your Bedfords photo gear purchases by entering the BIRDSASART coupon code at checkout. Your discount will be applied to your pre-tax total. In addition, by using the code you will get 2nd day air shipping via Fed Ex.
Grab a Nikon AF-S Teleconverter TC-14E III and save $14.99. Purchase a Canon EOS R5 and your discount will be $116.97. Purchase a Sony FE 600mm f/4 GM OSS lens and save a remarkable $389.94! Your Bedford's purchase no longer needs to be greater than $1,000.00 for you to receive a discount. The more you spend, the more you save.

Money Saving Reminder
Many have learned that if you need a hot photo item that is out of stock at B&H and would enjoy free second-day air shipping, your best bet is to click here, place an order with Bedfords, and enter the coupon code BIRDSASART at checkout. If an item is out of stock, contact Steve Elkins via e-mail or on his cell phone at (479) 381-2592 (Central time). Be sure to mention the BIRDSASART coupon code and use it for your online order to save 3% and enjoy free 2nd-day air shipping. Steve has been great at getting folks the hot items that are out of stock at B&H and everywhere else. The wait lists at the big stores can be a year or longer for the hard to get items. Steve will surely get you your gear long before that. For the past year, he has been helping BAA Blog folks get their hands on items like the SONY a9 ii, the SONY 200-600 G OSS lens, the Canon EOS R5, the Canon RF 100-500mm lens, and the Nikon 500mm PF. Steve is personable, helpful, and eager to please.
Gear Questions and Advice
Too many folks attending BAA IPTs (remember those?) and dozens of photographers whom I see in the field and on BPN, are–out of ignorance–using the wrong gear especially when it comes to tripods and more especially, tripod heads… Please know that I am always glad to answer your gear questions via e-mail. Those questions might deal with systems, camera bodies, accessories, and/or lens choices and decisions.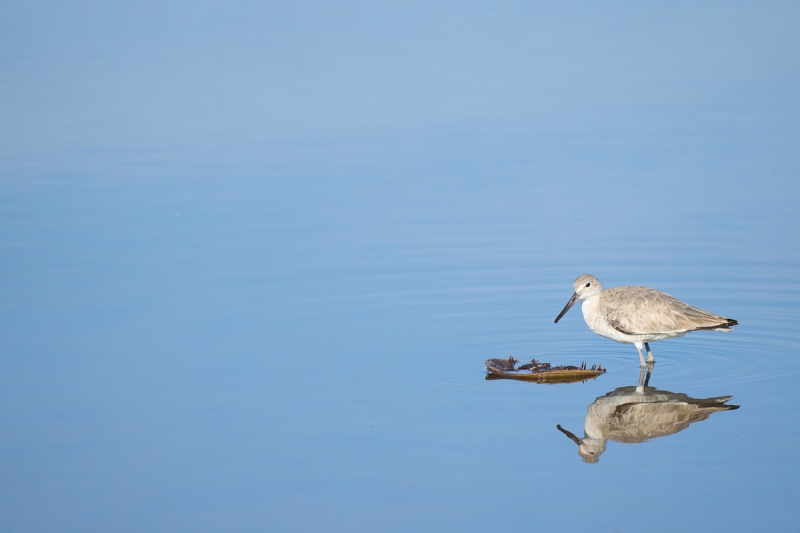 This image was created on 15 March 2021 on the Merritt Island IPT (Titusville, FL). I used the hand held Sony FE 200-600mm f/5.6-6.3 G OSS lens (at 300mm) and The One, the Sony Alpha 1 Mirrorless digital camera. Auto ISO set 640. Exposure determined by Zebras with ISO on the Thumb Dial: 1/2000 at f/6.3 (wide open) in Manual mode. AWB at 8:30am on a still, clear morning.
Lower Right Zone/AF-C was active at the moment of exposure and performed perfectly.
Image #1: Willet eating horseshoe crab — the wide view

Your browser does not support iFrame.
The Situation
After our second straight lovely ground-fog sunrise at Sign 8, we got into our vehicles to search for subjects. We barely drove 100 yards before I spotted a Willet picking at the carcass of a Horseshoe Crab. So I grabbed the 2-6, sat on the limestone road, and created a few wide shots with lots of blue water. Note the placement of the subject in the lower right corner of the frame.
Sony Alpha a1 AF Magic …
The AF system of the a1 — set up as detailed in e-mails to the Sony Alpha a1 Info & Updates group, continues to amaze me. Early on there was lots of discussion within the group with many preferring multiple back button approaches. For me a simple shutter button approach with the right AF settings that yield 99% sharp-on-the-eye images is best. By far. Super-simple and mega-effective. Note: info on the program that I use to ascertain SONY AF point information is detailed in one of the SONY Alpha a1 Set-up and Info Group e-mails. I plan on making that information available here soon for all SONY camera users.
SONY Alpha a1 Set-up and Info Group
The SONY Alpha a1 Set-up and Info Group is going great guns as folks chime in with thoughtful questions and experience-based advice. We are now up to an astounding 30 folks. Early on, we discussed many of the myriad AF options. I gave my opinion as to the best one for flight and general bird photography. More recently, we have been in contact with folks at SONY sharing our thoughts, experiences, and frustrations with the EVF blackout problem.
All who purchased their Alpha a1 bodies via a BAA affiliate link will receive a free subscription to the Sony Alpha a1 Set-Up and Info Updates after shooting me their receipts via e-mail. This same service may be purchased by anyone with an a1 body via a $150.00 PayPal sent to birdsasart@verizon.net indicating payment for Alpha a1 Info Updates. Alternatively, they can call Jim weekday afternoons at 1-863-692-0906 to pay via credit card. New members will receive composite e-mails that summarize all previous discussions.
Interrupted
We were all working the Willet when a gorgeous Tricolored Heron wandered by. We quickly abandoned the Willet and followed the tricolored for about two hundred yards as it foraged to our left. We all got a few nice frames. We were somewhat surprised when we returned to the cars to find the Willet still pounding away at the Horseshoe Crab. We got out the long glass, added a teleconverter, and went back to work on the ravenous shorebird. Note that doubling the focal length (from 600 to 1200), increase the size of the bird in the frame, the area covered by the subject, by approximately four times. Why approximately? It is likely that I did not set up in the exact same spot for Images of #1 and #2.
Sony Alpha a1 Notes
Subject, Face, and Eye detection with the a1 works in a completely different manner from the Canon R5 Face Detection plus Tracking. Both are amazing. With today's featured images, the a1 detected and tracked the bird's eye within Zone and Wide. Learn how to set up your a1 AF system by joining the SONY Alpha a1 Set-up and Info Group (as noted above).
Still Pounding!
As the Willet kept pounding away, I decided to try my first a1 video. I had no clue as to the correct settings. I do remember using a low ISO, setting the shutter speed at 1/200 second, and being sure not to overexpose. I tried to find the settings, and failed. If any one knows a program that might reveal the EXIF for the video, please leave a comment.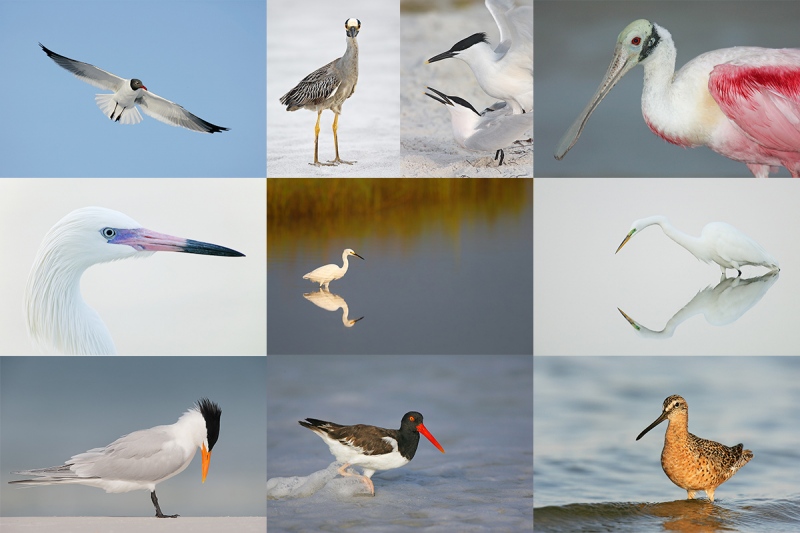 All of the images were created at Fort DeSoto in April or early May. Click on the card to enjoy a larger version.
Fort DeSoto IPT card A
Fort DeSoto Spring IPT #2
Fort DeSoto Spring IPT #2. 3 1/2 DAYS. MON 26 APR thru the morning session on THURS 29 APR 2021. $1499 includes three lunches. Limit: 6. Openings: 5.
Not only am I conversant in all three major camera systems used in the US — Nikon, Canon, and SONY (sorry Andy Rouse …), I have used all three within the past four years. Those include both SONY and Canon mirrorless. On both of these IPTs you will learn how to get the best exposure, how to get the most out of your AF system, and how to get close to free and wild birds. And tons more.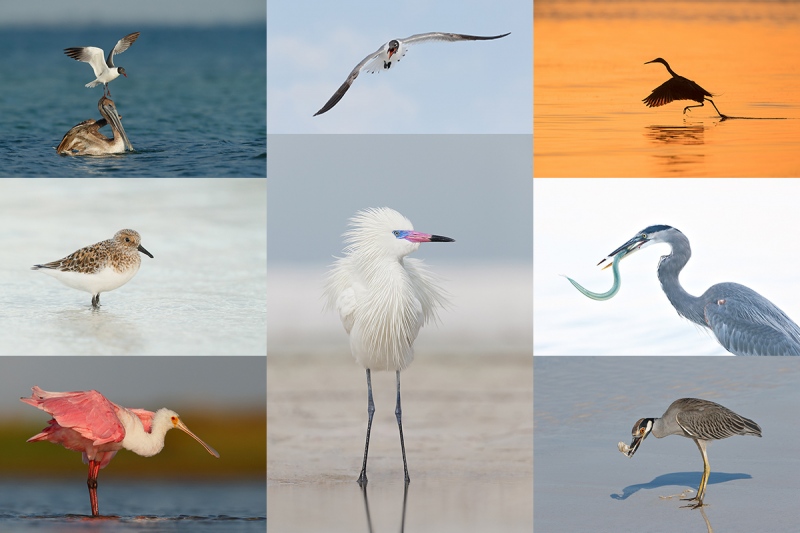 All of the images were created at Fort DeSoto in April or early May. Click on the card to enjoy a larger version.
Fort DeSoto IPT card B
A $499 deposit is required to hold your spot for this IPT. You can send a check (made out to "BIRDS AS ART) to us here: BIRDS AS ART, PO Box 7245, Indian Lake Estates, FL, 33855, or call Jim or Jennifer at the office with a credit card at 863-692-0906. Your balance, payable only by check, is due immediately after you sign up. If you have any questions, please feel free to contact me via e-mail. If you cancel due to COVID 19 concerns, all of your payments will be refunded.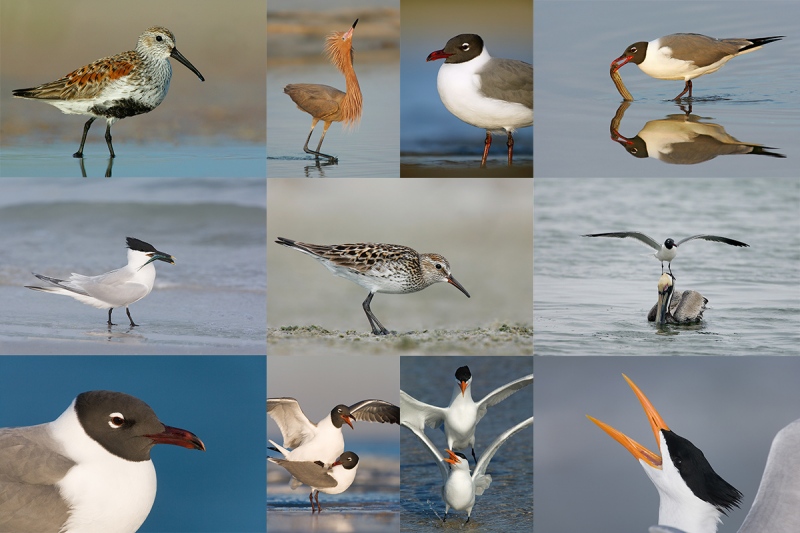 All of the images were created at Fort DeSoto in April or early May. Click on the card to enjoy a larger version.
Fort DeSoto IPT card C
Fort DeSoto Spring IPTs Expected Species
With any luck, we should get to photograph the following species: Laughing, Ring-billed, Herring, and Lesser Black-backed Gull; Royal, Sandwich, and Forster's Tern: Great, Snowy, and white and dark morph Reddish Egret and Great Blue, Little Blue, and Tricolored Heron; Yellow-crowned Night-Heron, Wood Stork, Roseate Spoonbill, and Brown Pelican. We will see and photograph lots of shorebirds including American Oystercatcher, Black-bellied, Wilson's, Semipalmated, Snowy, and Piping Plover, Marbled Godwit, Willet, Dunlin, Red Knot, Sanderling, and Western and possibly White-rumped Sandpiper.
Typos
With all blog posts, feel free to e-mail or to leave a comment regarding any typos or errors.