What's Up?
On the final morning of the second Fort DeSoto IPT we enjoyed yet another great session. The tern/skimmer flock was nowhere to be seen so we quickly made our way to the large pool and set to work photographing yet another very active feeding aggregation.
With Jake Levin and Jim Miller having headed home, Anita North, Shelley Lake, Donna Bourdon and I met at Anita's AirBnB to polish off the remaining smoked salmon and cold (previously grilled) tuna. Yummy. After we said our goodbyes, Donna and I headed back to ILE stopping in Lake Wales to do a few errands. I took a quick swim. After dinner, we worked on two of Donnas images from the IPT.
Today is Friday 30 April 2021. Donna and I will head down to the lake early to try for the crane chicks/now small colts. At about 10am, Jim and I will take Donna to MCO for her flight back to Chattanooga. Then Jim and I will be off to the Apple Store in Brandon where I have a Genius Bar appointment as my MacBook Pro is having some battery/power issues. Then we will meet Anita North who will be transferring a bunch of her stuff to my SUV and returning her rental vehicle to TPA. The the three of us will have an early dinner in Brandon and photograph at the rookery, probably getting back to ILE between 8 and 9pm. Wherever you are, and whatever you are doing, I hope that you have a great day.
This blog post took about two hours to prepare and makes 127 consecutive days with a new one. Please remember that if an item — a Delkin flash card, or a tripod head, for example, that is available from B&H and/or Bedfords and is also available in the BAA Online Store, it would be great if you opt to purchase from us. We will match any price. Please remember also to use my B&H affiliate links or to save 3% at Bedfords by using the BIRDSASART discount code at checkout. Doing either often earns you free guides and/or discounts. And doing so always earns my great appreciation.
Symbiotic Relationships
sym·bi·ot·ic (/simbīˈädik/) adjective: BIOLOGY
Involving interaction between two different organisms living in close physical association.
On the wintering grounds, the relationship between Snowy Egret and Red-breasted Merganser is a symbiotic one. In Florida, we often see feeding sprees consisting primarily of these two species. The snowies usual follow the mergansers as they rush through the shallows in pursuit of small baitfish, landing near them to pick up a baitfish scattered by their feeding partners. In the same manner, it is likely that a dip-feeding Snowy Egret will drive bait right into the serrated bills of the mergs.
For each of the past four IPT mornings, we enjoyed a feeding spree that was made up of two to five mergansers and as many as a dozen Snowy Egrets. Other wading bird species including Great and Reddish Egret and Great and Little Blue Blue Heron often joined in, with the latter two species usually hanging on the periphery while the snowies especially are right in the heaviest action with the mergansers.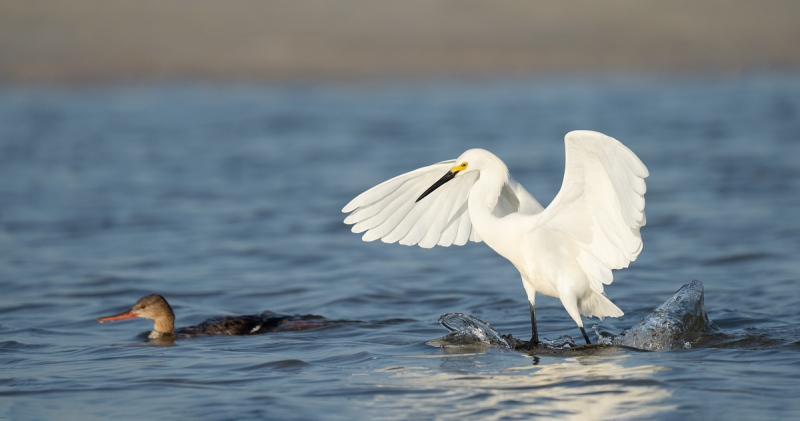 This image was created on 29 April 2021, the last morning of the second DeSoto IPT. While seated, I used the hand held Sony FE 200-600mm f/5.6-6.3 G OSS lens (at 582mm) and The One, the Sony Alpha 1 Mirrorless digital camera. ISO 640. Exposure determined via Zebras with ISO on the rear dial: 1/3200 sec. at f/6.3 (wide open) in Manual mode. The exposure was confirmed as dead-solid perfect by RawDigger. AWB at 7:54am on a clear, sunny morning.
Wide/AF-C was active at the moment of exposure and performed perfectly. Click on the image to see a larger version.
Image #1: Snowy Egret landing near Red-breasted Merganser

Your browser does not support iFrame.
The Serendipitous Image
On our last morning the wind was strong from the south/southeast. I constantly advised the group to move to the south, to our left, to stay ahead of the birds so that we would have them them flying toward us, into the wind, and into the light. We were constantly on the move as the feeding aggregation moved from north to south the length of the long pool.
By the end of the morning everyone in the group was exhausted as not only were we moving with the birds but every time that we got ahead of the feeding flock we would sit down to throw the choppy water and the far shoreline pleasingly out of focus. And then we had to get up. Down and up, move to the left, and down and up again. Repeat. And repeat some more. But as you can see with today's featured image, the rewards can be quite pleasing.
I did my job by setting a perfect exposure for the white birds, getting ahead of the birds, getting low, acquiring focus while panning with the Snowy Egrets in flight, and firing away at 30 fps. Please don't think that I saw either the merganser or the Snowy Egret's amazing landing-splash in the viewfinder. The fortuitous juxtaposition of the two birds could not have been more perfect if I had painted the scene. The rest was pure luck. Thus, the serendipitous image.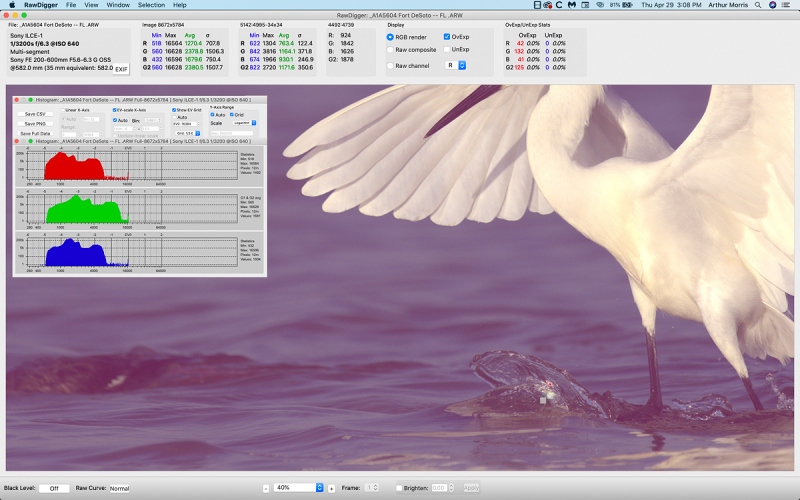 Image #1A: RawDigger screen capture of the (pink) Adapted Histogram for the Snowy Egret landing near Red-breasted Merganser image image
RawDigger
It would be impossible to overstate how much I have learned by studying RawDigger and how much better my exposures have become since I started with the program almost a year ago. The raw file brightness for Image #1 is dead solid perfect with the great bulk of the G channel just inside the 16000 line. The 340 OvExp pixels (out of 51,000,000) are all in the specular highlights in the splash. You can see the RED OvExp warnings in the big splash in front of the snowies right leg.
RawDigger — not for the faint of heart …
Nothing has ever helped me learn to create perfect exposures to the degree that RawDigger has. I think that many folks are reluctant to learn that most of their images are underexposed by one or more full stops and that highlight warnings in Photoshop, Lightroom, Capture One, and your in-camera histogram are usually way off (as they are based on the embedded JPEGs). Only your raw files tell the truth all the time. Heck, I resisted RawDigger for several years … Once you get over this feeling, RawDigger can become your very best exposure friend no matter what system you are using. On the recent IPTs and In-the-Field sessions, we have demonstrated that fact. Convincingly.
The RawDigger (pink) Adapted Histogram
In the RawDigger e-Guide, you will learn exactly how to set up the Adapted "pink" RawDigger Histogram and how to use it to quickly and easily evaluate the exposure or raw file brightness of images from all digital cameras currently in use. RawDigger was especially helpful to me as I struggled with R5 exposures and learned my new camera body, the Sony Alpha a1.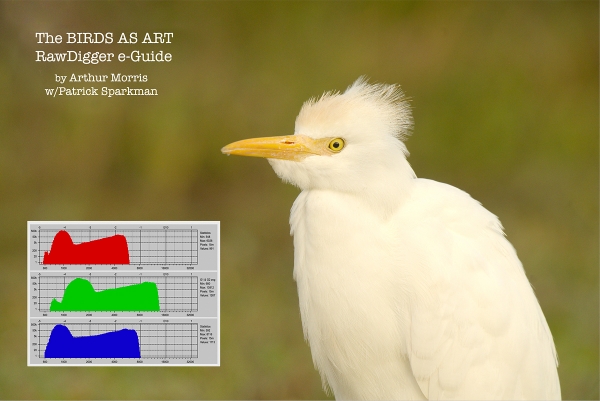 RawDigger e-Guide with Two Videos
The RawDigger e-Guide with Two Videos
by Arthur Morris with Patrick Sparkman
The RawDigger e-Guide was created only for serious photographers who wish to get the absolute most out of their raw files.
Patrick and I began work on the guide in July 2020. At first we struggled. We asked questions. We learned about Max-G values. We puzzled as to why the Max G values for different cameras were different. IPT veteran Bart Deamer asked lots of questions that we could not answer. We got help from RawDigger creator Iliah Borg. We learned. In December, Patrick came up with an Adapted Histogram that allows us to evaluate the exposures and raw file brightness for all images created with all digital camera bodies from the last two decades. What we learned each time prompted three complete beginning to end re-writes.
The point of the guide is to teach you to truly expose to the mega-Expose-to-the-Right so that you will minimize noise, maximize image quality, best utilize your camera's dynamic range, and attain the highest possible level of shadow detail in your RAW files in every situation. In addition, your properly exposed RAW files will contain more tonal information and feature the smoothest possible transitions between tones. And your optimized images will feature rich, accurate color.
We teach you why the GREEN channel is almost always the first to over-expose. We save you money by advising you which version of RawDigger you need. We teach you how to interpret the Max G values for your Canon, Nikon, and SONY camera bodies. It is very likely that the Shock-your-World section will shock you. And lastly — thanks to the technical and practical brilliance of Patrick Sparkman — we teach you a simple way to quickly and easily evaluate your exposures and raw file brightness using an Adapted RawDigger histogram.
The flower video takes you through a session where artie edits a folder of images in Capture One while checking the exposures and Max-G values in RawDigger. The Adapted Histogram video examines a series of recent images with the pink histograms and covers lots of fine points including and especially how to deal with specular highlights. The directions for setting up the Adapted Histogram are in the text.
If we priced this guide based on how much effort we put into it, it would sell it for $999.00. But as this guide will be purchased only by a limited number of serious photographers, we have priced it at $51.00. You can order yours here in the BAA Online Store.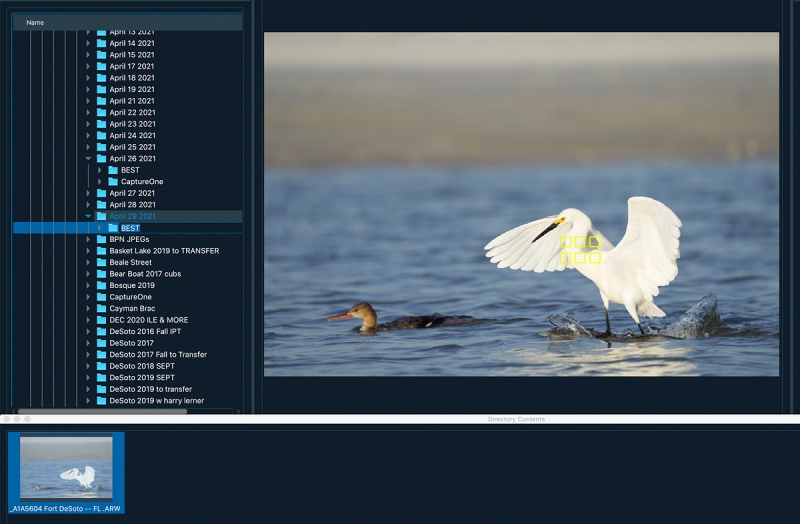 Image #1B: AF points screen capture for the Snowy Egret landing near Red-breasted Merganser image.
Sony Alpha a1 AF
The performance of the SONY AF system at any focal length (when the a1 is set up properly as detailed in the in e-mails to the Sony Alpha a1 Info & Updates group), continues to amaze me. Early on, there was lots of discussion within the group with many preferring multiple back button approaches. For me a simple shutter button approach with the right AF settings that yield 99% sharp-on-the-eye images is best. By far. It is super-simple and mega-effective. In the next SONY Alpha a1 Set-up and Info Group e-mail, I will be sharing what I have learned as to when and it what situations it is best to abandon Zone. We have already learned to limit the AF Area choices and to switch AF Areas quickly and conveniently. The default method of switching AF points with the C2 button is both slow and cumbersome.
SONY Alpha a1 Set-up and Info Group
The SONY Alpha a1 Set-up and Info Group is going great guns as folks chime in with thoughtful questions and experience-based advice. We are now up to an astounding 39 folks. Early on, we discussed the myriad AF options. I gave my opinion as to the best one for flight and general bird photography. More recently, we have been in contact with folks at SONY sharing our thoughts, experiences, and frustrations with the EVF blackout problem.
All who purchased their Alpha a1 bodies via a BAA affiliate link will receive a free subscription to the Sony Alpha a1 Set-Up and Info Updates after shooting me their receipts via e-mail. (Note: it may take me several days to confirm B&H orders.) This same service may be purchased by anyone with an a1 body via a $150.00 PayPal sent to birdsasart@verizon.net indicating payment for Alpha a1 Info Updates. Alternatively, they can call Jim weekday afternoons at 1-863-692-0906 to pay via credit card. New members will receive composite e-mails that summarize all previous discussions.
Typos
With all blog posts, feel free to e-mail or to leave a comment regarding any typos or errors.