What's Up?
Donna and I photographed down by the lake for a bit on Friday morning. We found and photographed the large colt, but could not find the two small colts. Jim and I got Donna to MCO in plenty of time for her flights to Chattanooga (via ATL). Then Jim drove me to the Apple Store in Brandon for my Genius Bar appointment. That went well. Then we headed to the TPA Rental Car Center to hook up with Anita North and grab all of her stuff so that she could return her rental. She was in a huge traffic jam on her way to Tampa. The plan was for us to meet in the cell phone lot but that never happened. We wound up getting permission to bring my SUV, a "private vehicle," into the Rental Car Center so that we could execute the transfer.
We headed to the bar near the Brandon Rookery for dinner. It was my second visit there in a week, and again, everyone loved the food. I am hooked on their Black and Blue Burger (no bun). As always, I gave all of my French fries to Anita. The rookery was in sight. There was lots of action. The light was sweet and the wind perfect from the southwest. But we were all so, so tired that we opted to head back to ILE. (If you own a copy of the Middle of Florida Site Guide and would like the name of the bar, please shoot me an e-mail that includes proof of purchase.)
Today is Saturday 1 May 2021. I slept till a very-late-for-me 6:30am. Anita and I headed down to the lake and quickly found and photographed both crane families; what a difference a day makes. Today I will be creating and sending a new e-mail to the SONY a1 Info and Updates group and catching up on some much-needed file editing. Wherever you are, and whatever you are doing, I hope that you have a great day.
This blog post took about two hours to prepare and makes 128 consecutive days with a new one. Please remember that if an item — a Delkin flash card, or a tripod head, for example, that is available from B&H and/or Bedfords and is also available in the BAA Online Store, it would be great if you opt to purchase from us. We will match any price. Please remember also to use my B&H affiliate links or to save 3% at Bedfords by using the BIRDSASART discount code at checkout. Doing either often earns you free guides and/or discounts. And doing so always earns my great appreciation.
Wanted to Buy
If you have a Canon EF 100-400mm L IS II lens sitting on a shelf that you would like to sell, please LMK via e-mail.
There's No Telling What You Might Learn on the BAA Blog
Steve left a wonderfully interesting comment at the Running With Both Feet Off the Ground blog post two days ago:
April 29, 2021 at 4:27pm
Artie, your image of the running sanderling reminded me of an important development in the history of photography. In 1878, Eadweard Muybridge photographed a horse in various stages of gallop, demonstrating for the first time that the animal does have all its hooves off the ground at one point in its gait (something that was unknown at the time).
Learn more about the photographs and about Muybridge in the Smithsonian article here.
From the article: After a bad injury, Muybridge was often described as erratic and emotionally volatile.
Muybridge found out his wife was having an affair because of a picture. One day, he came across a letter written by his wife that was addressed to Harry Larkyns, a "roguish" drama critic about town. Enclosed in the letter was a photo of Florado Helios Muybridge, and on the back of it were the words "Little Harry." Muybridge got a gun and boarded a train that would take him to where Larkyns was.
"He finds a cabin in which Larkyns was playing cards," says Braun. "He knocks on the door. He asks for Larkyns. And when Larkyns comes to the door, Muybridge says, 'I have a message from my wife,' and shoots him dead." At a three-day trial for a murder that he committed in front of several witnesses, Muybridge pleaded insanity. His lawyer, who many believe was hired by Stanford, had people who had known Muybridge testify that his personality had changed drastically after the stagecoach accident.
Click on Steve's link above to read the whole and very fascinating article.
R5 Guide Kudos
Unsolicited, via e-mail, from Fernando Ramos
The excellent Canon EOS R5 Camera User's e-Guide is unlike anything I've encountered. Your detailed instruction supported by excellent reasoning is exactly what I needed to set-up my Canon EOS R5. Thank you for sharing your expertise with me; as a result, you saved me immeasurable time. Fernando
Unsolicited, via e-mail, from Joel Eade
Thank you so much for the R5 guide! It is a wonderfully written, extremely comprehensive document that would benefit any R5 user. It is evident that a tremendous amount of time and effort was required to create it. After reading through, I can say it that flows in a logical fashion and that each item is carefully described in a way that is not difficult to follow. I agree with 99% of your set up suggestions 🙂 Joel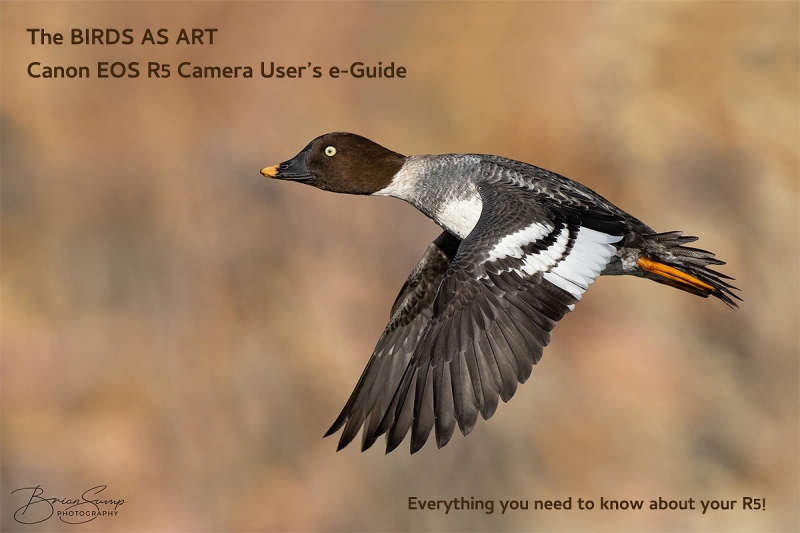 Cover Image courtesy of and Copyright 2021 Brian Sump (Sump scores!)
The BIRDS AS ART Canon EOS R5 Camera User's e-Guide: $75.00
The guide is 82 pages long: 21,458 words. More than 50 DPP 4 Autofocus-depicting screen captures. And a 31 minute 44 second educational video. This guide took three and a half months of hard work and a ton of help from at least seventeen very helpful and generous folks.
The guide covers — in great detail — all Menu Items that are relevant to bird, nature, and wildlife photography. It does not cover video. The section on AF methods and the AF Gallery has been expanded from the R5/R6 AF e-guide. It remains the one of the great strengths of this guide. I share my thoughts on what I am sure is the single best AF Method for photographing birds in flight. As most of you know, the guide includes a simple and easy way to change AF Methods that was introduced to me by Geoff Newhouse. In the AF Gallery you will see exactly how Face Detection plus Tracking AF works. In the Educational R5 Gallery video, I share my favorite R5 images along with dozens of bird photography tips and techniques.
In addition, I teach you how to get the best exposures with your R5. Detailed instructions on using the great In-camera HDR and Multiple Exposure features will be appreciated by creative folks who like to have fun. The three shutter modes are explained in detail as well. Bruce Dudek solved the can't-get-to-Auto ISO problem that had stumped everyone at Canon. This information is of course shared in the guide. You will learn how to set up your EVF (Electronic Viewfinder) and Screen toggle options. Not to mention that the mysterious performance of the Q Button is revealed and simplified. Brian Sump's images reveal how well you can do when using the R5 with EF lenses using one of the three Canon EF-EOS R Mount Adapters. You will learn how I use Customize Dials to put either ISO or EC on the Thumb Dial and how to set up and save Custom Shooting Modes (C1-C3) that can remember both your Customize Dial and Customize Button settings! That is something that none of the SONY bodies do. 🙁 Near the end of the guide I share my all-important MY MENU items with you.
Like all BAA educational materials, the R5 guide is written in my informal, easy-to-follow style. I am quite proud of this guide and look forward to hearing your thoughts on our hard work.
You can purchase your copy of the BIRDS AS ART Canon EOS R5 Camera User's e-Guide for $75.00 here in the BAA Online Store or by calling Jim in the office weekday afternoons at 863-692-0906 with your credit card in hand.
Please Remember
With income from IPTs now at zero, please, if you enjoy and learn from the blog, remember to use one of my two affiliate programs when purchasing new gear. Doing so just might make it possible for me to avoid having to try to get a job as a Walmart greeter and will not cost you a single penny more. And if you use Bedfords and remember to enter the BIRDSASART code at checkout, you will save 3% on every order and enjoy free second-day air shipping. In these crazy times — I am out at least forty to sixty thousand dollars so far due to COVID 19 (with lots more to come) — remembering to use my B&H link or to shop at Bedfords will help me out a ton and be greatly appreciated. Overseas folks who cannot order from the US because of import fees, duties, and taxes, are invited to help out by clicking here to leave a blog thank you gift if they see fit.
New and Better Bedfords Discount Policy!
You can now save 3% on all of your Bedfords photo gear purchases by entering the BIRDSASART coupon code at checkout. Your discount will be applied to your pre-tax total. In addition, by using the code you will get 2nd day air shipping via Fed Ex.
Grab a Nikon AF-S Teleconverter TC-14E III and save $14.99. Purchase a Canon EOS R5 and your discount will be $116.97. Purchase a Sony FE 600mm f/4 GM OSS lens and save a remarkable $389.94! Your Bedford's purchase no longer needs to be greater than $1,000.00 for you to receive a discount. The more you spend, the more you save.

Money Saving Reminder
Many have learned that if you need a hot photo item that is out of stock at B&H and would enjoy free second-day air shipping, your best bet is to click here, place an order with Bedfords, and enter the coupon code BIRDSASART at checkout. If an item is out of stock, contact Steve Elkins via e-mail or on his cell phone at (479) 381-2592 (Central time). Be sure to mention the BIRDSASART coupon code and use it for your online order to save 3% and enjoy free 2nd-day air shipping. Steve has been great at getting folks the hot items that are out of stock at B&H and everywhere else. The wait lists at the big stores can be a year or longer for the hard to get items. Steve will surely get you your gear long before that. For the past year, he has been helping BAA Blog folks get their hands on items like the SONY a9 ii, the SONY 200-600 G OSS lens, the Canon EOS R5, the Canon RF 100-500mm lens, and the Nikon 500mm PF. Steve is personable, helpful, and eager to please.
Gear Questions and Advice
Too many folks attending BAA IPTs (remember those?) and dozens of photographers whom I see in the field and on BPN, are–out of ignorance–using the wrong gear especially when it comes to tripods and more especially, tripod heads… Please know that I am always glad to answer your gear questions via e-mail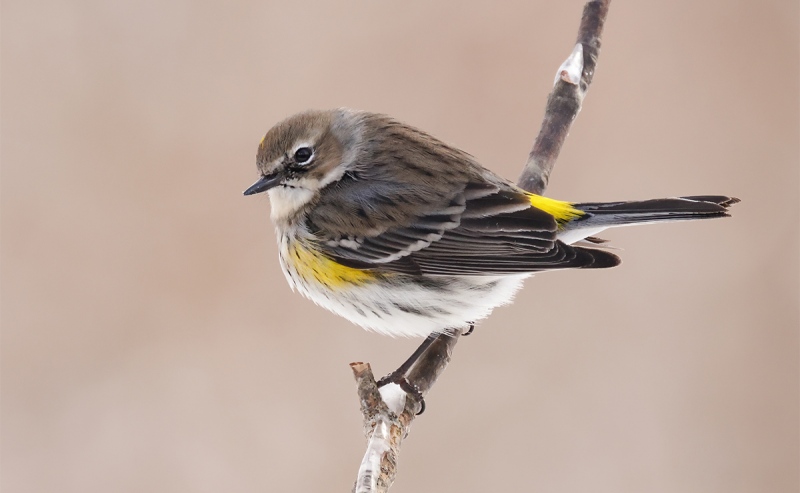 This image was created by In-the-Field session veteran Joel Eade. He used the hand held Canon RF 800mm f/11 IS STM lens and the highly touted 45MP Canon EOS R5 Mirrorless Digital camera body. ISO 3200. Exposure determined via test image and blinkies evaluation: 1/800 sec. at f/11 (wide open) in Manual (M) mode. AWB on a partly day.
Eye AF as detailed in the R5 e-Guide was active at the moment of exposure and performed perfectly. Click on the image to enjoy a larger version.
Image courtesy of and copyright 2021 Joel Eade

Image #1: Yellow-rumped Warbler, Kentucky

Your browser does not support iFrame.
Yellow-rumps in Winter
Seeing Joel's image of this species with snow in the frame brought me back to Great Kills Park on Staten Island in the late-1980s. There were times when I spished the yellow-rumps and they nearly flew through the open driver's side window. I was trying to photograph them with my first telephoto lens, the Canon FD 400mm f/4.5 lens.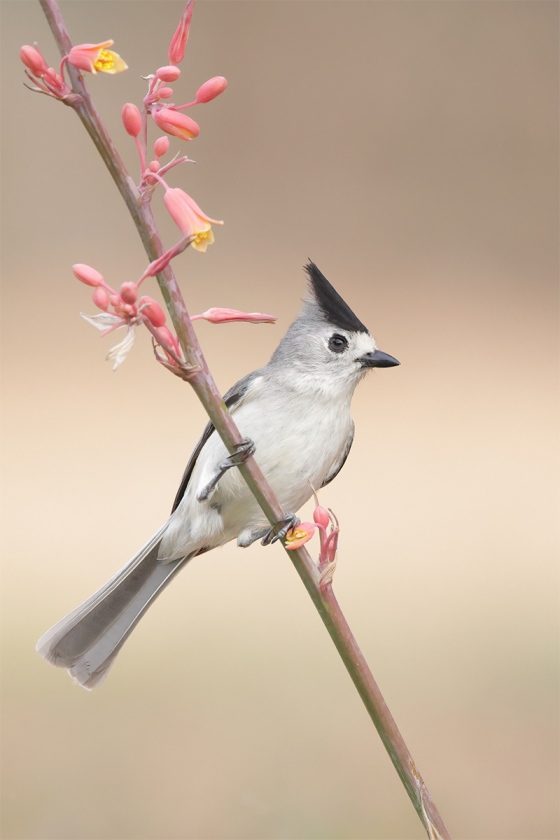 This image was created by In-the-Field session veteran Joel Eade. He used the hand held Canon RF 100-500mm f/4.5-7.1L IS USM lens (at 400mm) and the highly touted 45MP Canon EOS R5 Mirrorless Digital camera body. ISO 4000. Exposure determined via test image and blinkies evaluation: 1/2500 sec. at f/6.3 (wide open) in Manual (M) mode. AWB on a cloudy day.
Eye AF as detailed in the R5 e-Guide was active at the moment of exposure and performed perfectly.
Image courtesy of and copyright 2021 Joel Eade

Image #2: Black-crested Titmouse, Laguna Seca Ranch, Rio Grande Valley, TX
Your browser does not support iFrame.
Laguna Seca Ranch
Joel visited Laguna Seca Ranch in the Rio Grande Valley on his own and was guided by the personable ranch owner, Gene Gwin. It was Gene who created the lovely wildflower set-up above. Gene was a top-gun fighter pilot who flew McDonnell Douglas F-4 Phantom IIs and McDonnell Douglas F-15 Eagles in the US Air Force for 21 years, and then worked as a commercial pilot first for America West and then for American Airlines for 15 years. He has owned and operated the ranch for the past 12 years.
Slow Canon RF Lenses and Topaz Denoise AI
When I first learned of the two very slow f/11 Canon RF super-telephoto lenses, the Canon RF 600mm f/11 IS STM and the Canon RF 800mm f/11 IS STM, I thought that they were a joke. And the Canon RF 100-500mm f/4.5-7.1L IS USM lnes is, at f/7.1 is the slowest in its class. But, as Joel's two fine images here show, Topaz Denoise AI can do wonders for high ISO images created in relatively low light with the slow and relatively slow Canon RF lenses. Note that Joel needed high ISO to attain fast-enough shutter speeds in low light situations.
With Topaz, the Canon RF two f/11 super-telephotos have become viable options for budget-conscious bird photographers.
Great Topaz News!
Folks who use the BAA Topaz link to purchase Sharpen AI, DeNoise AI, or the Utility Bundle (or any other Topaz plug-ins), will receive a 15% discount by entering the ARTHUR15 code at checkout. If the stuff is on sale (as it usually is), you save 15% off of the sale price! To get the discount you must use my link and you must enter the discount code. Be sure to start with this link.
Those who purchase Sharpen AI, DeNoise AI, or any other Topaz plug-ins using my link and then entering the ARTHUR15 code at checkout can e-mail to request a short Getting Started with Topaz e-Guide. Please include a copy of your Topaz receipt that shows the discount. Aside from the basics, the guide explains how to install the plug-ins so that they appear in the Photoshop Filter Menu.
Typos
With all blog posts, feel free to e-mail or to leave a comment regarding any typos or errors.