What's Up?
Monday morning at DeSoto was epic. It started with still blue water and five pink and carmine birds with spatulate bills. Woohoo! Throw in 3 dozen Snowy Egrets, six Great Egrets, a few skimmers, and a tidal pool full of fish, and you have a full-fledged feeding spree with tons of activity, I concentrated on the spoonbills. Next I had some good chances on breeding plumage Red Knots and made a few Royal Tern head portraits. After the fact, we heard from several folks that Sunday — with zero birds – had been the worst day of the year in that same spot. Next we headed to our morning back-up location. I worked the small shorebirds — a single breeding plumage Short-billed Dowitcher, a Dunlin (that I fanned on), and a slew of running Sanderlings. While I as working along the beach, Anita was her usual self, wading out almost neck-deep to photograph floating and flying Brown Pelicans.
We had a nice dinner at Pia's Trattoria and then headed to my favorite afternoon beach. It was hot and things started off very slowly. There were a few groups of small sandpipers when we arrived, but they all departed with the dropping tide. We stuck it out and wound up getting some good stuff on Willet, a juvie Little Blue Heron, some Laughing Gulls, and several breeding plumage Black-bellied Plovers. Working at 1200mm off the Panning Ground Pod, I was hammering the shutter all afternoon as the Willets grabbed fiddler crabs and the little blue struck in hopes of a small baitfish. When a young gull began bathing, I filled a fresh card for the first time ever in my 20-year digital career. It just happened to be a Sony 160GB CFexpress Type A TOUGH Memory Card.
Photography was so good at DeSoto that we extended our stay an additional day. We'll be headed home on Wednesday. Today Tuesday 11 May 2021. The forecast for this morning is for still and partly cloudy with no-see-ums in the parking lot followed by a gentle east/southeast breeze. Wherever you are, and whatever you are doing, I hope that you have a great day.
This blog post took more than an hour to prepare and makes 138 straight days with a new one. Please remember that if an item — a Delkin flash card, or a tripod head, for example, that is available from B&H and/or Bedfords and is also available in the BAA Online Store, it would be great if you opt to purchase from us. We will match any price. Please remember also to use my B&H affiliate links or to save 3% at Bedfords by using the BIRDSASART discount code at checkout. Doing either often earns you free guides and/or discounts. And always earns my great appreciation.
Bedfords
The very affable Steve Elkins asked me to let you know that Bedfords has many Canon R5 bodies in stock right now. He is expecting some Control Ring Adapters, more than a few Canon RF 70-200s, and several RF 800mm lens in a day or two. Don't forget to save 3% at Bedfords (and enjoy free 2nd-Day Air fed-Ex) by using the BIRDSASART discount code at checkout.
Sony CFexpress Type A TOUGH Memory Cards
Folks using the Alpha a1 can use either UHS II cards or one of the two Sony CFexpress Type A TOUGH Memory Cards you . The latter are made only by SONY and are thus ridiculously over-priced. With the UHS II cards, you cannot get to 30 frames per second and the buffer fills much too quickly. The CFexpress Type A TOUGH Memory Cards provide fast read speeds up to 800 MB/s, write speeds up to 700 MB/s, and are ideal for high-resolution continuous raw shooting.
You can purchase the CFexpress Type A TOUGH Memory Cards from B&H or save 3% by getting them from Bedfords and using the BIRDSASART code at checkout.
Please Remember
With income from IPTs greatly reduced, please, if you enjoy and learn from the blog, remember to use one of my two affiliate programs when purchasing new gear. Doing so just might make it possible for me to avoid having to try to get a job as a Walmart greeter and will not cost you a single penny more. And if you use Bedfords and remember to enter the BIRDSASART code at checkout, you will save 3% on every order and enjoy free second-day air shipping. In these crazy times — I am out at least forty to sixty thousand dollars so far due to COVID 19 (with lots more to come) — remembering to use my B&H link or to shop at Bedfords will help me out a ton and be greatly appreciated. Overseas folks who cannot order from the US because of import fees, duties, and taxes, are invited to help out by clicking here to leave a blog thank you gift if they see fit.
New and Better Bedfords Discount Policy!
You can now save 3% on all of your Bedfords photo gear purchases by entering the BIRDSASART coupon code at checkout. Your discount will be applied to your pre-tax total. In addition, by using the code you will get 2nd day air shipping via Fed Ex.
Grab a Nikon AF-S Teleconverter TC-14E III and save $14.99. Purchase a Canon EOS R5 and your discount will be $116.97. Purchase a Sony FE 600mm f/4 GM OSS lens and save a remarkable $389.94! Your Bedford's purchase no longer needs to be greater than $1,000.00 for you to receive a discount. The more you spend, the more you save.

Money Saving Reminder
Many have learned that if you need a hot photo item that is out of stock at B&H and would enjoy free second-day air shipping, your best bet is to click here, place an order with Bedfords, and enter the coupon code BIRDSASART at checkout. If an item is out of stock, contact Steve Elkins via e-mail or on his cell phone at (479) 381-2592 (Central time). Be sure to mention the BIRDSASART coupon code and use it for your online order to save 3% and enjoy free 2nd-day air shipping. Steve has been great at getting folks the hot items that are out of stock at B&H and everywhere else. The wait lists at the big stores can be a year or longer for the hard to get items. Steve will surely get you your gear long before that. For the past year, he has been helping BAA Blog folks get their hands on items like the SONY a9 ii, the SONY 200-600 G OSS lens, the Canon EOS R5, the Canon RF 100-500mm lens, and the Nikon 500mm PF. Steve is personable, helpful, and eager to please.
Gear Questions and Advice
Too many folks attending BAA IPTs (remember those?) and dozens of photographers whom I see in the field and on BPN, are–out of ignorance–using the wrong gear especially when it comes to tripods and more especially, tripod heads… Please know that I am always glad to answer your gear questions via e-mail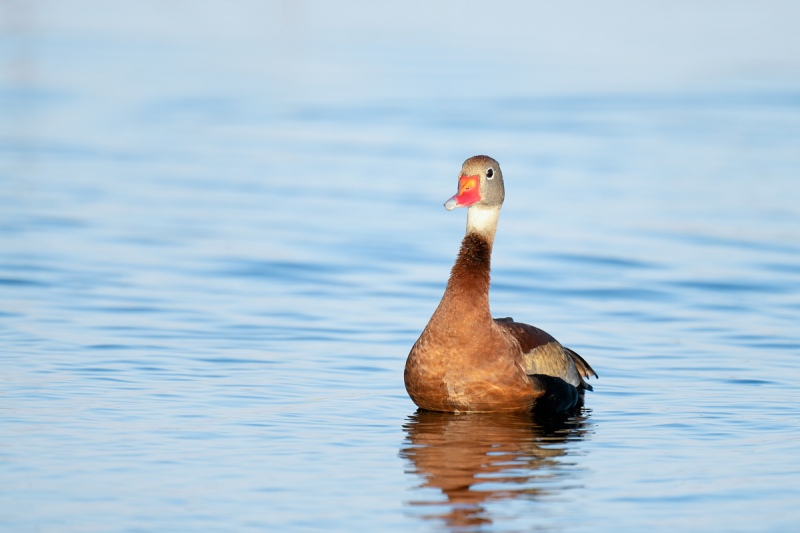 This image was created on 9 May 2021 down by the lake at ILE on a great morning. I used the Induro GIT 304L/Levered-clamp FlexShooter Pro-mounted Sony FE 600mm f/4 GM OSS lens, the Sony FE 2.0x Teleconverter, and the blazingly fast AF King, the Sony Alpha a9 II Mirrorless Digital camera body). ISO 500. The exposure was determined by Zebras with ISO on the rear wheel: 1/1000 sec. at f/8 (wide open) in Manual mode. RawDigger showed this image to be one stop to dark (due to operator error). AWB at 7:27am on a clear morning.
Tracking: Expand Spot/AF-C was active at the moment of exposure and performed perfectly. But the operator did not; see Operator Errors below.
Image #1: Black-bellied Whistling Duck

Your browser does not support iFrame.
Operator Errors
This image was from my great Sunday-morning-past session. I had photographed this species before at ILE, but never well. On the same morning in the same spot, just left of the pier, I also had good chances with a drake Wood Duck, several Black-necked Stilts, and a landing Great Egret.
#1: I blew the exposure on this one when I added the 2X TC. I reduced the shutter speed from 1/2000 sec. to only 1/1000 sec. I forgot that I was losing two stops of light (not one had I used the1.4X). IAC, Topaz DeNoise completely eliminated the noise.
#2: I used this image in ten-minute Camtasia video that I did recently for the SONY Alpha a1 Set-up and Info group to further illustrate the point that no matter how amazing a camera's AF system or method is — in this case Tracking: Expand Spot, it is the photographer who determines the image design by pointing the lens in the right direction. Here I failed to do that by placing the bird too low in the frame. (This image is a decent crop from above and from our left.) The trick with Tracking: Expand Spot is understanding exactly how it works and when to use it.
Note: Getting low in this situation would have been a very wet and mucky proposition …
Sony Alpha a1 AF
Barring operator error, the performance of the Sony Alpha a1 AF system at any focal length (when the a1 is set up properly as detailed in the in e-mails to the Sony Alpha a1 Info & Updates group), continues to astound me. Early on, there was lots of discussion within the group with many preferring multiple back button approaches. For me a simple shutter button approach with the right AF settings that yield 99% sharp-on-the-eye images is best. By far. It is super-simple and mega-effective. In the next SONY Alpha a1 Set-up and Info Group e-mail, I will be sharing what I have learned as to when and it what situations it is best to abandon Wide. We have already learned to limit the AF Area choices and to switch AF Areas quickly and conveniently. The default method of switching AF points with the C2 button is both slow and cumbersome.
SONY Alpha a1 Set-up and Info Group
The SONY Alpha a1 Set-up and Info Group is going great guns as folks chime in with thoughtful questions and experience-based advice. We are now up to an astounding 41 folks. Early on, we discussed the myriad AF options. I gave my opinion as to the best one for flight and general bird photography. More recently, we have been in contact with folks at SONY sharing our thoughts, experiences, and frustrations with the EVF blackout problem.
All who purchased their Alpha a1 bodies via a BAA affiliate link will receive a free subscription to the Sony Alpha a1 Set-Up and Info Updates after shooting me their receipts via e-mail. (Note: it may take me several days to confirm B&H orders.) This same service may be purchased by anyone with an a1 body via a $150.00 PayPal sent to birdsasart@verizon.net indicating payment for Alpha a1 Info Updates. Alternatively, folks can call Jim weekdays at 1-863-692-0906 to pay via credit card. New members will receive composite e-mails that summarize all previous discussions.
Typos
With all blog posts, feel free to e-mail or to leave a comment regarding any typos or errors.