What's Up?
Anita and I were down at the lake early on Friday morning. She paid a final visit to the two crane families while I worked on the Black-necked Stilts off the flattened tripod in thee inches of water. It was a still, gorgeous morning, with water like glass. The more ground level stuff I shoot, the more I become addicted to the look. There is, however, one very big negative to working at or near ground level. And that is the subject of today's post.
Anita North should be home by now. She flew to Buffalo on Friday and got a lift from there to her home in Toronto where she will do her mandatory two-week quarantine … We had a great visit.
Today is Saturday, 22 May 2021. The forecast is for more of the same, mostly sunny skies with a gentle breeze from the northeast. You will surely be able to find me sitting on my milk crate down by the edge of the marsh. Wherever you are, and whatever you are doing, I hope that you have a great day.
This blog post took about 90 minutes to prepare and makes 149 consecutive days with a new one. Please remember that if an item — a Delkin flash card, or a tripod head — for example, that is available from B&H and/or Bedfords and is also available in the BAA Online Store, it would be great if you opt to purchase from us. We will match any price. Please remember also to use my B&H affiliate links or to save 3% at Bedfords by using the BIRDSASART discount code at checkout. Doing either often earns you free guides and/or discounts. And doing so always earns my great appreciation.
Cataract Surgery …
If you are a nature photographer who has had any experience with cataract corrective surgery, please get in touch with Joe Norton via e-mail> He would love to chat with you.
Coincidentally, I had my annual eye exam with Dr. Braunstein in Lake Wales the other day. I love the guy. He always tells me the same thing: "You have the eyes of a non-diabetic." That of course is music to my ears. He mentioned that I did have some evidence of cataracts, but that I probably would not live long enough for them to ever be a problem. I said, "That might be good or bad …" "At least 15 years," he said.
Please Remember
With income from IPTs now at zero, please, if you enjoy and learn from the blog, remember to use one of my two affiliate programs when purchasing new gear. Doing so just might make it possible for me to avoid having to try to get a job as a Walmart greeter and will not cost you a single penny more. And if you use Bedfords and remember to enter the BIRDSASART code at checkout, you will save 3% on every order and enjoy free second-day air shipping. In these crazy times — I am out at least forty to sixty thousand dollars so far due to COVID 19 (with lots more to come) — remembering to use my B&H link or to shop at Bedfords will help me out a ton and be greatly appreciated. Overseas folks who cannot order from the US because of import fees, duties, and taxes, are invited to help out by clicking here to leave a blog thank you gift if they see fit.
New and Better Bedfords Discount Policy!
You can now save 3% on all of your Bedfords photo gear purchases by entering the BIRDSASART coupon code at checkout. Your discount will be applied to your pre-tax total. In addition, by using the code you will get 2nd day air shipping via Fed Ex.
Grab a Nikon AF-S Teleconverter TC-14E III and save $14.99. Purchase a Canon EOS R5 and your discount will be $116.97. Purchase a Sony FE 600mm f/4 GM OSS lens and save a remarkable $389.94! Your Bedford's purchase no longer needs to be greater than $1,000.00 for you to receive a discount. The more you spend, the more you save.

Money Saving Reminder
Many have learned that if you need a hot photo item that is out of stock at B&H and would enjoy free second-day air shipping, your best bet is to click here, place an order with Bedfords, and enter the coupon code BIRDSASART at checkout. If an item is out of stock, contact Steve Elkins via e-mail or on his cell phone at (479) 381-2592 (Central time). Be sure to mention the BIRDSASART coupon code and use it for your online order to save 3% and enjoy free 2nd-day air shipping. Steve has been great at getting folks the hot items that are out of stock at B&H and everywhere else. The wait lists at the big stores can be a year or longer for the hard to get items. Steve will surely get you your gear long before that. For the past year, he has been helping BAA Blog folks get their hands on items like the SONY a9 ii, the SONY 200-600 G OSS lens, the Canon EOS R5, the Canon RF 100-500mm lens, and the Nikon 500mm PF. Steve is personable, helpful, and eager to please.
Gear Questions and Advice
Too many folks attending BAA IPTs (remember those?) and dozens of photographers whom I see in the field and on BPN, are–out of ignorance–using the wrong gear especially when it comes to tripods and more especially, tripod heads… Please know that I am always glad to answer your gear questions via e-mail.
The Single Biggest Negative to Ground Level Shooting
The single biggest negative to working at ground level is that for 99% of folks, it is impossible to shoot flight. If you are using the tilted read screen you have zero chance. If you are lying down looking through the viewfinder you might have one chance in a thousand on a low-flying bird. Heck, make that one chance in a million. More than a decade ago I saw a nice flight image made by Long Island friend James Galletto that he made while lying prone in the mud at the East Pond at Jamaica Bay Wildlife Refuge in Queens, NY.
Thanks, Clemens!
Thanks to Clemens Van der Werf for re-acquainting me with Nik's great Viveza plug-in. And for the tutorial session he did for Anita and me before he headed home on Thursday. I used Viveza with today's image to transform the rather bland white sky– as seen in the screen capture below, into a fairly pleasant shade of blue. If you might be interested in purchasing a short Viveza tutorial video, please shoot me an e-mail and I will get to work.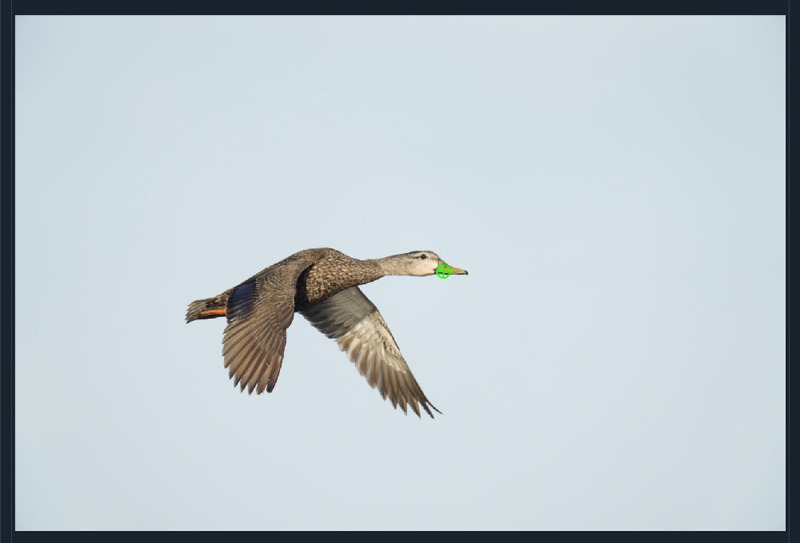 Image #1A: AF Point for the Mottled Duck in flight imaget
What Can I Say?
Well, the AF system of the a1 missed, the eye, and technically, it missed the face. But this image, and about fifteen others in the series, were laser/razor sharp on the duck's eye. Anita liked the image so much she said, "It looks like a Sump Duck." That is a high compliment as later winter, BPN-friend Brian Sump consistently produced spectacular images of ducks in flight, including the cover of the Canon EOS R5 Camera User's e-Guide.
Members of the A1 Info and Updates Group learn about and receive a link to the program that enables folks to see the AF points with SONY raw files. And all receive a free copy of the Sony Camera User's e-Guide that I did with Patrick Sparkman.
Sony Alpha a1 AF
Barring operator error, the performance of the Sony Alpha a1 AF system at any focal length — including 1200mm as seen in recent blog posts — is, when the a1 is set up properly as detailed in the in e-mails to the Sony Alpha a1 Info & Updates group, more than remarkable. Early on, there was lots of discussion within the group with many preferring multiple back button approaches. For me a simple shutter button approach with the right AF settings that yield 99% sharp-on-the-eye images is best. By far. It is super-simple and mega-effective. In the next SONY Alpha a1 Set-up and Info Group e-mail, I will be sharing what I have learned as to when and it what situations it is best to abandon Wide. And with what. The group has already learned to limit the AF Area choices and to switch AF Areas quickly and conveniently. The default method of switching AF points with the C2 button is both slow and cumbersome.
SONY Alpha a1 Set-up and Info Group
The SONY Alpha a1 Set-up and Info Group is going great guns as folks chime in with thoughtful questions and experience-based advice. We are now up to an astounding 46 lucky folks. Early on, we discussed the myriad AF options. I gave my opinion as to the best one for flight and general bird photography. More recently, we have been in contact with folks at SONY sharing our thoughts, experiences, and frustrations with the EVF blackout problem.
All who purchased their Alpha a1 bodies via a BAA affiliate link will receive a free subscription to the Sony Alpha a1 Set-Up and Info Updates after shooting me their receipts via e-mail. (Note: it may take me several days to confirm B&H orders.) This same service may be purchased by anyone with an a1 body via a $150.00 PayPal sent to birdsasart@verizon.net indicating payment for Alpha a1 Info Updates. Alternatively, folks can call Jim weekdays at 1-863-692-0906 to pay via credit card. New members will receive composite e-mails that summarize all previous discussions.
Typos
With all blog posts, feel free to e-mail or to leave a comment regarding any typos or errors.