What's Up?
I did much better than expected on Wednesday morning. I made a few nice vertical frames of one of the stilts on clean green vegetation when I went to check on the plain nest; it now has a complete clutch of four eggs. The last time I checked, the beautiful nest had two eggs. I made one nice image of an Osprey with a whole fish, several of one of the two crane colts, and a few more of a preening adult.
Today is Thursday 3 June 2021. The forecast for this morning is for partly cloudy skies with a faint breeze from the southeast. It is 5:25am as I type. I am in Clemens' truck on the way to Lake Blue Cypress. His flats boat is following closely behind on the trailer. Wherever you are, and whatever you are doing, I hope that you have a great day.
Be sure to check out the foreground clean-up work by comparing Image #1 with screen capture #1B and then scrolling all the way down to the Foreground Sand Clean-up item.
This blog post took about two hours to prepare, and makes 159 consecutive days with a new one. Please remember that if an item — a Delkin flash card, or a tripod head — for example, that is available from B&H and/or Bedfords and is also available in the BAA Online Store, it would be great if you opt to purchase from us. We will match any price. Please remember also to use my B&H affiliate links or to save 3% at Bedfords by using the BIRDSASART discount code at checkout. Doing either often earns you free guides and/or discounts. And doing so always earns my great appreciation.
Selling Your Used Photo Gear Through BIRDS AS ART
Selling your used (or like-new) photo gear through the BAA Blog is a great idea. We charge only a 5% commission. One of the more popular used gear for sale sites charged a minimum of 20%. Plus assorted fees! Yikes. They went out of business. And e-Bay fees are now up to 13%. Please understand that e-Bay prices are bogus. And the same is true of the prices of used gear including my dear friends at B&H and the other mega-outfits. They offer you pennies and then try to sell the stuff to ignorant folks for ridiculously high prices. With their huge international exposure, they occasionally find someone …
The minimum item price here is $500 (or less for a $25 fee). If you are interested, please shoot us an e-mail with the words Items for Sale Info Request cut and pasted into the Subject line :). Stuff that is priced fairly — I offer pricing advice to those who agree to the terms — usually sells. With the pandemic and the down economy, the market had been somewhat depressed, but sales have been brisk for the past few weeks. And over the past year, we have sold many many hundreds of items. Do know that prices of many used items have been dropping steadily. The prices garnered for used Canon gear has tanked completely as demand has dropped tremendously. It is ironic that for decades Canon gear had very strong resale value … Recently, however, the Canon used gear market has shown some signs of life. Prices on used Nikon gear have also dropped as well. You can see all the current bargains here on the Used Gear Page.
Note: all BAA Used Gear sales include insured ground shipping via UPS to lower 48 US addresses only. Others who live elsewhere are invited to e-mail the seller for shipping surcharge info. Sellers should charge you only the difference between shipping to the farthest US location from their home and the charge to a non-lower-48 address.
Canon 100-400mm EF f/4.5-5.6L IS zoom lens (the "Old" 100-400)
Sale Pending at 4:53am!
Multiple IPT veteran Geri Georg is offering a Canon 100-400mm EF f/4.5-5.6L IS zoom lens (the old Canon 100-400) in good to very good condition for a silly-low $299.00 The sale includes the front and rear lens caps, the tripod foot, the carrying case with strap, and insured ground shipping via major courier to lower-40 US addresses only. Your item will not ship until your check clears unless other arrangements are made.
Please contact Geri via e-mail or by phone at 1-970-219-4493 (Mountain time zone).
The original 100-400 is a sharp, amazingly versatile telephoto zoom lens. When I used Canon, I made hundreds of great and sale-able images with this lens (including the front cover of Scott Weidensaul's book, "Return to Wild America!)" Denise Ippolito loved hers also. Geri's lens would make a great starter lens for any beginning bird or nature photographer. artie
Canon Extender EF 2X II (teleconverter)
Sale Pending at 4:53am!
Multiple IPT veteran Geri Georg is offering a Canon Extender EF 2X II (teleconverter) in good to very good condition for a very low $79.00. The sale includes the front and rear caps, the carrying pouch, and insured ground shipping via major courier to lower-40 US addresses only. Your item will not ship until your check clears unless other arrangements are made.
Please contact Geri via e-mail or by phone at 1-970-219-4493 (Mountain time zone).
Regular readers know that I have long depended on both teleconverters for much of my bird photography. The series III TCs were designed for the series II super-telephoto lenses but if you have an older EF lens, the series II TCs will perform perfectly well for you (just as they did for me). artie
Sigma 12-24mm EX zoom lens 1:4.5-5.6 DG HSM wide angle zoom lens for Canon EF
Sale Pending at 4:53am!
Multiple IPT veteran Geri Georg is offering a Sigma 12-24mm EX zoom lens 1:4.5-5.6 DG HSM wide angle zoom lens in good to very good condition for Canon EF for a very low $199.00. The sale includes the rear lens cap, a LensCoat neoprene hoodie front lens protector (small), and insured ground shipping via major courier to lower-40 US addresses only. Your item will not ship until your check clears unless other arrangements are made.
Please contact Geri via e-mail or by phone at 1-970-219-4493 (Mountain time zone).
This super-wide angle has a large variable angle of view from 122° super wide-angle (at 12mm/diagonal axis) to 84.1°. The low dispersion glass elements enable effective correction of color aberration, a common problem with super-wide angle lenses. For use with Canon cameras. This lens sells used on Amazon for $399.00. artie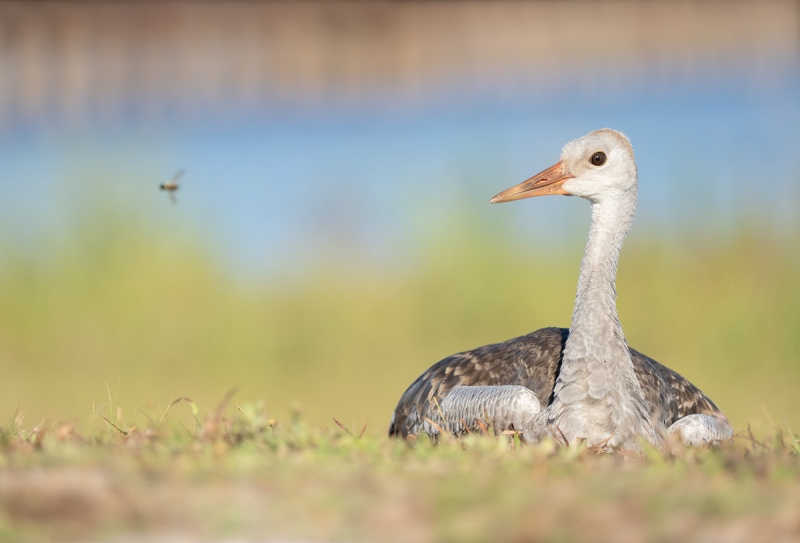 This image was created on 1 June 2021 down by the lake at ILE. While seated, I used the hand held Sony FE 200-600mm f/5.6-6.3 G OSS lens (at 600mm) and The One, the Sony Alpha 1 Mirrorless digital camera. ISO 800. Exposure determined via Zebras with ISO on the rear dial: 1/1600 sec. at f/6.3 (wide open) in Manual mode. AWB at 7:59am on a dead-clear morning.
Wide/AF-C was active at the moment of exposure and performed as expected: perfectly. Click on the image to see a larger version.
Image #1: Sandhill Crane, large colt resting — looking at bee

Your browser does not support iFrame.
The Situation and the Strategy
There is one large hill adjacent to the parking lot to the right of the pier. I have made some very good images of cranes on that hill. And there is also a small mound adjacent to the parking lot. I was in the driver's seat of my SUV when I saw this young crane resting on the small rise. Rather than shoot it from the car, I opened the driver's side door very slowly so as not to scare the bird and have it stand up. I got on the ground with the 2-6 and scootched to my right on my butt to get on sun angle. I was not thrilled with the pier in the upper background but I did not want to get higher to eliminate it (in fear of causing the bird to stand up). I was pleasantly surprised to see the bee in the frame as I edited the folder, i.e, picked my keepers. And I am pretty sure that the crane colt did not see it either.
Why are even small hills, mounds, rises, and ridges ideal for bird photography? Because they often allow you to effectively move the background far from the subject thus throwing the background nicely out of focus. As was the case with today's featured images. Be on the lookout for birds on small rises or edges. Then get low and go to work. You can control the look of the background by carefully choosing your perspective.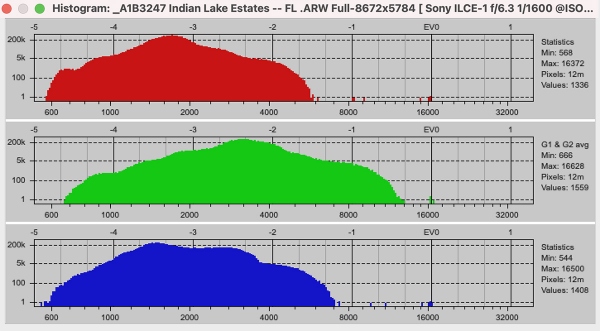 Image #1A: RawDigger adapted histogram for the Sandhill Crane, large colt resting — looking at bee image
The RawDigger Adapted Histogram
Note here that the bulk of the G channel data makes it 2/3rds of the way from the 8000 line to the 16000 line. The tiny spikes right at the 16000 line in all three channels, R, G, & B depict the 27 OvExp pixels, those from the specular highlights in the bird's eye. Those out of 51,000,000. This histogram shows what I would call a perfect exposure. If the bulk of the data makes it right to the 16000 line without any significant numbers of OvExp pixels, that would be a dead-solid perfect exposure. I try to aim only for "perfect" to be sure of avoiding any serious over-exposures.
Via e-Mail from Geri George
Hi Artie, Thanks for the RawDigger e-Guide. With many of my flower images, DPP shows lots of over-exposure on the petals, but RawDigger shows only a smattering (less than a hundred) of over-exposed pixels. They all converted perfectly in DPP 4 simply by pulling down the Highlight slider a bit. RawDigger has some really cool stuff!
Thanks and best, Geri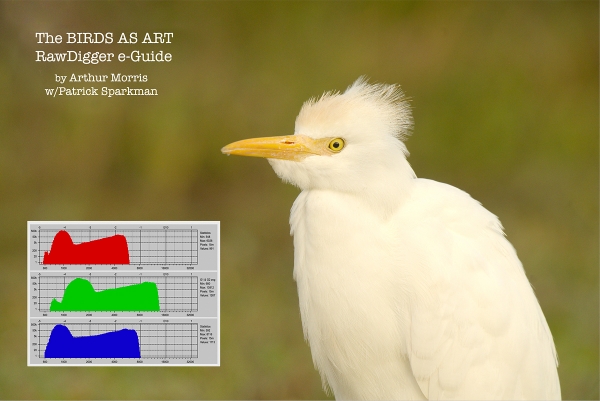 RawDigger e-Guide with Two Videos
The RawDigger e-Guide with Two Videos
by Arthur Morris with Patrick Sparkman
The RawDigger e-Guide was created only for serious photographers who wish to get the absolute most out of their raw files.
Patrick and I began work on the guide in July 2020. At first we struggled. We asked questions. We learned about Max-G values. We puzzled as to why the Max G values for different cameras were different. IPT veteran Bart Deamer asked lots of questions that we could not answer. We got help from RawDigger creator Iliah Borg. We learned. In December, Patrick came up with an Adapted Histogram that allows us to evaluate the exposures and raw file brightness for all images created with all digital camera bodies from the last two decades. What we learned each time prompted three complete beginning to end re-writes.
The point of the guide is to teach you to truly expose to the mega-Expose-to-the-Right so that you will minimize noise, maximize image quality, best utilize your camera's dynamic range, and attain the highest possible level of shadow detail in your RAW files in every situation. In addition, your properly exposed RAW files will contain more tonal information and feature the smoothest possible transitions between tones. And your optimized images will feature rich, accurate color.
We teach you why the GREEN channel is almost always the first to over-expose. We save you money by advising you which version of RawDigger you need. We teach you how to interpret the Max G values for your Canon, Nikon, and SONY camera bodies. It is very likely that the Shock-your-World section will shock you. And lastly — thanks to the technical and practical brilliance of Patrick Sparkman — we teach you a simple way to quickly and easily evaluate your exposures and raw file brightness using an Adapted RawDigger histogram.
The flower video takes you through a session where artie edits a folder of images in Capture One while checking the exposures and Max-G values in RawDigger. The Adapted Histogram video examines a series of recent images with the pink histograms and covers lots of fine points including and especially how to deal with specular highlights. The directions for setting up the Adapted Histogram are in the text.
If we priced this guide based on how much effort we put into it, it would sell it for $999.00. But as this guide will be purchased only by a limited number of serious photographers, we have priced it at $51.00. You can order yours here in the BAA Online Store.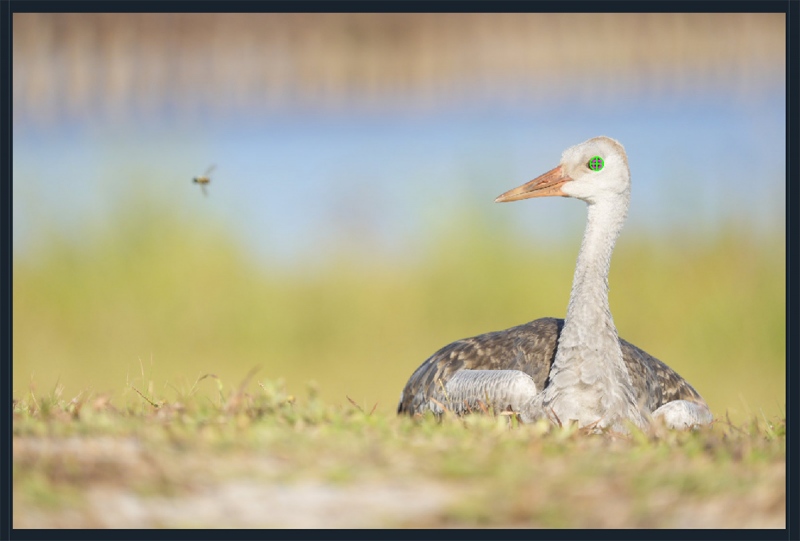 Image #1B: AF point for the Sandhill Crane, large colt resting — looking at bee image
One Amazing Thing …
One amazing thing — as explained in the a1 Info and Updates e-mails, is that the AF system of the a1 — when set up correctly, will actually detect a bird's eye before you half-press the shutter button . And to think that I'd always dreamed of science-fiction-like autofocus …
Sony Alpha a1 AF
Barring operator error, the performance of the Sony Alpha a1 AF system at any focal length — including 1200mm as seen in recent blog posts — is, when the a1 is set up properly as detailed in the in e-mails to the Sony Alpha a1 Info & Updates group, more than remarkable. Early on, there was lots of discussion within the group with many preferring multiple back button approaches. For me a simple shutter button approach with the right AF settings that yield 99% sharp-on-the-eye images is best. By far. It is super-simple and mega-effective. In the next SONY Alpha a1 Set-up and Info Group e-mail, I will be sharing what I have learned as to when and in what situations it is best to abandon Wide. And with what. The group has already learned to limit the AF Area choices and to switch AF Areas quickly and conveniently. The default method of switching AF points with the C2 button is both slow and cumbersome.
SONY Alpha a1 Set-up and Info Group
The SONY Alpha a1 Set-up and Info Group is going great guns as folks chime in with thoughtful questions and experience-based advice. We are now up to an astounding 46 lucky folks. Early on, we discussed the myriad AF options. I gave my opinion as to the best one for flight and general bird photography. More recently, we have been in contact with folks at SONY sharing our thoughts, experiences, and frustrations with the EVF blackout problem.
All who purchased their Alpha a1 bodies via a BAA affiliate link will receive a free subscription to the Sony Alpha a1 Set-Up and Info Updates after shooting me their receipts via e-mail. (Note: it may take me several days to confirm B&H orders.) This same service may be purchased by anyone with an a1 body via a $150.00 PayPal sent to birdsasart@verizon.net indicating payment for Alpha a1 Info Updates. Alternatively, folks can call Jim weekdays at 1-863-692-0906 to pay via credit card. New members will receive composite e-mails that summarize all previous discussions.
Foreground Sand Clean-up
The small areas of white sand in the foreground were distracting. I went with my usual cadre of clean-up tools in Photoshop. Those included the Patch Tool and Content Aware Fill. Note that I did not use the Clone Stamp at all. To smooth out the results, the final step was a 64 pixel Gaussian blur painted in as needed using an Inverse or Black Layer Mask.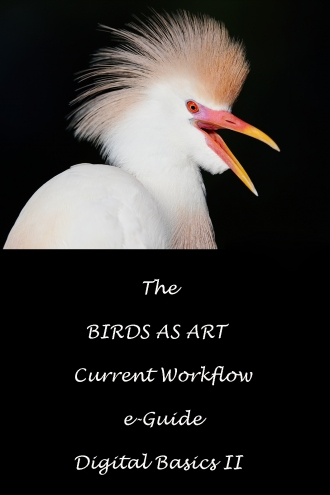 The BIRDS AS ART Current Workflow e-Guide (Digital Basics II).
You can order your copy from the BAA Online Store here, by sending a PayPal for $40 here, or by calling Jim or Jennifer weekdays at 863-692-0906 with your credit card in hand. Be sure to specify Digital Basics II.
The BIRDS AS ART Current Workflow e-Guide (Digital Basics II)
The clean-up techniques mentioned above and tons more great Photoshop tips and techniques — along with all of my personalized Keyboard Shortcuts — are covered in detail in the BIRDS AS ART Current Workflow e-Guide (Digital Basics II), an instructional PDF that is sent via e-mail. Learn more and check out the free excerpt in the blog post here. While the new e-Guide reflects my MacBook Pro/Photo Mechanic/DPP 4/Photoshop workflow, folks using a PC and/or BreezeBrowser will also benefit greatly by studying the material on DB II. Note: folks working on a PC and/or those who do not want to miss anything Photoshop may wish to purchase the original Digital Basics along with DB II while saving $15 by clicking here to buy the DB Bundle.
Folks who learn well by following along rather than by reading can check out the complete collection of MP 4 Photoshop Tutorial Videos by clicking here. Note: all of the videos are now priced at an amazingly low $5.00 each.
You can learn how and why I converted all of my Canon digital RAW files in DPP 4 in the DPP 4 RAW Conversion Guide here. More recently, I became proficient at converting my Nikon RAW (NEF) files in Adobe Camera Raw. About two years ago I began converting my Nikon and Sony RAW files in Capture One Pro 12 and continue to do so today.
To purchase Capture One, please use this link. Then you can learn more about Capture One in the Capture One Pro 12 Simplified MP4 Video here. The next step would be to get a copy of Arash Hazeghi's "The Nikon Photographers' Guide to Phase One Capture One Pro e-Guide" in the blog post here.
You can learn advanced Quick Masking and advanced Layer Masking techniques in APTATS I & II. You can save $15 by purchasing the pair.
Typos
With all blog posts, feel free to e-mail or to leave a comment regarding any typos or errors.