What's Up
Thursday morning was another beauty at ILE. I took an exploratory walk along the edge of the marsh and took some pretty bad images of White Ibis. And I fanned on a micro-second chance on two river otters as well. I am sure that a third pair of stilts has a nest, this one somewhere close to the boardwalk. I could not find it, but they were acting very nesty — yipping and yapping at my distant approach so I stayed well back. When a Fish Crow flew by, both adults rose into the air to drive it away. One stilt at the pretty nest — still with only two eggs, has been on its nest incubating for the past week. The nest is now high and dry as the water levels continue to drop.
Today is Friday 11 June 2021. It will be clear in the morning with the wind out of the southwest for the first time in weeks. I will be out early looking for more flowers (or buds). Wherever you are, and whatever you are doing, I hope that you too have a great day.
If you are interested in four (two 1/2 and three full) days of In-the-Field Instruction at a great new spot in the Jacksonville, FL area — the afternoon of Sunday 27 June through the morning session on Thursday 1 July 2021, please get in touch ASAP via e-mail for details, or call me on my cell at 863-221-2372. If you have a four-wheel drive truck or an SUV that would do well on the beach, that would be an amazing plus. Inexpensive lodging at a gorgeous AirBnB just 25 minutes from our shooting location is available. We only have room for one more in the 4 bedroom home.
This blog post took more than an hour to prepare, and makes 167 consecutive days with a new one. Please remember that if an item — a Delkin flash card, or a tripod head — for example, that is available from B&H and/or Bedfords and is also available in the BAA Online Store, it would be great if you opt to purchase from us. We will match any price. Please remember also to use my B&H affiliate links or to save 3% at Bedfords by using the BIRDSASART discount code at checkout. Doing either often earns you free guides and/or discounts. And doing so always earns my great appreciation.
Please Remember
With income from IPTs now close to zero, please, if you enjoy and learn from the blog, remember to use one of my two affiliate programs when purchasing new gear. Doing so just might make it possible for me to avoid having to try to get a job as a Walmart greeter and will not cost you a single penny more. And if you use Bedfords and remember to enter the BIRDSASART code at checkout, you will save 3% on every order and enjoy free second-day air shipping. In these crazy times — I am out at least forty to sixty thousand dollars so far due to COVID 19 (with lots more to come) — remembering to use my B&H link or to shop at Bedfords will help me out a ton and be greatly appreciated. Overseas folks who cannot order from the US because of import fees, duties, and taxes, are invited to help out by clicking here to leave a blog thank you gift if they see fit.
New and Better Bedfords Discount Policy!
You can now save 3% on all of your Bedfords photo gear purchases by entering the BIRDSASART coupon code at checkout. Your discount will be applied to your pre-tax total. In addition, by using the code you will get 2nd day air shipping via Fed Ex.
Grab a Nikon AF-S Teleconverter TC-14E III and save $14.99. Purchase a Canon EOS R5 and your discount will be $116.97. Purchase a Sony FE 600mm f/4 GM OSS lens and save a remarkable $389.94! Your Bedford's purchase no longer needs to be greater than $1,000.00 for you to receive a discount. The more you spend, the more you save.

Money Saving Reminder
Many have learned that if you need a hot photo item that is out of stock at B&H and would enjoy free second-day air shipping, your best bet is to click here, place an order with Bedfords, and enter the coupon code BIRDSASART at checkout. If an item is out of stock, contact Steve Elkins via e-mail or on his cell phone at (479) 381-2592 (Central time). Be sure to mention the BIRDSASART coupon code and use it for your online order to save 3% and enjoy free 2nd-day air shipping. Steve has been great at getting folks the hot items that are out of stock at B&H and everywhere else. The wait lists at the big stores can be a year or longer for the hard to get items. Steve will surely get you your gear long before that. For the past year, he has been helping BAA Blog folks get their hands on items like the SONY a9 ii, the SONY 200-600 G OSS lens, the Canon EOS R5, the Canon RF 100-500mm lens, and the Nikon 500mm PF. Steve is personable, helpful, and eager to please.
Gear Questions and Advice
Too many folks attending BAA IPTs (remember those?) and dozens of photographers whom I see in the field and on BPN, are–out of ignorance–using the wrong gear especially when it comes to tripods and more especially, tripod heads… Please know that I am always glad to answer your gear questions via e-mail.
Washed Out Raw Files
Even before I began learning from RawDigger, I advised often that your properly exposed-to-the-right raw files should look washed out and lousy on the back of your camera and on your computer monitor, just like Image #1 above. If your images look great with rich color as captured, that means that nearly all of them are seriously under-exposed. Once I began using RawDigger I learned how to truly expose-to-the-right; now most of my raw files look even worse and look completely washed out. Keep reading to see what you can do with a crappy looking raw file.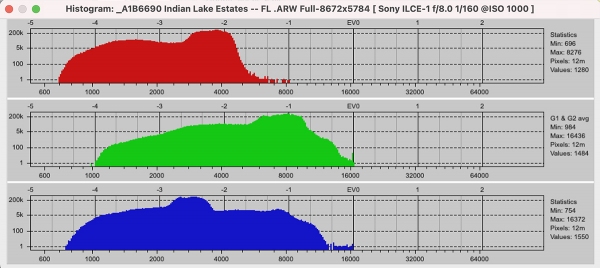 o use
Image #1A: The RawDigger adapted histogram for the Swamp Rosemallow Hibiscus grandiflorus image.
Getting Perfect Exposures with Flowers
Getting dead-solid perfect exposures — like the one above — every time, is child's play once you learn to use RawDigger. Why? You bracket your exposures in 1/3 stop increments and examine the raw files after-the-fact with Raw Digger. Note that a good deal of the G channel data goes right up to the 16000 line. There are actually a total of 157 OvExp pixels out of 51,000,000. All of those are in the specular highlights of the moisture on the bud. We take you through the entire process in the flower video that is included with the RawDigger e-Guide.
Via e-Mail from Geri George
Hi Artie, Thanks for the RawDigger e-Guide. With many of my flower images, DPP 4 shows lots of over-exposure on the petals, but RawDigger shows only a smattering (less than a hundred). They all converted perfectly in DPP 4 simply by pulling down the Highlight slider a bit. RawDigger has some really cool stuff!
Thanks and best, Geri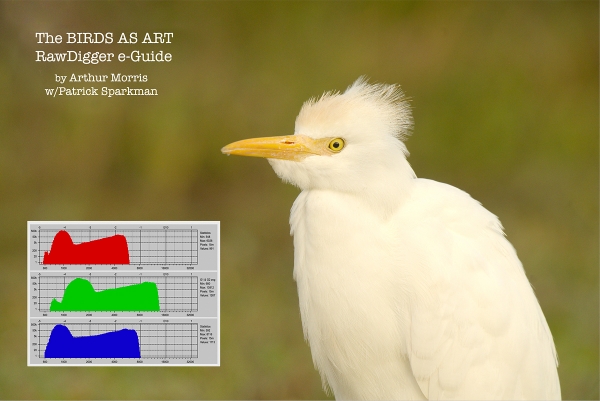 RawDigger e-Guide with Two Videos
The RawDigger e-Guide with Two Videos
by Arthur Morris with Patrick Sparkman
The RawDigger e-Guide was created only for serious photographers who wish to get the absolute most out of their raw files. It is not for the faint-of-heart who are happy to go through life under-exposing every raw file they create.
Patrick and I began work on the guide in July 2020. At first we struggled. We asked questions. We learned about Max-G values. We puzzled as to why the Max G values for different cameras were different. IPT veteran Bart Deamer asked lots of questions that we could not answer. We got help from RawDigger creator Iliah Borg. We learned. In December, Patrick came up with an Adapted Histogram that allows us to evaluate the exposures and raw file brightness for all images created with all digital camera bodies from the last two decades. What we learned prompted three complete beginning to end re-writes.
The point of the guide is to teach you to truly mega-Expose-to-the-Right so that you will minimize noise, maximize image quality, best utilize your camera's dynamic range, and attain the highest possible level of shadow detail in your RAW files in every situation. In addition, your properly exposed RAW files will contain more tonal information and feature the smoothest possible transitions between tones. And your optimized images will feature rich, accurate color.
We teach you why the GREEN channel is almost always the first to over-expose. We save you money by advising you which version of RawDigger you need. We teach you how to interpret the Max G values for your Canon, Nikon, and SONY camera bodies. It is very likely that the Shock-your-World section will shock you. And lastly — thanks to the technical and practical brilliance of Patrick Sparkman — we teach you a simple way to quickly and easily evaluate your exposures and raw file brightness using an Adapted RawDigger histogram.
The flower video takes you through a session where artie edits a folder of images in Capture One while checking the exposures and Max-G values in RawDigger. The Adapted Histogram video examines a series of recent images with the pink histograms and covers lots of fine points including and especially how to deal with specular highlights. The directions for setting up the Adapted Histogram are in the text.
If we priced this guide based on how much effort we put into it, it would sell it for $999.00. But as this guide will be purchased only by a limited number of serious photographers, we have priced it at $51.00. You can order yours here in the BAA Online Store.
The Optimized Master File
The washed out, seemingly faded Image #1, was — as compared to the untouched raw file, actually darkened during the raw conversion, and the color was juiced up a bit as well. But the converted .TIF file that I opened in Photoshop looked nothing like the beautiful, richly colored bud that I photographed. So I brought it into Nik Color Efex Pro's Viveza plug-in and went to work. Thanks to several lessons from Clemens Van der Werf and lots of practice, I am getting comfortable with using Viveza. In this great plug-in, you are easily able to make targeted adjustments based on color. It as easy to jazz up the pinks and greens of the bud while leaving the lovely yellow background unchanged. Note: subject in shade/background in sun works great for flowers as well as it does for birds.
Today's blog photo will be one of the featured images in the Viveza Basics tutorial video that I will create soon after mid-month; I will be working on the Nikonians webinar presentation until then.
Typos
With all blog posts, feel free to e-mail or to leave a comment regarding any typos or errors.