What's Up?
On Tuesday morning Clemens and I enjoyed another challenging morning of Least Tern photography in Southeast Florida. Mostly cloudy bright sky conditions were just about perfect. A breeze from the west/southwest? Not so much. But again, we both made some very good ones. The Nikonians webinar went very well, in part thanks to Clemens killer internet.
Today is Wednesday 16 June. I will be on my own at the beach as Clemens has an early morning 30-mile bike ride with his regular cycling group scheduled that followed by a Zoom meeting. The forecast is for more of the same mostly cloudy skies with a breeze from the south. Wherever you are, and whatever you are doing, I hope that you too have a great day.
This blog post took more than an hour to prepare and makes 172 consecutive days with a new one. Please remember that if an item — a Delkin flash card, or a tripod head — for example, that is available from B&H and/or Bedfords and is also available in the BAA Online Store, it would be great if you opt to purchase from us. We will match any price. Please remember also to use my B&H affiliate links or to save 3% at Bedfords by using the BIRDSASART discount code at checkout. Doing either often earns you free guides and/or discounts. And doing so always earns my great appreciation.
Still Need One for Jax In-the-Field
If you are interested in four days (two 1/2 days and three full days) of In-the-Field Instruction at a great new spot in the Jacksonville, FL area — the afternoon of Sunday 27 June through the morning session on Thursday 1 July 2021, please get in touch ASAP via e-mail for details, or call me on my cell at 863-221-2372. If you have a four-wheel drive truck or an SUV that would do well on the beach, that would be an amazing plus. Inexpensive lodging at a gorgeous AirBnB just 25 minutes from our shooting location is available. We only have room for one more in the 4 bedroom home.
We will be going to the beach in my vehicle (unless you have a 4WD vehicle) for all eight sessions at Huguenot Memorial Park. We will have thousand of birds to photograph. Mainly nesting Royal Terns with chicks of all sizes and Laughing Gulls with large chicks and fledglings. There are nesting Brown Pelicans as well. We will have tons of flight photography. The terns will be carrying all sorts of fish and shrimp and other prey items for the young. There may be less action for the afternoon sessions, but with any luck at all we will have the larger Royal Tern chicks (and possibly recently fledged young) swimming in the surf (along with lots of handsome young laughing gulls).
An Interesting Comment here.
Duncan Groenewald/June 9, 2021 at 8:59pm
Hi Artie, just looking at some of the images you post from the 600f4/a1 and they don't appear to be that sharp on my monitor (LG 5K Display), well no significantly more so that ones I take with the a1/200-600 combo – do you post the full resolution images or are they downsampled ? Just interested in seeing the difference in feather detail between the 600f4 and say the 200-600. Obviously lots of benefit in f4 over v6.3 in terms of background blur and shutter speeds but I would have expected a reasonable step up in fine detail/sharpness as well. Is this the case ? Perhaps you can show some comparative examples – or link to the page if you have done so previously. More often than not I find I am shooting the 200-600 at 840mm to better fill the frame and that seems to still deliver pretty sharp images with not too much loss of IQ. Nevertheless I would have thought the primes would deliver a considerable improvement in sharpness.
Best regards and stay safe – we're all back in lockdown here in Melbourne!
My Reply
Arthur Morris/BIRDS AS ART/June 13, 2021 at 9:03am:
Hi Duncan, Sorry for being tardy on responding. Your comment has been on my to-do list for a while 🙂
#1: The JPEG that I use on the blog are 1200 pixels on the long side. With the file limited to less than 395 KB. I would expect that they look pretty lousy on a large, quality monitor. Therefore, the stuff that you see on the blog has been downsized tremendously. So you are comparing apples with oranges. In addition, as noted in the post, that JPEG was a huge crop. Unusual for me it represented only 11% of the original images. I can assure you that the master files for everything I post are either sharp or mind-bogglingly sharp.
#2: Both Patrick Sparkman and I feel that the SONY 200-600 lens, though it is "only" a G (Good???) lens rather than a GM (Grand Master) lens, is incredibly sharp, pretty much as sharp as the 600 f/4GM. As stated on the blog often, I do not have the greatest eye for fine detail. Folks on BPN are often pointing that out with my images, and they are almost always right. Patrick on the other hand has an excellent eye for fine detail. I'll see if I can get Arash to comment on this issue.
#3: Here is a relevant comment from Sunday's blog post:
On a related note, if you are a serious bird photographer without any physical limitations, and can afford a top of the line 600mm or 500mm f/4 along with a high-end mirrorless body and both teleconverters, but do not presently own that gear, I can only ask, "what are you waiting for?" 1200mm and 1000mm are deadly weapons ever for those who live in areas with silly tame birds, and they have never been more effective than they have ever been before. And yes thanks, please use the links.
And here is a recent e-mail exchange with David Pugsley:
DP: Hi Artie, Hope all is well. I'm having quite the debate in my head over whether or not to pull the trigger on the Sony 600. I'll summarize my current thoughts via bullet points, and would love your thoughts.
AM: For me it's a no-brainer …
DP:
Advantages
Reportedly superior optics, even wide open
AM: They are both very sharp. Even wide open.
DP More light gathering allowing lower ISO and/or faster shutter speeds (I'm finding my 200-600 with the 1.4 is noticeably sharper stopped down to f/10 which is really making me push the ISO.)
AM: Yes, and that is when the sun is shining. The 600 f/4 shines when the sun is not shining. With the 200-600 and a 1.4X TC, you will yourself at ISOs from 4000 to 12800 in low light situations. That is not a nice place to be (no matter how great Topaz DeNoise is …) You will always save four clicks of ISO (1 1/3 stops) with the 600 f/4.
DPBetter bokeh
AM: Bokeh is mainly a factor of the distance from the subject to the BKRG. The Boken of the 2-6 is just fine in nearly all situations. Gorgeous, in fact.
DPPlays well with the 2x TC.
AM: Not well. Amazingly mind-bogglingly well. Imagine making razor-sharp images at 1200mm without giving it a second thought. Not to mention that you will have incredible AF across the (almost) entire frame.
DP:
Disadvantages
The MFD (Minimum Focusing Distance) of 600 f/4 GM is nearly 15′. The 200-600 focuses focuses down to less than 8 feet and will put more pixels on the subject at anything inside of 15' which is often the case at Fort DeSoto.
AM: Almost correct. But you need to factor in focus breathing with the 200-600. That said, aside from the fishing pier, it is rare to be inside of 15 feet even with tame birds. On sunny days I will almost always grab the 200-600 when working with silly tame birds.
DP: The million dollar question is whether all the advantages outweigh the MFD concern.
AM: For a serious photographer that is not even a question. See all of my a1 stuff on the blog at 1200mm. Hell, Arash kills on flight with small shorebirds and raptors at 1200mm.
Your call.
Much Love, a
FYI: David ordered his SONY 600 GM and saved 3% by using the BIRDSASART discount code at checkout. He should have the lens in six to eight months…
with love, artie
ps: Thanks for the good wishes!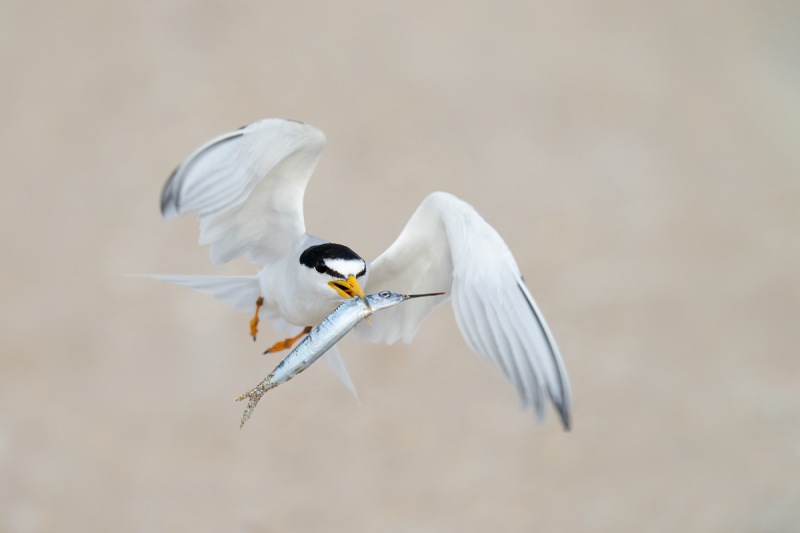 Like yesterday's featured This image was created on 14 June 2021 on a beach in Southeast Florida. Standing at full height, I used the Induro GIT 304L/ Levered-Clamp FlexShooter Pro-mounted Sony FE 600mm f/4 GM OSS lens with the Sony FE 1.4x Teleconverter and The One, the Sony Alpha 1 Mirrorless digital camera. ISO 2000. Exposure determined via Zebras with ISO on the rear dial: 1/2500 sec. at f/5.6 (wide open) in Manual mode. AWB at 7:37am in cloudy, fairly bright conditions.
Wide/AF-C was active at the moment of exposure and performed very well by nailing tern's cap. As this is another healthy crop, about, the depth-of-field was provided by the distance to the subject. Click on the image to see a larger version.
Adult Least Tern with halfbeak for chick

Your browser does not support iFrame.
The Quest for Different: Birthday Gift #2
As we discuss here often, the big challenge in nature photography is to create something different, to create something unique. It is fairly easy to create perfect field guide type portraits of the tern chicks in sweet light (though we did not have any on Monday morning). The challenge is to make sharp images of the birds in action. With that standard in mind, the image above works very well for me. I am adding it to tomorrow webinar program.
Least Tern Adult in flight with halfbeak for chicks
Trying to make images of adults in flight with food for the chicks concentrating on portraits and action shots of the chicks of all sizes is beyond a huge challenge. Most of the background is condos. The adults fly in, land briefly, and then take flight again all in an effort to find their chick. Today's featured image was a 100% grab shot. I had told myself, this is so difficult that if you see even part of the bird in the frame press the shutter button. I got on the bird late, just after it took off, so the first two images had the bird in the frame but were not sharp. Remarkably, the next few frames in the series were razor sharp on the eye without my having bumped the focus!
Bumping the focus is a technique where you release the shutter button so that the camera stops focusing and the press it again to acquire (hopefully sharp) focus. I have never had any camera do that before. Score another one for the Sony Alpha a1. And chalk up a second birthday gift for me.
Thanks to Dr. Fish, blog regular David Policansky for identifying the prey item as a halfbeak. To be absolutely sure, he sent the image to his friend Kate Bemis for confirmation. It just so happens that Kate is one of the co-authors of Part 10 of The Fishes of the Western Atlantic: Order Beloniformes: Needlefishes, Sauries, Halfbeaks, and Flyingfishes. From Yale University Press by Bruce B. Collette, Katherine E. Bemis, Nicolay V. Parin, and Ilia B. Shakhovskoy. You can check it out here.
Thanks again, David and thanks, Kate! Don't you love it when you can find great help?
The Relevance of the Conversation with Duncan Groenewald to Today's Featured Image
The smaller, lighter 200-600 would make it easier to get on the action more quickly and to move in position to be on sun angle (if it had been sunny). But when you are shooting action in cloudy conditions using the 200-600 is usually just not feasible. Had I been using the 200-600 with the 1.4X teleconverter, I would have needed to raise the ISO from 2000 to 5000 in order to attain the fast-enough shutter speed used to create today's sharp image: 1/2500 second. ISO 5000 is not a place where you want to spend a lot of time … In addition, initial focusing acquisition would be quite a bit slower at f/9 with the 2-6/1.4X TC combo than at f/5.6 with the 600 GM/1.4X TC rig. But, you need to be able to afford the 600 GM (or any 600mm f/4 lens) and you need to be able to manage it in the field …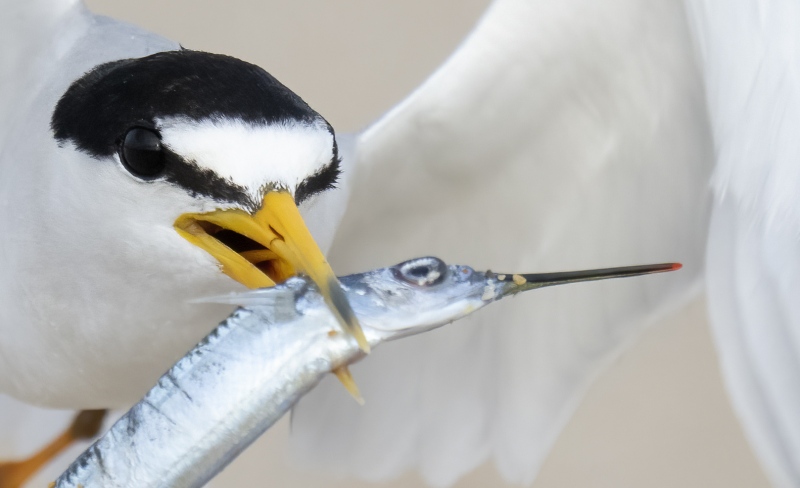 You must click on the image here to see the stunning sharpness and fine detail.
200% crop of the Adult Least Tern with halfbeak for chick image
Razor-sharp on the Eye!
After seeing that the first two images in this series were not sharp, I pretty much gave up hope. When several sharp ones followed, I pretty much jumped for joy and sang happy birthday to myself! The a1 came through in a situation that was rife with operator error. The master file for this image included about half the pixels in the original image capture. As we have seen here before, sharp a1 raw files allow for substantial crops.
Sony Alpha a1 AF
Barring operator error, the performance of the Sony Alpha a1 AF system at any focal length — including at 1200mm as seen in recent blog posts — is, when the a1 is set up properly as detailed in the in e-mails to the Sony Alpha a1 Info & Updates group, more than remarkable. Early on, there was lots of discussion within the group with many preferring multiple back button approaches. For me a simple shutter button approach with the right AF settings that yield 99% sharp-on-the-eye images is best. By far. It is super-simple and mega-effective. In recent SONY Alpha a1 Set-up and Info Group e-mails, I shared what I have learned as to when and it what situations it is best to abandon Wide. And with what. The group has already learned to limit the AF Area choices and to switch AF Areas quickly and conveniently. The default method of switching AF points with the C2 button is both slow and cumbersome. In addition, recent e-mails have detailed the best program to use to pick your a1 keepers and the big problem with the Camera Set. Memory menu item.
SONY Alpha a1 Set-up and Info Group
For me, today's featured image would not have been possible without my Sony Alpha a1. The speed of initial focusing acquisition is amazingly quick as is the tracking accuracy. And all of that will be even truer for tomorrow's featured image.
The SONY Alpha a1 Set-up and Info Group is going great guns as folks chime in with thoughtful questions and experience-based advice. We are now up to an astounding 56 blessed folks! Early on, we discussed the myriad AF options. I gave my opinion as to the best one for flight and general bird photography. More recently, we have been in contact with folks at SONY sharing our thoughts, experiences, and frustrations with the EVF blackout problem.
All who purchased their Alpha a1 bodies via a BAA affiliate link will receive a free subscription to the Sony Alpha a1 Set-Up and Info Updates after shooting me their receipts via e-mail. (Note: it may take me several days to confirm B&H orders.) This same service may be purchased by anyone with an a1 body via a $150.00 PayPal sent to birdsasart@verizon.net indicating payment for Alpha a1 Info Updates. Alternatively, folks can call Jim weekdays at 1-863-692-0906 to pay via credit card. New members will receive composite e-mails that summarize all previous discussions.
Typos
With all blog posts, feel free to e-mail or to leave a comment regarding any typos or errors.