What's Up?
We enjoyed two mega-sessions on Thursday. The morning was clear and sunny with a nice wind from the southeast. As the morning went on, we enjoyed some haze in the east that softened the light just a bit. The afternoon was mercifully cloudy. Having had nonstop action on (mostly) terns in flight, we spent lots of time on the sandbar and walking the beach in the afternoon. I concentrated on the very handsome, recently fledged Laughing Gulls. Just before we left, we watched one of the first summer Herring Gulls attack a Laughing Gull chick and leave it for dead. I was surprised that it did not attempt to eat the very young gull. As we approached to take a look at the carcass, we were astonished to see that the chick was still alive though very much worse for the wear. After twenty minutes, it stood up, very much alive.
As of 5:11 am on Thursday 1 July 2021, I am two-thirds of the way through the first edit of my 8289 images. I just peaked out the front door to see that it is mostly overcast. A wind somewhere from the east seems to be ever-present. Wherever you are, and whatever you are doing, I hope that you too have a great day.
Bedfords currently has three Sony Alpha 1 bodies in stock. Click here to purchase. Be sure to use the BIRDSASART discount code at checkout to save 3%, enjoy free 2nd-day air Fed-Ex, and earn free entry into the SONY Alpha a1 Info and Updates group.
The latest firmware update appears to have eliminated the EVF blackout problems.
This blog post took more than an hour to prepare and makes 186 consecutive days with a new one. Please remember that if an item — a Delkin flash card, or a tripod head — for example, that is available from B&H and/or Bedfords and is also available in the BAA Online Store, it would be great if you opt to purchase from us. We will match any price. Please remember also to use my B&H affiliate links or to save 3% at Bedfords by using the BIRDSASART discount code at checkout. Doing either often earns you free guides and/or discounts. And doing so always earns my great appreciation.
Please Remember
With income from IPTs now close to zero, please, if you enjoy and learn from the blog, remember to use one of my two affiliate programs when purchasing new gear. Doing so just might make it possible for me to avoid having to try to get a job as a Walmart greeter and will not cost you a single penny more. And if you use Bedfords and remember to enter the BIRDSASART code at checkout, you will save 3% on every order and enjoy free second-day air shipping. In these crazy times — I am out at least forty to sixty thousand dollars so far due to COVID 19 (with lots more to come) — remembering to use my B&H link or to shop at Bedfords will help me out a ton and be greatly appreciated. Overseas folks who cannot order from the US because of import fees, duties, and taxes, are invited to help out by clicking here to leave a blog thank you gift if they see fit.
New and Better Bedfords Discount Policy!
You can now save 3% on all of your Bedfords photo gear purchases by entering the BIRDSASART coupon code at checkout. Your discount will be applied to your pre-tax total. In addition, by using the code you will get 2nd day air shipping via Fed Ex.
Grab a Nikon AF-S Teleconverter TC-14E III and save $14.99. Purchase a Canon EOS R5 and your discount will be $116.97. Purchase a Sony FE 600mm f/4 GM OSS lens and save a remarkable $389.94! Your Bedford's purchase no longer needs to be greater than $1,000.00 for you to receive a discount. The more you spend, the more you save.

Money Saving Reminder
Many have learned that if you need a hot photo item that is out of stock at B&H and would enjoy free second-day air shipping, your best bet is to click here, place an order with Bedfords, and enter the coupon code BIRDSASART at checkout. If an item is out of stock, contact Steve Elkins via e-mail or on his cell phone at (479) 381-2592 (Central time). Be sure to mention the BIRDSASART coupon code and use it for your online order to save 3% and enjoy free 2nd-day air shipping. Steve has been great at getting folks the hot items that are out of stock at B&H and everywhere else. The wait lists at the big stores can be a year or longer for the hard to get items. Steve will surely get you your gear long before that. For the past year, he has been helping BAA Blog folks get their hands on items like the SONY a9 ii, the SONY 200-600 G OSS lens, the Canon EOS R5, the Canon RF 100-500mm lens, and the Nikon 500mm PF. Steve is personable, helpful, and eager to please.
Gear Questions and Advice
Too many folks attending BAA IPTs (remember those?) and dozens of photographers whom I see in the field and on BPN, are–out of ignorance–using the wrong gear especially when it comes to tripods and more especially, tripod heads… Please know that I am always glad to answer your gear questions via e-mail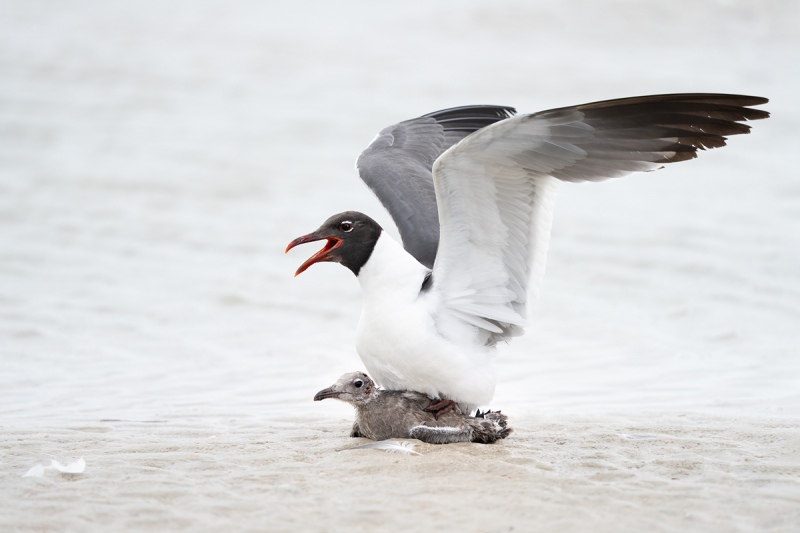 This image was created on 28 June 2021 on a beach near Jacksonville, FL. I used the hand held Sony FE 200-600mm f/5.6-6.3 G OSS lens (at 512mm) and The One, the Sony Alpha 1 Mirrorless digital camera. ISO 1600. Exposure determined via Zebras with ISO on the rear dial: 1/2000 sec. at f/6.3 (wide open) in Manual mode. AWB at 8:48am on a cloudy dark morning.
Wide/AF-C was active at the moment of exposure and performed perfectly. Click on the image to see a larger version.
Image #1: Laughing Gull adult raping youngster

Your browser does not support iFrame.
Copulation, Ruffling, and Bathing Bird Photo Tips
My new friend Dustin Hulbert told me that he had seen an adult Laughing Gull at the colony copulate with a very young bird of the same species. I spotted this situation, alerted the group, and quickly moved into position with the wind at my back. When photographing birds flapping after a bath, copulating, or ruffling their feathers, be sure to give them enough room so that you avoid clipping wings. With a fixed lens, move well back. With a zoom lens, be sure to zoom well out. Our instinct is to get close to the action, but in these two instances, you will surely clip lots of wings unless you are plenty wide enough. Don't be greedy!
Gull Behavior
More than two decades ago, I did an article entitled Go for the Gulls for
Birder's World
magazine. Gulls are relatively common and are great fodder for honing your photographic skills. In the article, I wrote: If you point your lens at a gull it is likely that the bird will do something very neat sooner rather than later. If you have an interesting gull behavior tale that you would like to share, please leave a comment.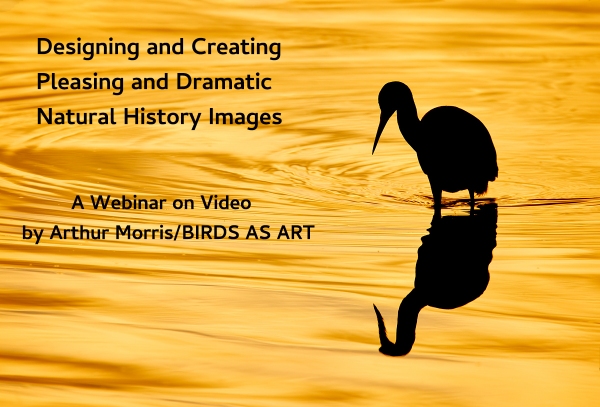 Designing and Creating Pleasing and Dramatic Natural History Images
A Video Webinar: $30 by electronic download

Order your copy by clicking here.
Designing and Creating Pleasing and Dramatic Natural History Images
A Video Webinar
In this 1 hour 28 minute plus video you will learn and be inspired. We cover everything from the very basics to the fine points. After a brief bio, the topics include Behavior, Action, Diagonal Lines, and the Cuteness Factor; Birds in Flight — The Holy Grail of Bird Photography; Mis-Framing!; Basic Image Design/HORIZONTALS: Get the subject out of the center of the frame. Basic Image Design/VERTICALS: The center of the frame is generally fine; The Importance of BACKGROUND; Isolating the Subject; Other Elements of Composition; On Getting Low; Going Wide for Bird-scapes; Super-tight!; Working in Sunny Conditions; Working in Cloudy Conditions; Working in Foggy Conditions; Working in the Shade; Working in Bad Weather; Creating Back-lit Images; Creating Silhouettes; and Creating Pleasing Blurs.
Each segment of the program consists of an average of about 15 images that will drive home the points being made, educate you, and inspire. The instructions and advice, given clearly and concisely, are based on my near-38 years of experience photographing birds with telephoto and super-telephoto lenses. And on several decades of creating educational blog posts.
This presentation is based on the webinar that I did for the South Shore Camera Club in April. You can find some of the comments below along with comments from two of the folks who viewed the webinar the night before the DeSoto IPT began.
You can order your copy of Designing and Creating Pleasing and Dramatic Natural History Images/A Video Webinar by clicking here or by calling Jim with your credit card in hand at 863-692-0906.
Typos
With all blog posts, feel free to e-mail or to leave a comment regarding any typos or errors.