Your Preference?
Which of today's two featured images is the strongest? Please leave a comment and let us know why you made your choice.
What's Up?
Well, I never thought that I'd ever say these words, but after watching the Milwaukee Bucks defeat the Atlanta Hawks in the NBA playoffs in the morning, and before watching Australian Cam Davis get his first PGA victory in the Rocket Mortgage Classic in the evening, I spent several hours watching the Johnsonville Cornhole Championships 2021 ACL Final Chase — Pro Invitational Tournament. On ESPN no less! The team of Cheyenne Renner and former college football star Ryan Smith won the event. Never heard of Cornhole? You can check out the Best Shots video here.
I worked on lots of images, did my swim early, did my bursts after my nap, and did my walk late. Today is Monday 5 July 2021. It is clear and still right now. I will be heading out early in hopes of photographing a neat lily that I saw on my walk. Wherever you are, and whatever you are doing, I hope that you too have a great day.
This blog post took about two hours to prepare (including the time I spent on the image optimizations) and makes 190 consecutive days with a new one. Please remember that if an item — a Delkin flash card, or a tripod head — for example, that is available from B&H and/or Bedfords and is also available in the BAA Online Store, it would be great, and greatly appreciated if you would opt to purchase from us. We will match any price. Please remember also to use my B&H affiliate links or to save 3% at Bedfords by using the BIRDSASART discount code at checkout. Doing either often earns you free guides and/or discounts. And doing so always earns my great appreciation.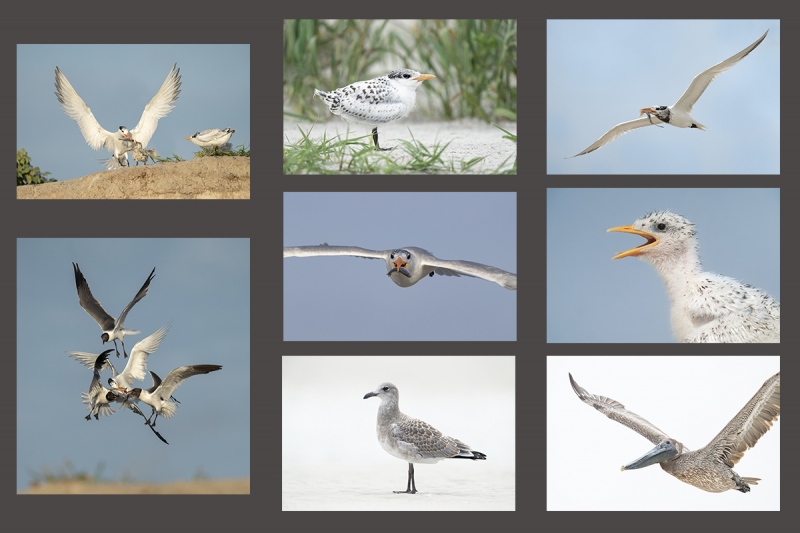 Short-Notice JAX IPT #2
Short-Notice JAX IPT #2
Room for a Single, a Couple, or More …
Photography, especially of birds in flight, was so phenomenal at the Jacksonville Royal Tern/Sandwich Tern/Laughing Gull/Brown Pelican rookery that I will be returning in a week. The only time I have experienced such non-stop flight action was on the gannet boat in Scotland. Two folks have committed to attending the 4-DAY IPT starting with the afternoon session on WED 14 July and ending with the morning session on SUN 18 July. It will be worth flying down for this one. Couples are welcome!
Please e-mail immediately or call my cell if you would like to join me or learn the details; arranging for a great AirBnB will be one of the keys to success so the sooner the better. Or call my cell at 863-221-2372.
Please Remember
With income from IPTs now close to zero, please, if you enjoy and learn from the blog, remember to use one of my two affiliate programs when purchasing new gear. Doing so just might make it possible for me to avoid having to try to get a job as a Walmart greeter and will not cost you a single penny more. And if you use Bedfords and remember to enter the BIRDSASART code at checkout, you will save 3% on every order and enjoy free second-day air shipping. In these crazy times — I am out at least forty to sixty thousand dollars so far due to COVID 19 (with lots more to come) — remembering to use my B&H link or to shop at Bedfords will help me out a ton and be greatly appreciated. Overseas folks who cannot order from the US because of import fees, duties, and taxes, are invited to help out by clicking here to leave a blog thank you gift if they see fit.
New and Better Bedfords Discount Policy!
You can now save 3% on all of your Bedfords photo gear purchases by entering the BIRDSASART coupon code at checkout. Your discount will be applied to your pre-tax total. In addition, by using the code you will get 2nd day air shipping via Fed Ex.
Grab a Nikon AF-S Teleconverter TC-14E III and save $14.99. Purchase a Canon EOS R5 and your discount will be $116.97. Purchase a Sony FE 600mm f/4 GM OSS lens and save a remarkable $389.94! Your Bedford's purchase no longer needs to be greater than $1,000.00 for you to receive a discount. The more you spend, the more you save.

Money Saving Reminder
Many have learned that if you need a hot photo item that is out of stock at B&H and would enjoy free second-day air shipping, your best bet is to click here, place an order with Bedfords, and enter the coupon code BIRDSASART at checkout. If an item is out of stock, contact Steve Elkins via e-mail or on his cell phone at (479) 381-2592 (Central time). Be sure to mention the BIRDSASART coupon code and use it for your online order to save 3% and enjoy free 2nd-day air shipping. Steve has been great at getting folks the hot items that are out of stock at B&H and everywhere else. The wait lists at the big stores can be a year or longer for the hard to get items. Steve will surely get you your gear long before that. For the past year, he has been helping BAA Blog folks get their hands on items like the SONY a9 ii, the SONY 200-600 G OSS lens, the Canon EOS R5, the Canon RF 100-500mm lens, and the Nikon 500mm PF. Steve is personable, helpful, and eager to please.
Gear Questions and Advice
Too many folks attending BAA IPTs (remember those?) and dozens of photographers whom I see in the field and on BPN, are–out of ignorance–using the wrong gear especially when it comes to tripods and more especially, tripod heads… Please know that I am always glad to answer your gear questions via e-mail
Nesting Brown Pelicans!
There are a few dozen pelican nests at the JAX colony, some at or just above eye level behind a low dune. To avoid the clutter, I went with my longest focal length: 1200mm. I am making more sharp images with the SONY 600 GM/2X TC/Alpha 1 rig than ever when working at 1200mm. On BPN, Arash Hazeghi has been posting amazing flight images made with this combo. Check out his amazing Western Sandpiper in flight in here in the Avian Gallery.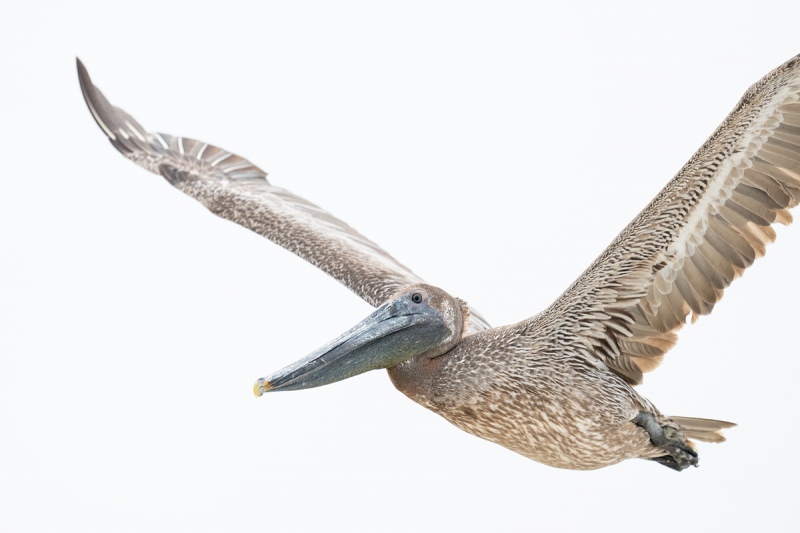 This image was created on 30 June 2021 on a beach near Jacksonville, FL. I used the Induro GIT 304L/
Levered-Clamp FlexShooter Pro-mountedSony FE 600mm f/4 GM OSS lens and The One, the Sony Alpha 1 Mirrorless digital camera. ISO 1600. Exposure determined via Zebras with ISO on the rear dial: 1/3200 sec. at f/4 (wide open) in Manual mode. RawDigger showed this exposure to be dead-solid perfect. AWB at 6:02pm on a cloudy afternoon. Wide/AF-C was active at the moment of exposure and performed perfectly. Be sure to click on the image to see a larger version.
Image #2: Brown Pelican, ten-month-old juvenile in flight

Your browser does not support iFrame.
More Looking for Very Special
There are lots of pelicans flying above the dunes, taking advantage of the updrafts. It is easy to create hundreds of decent images if you put your mind to it. I created many hundreds on my four-day visit without really trying. I kept only this one, and perhaps a handful of others, ones that checked all the boxes and were a bit different. It is rare for me to handhold the 600 f/4, but I can do it easily for short periods of flight photography or during cloudy-session-walks while sitting on the beach or sandbar and using the Knee-Pod technique. I am quite fond of the 3/4-bird image designs with large-in-the-frame birds in flight, in part because of the incredible underwing detail you can attain on white-sky days.
Typos
With all blog posts, feel free to e-mail or to leave a comment regarding any typos or errors.