What's Up?
Sunday was a perfect morning for flower photography — cloudy bordering on bright, and dead still. That's why I spent more than an hour in the garden with my macro rig. And I tried something that might lead to a very neat discovery … I ordered a single item that will allow me to go forward. I got some more work done on the Sony Alpha a1 Set-up and Info compilation but still have lots more to do.
Today is Monday 12 July. I am getting excited about returning to Jacksonville. more work done on my 2020 tax return. Wherever you are, and whatever you are doing, I hope that you too have a great day.
This blog post took more than an hour to prepare and makes 197 consecutive days with a new one. Please remember that if an item — a Delkin flash card, or a tripod head — for example, that is available from B&H and/or Bedfords and is also available in the BAA Online Store, it would be great, and greatly appreciated if you would opt to purchase from us. We will match any price. Please remember also to use my B&H affiliate links or to save 3% at Bedfords by using the BIRDSASART discount code at checkout. Doing either often earns you free guides and/or discounts. And doing so always earns my great appreciation.
Please Remember
With income from IPTs now close to zero, please, if you enjoy and learn from the blog, remember to use one of my two affiliate programs when purchasing new gear. Doing so just might make it possible for me to avoid having to try to get a job as a Walmart greeter and will not cost you a single penny more. And if you use Bedfords and remember to enter the BIRDSASART code at checkout, you will save 3% on every order and enjoy free second-day air shipping. In these crazy times — I am out at least forty to sixty thousand dollars so far due to COVID 19 (with lots more to come) — remembering to use my B&H link or to shop at Bedfords will help me out a ton and be greatly appreciated. Overseas folks who cannot order from the US because of import fees, duties, and taxes, are invited to help out by clicking here to leave a blog thank you gift if they see fit.
New and Better Bedfords Discount Policy!
You can now save 3% on all of your Bedfords photo gear purchases by entering the BIRDSASART coupon code at checkout. Your discount will be applied to your pre-tax total. In addition, by using the code you will get 2nd day air shipping via Fed Ex.
Grab a Nikon AF-S Teleconverter TC-14E III and save $14.99. Purchase a Canon EOS R5 and your discount will be $116.97. Purchase a Sony FE 600mm f/4 GM OSS lens and save a remarkable $389.94! Your Bedford's purchase no longer needs to be greater than $1,000.00 for you to receive a discount. The more you spend, the more you save.

Money Saving Reminder
Many have learned that if you need a hot photo item that is out of stock at B&H and would enjoy free second-day air shipping, your best bet is to click here, place an order with Bedfords, and enter the coupon code BIRDSASART at checkout. If an item is out of stock, contact Steve Elkins via e-mail or on his cell phone at (479) 381-2592 (Central time). Be sure to mention the BIRDSASART coupon code and use it for your online order to save 3% and enjoy free 2nd-day air shipping. Steve has been great at getting folks the hot items that are out of stock at B&H and everywhere else. The wait lists at the big stores can be a year or longer for the hard to get items. Steve will surely get you your gear long before that. For the past year, he has been helping BAA Blog folks get their hands on items like the SONY a9 ii, the SONY 200-600 G OSS lens, the Canon EOS R5, the Canon RF 100-500mm lens, and the Nikon 500mm PF. Steve is personable, helpful, and eager to please.
Gear Questions and Advice
Too many folks attending BAA IPTs (remember those?) and dozens of photographers whom I see in the field and on BPN, are–out of ignorance–using the wrong gear, especially when it comes to tripods and more especially, tripod heads… Please know that I am always glad to answer your gear questions via e-mail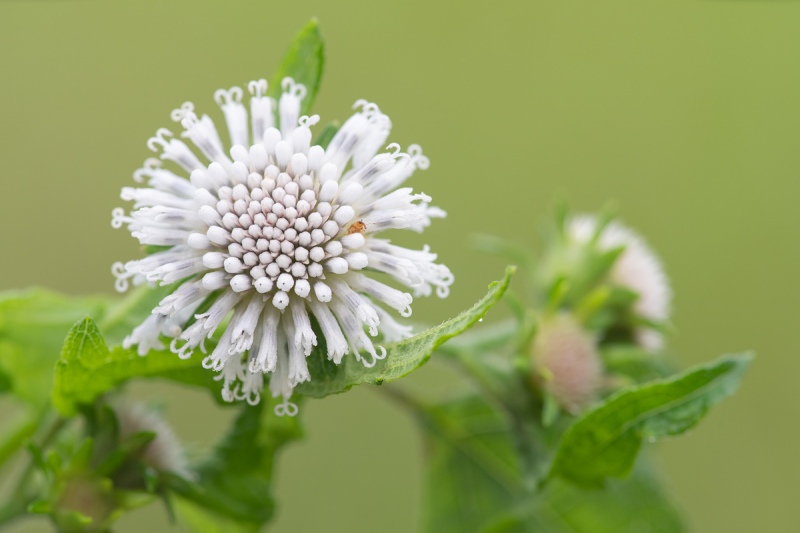 This image was created on 11 July 2021 in the butterfly garden in the backyard adjacent to the pool. Standing at full height, with the sprig Plamped, I used the Induro GIT 304L topped by a Levered-Clamp FlexShooter Mini-mounted Canon EF 180mm f/3.5L Macro USM lens with the Metabones Canon EF/EF-S Lens to Sony E Mount T Smart Adapter (Fifth Generation) and The One, the Sony Alpha 1 Mirrorless Digital camera body. ISO 800. The exposure was in part determined by Zebras with Exposure Compensation on the rear wheel, and then selected as best from a bracketed series of exposures after evaluation in RawDigger. Multi-metering +.7 stops: 1/40 sec. at f/8 (stopped down 2 1/3 stops) in Manual mode. Manual Focus, Focus Magnifier, Focus Peaking, and the 2-second self-timer, all as detailed in the SONY Alpha a1 Info and Updates group e-mails. AWB at 7:19am on a cloudy morning.
Click on the image to view a larger version; do you see the small, brown bug on the right side of the flower?
Image #1: Snow Squarestem (Melanthera nivea), AKA Salt and Pepper blossom

Your browser does not support iFrame.
Snow Squarestem or Salt and Pepper
The blossoms of this plant attract large numbers of pollinators, including a wide variety of butterflies, some true bugs, and lots of wasps, bees, hornets, and the like. Last year, later on in the season, we counted 26 Gulf Fritillaries on the white and black Salt and Pepper flowers. This plant is easily propagated from stem cuttings.
I picked and Plamped this sprig, made lots of images, and then picked another, simpler sprig and did the same. Artistically, I liked the images of the cleaner sprig better than those of the first, more complex sprig. But none of those had a strange visitor sitting on the blossom.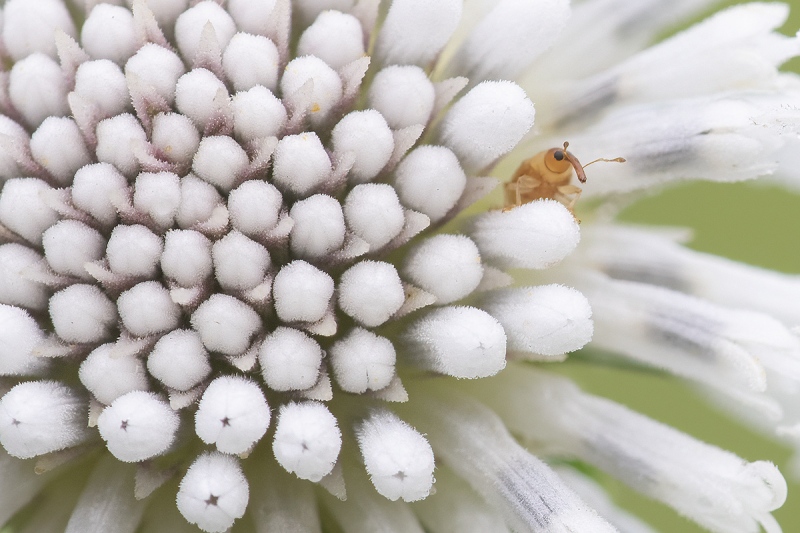 Click on the image to enjoy a larger version.
Image #1A: Tight crop of the weird visitor in the Snow Squarestem (Melanthera nivea), AKA Salt and Pepper image.
The Weevil!
I never saw the bug until I reviewed the images. Thanks to BAA-friend "Bug" Bob Allen for identifying the bug for us. He wrote last night in an e-mail:
It is a species of weevil, family Curculionidae. Note the long rostrum ("snout") and the "elbowed" antennae.
Bob Allen
Author/photographer of Wildflowers of Orange County and the Santa Ana Mountains
Robert L. "BugBob" Allen is an entomologist, botanist, instructor, nature photographer, and author living in Orange County, California. You can learn more Bob's varied and impressive accomplishments here.
Alpha a1 Image Quality!
The a1 continues to astound me, both for its science-fiction-like AF system and for its incredibly detailed image files. And everything you need to know to photograph flowers successfully is detailed in the SONY Alpha a1 Info and Updates group e-mails. Those include Manual Focus with Focus Magnifier, Focus Peaking, working in Aperture priority with Exposure Compensation on the Thumb Wheel.
Manual Focus with Focus Magnifier and Focus Peaking
All of the high-end SONY mirrorless camera bodies offer these features. If you do macro, using them properly in combination is both efficient and fun. After activating Focus Magnifier (as detailed in SONY Alpha a1 Set-up and Info Notes #16), you frame the shot — always working on a tripod. While focusing manually, the areas of sharp focus will be overlaid by the peaking color of your choice. As you turn the focusing ring, you will see the focus peaking move from front to back or back to front across the image. Then you can magnify the image in two steps to ensure critically sharp focus exactly where you want it. You can also use Focus Peaking to help you get perfectly square to two flowers (or bugs) in a single frame by altering your perspective until Focus Peaking covers both subjects.
The Levered-Clamp FlexShooter Mini
The Levered-Clamp FlexShooter Mini is back in stock! You can purchase yours here in the BAA Online Store.. The Levered-clamp FlexShooter Mini on just about any decent tripod like the Induro GIT 304L is dead-solid-perfect for those whose intermediate telephoto or telephoto zoom lenses are their workhorse lenses for bird and nature photography, for all macro lenses with a tripod collar, and for wide angle lenses with a Wimberley P-5 Plate on the camera body. The levered-clamp is super-fast and secure. Though it weighs only 1lb., 2.4 ozs, this elegantly manufactured head is rock-solid. It takes only seconds to level all FlexShooter heads for square-to-the-world panning, and these innovative and patented spring-counterbalanced double ballheads will completely eliminate ballhead-flop and will balance your lens perfectly with just a little bit of care when mounting your rig — as noted below. As far as I know, this brand-new Arca-Swiss compatible head is now available only from BIRDS AS ART.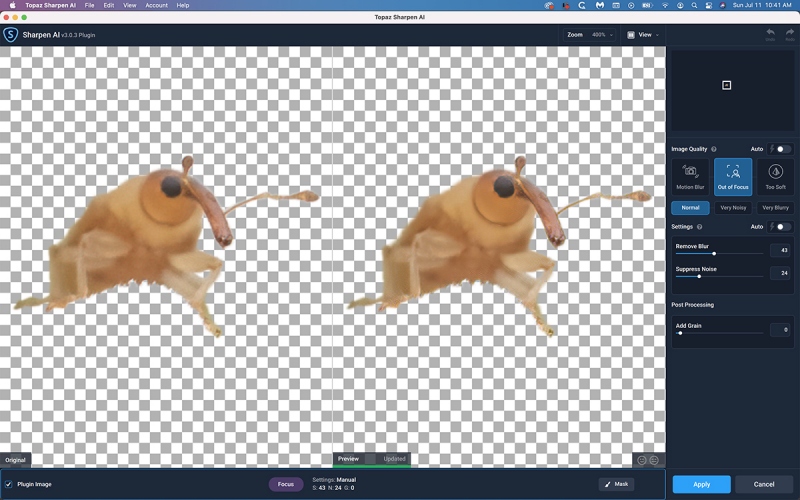 Click on the image to view a larger version.
Image #1B: Topaz Sharpen AI on the weird visitor (selected) in the Snow Squarestem (Melanthera nivea), AKA Salt and Pepper image.
Topaz Sharpen AI Tip
As soon as I brought the TIF file into Photoshop, I ran Topaz DeNoise (on Low Light) on the entire image. After that, working very large, I made a careful selection of the then-unidentified bug with the Magnetic Lasso Tool. Then I placed it on its own layer, brought it into Topaz Sharpen AI, and set the Zoom to 400%. On Auto, Sharpen AI suggested that Motion Blur would be best. But when I compared that with Out of Focus, the latter looked much sharper. Note that even at 400%, there was no visible artifacting on the bug's body. But when the image re-opened in Photoshop and I clicked the eyeball for that Layer off and on, it was obvious that the eye was much improved (sharper), but that Sharpen AI had sharpened the remaining noise on the bug's body and created some very ugly artifacting. What to do? I added a Regular Layer Mask and painted away the offending pixels on the lower half of the bug's body.
The lesson is that if you selectively sharpen part of an image and it looks fine in Sharpen AI, you must examine the results in Photoshop while working very large.. When painting away the offending pixel you may opt to work at a lower Opacity so that you can eliminate the problematic areas (if any) just a bit at a time.
Great Topaz News!
Folks who use the BAA Topaz link to purchase Sharpen AI, DeNoise AI, or the Utility Bundle (or any other Topaz plug-ins), will receive a 15% discount by entering the ARTHUR15 code at checkout. If the stuff is on sale (as it usually is), you save 15% off of the sale price! To get the discount you must use my link and you must enter the discount code. Be sure to start with this link.
Those who purchase Sharpen AI, DeNoise AI, or any other Topaz plug-ins using my link and then entering the ARTHUR15 code at checkout can e-mail to request a short Getting Started with Topaz e-Guide. Please include a copy of your Topaz receipt that shows the discount. Aside from the basics, the guide explains how to install the plug-ins so that they appear in the Photoshop Filter Menu.
SONY and artie
Switching to SONY, first with the a9 and the a9 II, and then with the remarkable a1, has enabled me (and others, like Mike De Rosa as seen recently in the blog post here), to create images of birds in flight and in action that I could not have even dreamed of when using Canon for 33 years and then Nikon for more than two. Most of the time I am using one of two AF methods that together, cover about 99% of the commonly-encountered bird photography situations. Learn more by joining the group!
From Long-ago IPT veteran Keith Kennedy via e-mail
Absolutely great information. I am calling Jim in a few minutes to order a couple of Delkin 128GB UHS-II cards. Your timely email has saved me a ton of money! Many thanks
In the same vein, via e-mail from John LeClair
Well, e-mail #21 alone was worth the price of admission!
From Pamela Viale, after receiving my a1 settings along with detailed instructions on how to copy them to her SONY a1 via e-mail
This e-mail group has been an incredible boon to me! Thank you so much!
From Joe Barranco via e-Mail
Thanks for your great ideas on the A1 set up. I have been getting MANY more keepers doing things your way!
From Barbara White via e-Mail
Wow, I just gotta say – I learn so much from the SONY Alpha a1 Set-up and Info group! My camera is on my desk, and I'm always picking it up and changing something that I've read about in the e-mails.
Thanks, Barbara
From Janet Horton via e-Mail
Hi Artie, Mystery solved. Yes, I was able to replicate what you did. I forgot that you have to set self-timer using the upper dial. I am used to that being a MENU selection.
Thanks much, Janet
SONY Alpha a1 Set-up and Info Group
The SONY Alpha a1 Set-up and Info Group is going great guns as more and more folks chime in with thoughtful questions and experience-based answers. As the a1 is becoming more readily available, more and more folks are getting their hands on this amazing body. With two folks joining yesterday, we are now up to an astounding 67 lucky and blessed photographers! Early on, we discussed the myriad AF options. I gave my opinion as to the best one for flight and general bird photography. More recently, we have been in contact with folks at SONY sharing our thoughts, experiences, and frustrations with the EVF blackout problem.
All who purchased their Alpha a1 bodies via a BAA affiliate link will receive a free subscription to the Sony Alpha a1 Set-Up and Info Updates after shooting me their receipts via e-mail. (Note: it may take me several days to confirm B&H orders.) This same service may be purchased by anyone with an a1 body via a $150.00 PayPal sent to birdsasart@verizon.net indicating payment for Alpha a1 Info Updates. Alternatively, folks can call Jim weekdays at 1-863-692-0906 to pay via credit card. New members will receive composite e-mails that summarize all previous discussions.
Typos
With all blog posts, feel free to e-mail or to leave a comment regarding any typos or errors.