What's Up?
The last morning of the 2nd JAX IPT was more of the same, more of an early southwest breeze and more wind against sun condition. None-the-less, we had a great morning. Donna Bourdon did chicks on the face of the dune early and wrong-way flight after that. Then she joined Lou Newman and Maida at the wash-over pool. Clemens and I started atop the ladders with the crazy-tall tripods working tern chicks on top of the dune at 1200mm. A few on the edge of a nearby ridge were really gorgeous. After a while, I headed down the beach for chicks and Clemens did flight. With wind against sun conditions, the trick to flight photography is to find birds flying the wrong way, or those turning or banking. Finally I joined Donna, Lou, and Maida at the pool where we all got some great stuff on handsome young Laughing Gulls. Lou had two great chances on a Royal Tern feeding sequence.
We were back at the AirBnB for brunch by ten and on the road by 11:40am. Donna flying JAX to ATL to Chattanooga while Lou and Maida headed to Sarasota. After dropping me off at ILE, Clemens will grab his car and continue on to Fort Lauderdale.
All in all it was a great trip despite the often challenging conditions. And the All-Wheel Drive (AWD) on my BMW X5 did great on the soft sand. We never even came close to getting stuck 🙂 Today is Monday 18 July 2021. Wherever you are, and whatever you are doing, I hope that you too have a great day.
Remember that you can find some great photo accessories (and necessities!) on Amazon by clicking on the Stuff tab on the orange/yellow menu bar above. On a related note, it would be extremely helpful if blog-folks like me, who spend too much money on Amazon, would get in the habit of clicking on the Amazon logo link on the right side of each blog post. As you might expect, doing so will not cost you a single penny, but would be appreciated tremendously by yours truly. And it works seamlessly with your Amazon Prime account.
This blog post took about two hours to prepare and makes 204 consecutive days with a new one. Please remember that if an item — a Delkin flash card, or a tripod head — for example, that is available from B&H and/or Bedfords, and is also available in the BAA Online Store, it would be great, and greatly appreciated if you would opt to purchase from us. We will match any price. Please remember also to use my B&H affiliate links or to save 3% at Bedfords by using the BIRDSASART discount code at checkout. Doing either often earns you free guides and/or discounts. And doing so always earns my great appreciation.
SONY a9 II Mirrorless Digital Camera Body
Wally Barkley is offering a Sony a9 II in near-mint condition for a BAA record-low $2694.00. The sale includes the original box and everything that came in it including one battery and the charger, strap. Insured ground shipping via major courier to lower-48 US addresses only is also included. Your item will not ship until your check clears unless other arrangements are made.
Please contact Wally via e-mail or by phone at 1-231-675-6546 Eastern time zone.
As things worked out, the a9, and then the a9 ii, turned out to be life-changers for me. From the moment I tracked that first incoming Brandt's Cormorant at LaJolla, I knew that at that time, the SONY a9 series bodies featured the world' best AF. I upgraded to the a9 ii as soon as it was released for the slightly larger body size. At one point I owned two a9 ii bodies. A new a9 ii sells for $4,498.00 so you can save a very nice $1804.00 by grabbing Wally's a9 ii ASAP. Not to mention that the new Sony A1 sells for $6498.00 … artie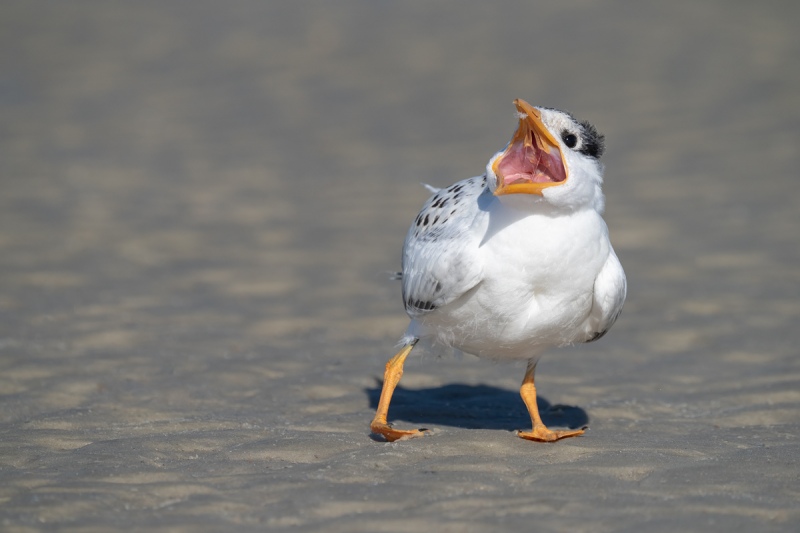 This image was created on 17 July 2021 on the last afternoon of the second JAX IPT. While seated on dry sand using the knee-pod technique, I used the hand held Sony FE 200-600mm f/5.6-6.3 G OSS lens with the Sony FE 1.4x Teleconverter (at 734mm) and The One, the Sony Alpha 1 Mirrorless digital camera. ISO 800. Exposure determined via Zebras with ISO on the rear dial: 1/2000 sec. at f/10 (stopped down one-stop) in Manual mode. AWB at 6:09pm on a sunny afternoon.
Wide AF-C/Bird-Eye/Face Detection AF was active at the moment of exposure and performed just about perfectly (as below). Click on the image to view a larger version
Image #1: Royal Tern chick begging

Your browser does not support iFrame.
The Best Option …
Before we headed out to the beach on Saturday afternoon, I said to the group, "With wind against sun, a good option is to get close to some chicks by the wash-over pool and wait for a parent bird to return with a fish. There is at least a chance that the chick will turn away from the wind to face the parent that will be landing into the wind. If you get lucky, you can get something decent with the chick facing you." I got very lucky. Image #1 was my favorite from a nine frame burst created within the same second.
I scootched to my right to get squarely on sun angle with this chick. I had planned to get the camera on the ground and work off the rear screen. Lucky for me, I did not have time to do that. As the chick reacted to an adult flying by overhead at close range I acquired focus almost instantly and fired away. This chick went hungry for at least a while longer.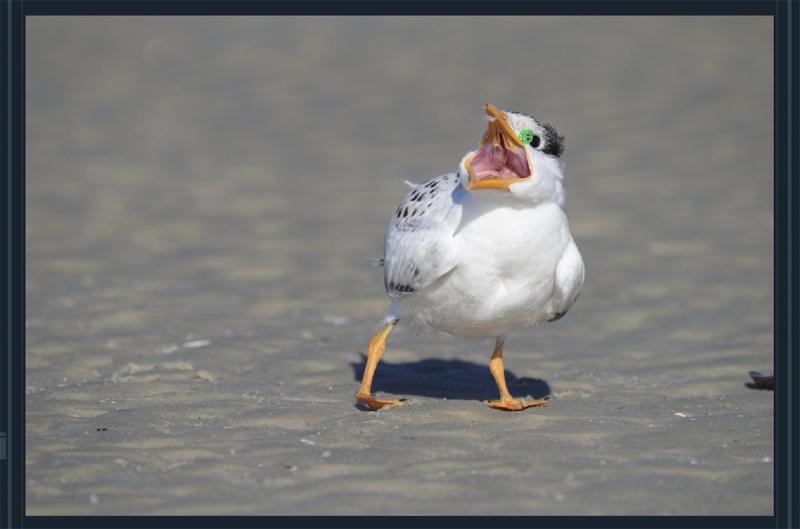 Image #1A: AF point for the Royal Tern chick begging image
Bird Eye/Face Detection Improved
Firmware update V1.10 completely eliminated the electronic viewfinder (EVF) problem that plagued a1 shooters from Day One. In addition, the performance of the already-amazing Bird Eye/Face Detection AF was significantly improved with the recent firmware update.
Note the small, proportionate crop from the right and from below. Tip: select Original Ratio from the Crop Tool drop-down menu.
SONY and artie
Switching to SONY, first with the a9 and the a9 II, and then with the remarkable a1, has enabled me (and others, like Mike De Rosa as seen recently in the blog post here), to create images of birds in flight and in action that I could not have even dreamed of when using Canon for 33 years and then Nikon for more than two. Most of the time I am using one of two AF methods that together, cover about 99% of the commonly-encountered bird photography situations. Learn more by joining the group!
From Long-ago IPT veteran Keith Kennedy via e-mail
Absolutely great information. I am calling Jim in a few minutes to order a couple of Delkin 128GB UHS-II cards. Your timely email has saved me a ton of money! Many thanks
In the same vein, via e-mail from John LeClair
Well, e-mail #21 alone was worth the price of admission!
From Pamela Viale, after receiving my a1 settings along with detailed instructions on how to copy them to her SONY a1 via e-mail
This e-mail group has been an incredible boon to me! Thank you so much!
From Joe Barranco via e-Mail
Thanks for your great ideas on the A1 set up. I have been getting MANY more keepers doing things your way!
From Barbara White via e-Mail
Wow, I just gotta say – I learn so much from the SONY Alpha a1 Set-up and Info group! My camera is on my desk, and I'm always picking it up and changing something that I've read about in the e-mails.
Thanks, Barbara
From Janet Horton via e-Mail
Hi Artie, Mystery solved. Yes, I was able to replicate what you did. I forgot that you have to set self-timer using the upper dial. I am used to that being a MENU selection.
Thanks much, Janet
SONY Alpha a1 Set-up and Info Group
The SONY Alpha a1 Set-up and Info Group is going great guns as more and more folks chime in with thoughtful questions and experience-based answers. As the a1 is becoming more readily available, more and more folks are getting their hands on this amazing body. With two folks joining yesterday, we are now up to an astounding 67 lucky and blessed photographers! Early on, we discussed the myriad AF options. I gave my opinion as to the best one for flight and general bird photography. More recently, we have been in contact with folks at SONY sharing our thoughts, experiences, and frustrations with the EVF blackout problem.
All who purchased their Alpha a1 bodies via a BAA affiliate link will receive a free subscription to the Sony Alpha a1 Set-Up and Info Updates after shooting me their receipts via e-mail. (Note: it may take me several days to confirm B&H orders.) This same service may be purchased by anyone with an a1 body via a $150.00 PayPal sent to birdsasart@verizon.net indicating payment for Alpha a1 Info Updates. Alternatively, folks can call Jim weekdays at 1-863-692-0906 to pay via credit card. New members will receive composite e-mails that summarize all previous discussions.
Beach Clean-Up
Most of the beach clean-up here was done with the Patch Tool. I used a bit of Content-Aware Fill. I did not use the Clone Stamp Tool at all. The clean-up job alone took about 25 minutes. I know that there will be a few out there who prefer the messy original version with the bits of shell and tiny feathers. I do not 🙂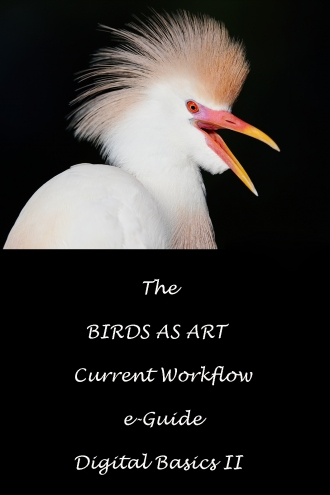 The BIRDS AS ART Current Workflow e-Guide (Digital Basics II).
You can order your copy from the BAA Online Store here, by sending a PayPal for $40 here, or by calling Jim or Jennifer weekdays at 863-692-0906 with your credit card in hand. Be sure to specify Digital Basics II.
The BIRDS AS ART Current Workflow e-Guide (Digital Basics II)
The Photoshop Tools used with all of my clean-up techniques along with dozens of other great Photoshop tips and techniques — along with all of my personalized Keyboard Shortcuts, are covered in detail in the BIRDS AS ART Current Workflow e-Guide (Digital Basics II), an instructional PDF that is sent via e-mail. Learn more and check out the free excerpt in the blog post here. While the new e-Guide reflects my MacBook Pro/Photo Mechanic/DPP 4/Photoshop workflow, folks using a PC and/or BreezeBrowser will also benefit greatly by studying the material on DB II. Note: folks working on a PC and/or those who do not want to miss anything Photoshop may wish to purchase the original Digital Basics along with DB II while saving $15 by clicking here to buy the DB Bundle.
Folks who learn well by following along rather than by reading can check out the complete collection of MP 4 Photoshop Tutorial Videos by clicking here. Note: all of the videos are now priced at an amazingly low $5.00 each.
You can learn how and why I converted all of my Canon digital RAW files in DPP 4 in the DPP 4 RAW Conversion Guide here. More recently, I became proficient at converting my Nikon RAW (NEF) files in Adobe Camera Raw. About two years ago I began converting my Nikon and Sony RAW files in Capture One Pro 12 and continue to do so today.
You can learn advanced Quick Masking and advanced Layer Masking techniques in APTATS I & II. You can save $15 by purchasing the pair.
Typos
With all blog posts, feel free to e-mail or to leave a comment regarding any typos or errors.