The East Pond
Homer Bald Eagles Winter 2021
Yes, this is an expensive (but competitively priced) trip. The price of the boat and the price of the fish have risen astronomically since my last visit in 2020. But the photography is beyond amazing. Flight photography with any lens till you cannot raise your arms, creative set-ups, lots of snow, we hope (earlier in the season is best for that), and lots of opportunities for point-blank head portraits and talon shots. If you are seriously interested in joining me for the world's best Homer/Katchemak Bay Bald Eagle trip(s) — mid-FEB thru early MARCH 2022, please contact me immediately via e-mail for dates and details.
What's Up?
One IPT veteran has signed up for Homer and several other folks are interested. Today, Monday 26 July 2021, I will be doing preliminary packing (and laundry) for my trip to Long Island. I will be on the Amtrak Auto Train with my X5 on Wednesday afternoon. I will be spending lots of time at Nickerson Beach and hopefully, if the water levels are low (for the first time in many years), at the East Pond at Jamaica Bay Wildlife Refuge in Queens, NY. The latter is back where my amazing life's journey began. Wherever you are, and whatever you are doing, we hope that you too have a great day.
Kudos to Great Britain's Men's 100M Breaststroker Adam Peaty who won his second straight Olympic Gold medal last night. He is undefeated in this event for eight years and holds the 16 fastest times in history. Talk about total domination!
Remember that you can find some great photo accessories (and necessities!) on Amazon by clicking on the Stuff tab on the orange/yellow menu bar above. On a related note, it would be extremely helpful if blog-folks like me, who spend too much money on Amazon, would get in the habit of clicking on the Amazon logo link on the right side of each blog post. As you might expect, doing so will not cost you a single penny, but would be appreciated tremendously by yours truly. And it works seamlessly with your Amazon Prime account.
This blog post took about 90 minutes to prepare and makes 210 consecutive days with a new one. Please remember that if an item — a Delkin flash card, or a tripod head — for example, that is available from B&H and/or Bedfords, and is also available in the BAA Online Store, it would be great, and greatly appreciated if you would opt to purchase from us. We will match any price. Please remember also to use my B&H affiliate links or to save 3% at Bedfords by using the BIRDSASART discount code at checkout. Doing either often earns you free guides and/or discounts. And doing so always earns my great appreciation.
Selling Your Used Photo Gear Through BIRDS AS ART
Selling your used (or like-new) photo gear through the BAA Blog is a great idea. We charge only a 5% commission. One of the more popular used gear for sale sites charged a minimum of 20%. Plus assorted fees! Yikes. They went out of business. And e-Bay fees are now up to 13%. The minimum item price here is $500 (or less for a $25 fee). If you are interested please scroll down here or shoot us an e-mail with the words Items for Sale Info Request cut and pasted into the Subject line :). Stuff that is priced fairly — I offer pricing advice to those who agree to the terms — usually sells in no time flat. Over the past year, we have sold many dozens of items. Do know that prices on some items like the EOS-1D Mark IV, the old Canon 100-400, the old 500mm, the EOS-7D and 7D Mark II and the original 400mm DO lens have been dropping steadily. Most recently the price of used Canon 600mm f/L IS II lenses have been dropping like a rock with the introduction of the 600 III. You can always see the current listings by clicking here or on the Used Photo Gear tab on the orange-yellow menu bar near the top of each blog post page.
As used gear sales have slowed just a bit in recent months — especially with dSLR bodies, there are lots of great buys right now both below and on the Used Gear Page.
New Listings
Canon EOS-1DX Mark II Professional dSLR
IPT veteran Sheldon Goldstein is offering a Canon EOS-1DX Mark II camera body in like-new condition for $2,199.00. It was recently cleaned and checked by Canon Professional Services. The sale includes one extra battery, the dual battery charger, the front cap, the, DC Coupler, and insured ground shipping via major courier to lower-48 US addresses only. Your item will not ship until your check clears unless other arrangements are made.
Please contact Sheldon via e-mail or by phone at 646-423-0392 (Eastern time zone).
The 1DX Mark II is a rugged, fast Canon professional digital camera body. It features an excellent AF system and high quality image files with great dynamic range. When he used Canon, it was the first choice of Arash Hazeghi, the world's premier photographer of birds in flight. This body is still in production and currently sells new for $4,499.00. Save a very sweet $2300.00 by grabbing Sheldon's dSLR body ASAP. artie
Canon EF 100-400m f/4.5-5.6L IS II USM Zoom Lens
IPT veteran Sheldon Goldstein is offering a Canon EF 100-400m f/4.5-5.6L IS II USM zoom lens in excellent condition for $1499.00. The lens was recently cleaned and checked by Canon Professional Services. The sale includes a Wimberley P-20 lens plate (a $52.00 value), the rear lens cap, the front lens cap, the lens case and strap, and insured ground shipping via major courier to lower-48 US addresses only. Your item will not ship until your check clears unless other arrangements are made.
Please contact Sheldon via e-mail or by phone at 646-423-0392 (Eastern time zone).
This incredibly versatile zoom lens — with its amazing .98 meter close focus — was my favorite Canon telephoto zoom lens ever. By far. It is easy to hand hold, great for tight portraits, birds in flight, quasi-macro stuff, and lots more. For flight, it is even better with an R5! The lens sells new for $2399.00 so you can save some hard cash by grabbing Sheldon's zoom lens now. artie
Please Remember
With income from IPTs now close to zero, please, if you enjoy and learn from the blog, remember to use one of my two affiliate programs when purchasing new gear. Doing so just might make it possible for me to avoid having to try to get a job as a Walmart greeter and will not cost you a single penny more. And if you use Bedfords and remember to enter the BIRDSASART code at checkout, you will save 3% on every order and enjoy free second-day air shipping. In these crazy times — I am out at least forty to sixty thousand dollars so far due to COVID 19 (with lots more to come) — remembering to use my B&H link or to shop at Bedfords will help me out a ton and be greatly appreciated. Overseas folks who cannot order from the US because of import fees, duties, and taxes, are invited to help out by clicking here to leave a blog thank you gift if they see fit.
New and Better Bedfords Discount Policy!
You can now save 3% on all of your Bedfords photo gear purchases by entering the BIRDSASART coupon code at checkout. Your discount will be applied to your pre-tax total. In addition, by using the code you will get 2nd day air shipping via Fed Ex.
Grab a Nikon AF-S Teleconverter TC-14E III and save $14.99. Purchase a Canon EOS R5 and your discount will be $116.97. Purchase a Sony FE 600mm f/4 GM OSS lens and save a remarkable $389.94! Your Bedford's purchase no longer needs to be greater than $1,000.00 for you to receive a discount. The more you spend, the more you save.

Money Saving Reminder
Many have learned that if you need a hot photo item that is out of stock at B&H and would enjoy free second-day air shipping, your best bet is to click here, place an order with Bedfords, and enter the coupon code BIRDSASART at checkout. If an item is out of stock, contact Steve Elkins via e-mail or on his cell phone at (479) 381-2592 (Central time). Be sure to mention the BIRDSASART coupon code and use it for your online order to save 3% and enjoy free 2nd-day air shipping. Steve has been great at getting folks the hot items that are out of stock at B&H and everywhere else. The wait lists at the big stores can be a year or longer for the hard to get items. Steve will surely get you your gear long before that. For the past year, he has been helping BAA Blog folks get their hands on items like the SONY a9 ii, the SONY 200-600 G OSS lens, the Canon EOS R5, the Canon RF 100-500mm lens, and the Nikon 500mm PF. Steve is personable, helpful, and eager to please.
Gear Questions and Advice
Too many folks attending BAA IPTs (remember those?) and dozens of photographers whom I see in the field and on BPN, are–out of ignorance–using the wrong gear, especially when it comes to tripods and more especially, tripod heads… Please know that I am always glad to answer your gear questions via e-mail.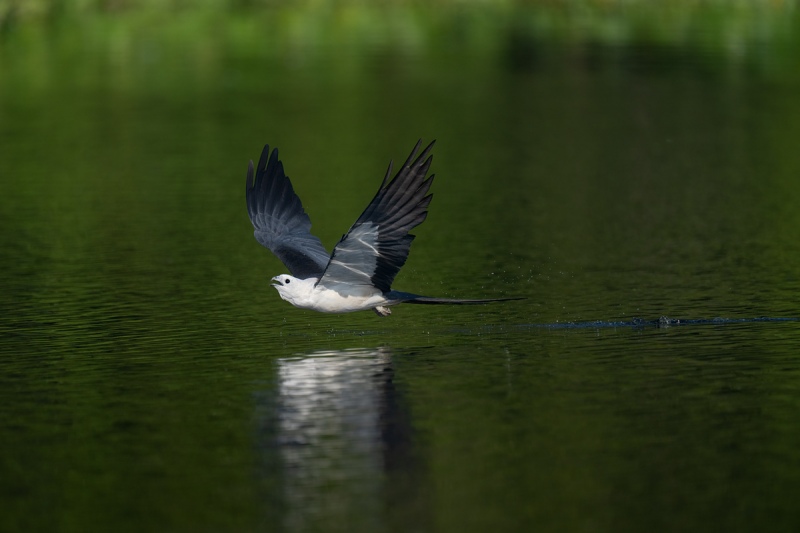 This image was created on Thursday, 23 July 2021 late while sitting on a deck chair on Clemens Van Der Werf's flats boat. I used the hand held Sony FE 600mm f/4 GM OSS lens with the Sony FE 1.4x Teleconverter and The One, the Sony Alpha 1 Mirrorless digital camera. ISO 800. Exposure determined via Zebras with ISO on the Thumb Wheel: 1/4000 sec. at f/5.6 (wide open) in Manual mode. AWB at 9:04am on a sunny morning.
Center Zone AF-C with Bird-Eye/Face Detection grabbed the kites near-flank, fortunately, right on the same plane as the bird's eye.
Swallow-tailed Kite right after taking a sip

Your browser does not support iFrame.
Will the Real Swallow-tailed Kite Please Swoop Down For a Sip?
I did manage to come away with one decent drinking kite image on Thursday morning …
Mega-challenging Bird Photography …
Why so difficult? With the birds at a distance, you needed to be at 840 or 1200mm. Using a tripod while standing in a floating boat trying to photograph rapidly moving subjects is totally out of the question. That means that you need to hand hold a 600mm f/4 lens with a teleconverter. Why not the SONY 200-600? While this versatile, easily hand holdable lens does well with the 1.4X TC with slow-moving and static subjects at close range, it would struggle greatly with fast birds flying erratically.
When the kites are swooping down for a drink, they present mostly as a dark birds. When they are flying against a background of dark trees and semi-tropical vegetation, it is difficult to even see them. My SONY rig did well when I could keep the subject relatively centered in the frame. But hand holding at 840mm is not my forté. If I found the subject in the frame and kept the bird centered, the AF system tracked beautifully. But, as I state here often, that is very difficult for me to do. I just opened an e-mail from Clemens with 17 very fine JPEGs. Ten of the images were of drinking Swallow-tailed Kites.
The Realities of Hand Holding Super-telephotos Lenses …
As I write often when critiquing Arash Hazeghi's amazing flight shots — many made hand held at 1200mm — in the Avian Gallery on BPN, Stronger (sometimes younger) folks who have fast reflexes, stamina, superb fine motor skills and hand-eye coordination, are in the best position to take advantage of the amazing AF systems in today's best mirrorless camera bodies.
Clemens was using the Canon R5 with the 1.4X III TC and the EF 600mm f/4L IS III lens. I have no doubt that a1 AF system is more consistently accurate than the R5 AF system with any gear, and I am pretty sure that Clemens agrees. So why did he get so many more satisfactory drinking kite images? Because he is younger, stronger, has faster reflexes, more stamina, and far better fine motor skills and hand-eye coordination than me. In short, he is far better able to keep the birds in the middle of the frame when hand holding at 840mm than I am.
Typos
With all blog posts, feel free to e-mail or to leave a comment regarding any typos or errors.