What's Up?
Well, I finally got out to photograph on Monday afternoon. In spades! I left Ronkonkoma at 2:30pm and made it to JBWR in an hour with little traffic. I made my way to the northwest end of the East Pond to find very muddy conditions. I almost went down/got stuck in the dangerously soft muck, but survived. Heading south along the shoreline was out of the question. I had picked up an 18-inch square sort of mat on the way in, so I placed that on the mud, sat down, and waited at 1200mm. Over the course of the next hour, I had both yellowlegs fly in and land in front of me. Woo-hoo! Photos and details here soon.
When I was done, I headed south on Cross Bay Boulevard and knocked on Cristy Macrae's door. This time she answered. At first she did not recognize me, but with recognition came a huge smile and a warm hug. (I was 30 pounds lighter than the last time I had seen her, and in addition, had shaved my head.) I learned the Denis had died only very recently (after a long illness). Their oldest son John-John was there. When I had last seen him he was about ten. He is now 39. It was great seeing them again!
Anyhoo, I drove through the Rockaways and got to Nickerson Beach at 6:10pm. I headed out with "only" an a1 on the 200-600. There were lots of photographers, lots of nesting Black Skimmers, lots of flight action with the skimmers and the Common Terns, and lots of chicks (of several types, including skimmers and humans; the latter, however, were all middle-aged). The highlight occurred when an adult skimmer grabbed a tiny chick and tossed it around for ten minutes. Right out in the open. Finally, it brought the dead-for-sure chick to its two, only slightly larger chicks, one of which attempted unsuccessfully to swallow it. Ten minutes later, an adult Laughing Gull swooped down out of nowhere, and grabbed the dead chick. Waste not, want not. (This proverbial saying was first recorded in 1772 but had an earlier, even more alliterative version: willful waste makes woeful want — 1576).
I was glad to learn yesterday of the sale of Wally Barkley's near-mint Sony a9 II for a BAA record-low $2494.00 (was $2694.00). Not coincidentally, both of today's featured images were created with an a9 ii; Scroll down for details on an amazing used a9 ii value.
Today is Tuesday 3 August. I will be downloading and editing the images from yesterday's very busy afternoon. Wherever you are, and whatever you are doing, I hope that you too have a great day.
Remember that you can find some great photo accessories (and necessities!) on Amazon by clicking on the Stuff tab on the orange/yellow menu bar above. On a related note, it would be extremely helpful if blog-folks like me, who spend too much money on Amazon, would get in the habit of clicking on the Amazon logo link on the right side of each blog post when they shop online. As you might expect, doing so will not cost you a single penny, but would be appreciated tremendously by yours truly. And doing so works seamlessly with your Amazon Prime account.
This blog post took about 90 minutes to prepare, and makes 218 consecutive days with a new one. Please remember that if an item — a Delkin flash card, or a tripod head — for example, that is available from B&H and/or Bedfords, and is also available in the BAA Online Store, it would be great, and greatly appreciated if you would opt to purchase from us. We will match any price. Please remember also to use my B&H affiliate links or to save 3% at Bedfords by using the BIRDSASART discount code at checkout. Doing either often earns you free guides and/or discounts. And doing so always earns my great appreciation.
Please Remember
With income from IPTs now close to zero, please, if you enjoy and learn from the blog, remember to use one of my two affiliate programs when purchasing new gear. Doing so just might make it possible for me to avoid having to try to get a job as a Walmart greeter and will not cost you a single penny more. And if you use Bedfords and remember to enter the BIRDSASART code at checkout, you will save 3% on every order and enjoy free second-day air shipping. In these crazy times — I am out at least forty to sixty thousand dollars so far due to COVID 19 (with lots more to come) — remembering to use my B&H link or to shop at Bedfords will help me out a ton and be greatly appreciated. Overseas folks who cannot order from the US because of import fees, duties, and taxes, are invited to help out by clicking here to leave a blog thank you gift if they see fit.
New and Better Bedfords Discount Policy!
You can now save 3% on all of your Bedfords photo gear purchases by entering the BIRDSASART coupon code at checkout. Your discount will be applied to your pre-tax total. In addition, by using the code you will get 2nd day air shipping via Fed Ex.
Grab a Nikon AF-S Teleconverter TC-14E III and save $14.99. Purchase a Canon EOS R5 and your discount will be $116.97. Purchase a Sony FE 600mm f/4 GM OSS lens and save a remarkable $389.94! Your Bedford's purchase no longer needs to be greater than $1,000.00 for you to receive a discount. The more you spend, the more you save.

Money Saving Reminder
Many have learned that if you need a hot photo item that is out of stock at B&H and would enjoy free second-day air shipping, your best bet is to click here, place an order with Bedfords, and enter the coupon code BIRDSASART at checkout. If an item is out of stock, contact Steve Elkins via e-mail or on his cell phone at (479) 381-2592 (Central time). Be sure to mention the BIRDSASART coupon code and use it for your online order to save 3% and enjoy free 2nd-day air shipping. Steve has been great at getting folks the hot items that are out of stock at B&H and everywhere else. The wait lists at the big stores can be a year or longer for the hard to get items. Steve will surely get you your gear long before that. For the past year, he has been helping BAA Blog folks get their hands on items like the SONY a9 ii, the SONY 200-600 G OSS lens, the Canon EOS R5, the Canon RF 100-500mm lens, and the Nikon 500mm PF. Steve is personable, helpful, and eager to please.
Gear Questions and Advice
Too many folks attending BAA IPTs (remember those?) and dozens of photographers whom I see in the field and on BPN, are–out of ignorance–using the wrong gear, especially when it comes to tripods and more especially, tripod heads… Please know that I am always glad to answer your gear questions via e-mail.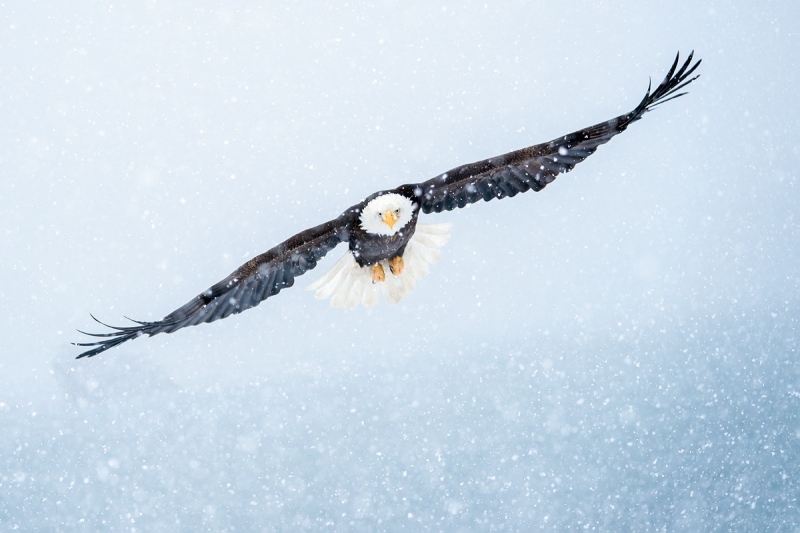 This image was created at Kachemak Bay, AK on 22 FEB 2020. I used the hand held Sony FE 70-200mm f/2.8 GM OSS lens (at 101mm) with the blazingly fast AF King, the Sony Alpha a9 II Mirrorless Digital camera body) that features incredibly accurate AF. ISO 1600. Exposure determined via Zebras on the rear wheel: 1/2500 sec. at f/3.2. AWB at 3:30pm on a cloudy day.
Center Zone AF-C (Continuous) did just fine. See the screen capture below. Be sure to click on the image above to enjoy a spectacular larger version.
Image #1: Bald Eagle in flight in heavy snow

Your browser does not support iFrame.
I Kid You Not; the 70-200mm f/2.8 for Bald Eagle Flight!
The 70-200 f/2.8s are vital tools when photographing Bald Eagles at Kachemak Bay, AK. And that is true when you were on foot or on the boat. ISO 1600 at f/3.2 tells you that there was not a lot of light. But there surely was a lot of snow that day. Photographing in falling snow is a big challenge. I can't wait to see how the a1 does at tracking the eagle's eyes in falling snow. Many AF systems grab the largest snowflake between you and the subject. Time will tell …
Homer Bald Eagles Winter 2022
The photography on this trip of a lifetime is beyond amazing. You can do the whole trip with either the Canon 100-500 or the SONY 200-600 along with any 70-200mm lens. Flight photography until you cannot raise your arms, creative set-ups, lots of snow we hope (earlier in the season is best for that), and lots of opportunities for point-blank head portraits and talon shots. All in a variety of spectacular settings. This is an expensive (but competitively priced) trip. If you are seriously interested in joining me for the world's best Homer/Kachemak Bay Bald Eagle trip(s) — mid-FEB thru early MARCH 2022, please contact me immediately via e-mail for dates and details. I am looking for a roommate who will be doing all eleven days.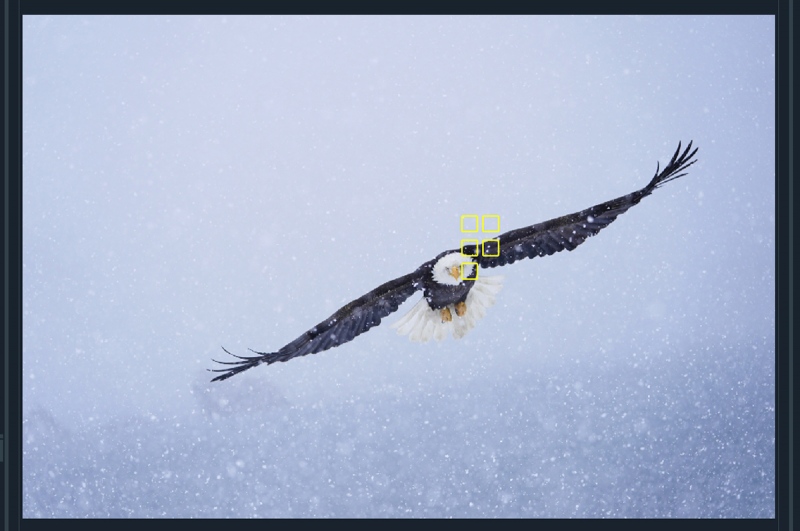 Click on the screen capture to view a larger version.
Image #1A: AF Points for the Bald Eagle in flight in heavy snow image
An Image Design Note
Note that I opted to place the eagle toward the top of the frame by cropping from the left and above to maximize the size of the darker area at the bottom of the frame. Sharp a9 ii files handle decent crops quite well.
SONY a9 ii AF
Don't forget that before the a1, the a9 ii had the world's best AF system for photographing birds in flight. With the a1 selling new for $6499.00, a used a9 ii is an attractive bargain.
SONY a9 II Mirrorless Digital Camera Body
Price Too Low to Publish!
BAA-friend and too-many-to-count IPT veteran Anita North is offering a Sony a9 II in excellent condition for a BAA record-low price that is too low to publish. The sale includes the original box, the front lens cap, the charger but no battery (it died), and insured ground shipping to Canadian addresses only. For price and details, please contact artie via e-mail. The camera is in my possession. Additional discount for Florida pick-up/cash payment.
As things worked out, the a9, and then the a9 ii, turned out to be life-changers for me. From the moment I tracked that first incoming Brandt's Cormorant at LaJolla, I knew that at that time, the SONY a9 series bodies featured the world' best AF. I upgraded to the a9 ii as soon as it was released for the slightly larger body size. At one point I owned two a9 ii bodies. A new a9 ii sells for $4,498.00 so you can save a ton of money by grabbing Anita's a9 ii ASAP. Not to mention that the new Sony A1 sells for $6498.00 … artie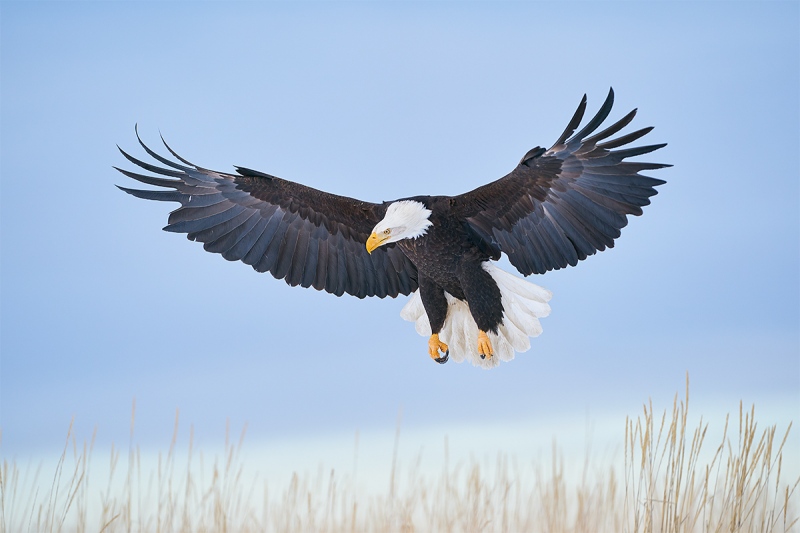 This image was created at Kachemak Bay, AK on 25 FEB 2020. I used the hand held Sony FE 70-200mm f/2.8 GM OSS lens (at 200mm) with the blazingly fast AF King, the Sony Alpha a9 II Mirrorless Digital camera body) that features incredibly accurate AF. ISO 500. Exposure determined via Zebras on the rear wheel: 1/3200 sec. at f/3.2. AWB at 9:20am on a cloudy-bright day.
Wide Continuous (C) AF performed beautifully. Click on the image to see a larger version. Uncropped.
Image #2: Bald Eagle braking to land

Your browser does not support iFrame.
Pre-visualizing
Note that fairly fresh snow makes a great reflector; here, it lit up the underwings of this adult Bald Eagle beautifully. Another reason that I love this image is that I described it in detail to the group before I made the image. The soft light, the delicate beach grasses, and the lead-blue sky along with the strip of snow, combined to create a very powerful (pre-visualized) image.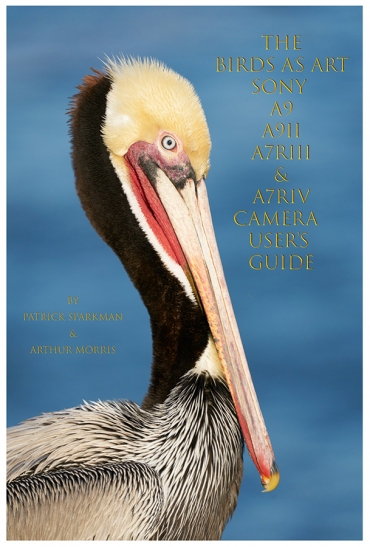 154 sold to rave reviews.
The SONY e-Guide by Patrick Sparkman and Arthur Morris
The Sony Camera User's e-Guide (and Videos)
Click here to purchase the guide with one Camera Set-up Video. Be sure to e-mail us by clicking here to specify your camera body so that we can send you a link for the correct video.
Click here to purchase the guide with two Camera Set-up Videos. Be sure to e-mail us by clicking here to specify your two camera bodies so that we can send you links for the correct videos.
Click here to learn more about the SONY e-Guide.
In this guide, we explain virtually every pre-a1 SONY menu item that might be useful in bird, nature, or wildlife photography in detail. And then we explain your options and state clearly which setting we use in different situations and why we go that route. This invaluable advice is based on many hundreds of hours in the field photographing birds and other natural history subjects.
In short, the SONY e-Guide is incredible. While I am proud of all the previously published Camera User's Guides, my feelings about the SONY guide go far beyond that. The stuff on using Zebras with ISO on the Rear Wheel to get the right exposure every time is all Patrick Sparkman. Without his technical brilliance, this guide would not be nearly as valuable as it is. And like my good friend Dr. Cliff Oliver, Patrick is a superb researcher — if he does not know something, he will find it online very quickly, check it out, and draw his own conclusions. Not only are the SONY menus complex, but they offer a zillion options, many of which are hidden in sub-menus and Custom Settings. Patrick figured many of those out, I discovered a few, and blog regular Craig Elson came up with some incredibly helpful little menu tricks, tricks that solved some thorny problems. Thanks also to the eagle-eyed Dane Johnson who spotted a zillion typos and type-setting errors.
The longer and harder we worked on the guide, the more I wanted to price it at $200.00. But I did not want anyone to faint. The cost of the SONY Guide is $100.00. Your purchase includes the e-Guide itself and one of the four camera-specific videos. Extra camera videos cost $25.00 each. In each video, Patrick and I take you through all the relevant menu items. We urge you to follow along with your camera in hand. Here is short and timely excerpt from the guide:
Before You Begin
With the a7r iv, the a9, and the a9 ii, the last page of My Menu allows you to turn Display From My Menu on and off as needed. It is best to keep this On so that whenever you hit the Menu button on the camera, the last-viewed My Menu page will display. When you are setting up a new camera or working on your settings while following along with this guide, you should turn Display From My Menu to Off so that you do not have to scroll through endless menu items to find what you are looking for. With My Menu Off, hitting the Menu button will return you to the last viewed Menu screen.
Once you have read this far, we urge that you watch the video for your SONY body with the camera in hand while following all the instructions before consulting the remainder of this guide.
The e-Guide itself is 103 pages. It contains 11 sections:
The Introduction — This section contains a bit of the back-story on how the guide came to be.
Important Stuff — This section contains some important stuff. Go figure …
SONY Help Guides — Here you will find active links to the Help Guides for each camera body. Note: the Camera Manuals are pretty much useless.
Points of Emphasis — In this section, we reinforce and expand upon many of the important concepts that are covered in the video.
Additional Info — Here we cover tons of new stuff that we discovered in the 3 1/2 months after we created the four videos.
Clarifications In this section we detail nineteen fine points and sticky situations.
SONY Workflow In this very short section we outline our SONY workflow. No great shock there!
SONY Image Gallery with Educational Captions (77 images.) This collection of stunning images is meant to inspire, educate, and show folks what is possible with SONY gear. There is tons of AF info in the captions. And lots more.
SONY Zebras Coaching Gallery (14 images.) Here we explain exactly what we did with the Zebras to come up with a perfect exposure.
Tracking Flexible Spot Gallery 8 images.) The images here demonstrate the use of SONY's most valuable AF Area Mode.
Thanks! Here we thank the many folks who helped us to improve the guide.
So What Does the SONY Guide Cover?
Under Points of Emphasis
Note: items without comment are self-explanatory.
Using Zebras to Get the Right Exposure in Manual Mode Patrick's technique allows you to make perfect or near-perfect exposures quickly and consistently.
Using Zebras to Get the Right Exposure in Manual Mode Illustrated Thanks to an amazingly cooperative crane, this item shows how Zebras are set in an actual shooting situation.
A Final Word on Zebras We explain the fine points of using Zebras in bright sun versus using Zebras in the shade.
Using Zebras to Get the Right Exposure in Shutter (or Aperture) Priority This technique is used by artie at times when creating pleasing blurs.
Mechanical vs Electronic Shutter It is important to know which to use with each camera …
Silent Shooting Silent Shooting is closely linked to Mechanical vs Electronic Shutter.
Slots 1 & 2
Auto Review Really valuable info here.
Focus Areas and Focus Area Limit Along with Zebras, the info here is the meat of the guide.
a7r iv vs. a9 ii Comparing these two great bodies.
My Menu Learning how and what to place on your My Menus helps folks operate their SONY bodies more efficiently.
Additional Info
Enlarge Initial Position Explains how to see the area of sharpest focus in an image; it only works before the images are downloaded.
Telephoto Lens Focus Range Limiter Switch Explains how and why to set this important switch.
Initial Focus Acquisition Problems With Telephoto Lenses The tips here and in DMF below might be worth the price of the entire guide.
Pre-AF The jury is still out on this one but artie likes it.
Direct Manual Focus (DMF)
Camera Direct Manual Focus (DMF)
An Important AF Note for a9 ii Users Learn about a problematic dial on the a9 ii.
Optical Steady Shot (OSS)
Optical Steady Shot (OSS) on Telephoto Lenses
Diopter-adjustment Dial
Firmware Updates
Touch OperationNaming Your Camera Bodies Can save you lots of hassles.
Saving/Loading Settings
Sensor Cleaning
Anti-dust Function New to the a9 ii only.
Reg. Custom Shoot Set
Function Menu Set & the Fn Button Learn to customize the screen that comes up after pushing the Fn button.
More on Face/Eye Priority in AF Super-important if you want to use the fabulous Tracking Flexible Spot (M).
The SONY Histogram Our comments here will likely surprise you.
Display Quality/a7 Series Bodies
Saving Settings to the Mode Dial
Compressed vs. Uncompressed
Image Review with the Control Wheel This was a "duh" moment for artie.
When to Turn Off Zebras. Super-important.
SONY US Repair Advice Also super-important.
Vertical Grip
Under Clarifications
Power Save Start Time
AEL Button
Using SONY with an Adapter
The Eye Sensor (Tiny Window Above the Viewfinder). Valuable stuff here …
The Mysterious Viewfinder Blackout Problem Dealing with SONY's most annoying problem.
Assigning Finder/Monitor to a Custom Button
Another Possible Finder/Monitor Solution
Return to Center
Bright Monitoring A must for astrophotography.
e-Front Curtain Shutter
Manual Focus Toggle A fabulous tip for macro photographers (often combined with Focus Magnifier below).
The Top Wheels
If You Use Rear Button Focus
Focus Magnifier Fabulous tips for macro photographers (combined with Manual Focus Toggle above).
The Viewfinder Level
Changing the Focus and Drive Modes
AF Illuminator
AF Sensitivity
Focus Peaking
Shutter Priority for Video
Typos
With all blog posts, feel free to e-mail or to leave a comment regarding any typos or errors.