This Just In
I began work on this blog post on Tuesday evening and almost finished it, but decided to hit the sack. Then I looked at the weather for Lido Beach — cloudy with light and variable winds. I set the alarm for 5am but woke at 4:39. I headed for Nickerson Beach and when I arrived there was no sign of sunrise color so I finished this blog post. And forgot to hit Publish 🙂 I am doing that now at 9:43am after an amazingly wonderful, still, soft-box of a morning at the beach. Images and details soon.
What's Up?
There was not much doing on Tuesday as I returned to relaxation mode. I did get over to my sister Ilene's house late in the day for my half-mile away-from-home swim. I chose my keepers from my Monday afternoon East Pond and Nickerson Beach sessions and was quite happy. My very favorite image is featured in today's blog post. I am anxious to get back out, but the weather for the next few days is looking less than ideal.
Today is Wednesday 4 August 2021. Wherever you are, and whatever you are doing, I hope that you too have a great day.
Remember that you can find some great photo accessories (and necessities!) on Amazon by clicking on the Stuff tab on the orange/yellow menu bar above. On a related note, it would be extremely helpful if blog-folks like me, who spend too much money on Amazon, would get in the habit of clicking on the Amazon logo link on the right side of each blog post when they shop online. As you might expect, doing so will not cost you a single penny, but would be appreciated tremendously by yours truly. And doing so works seamlessly with your Amazon Prime account.
This blog post took about two hours to prepare, and makes 219 consecutive days with a new one. Please remember that if an item — a Delkin flash card, or a tripod head — for example, that is available from B&H and/or Bedfords, and is also available in the BAA Online Store, it would be great, and greatly appreciated if you would opt to purchase from us. We will match any price. Please remember also to use my B&H affiliate links or to save 3% at Bedfords by using the BIRDSASART discount code at checkout. Doing either often earns you free guides and/or discounts. And doing so always earns my great appreciation.
Please Remember
With income from IPTs now close to zero, please, if you enjoy and learn from the blog, remember to use one of my two affiliate programs when purchasing new gear. Doing so just might make it possible for me to avoid having to try to get a job as a Walmart greeter and will not cost you a single penny more. And if you use Bedfords and remember to enter the BIRDSASART code at checkout, you will save 3% on every order and enjoy free second-day air shipping. In these crazy times — I am out at least forty to sixty thousand dollars so far due to COVID 19 (with lots more to come) — remembering to use my B&H link or to shop at Bedfords will help me out a ton and be greatly appreciated. Overseas folks who cannot order from the US because of import fees, duties, and taxes, are invited to help out by clicking here to leave a blog thank you gift if they see fit.
New and Better Bedfords Discount Policy!
You can now save 3% on all of your Bedfords photo gear purchases by entering the BIRDSASART coupon code at checkout. Your discount will be applied to your pre-tax total. In addition, by using the code you will get 2nd day air shipping via Fed Ex.
Grab a Nikon AF-S Teleconverter TC-14E III and save $14.99. Purchase a Canon EOS R5 and your discount will be $116.97. Purchase a Sony FE 600mm f/4 GM OSS lens and save a remarkable $389.94! Your Bedford's purchase no longer needs to be greater than $1,000.00 for you to receive a discount. The more you spend, the more you save.

Money Saving Reminder
Many have learned that if you need a hot photo item that is out of stock at B&H and would enjoy free second-day air shipping, your best bet is to click here, place an order with Bedfords, and enter the coupon code BIRDSASART at checkout. If an item is out of stock, contact Steve Elkins via e-mail or on his cell phone at (479) 381-2592 (Central time). Be sure to mention the BIRDSASART coupon code and use it for your online order to save 3% and enjoy free 2nd-day air shipping. Steve has been great at getting folks the hot items that are out of stock at B&H and everywhere else. The wait lists at the big stores can be a year or longer for the hard to get items. Steve will surely get you your gear long before that. For the past year, he has been helping BAA Blog folks get their hands on items like the SONY a9 ii, the SONY 200-600 G OSS lens, the Canon EOS R5, the Canon RF 100-500mm lens, and the Nikon 500mm PF. Steve is personable, helpful, and eager to please.
Gear Questions and Advice
Too many folks attending BAA IPTs (remember those?) and dozens of photographers whom I see in the field and on BPN, are–out of ignorance–using the wrong gear, especially when it comes to tripods and more especially, tripod heads… Please know that I am always glad to answer your gear questions via e-mail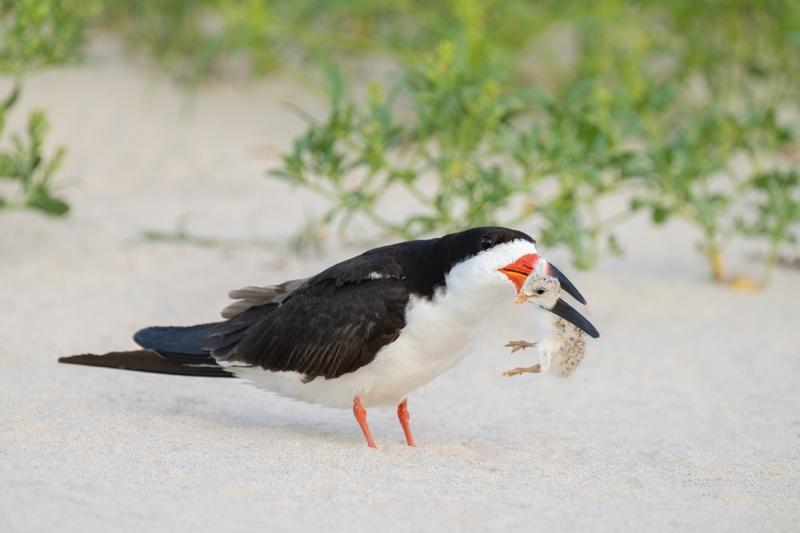 This image was created on 2 August 2021 on my first trip this season to Nickerson Beach. While seated on dry sand using the knee-pod technique, I used the hand held Sony FE 200-600mm f/5.6-6.3 G OSS lens with the Sony FE 1.4x Teleconverter (at 799mm) and The One, the Sony Alpha 1 Mirrorless digital camera. ISO 3200. Exposure determined via Zebras with ISO on the rear dial: 1/800 sec. at f/9 (wide open) in Manual mode. AWB at 7:04pm on a then-cloudy afternoon.
Tracking: Wide AF-C/Bird-Eye/Face Detection AF was active at the moment of exposure and performed just about perfectly (as below) by grabbing and tracking the chick's eye. Click on the image to view a larger version
Image #1: Black Skimmer killing chick from another nest

Your browser does not support iFrame.
Murder on the Beach, This Time for Real
Unlike the large Laughing Gull chick that survived a vicious attack by a Herring Gull (in the blog post here), this tiny skimmer chick was pretty much doomed a few moments after it was grabbed by an adult. It is common to see adult skimmers whack small chicks from other nests on fly-by attacks, possibly because they have intruded on their nesting territory, and possibly to eliminate competitors for the available food. This attack took that to the next step. The victim in this case might have wandered very near the nest of the attacking bird.
The entire episode lasted about six minutes; the adult bird grabbed, shook, dropped, and picked up the tiny skimmer repeatedly, most often simply holding the chick in its bill. The chick stopped struggling within half a minute. What happened next was even stranger. The adult walked back to its nest and offered the dead chick to its two chicks. Though its chicks were no more than ten days old (if that), one of them grabbed the tiny chick and attempted to swallow it for several minutes. We lost sight of that chick in the thick beach vegetation. Ten minutes later, an adult Laughing Gull swooped down and grabbed the dead chick. It happened so suddenly that none of the many photographers even had a chance to raise their lenses …
Glad That I Brought the 1.4X TC. Or Not?
When the attack occurred, I had been shooting flight with the bare 200-600. Alerted by the screams of several distraught women — sorry, I always root for the predators — I moved about five yards to my right to get into better position. I made the first hundred frames at 600mm. Then I decided to add the 1.4X TC to the mix and made an additional 700 images of the action. I kept only 13. As is usually the case, a single image from about 800 frames stood out as the cream of the crop.
So why not add the 1.4X teleconverter?
#1: By being too greedy, I clipped the tail of the adult skimmer on about 50 frames. Those included a few really good ones. The position of the chick and the head angles of the chick and the adult were important factors when it came to choosing keep or delete.
#2: In the relatively low light, working at f/9 (rather than at f/6.3) necessitated the use of either a higher ISO or a slower shutter speed. By being at 1/640 or 1/800 second rather than at 1/1250 or 1/1600 second, I lost quite a few excellent images to motion blur as the adult bird pecked at the chick or threw it up or down …
In the field when the action is hot, making the right decision — TC or no TC?, is often tough.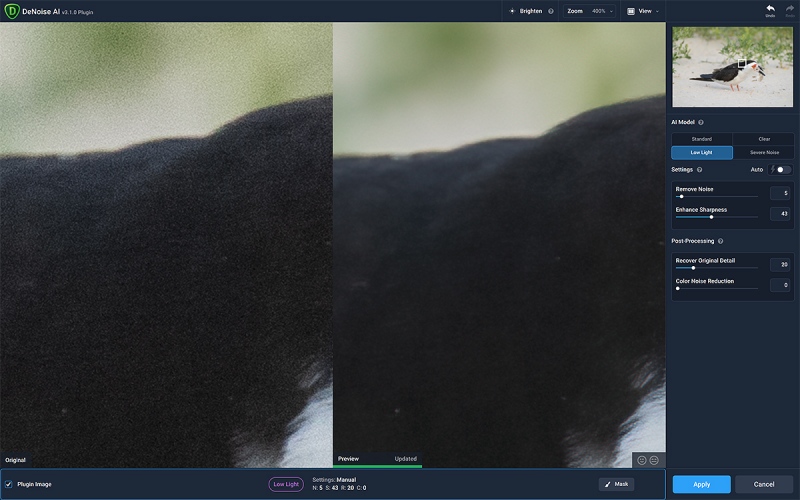 Click on the image to view a larger version.
Image #1A: Topaz DeNoise on the Black Skimmer killing chick from another nest image

Your browser does not support iFrame.
DeNoise at 400% at ISO 3200
Be sure to click on the image to see the fabulous job of noise reduction on Low Light. Understand that exposing properly for the whites leaves the blacks well under-exposed. Here, I cut the suggested Remove Noise value from 10 on Auto in half to 5. If you think that the blacks are detail-less after the NR, understand that what you are seeing in before image is noise, not detail. Blacks in soft light will never have a ton of detail at the higher ISOs.
As regular readers know, I run DeNoise on virtually every image that I process immediately after executing the crop with the Delete Cropped Pixels box checked. For images made in sunny conditions, I used Standard. For images made in low light, like this one, I use Low Light. You can check all four methods by using the Comparison View but I rarely do that any more as I am confident as noted above.
Great Topaz News!
Folks who use the BAA Topaz link to purchase Sharpen AI, DeNoise AI, or the Utility Bundle (or any other Topaz plug-ins), will receive a 15% discount by entering the ARTHUR15 code at checkout. If the stuff is on sale (as it usually is), you save 15% off of the sale price! To get the discount you must use my link and you must enter the discount code. Be sure to start with this link.
Those who purchase Sharpen AI, DeNoise AI, or any other Topaz plug-ins using my link and then entering the ARTHUR15 code at checkout can e-mail to request a short Getting Started with Topaz e-Guide. Please include a copy of your Topaz receipt that shows the discount. Aside from the basics, the guide explains how to install the plug-ins so that they appear in the Photoshop Filter Menu.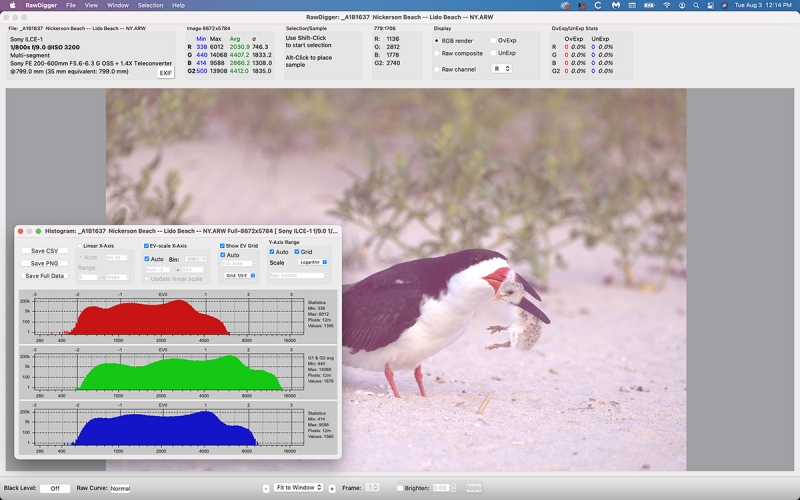 Click on the image to view a larger version.
Image #1b: The RawDigger screen capture for the Black Skimmer killing chick from another nest image

Your browser does not support iFrame.
Ho-Hum, Another Perfect Plus Exposure
Nothing has ever helped me learn to create perfect exposures to the degree that RawDigger has. I think that many folks are reluctant to learn that most of their images are underexposed by one or more full stops and that highlight warnings in Photoshop, Lightroom, Capture One, and your in-camera histogram are completely bogus as they are based on the embedded JPEGs. Only your raw files tell the truth all the time. Heck, I resisted RawDigger for several years … Once you get over that feeling, RawDigger can become your very best exposure friend no matter what system you are using. On the recent IPTs and In-the-Field sessions, we have demonstrated that fact. Convincingly.
The RawDigger (pink) Adapted Histogram
In the RawDigger e-Guide, you will learn exactly how to set up the Adapted "pink" RawDigger Histogram and how to use it to quickly and easily evaluate the exposure or raw file brightness of images from all digital cameras currently in use. RawDigger was especially helpful to me when I struggled with R5 exposures and when learned my new camera body, the Sony Alpha a1.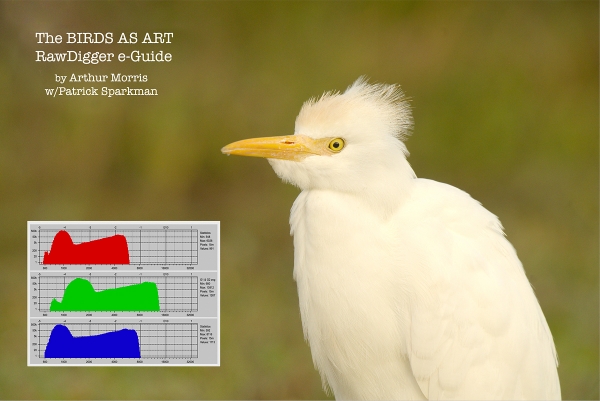 RawDigger e-Guide with Two Videos
The RawDigger e-Guide with Two Videos
by Arthur Morris with Patrick Sparkman
The RawDigger e-Guide was created only for serious photographers who wish to get the absolute most out of their raw files.
Patrick and I began work on the guide in July 2020. At first we struggled. We asked questions. We learned about Max-G values. We could not figure out why the Max G values varied by camera system. IPT veteran Bart Deamer asked lots of questions that we could not answer. We got help from RawDigger creator Iliah Borg. We learned. In December, Patrick came up with an Adapted Histogram that allows us to evaluate the exposures and raw file brightness for all images created with all digital camera bodies from the last two decades. What we learned each time prompted three complete beginning to end re-writes.
The point of the guide is to teach you to truly expose to the mega-Expose-to-the-Right so that you will minimize noise, maximize image quality, best utilize your camera's dynamic range, and attain the highest possible level of shadow detail in your RAW files in every situation. In addition, your properly exposed RAW files will contain more tonal information and feature the smoothest possible transitions between tones. And your optimized images will feature rich, accurate color.
We teach you why the GREEN channel is almost always the first to over-expose. We save you money by advising you which version of RawDigger you need. We teach you how to interpret the Max G values for your Canon, Nikon, and SONY camera bodies. It is very likely that the Shock-your-World section will shock you. And lastly — thanks to the technical and practical brilliance of Patrick Sparkman — we teach you a simple way to quickly and easily evaluate your exposures and raw file brightness using an Adapted RawDigger histogram.
The flower video takes you through a session where artie edits a folder of images in Capture One while checking the exposures and Max-G values in RawDigger. The Adapted Histogram video examines a series of recent images with the pink histograms and covers lots of fine points including and especially how to deal with specular highlights. The directions for setting up the Adapted Histogram are in the text.
If we priced this guide based on how much effort we put into it, it would sell it for $999.00. But as this guide will be purchased only by a limited number of serious photographers, we have priced it at $51.00. You can order yours here in the BAA Online Store.
Beach Clean-up
Here are some clean-up tips based on today's featured image. I used the Patch Tool for nearly every step in the process. I did not use Content-Aware or the Clone Stamp Tool once. For the tiny specks, I used the Spot Healing Brush.
Do you think that I should have left some of the beach crud?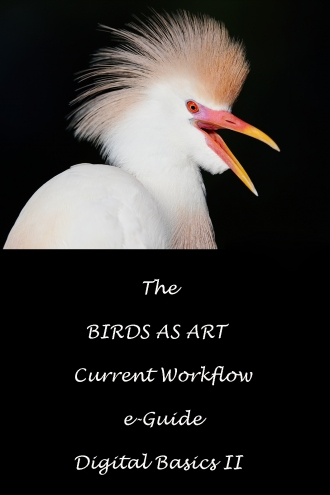 The BIRDS AS ART Current Workflow e-Guide (Digital Basics II).
You can order your copy from the BAA Online Store here, by sending a PayPal for $40 here, or by calling Jim or Jennifer weekdays at 863-692-0906 with your credit card in hand. Be sure to specify Digital Basics II.
The BIRDS AS ART Current Workflow e-Guide (Digital Basics II)
The Photoshop Tools used with all of my clean-up techniques along with dozens of other great Photoshop tips and techniques — along with all of my personalized Keyboard Shortcuts, are covered in detail in the BIRDS AS ART Current Workflow e-Guide (Digital Basics II), an instructional PDF that is sent via e-mail. Learn more and check out the free excerpt in the blog post here. While the new e-Guide reflects my MacBook Pro/Photo Mechanic/DPP 4/Photoshop workflow, folks using a PC and/or BreezeBrowser will also benefit greatly by studying the material on DB II. Note: folks working on a PC and/or those who do not want to miss anything Photoshop may wish to purchase the original Digital Basics along with DB II while saving $15 by clicking here to buy the DB Bundle.
Folks who learn well by following along rather than by reading can check out the complete collection of MP 4 Photoshop Tutorial Videos by clicking here. Note: all of the videos are now priced at an amazingly low $5.00 each.
You can learn how and why I converted all of my Canon digital RAW files in DPP 4 in the DPP 4 RAW Conversion Guide here. More recently, I became proficient at converting my Nikon RAW (NEF) files in Adobe Camera Raw. About two years ago I began converting my Nikon and Sony RAW files in Capture One Pro 12 and continue to do so today.
You can learn advanced Quick Masking and advanced Layer Masking techniques in APTATS I & II. You can save $15 by purchasing the pair.
Typos
With all blog posts, feel free to e-mail or to leave a comment regarding any typos or errors.