SONY Alpha 1 Bodies in Stock at Bedfords!
While working on this blog post, I got a text from Steve Elkins letting me know that Bedfords has a good number of SONY Alpha 1 bodies in stock right now. Order yours, save 3% by using the BIRDS AS ART discount code at checkout, enjoy free second day air Fed-Ex, and earn free entry into the BIRDS AS ART Sony Alpha a1 Set-up and Info Notes Group. As part of the attraction, the first e-mail that you will receive includes a .DAT file with my a1 settings and explicit directions on how to Save my settings onto your a1; talk about convenience!
What's Up?
With my SUV back and a variably cloudy morning with a northeast wind, I am once again down at today's (very stinky) road-kill cafe. It is 8:15am on Saturday 20 November 2021. If I were a betting man, I'd wager that the vultures will come if I am patient enough.
I published this post at 9:10am. So far, one vulture flew over the bait and then flew off. An immature male Northern Harrier flew by twice over the marsh, but I was in the car. A snipe just flew in front of my windshield. And then harrier did the same and is circling over the bait. Since I've been sitting in the car it has rained and the sun has been in and out. But still no vultures, no eagle, and no caracaras. I will give it till ten o'clock.
If you are impressed by today's amazing image optimization, be sure to scroll down to the Spoonbill Saving the WHITEs Video Offer below. Consider also signing up for one or both of the Stick Marsh IPTs. Details below.
Wherever you are, and whatever you are doing, I hope that you too have a great day. This blog post took more than two hours to prepare.
Remember that you can find some great photo accessories (and necessities, like surf booties!) on Amazon by clicking on the Stuff tab on the orange/yellow menu bar above. On a related note, it would be extremely helpful if blog-folks who, like me, spend too much money on Amazon, would get in the habit of clicking on the Amazon logo link on the right side of each blog post when they shop online. As you might expect, doing so will not cost you a single penny, but would be appreciated tremendously by yours truly. And doing so works seamlessly with your Amazon Prime account.
Please remember that if an item — a Delkin flash card, or a tripod head — for example, that is available from B&H and/or Bedfords, is also available in the BAA Online Store, it would be great, and greatly appreciated, if you would opt to purchase from us. We will match any price. Please remember also to use my B&H affiliate links or to save 3% at Bedfords by using the BIRDSASART discount code at checkout for your major gear purchases. Doing either often earns you free guides and/or discounts. And always earns my great appreciation.
Brand New and As-Good-As-Ever Bedfords BAA Discount Policy
Folks who have fallen in love with Bedfords can now use the BIRDSASART coupon code at checkout to enjoy a post-purchase, 3% off-statement credit (excluding taxes and shipping charges) on orders paid with a credit card. Be sure, also, to check the box for free shipping to enjoy free Second Day Air Fed-Ex. This offer does not apply to purchases of Classes, Gift Cards, and any prior purchases.

Money Saving Reminder
Many have learned that if you need a hot photo item that is out of stock at B&H and would like to enjoy getting 3% back on your credit card along with free 2nd Day Air Fed-Ex Air shipping, your best bet is to click here, place an order with Bedfords, and enter the coupon code BIRDSASART at checkout. If an item is out of stock, contact Steve Elkins via e-mail or on his cell phone at (479) 381-2592 (Central time). Be sure to mention the BIRDSASART coupon code and check the box for Free Shipping. That will automatically upgrade to free 2nd Day Air Fed-Ex. Steve has been great at getting folks the hot items that are out of stock at B&H and everywhere else. The wait lists at the big stores can be a year or longer for the hard to get items. Steve will surely get you your gear long before that. For the past year, he has been helping BAA Blog folks get their hands on items like the SONY a 1, the SONY 200-600 G OSS lens, the Canon EOS R5, the Canon RF 100-500mm lens, and the Nikon 500mm PF. Steve is personable, helpful, and eager-to-please.
Important Note
As an Amazon Associate, I earn a small percentage when you purchase from Amazon after using any of the links on the blog (including the logo-link immediately above). My link works with Amazon Prime and using it will not cost you a single cent. Huge thanks, BTW 🙂
Please Remember Also
Please, if you enjoy and learn from the blog, remember to use one of my two affiliate programs when purchasing new gear. Doing so just might make it possible for me to avoid having to try to get a job as a Walmart greeter and will not cost you a single penny more. And if you use Bedfords and remember to enter the BIRDSASART code at checkout, you will (still!) save 3% on every order and enjoy free second-day air shipping. In these crazy times — I lost about fifty thousand dollars in income due to COVID 19 — remembering to use my B&H link or to shop at Bedfords will help me out a ton and be greatly appreciated. Overseas folks who cannot order from the US because of import fees, duties, and taxes, are invited to help out by clicking here to leave a blog thank you gift if they see fit.
Gear Questions and Advice
Too many folks attending BAA IPTs and dozens of photographers whom I see in the field and on BPN, are–out of ignorance–using the wrong gear, especially when it comes to tripods and more especially, tripod heads… Please know that I am always glad to answer your gear questions via e-mail.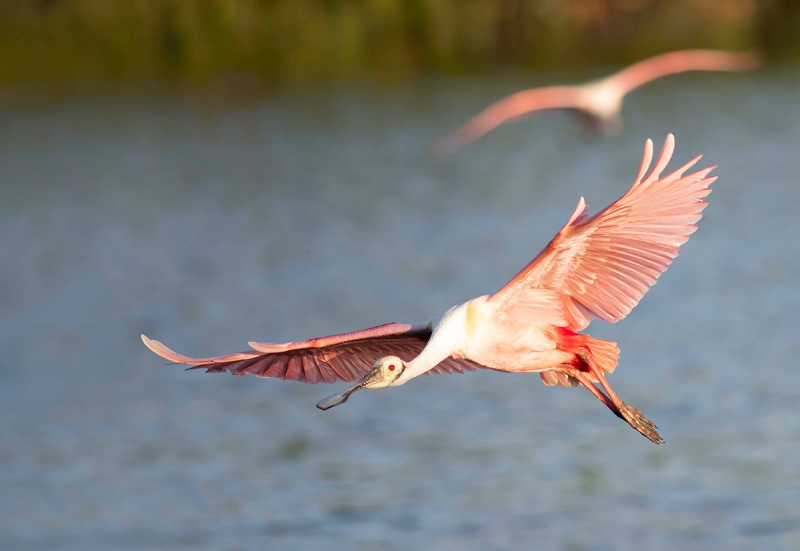 This image was created 24 March 2020 by In-the-Field Workshop (ITF-W) participant and IPT veteran Joe Usewicz. He used the hand held Nikon AF-S NIKKOR 300mm f/4D IF-ED lens and the Nikon D7500 dSLR camera body. ISO 500. Exposure determined by histogram and blinkies evaluation: 1/3200 sec. at f/ (wide open) in Manual mode. AWB at 8:11am on pretty-sunny morning.
Group AF-C was active at the moment of exposure. Click on the image to see the hi res version.
Image courtesy of and copyright 2020: Joe Usewicz
Image #1: Incoming Roseate Spoonbill(s)

Your browser does not support iFrame.
Post IPT and ITF-W Image Critiques
Folks who attended either BIRDS AS ART Instructional Photo-Tours or In-the-Field Workshops are invited to send JPEGs of their best optimized images for a short critique. Joe Usewicz attended a Stick Marsh ITF-W early last spring. Image #1 was one of the ten that he sent. Here is my critique:
The subject is sharp, and I like the inclusion of the 2nd bird and the green vegetation at the top. The green strip could use some clean-up work along with a Gaussian Blur to soften things up. The whites on the neck look either too hot or over-exposed …
Joe wrote back:
The photo of the two birds in flight was a real hot mess. But I liked the bird in the background so much that I gave it a try. I'll give it another shot. As a side note, I continue to work on the blurs you taught me to do iii the early morning (and in A Guide to Pleasing Blurs. I've gotten some good results so far.
I responded:
If you like, send me the raw file via a large file sending service.
He did. I wanted to check in RawDigger to see if the raw was really over-exposed …
Nikon 300mm Note
Many Nikon folks have replaced their older Nikon AF-S NIKKOR 300mm f/4D IF-ED lenses with the much smaller and lighter Nikon AF-S NIKKOR 300mm f/4E PF ED VR lenses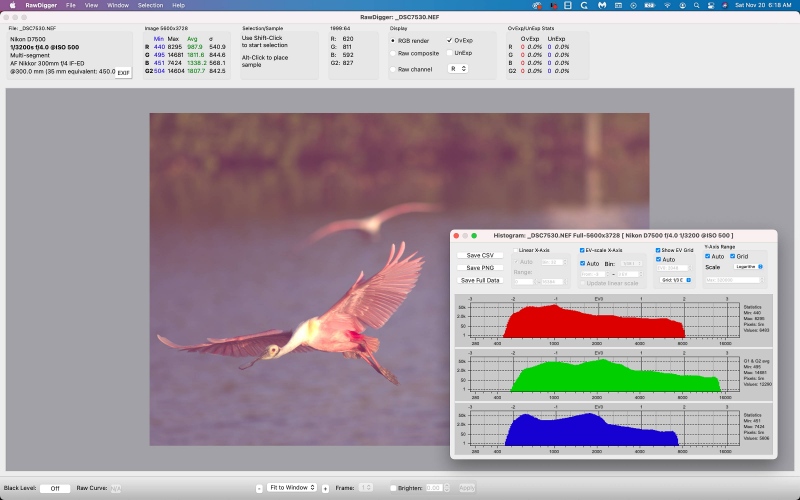 Click on the image to better read the fine print.
Image #1A: The RawDigger screen capture for Joe Usewicz's Incoming Roseate Spoonbill(s) image

Your browser does not support iFrame.
The RawDigger Screen Capture
The RawDigger screen capture for Joe's spoonbill image showed that it was not over-exposed. In the three color channels there were zero OvExp pixels. And note that the end of the GREEN histogram lies past the 8000 2/3 line but does not reach the 16000 line. In other words, this is a dead-solid perfect exposure.
The RawDigger (pink) Adapted Histogram
In the RawDigger e-Guide, you will learn exactly how to set up the Adapted "pink" RawDigger Histogram and how to use it to quickly and easily evaluate the exposure or raw file brightness of images from all digital cameras currently in use. RawDigger was especially helpful to me when I struggled with R5 exposures and when learned my new camera body, the Sony Alpha a1.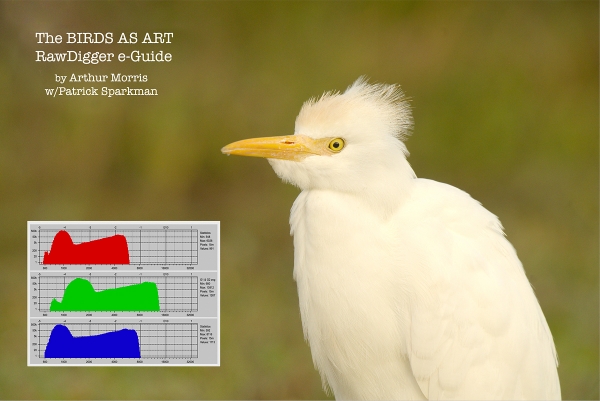 RawDigger e-Guide with Two Videos
The RawDigger e-Guide with Two Videos
by Arthur Morris with Patrick Sparkman
The RawDigger e-Guide was created only for serious photographers who wish to get the absolute most out of their raw files.
Patrick and I began work on the guide in July 2020. At first we struggled. We asked questions. We learned about Max-G values. We could not figure out why the Max G values varied by camera system. IPT veteran Bart Deamer asked lots of questions that we could not answer. We got help from RawDigger creator Iliah Borg. We learned. In December, Patrick came up with an Adapted Histogram that allows us to evaluate the exposures and raw file brightness for all images created with all digital camera bodies from the last two decades. What we learned each time prompted three complete beginning to end re-writes.
The point of the guide is to teach you to truly expose to the mega-Expose-to-the-Right so that you will minimize noise, maximize image quality, best utilize your camera's dynamic range, and attain the highest possible level of shadow detail in your RAW files in every situation. In addition, your properly exposed RAW files will contain more tonal information and feature the smoothest possible transitions between tones. And your optimized images will feature rich, accurate color.
We teach you why the GREEN channel is almost always the first to over-expose. We save you money by advising you which version of RawDigger you need. We teach you how to interpret the Max G values for your Canon, Nikon, and SONY camera bodies. It is very likely that the Shock-your-World section will shock you. And lastly — thanks to the technical and practical brilliance of Patrick Sparkman — we teach you a simple way to quickly and easily evaluate your exposures and raw file brightness using an Adapted RawDigger histogram.
The flower video takes you through a session where artie edits a folder of images in Capture One while checking the exposures and Max-G values in RawDigger. The Adapted Histogram video examines a series of recent images with the pink histograms and covers lots of fine points including and especially how to deal with specular highlights. The directions for setting up the Adapted Histogram are in the text.
If we priced this guide based on how much effort we put into it, it would sell it for $999.00. But as this guide will be purchased only by a limited number of serious photographers, we have priced it at $51.00. You can order yours here in the BAA Online Store.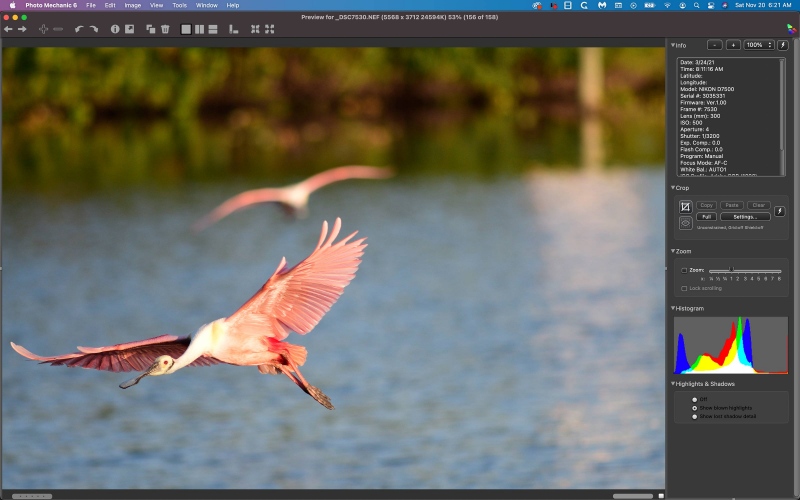 Click on the image to better read the fine print.
Image #1B: The Photo Mechanic screen capture for Joe Usewicz's Incoming Roseate Spoonbill(s) image

Your browser does not support iFrame.
The Photo Mechanic Screen Capture
I included this to show the original full frame image capture. Compare this one with my final optimized version below by scrolling down.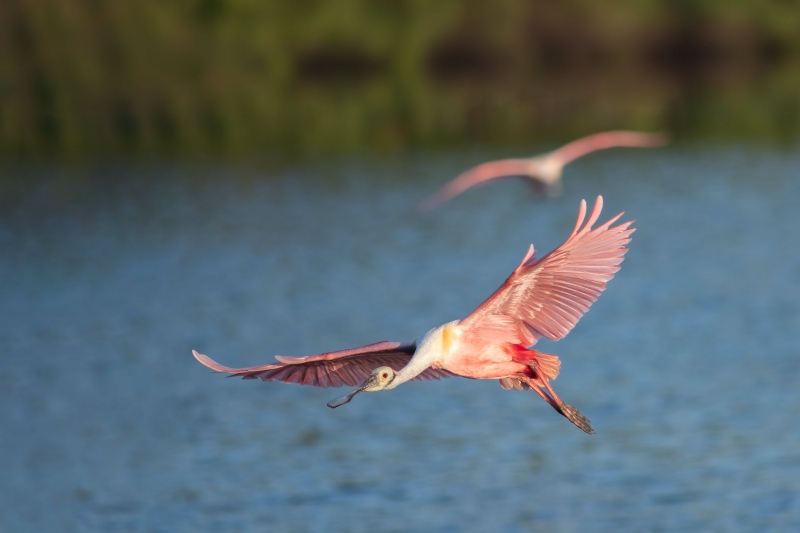 This image was created 24 March 2020 by In-the-Field Workshop (ITF-W) participant and IPT veteran Joe Usewicz. He used the hand held Nikon AF-S NIKKOR 300mm f/4D IF-ED lens and the Nikon D7500 dSLR camera body. ISO 500. Exposure determined by histogram and blinkies evaluation: 1/3200 sec. at f/ (wide open) in Manual mode. AWB at 8:11am on pretty-sunny morning.
Group AF-C was active at the moment of exposure. Click on the image to see the hi res version.
Image courtesy of and copyright 2020: Joe Usewicz. Complete Image Optimization by Arthur Morris/BIRDS AS ART
Image #1C: Incoming Roseate Spoonbill(s)

Your browser does not support iFrame.
The Image Optimization/Saving the WHITEs
The raw conversion in Photoshop with Adobe Camera Raw (ACR)
Topaz DeNoise AI on Standard/AUTO
Content-Aware Crop to expand canvas (miraculous!)
Background clean-up and smoothing with Gaussian Blur and an Inverse (Black, or Hide-all) Layer Mask
Eye Doctor work; darkened the pupil with Tim Grey Dodge and Burn
Saving the WHITEs
Selected the brightest WHITEs using Image > Color Range
Feathered and save the selection as WHITEs
Put the selection on its own layer and applied a Linear Burn at reduced Opacity
Turned off that Layer with the Eyeball
Loaded the selection, put it on its own layer, and ran Color Efex Pro's Detail Extractor, again at reduced Opacity
Combined the two save the whites layers and refined those as needed with a Regular Layer Mask
I was still not happy with the amount of detail in the WHITEs, so I resorted to some rarely used techniques to bring back the detail
Spoonbill Saving the WHITEs Video Offer
If you would like a video of the complete image optimization, please send a PayPal for $37.00 to us at birdsasart@verizon.net and be sure to include the words Spoonbill Saving the Whites Video somewhere in the Paypal e-mail.
Nearly everything above is detailed in the BIRDS AS ART Current Workflow e-Guide (Digital Basics II), an instructional PDF that is sent via e-mail. And you can learn advanced Quick Masking and advanced Layer Masking techniques in APTATS I & II. You can save $15 by purchasing the pair.
Via e-mail from Morris Herstein
I never thought that I could make in-flight photos of birds successfully. That goal was accomplished during the recent workshop at Stick Marsh only because I listened to your advice and instructions. For the first time I realized how important sun angle was, teachings that you had been communicated for a long time. The result of two days shooting produced the most satisfying images of Roseate Spoonbills I ever could have imagined.
Stay well and safe. Thank you. Morris
Via e-mail from Joe Usewicz
Wow. So many photos to go through. Stick Marsh was a great learning experience. Positioning. Wind impact. Landing zones. Working on backgrounds. I clipped too many incredible reflections. Great fun. Just amazing opportunities.
Warmest Regards, Joe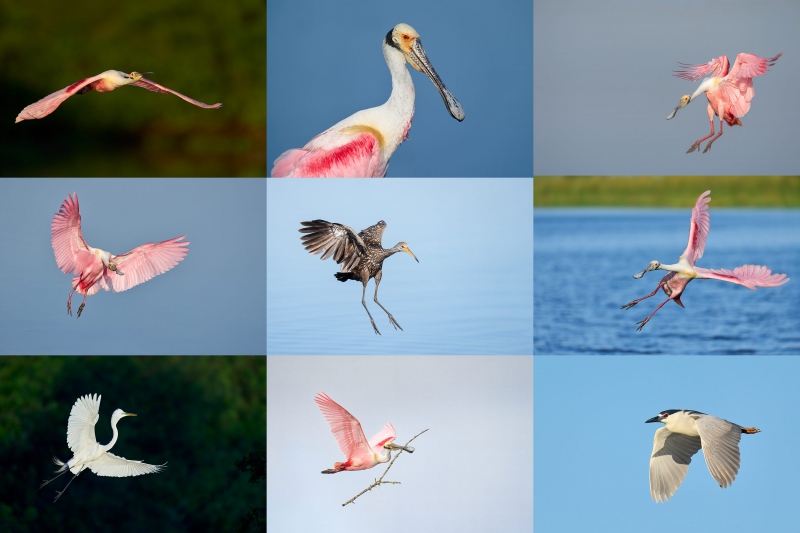 Click on the composite image to enjoy the incredible quality of the hi-res JPEG. Coming soon: An instructional video: Your JPEGs Do Not Have to Suck.
Clockwise from upper left back around to the center: spoonbill with mangrove background; spoonbill head and shoulders portrait; spoonbill braking to land; spoonbill dramatic landing pose; adult Black-crowned Night-Heron; spoonbill with nesting material; Great Egret returning to nest; incoming spoonbill; and Limpkin landing.
Stick Marsh IPT: #1: WED 9 March thru the morning of SUN 13 March 2022: $2,499.00. (Limit 6 photographers)

Stick Marsh IPT #2: MON 14 March thru the morning of FRI 18 March 2022: $2499.00 (Limit 6 photographers)
Do both IPTs back to back and enjoy a $300 discount: protect your travel and time investments against bad weather by signing up for both IPTs for $4698.00.
Stick Marsh, where the living is easy. Photograph incoming Roseate Spoonbills in flight at point blank range with intermediate telephoto zoom lenses. This year I will be trying the new Sony 70-200mm f/2.8 lens, often with the 1.4X TC. Longer lenses either on a tripod or hand held are best for the green background stuff. There will be endless flight photography opportunities with a variety of species; in addition to the spoonbills, we should have some excellent chances on Limpkin, Great Egret, Cattle Egret, Great Blue Heron, Little Blue Heron, Double-created Cormorant, Anhinga, Black and Turkey Vultures, and more. Folks with 500 and 600mm f/4 lenses will have lots of opportunities to hone their skills working on a tripod or hand holding.
There will be five morning photo sessions averaging four hours. We start in the pre-dawn. The first four morning sessions will be followed by a working brunch. The cost of brunch is included. There will be two after-brunch photo-sessions on sunny days (averaging about an hour) to try for bathing spoonbills, usually centered around 1:30pm. There will be one after-brunch photo critique session (probably on DAY 3). And there will be one Image Processing session after brunch.
We will be based in or near Vero Beach. The deposit is $799.00. Call Jim at the office any weekday at 863-692-0906 to pay by credit card. Balances must be paid by check.
What You Will Learn on a Stick Marsh IPT
1- You will learn the basics and fine points of digital exposure. Nikon and Canon folks will learn to get the right exposure every time after making a single test exposure, and SONY folks will learn to use Zebras so that they can be sure of making excellent exposures before pressing the shutter button..
2- You will learn to work in Manual exposure mode even if you are scared of it.
3- You will surely learn to evaluate wind and sky conditions and understand how they affect bird photography.
4- You will learn the pro secrets that will help you to become a better flight photographer.
5- You will learn to zoom out in advance (because the birds are so close!) 🙂
6- You will learn how to approach free and wild birds without disturbing them.
7- You will learn to spot the good and the great situations.
8- You will learn to understand and predict bird behavior.
9- You will learn to design pleasing images by mastering your camera's AF system.
10- You will learn to choose the best perspective.
11- You will learn to see and control your backgrounds.
12- You will learn to see and understand the light.
12- You will learn to see and create pleasing blurs in pre-dawn situations.
12- You will learn to be ready for the most likely event at all times.
And the best news is that you will be able to take everything you learn home with you so that you will be a better photographer wherever you are and whenever you photograph.
Typos
In all blog posts, feel free to e-mail or to leave a comment regarding any typos or errors.