What's Up?
I thought that I had published yesterday's blog post before lunch, but learned last evening that I had not. Oops. It was published just after dinner time. I spent lots of time yesterday arranging my travel plans for the Homer IPT. I did make it to Stick Marsh yesterday and was not thrilled with what I saw. I am continuing to investigate the situation and will be sharing what I have about the rehabilitation of Structure S-96 project with you here soon.
Be sure to scroll down all the way to the item on making the raw conversion for today's featured image. You will learn a bunch whether you convert your raw files in Photoshop, Lightroom, Capture One, or DPP 4 as the sliders are all similar.
Today is Tuesday 7 December (the 80th anniversary of a date which will live in infamy …) 2021. I had planned on getting down to the lake this morning but it was totally foggy until 8:30am. Wherever you are, and whatever you are doing, I hope that you too have a great day. This blog post took about two hours to prepare and makes 28 consecutive days with a new one.
Please remember that you can find some great photo accessories (and necessities, like surf booties!) on Amazon by clicking on the Stuff tab on the orange/yellow menu bar above. On a related note, it would be extremely helpful if blog-folks who, like me, spend too much money on Amazon, would get in the habit of clicking on the Amazon logo link on the right side of each blog post when they shop online. As you might expect, doing so will not cost you a single penny, but would be appreciated tremendously by yours truly. And doing so works seamlessly with your Amazon Prime account.
Please remember that if an item — a Delkin flash card, or a tripod head — for example, that is available from B&H and/or Bedfords, is also available in the BAA Online Store, it would be great, and greatly appreciated, if you would opt to purchase from us. We will match any price. Please remember also to use my B&H affiliate links or to save 3% at Bedfords by using the BIRDSASART discount code at checkout for your major gear purchases. Doing either often earns you free guides and/or discounts. And always earns my great appreciation.
Brand New and As-Good-As-Ever Bedfords BAA Discount Policy
Folks who have fallen in love with Bedfords can now use the BIRDSASART coupon code at checkout to enjoy a post-purchase, 3% off-statement credit (excluding taxes and shipping charges) on orders paid with a credit card. The 3% credit will be refunded to the card you used for your purchase. Be sure, also, to check the box for free shipping to enjoy free Second Day Air Fed-Ex. This offer does not apply to purchases of Classes, Gift Cards, and any prior purchases.

Money Saving Reminder
Many have learned that if you need a hot photo item that is out of stock at B&H and would like to enjoy getting 3% back on your credit card along with free 2nd Day Air Fed-Ex Air shipping, your best bet is to click here, place an order with Bedfords, and enter the coupon code BIRDSASART at checkout. If an item is out of stock, contact Steve Elkins via e-mail or on his cell phone at (479) 381-2592 (Central time). Be sure to mention the BIRDSASART coupon code and check the box for Free Shipping. That will automatically upgrade to free 2nd Day Air Fed-Ex. Steve has been great at getting folks the hot items that are out of stock at B&H and everywhere else. The wait lists at the big stores can be a year or longer for the hard to get items. Steve will surely get you your gear long before that. For the past year, he has been helping BAA Blog folks get their hands on items like the SONY a 1, the SONY 200-600 G OSS lens, the Canon EOS R5, the Canon RF 100-500mm lens, and the Nikon 500mm PF. Steve is personable, helpful, and eager-to-please.
Important Note
As an Amazon Associate, I earn a small percentage when you purchase from Amazon after using any of the Amazon links on the blog (including the logo-link immediately above). My link works with Amazon Prime and using it will not cost you a single cent. Huge thanks, BTW 🙂
Please Remember Also
Please, if you enjoy and learn from the blog, remember to use one of my two affiliate programs when purchasing new gear. Doing so just might make it possible for me to avoid having to try to get a job as a Walmart greeter and will not cost you a single penny more. And if you use Bedfords and remember to enter the BIRDSASART code at checkout, you will (still!) save 3% on every order and enjoy free second-day air shipping. In these crazy times — I lost about fifty thousand dollars in income due to COVID 19 — remembering to use my B&H link or to shop at Bedfords will help me out a ton and be greatly appreciated. Overseas folks who cannot order from the US because of import fees, duties, and taxes, are invited to help out by clicking here to leave a blog thank you gift if they see fit.
Gear Questions and Advice
Too many folks attending BAA IPTs and dozens of photographers whom I see in the field and on BPN, are–out of ignorance–using the wrong gear, especially when it comes to tripods and more especially, tripod heads… Please know that I am always glad to answer your gear questions via e-mail. If you are desperate, you can try me on my cell at 863-221-2372. Please leave a message and shoot me a text if I do not pick up.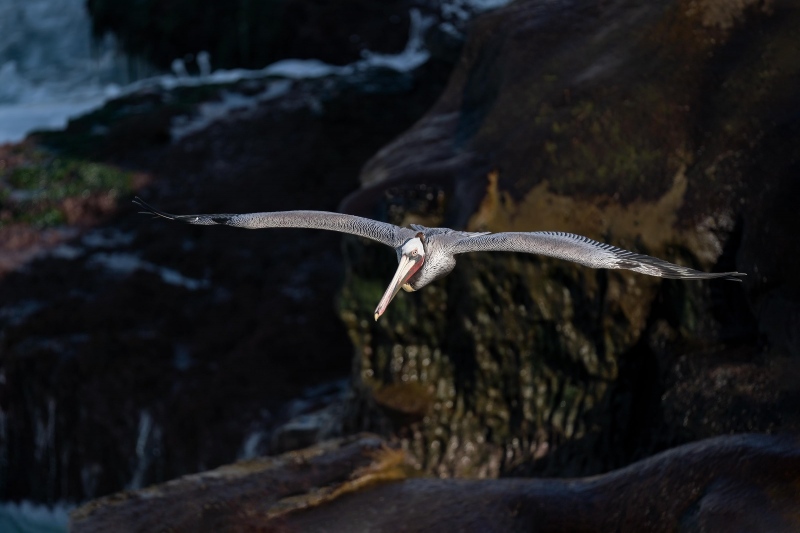 This image was created on 9 January 2020 at La Jolla, CA. Standing, I used the (no longer available) Induro GIT304L Grand Series 3 Stealth Carbon Fiber Tripod / Levered-Clamp FlexShooter Pro-mounted-supported Sony FE 600mm f/4 GM OSS lens and the Sony a9 II (now replaced by The One, the Sony Alpha 1 Mirrorless Digital Camera.. ISO 400. The exposure was determined by Zebras with ISO on the rear wheel: 1/5000 sec. at f/4 (wide open) in Manual mode. AWB at 2:41pm on clear afternoon.
Center Zone AF/C produced a razor sharp on the eye image. Click on the image to enjoy the high-res version.
Image #1: Brown Pelican – dorsal flight view against cliffs

Your browser does not support iFrame.
Seeing New Situations
One of the things that I have been proud of for several decades is my ability to spot new situations. For more than a decade, afternoon flight photography at La Jolla was non-existent. But on certain winds, it was there all the time. With some unique backgrounds to boot. I figured things out in 2019 and now we do a session or two at this great new spot on every San Diego IPT. And the best news is that on every outing, and on every IPT, I am always looking for ways to figure out something new.
Why Manual Mode?
If I had been photographing incoming birds in the sky while working in an automatic mode like shutter or aperture priority, what would have happened to the pelican in this image? Why? Once you get to the right answer, you will understand why Manual mode is best for 99% of bird photography situations.
Saving the WHITEs
Check out the animated GIF above and see how nicely detail was restored in the white head feathers. Learn five ways to tackle this common problem in the video immediately below. Today's featured image required the use of only three of the five techniques.
I forgot to mention yesterday that near the end of the video, I share an innovative technique for fixing an error made early on in the image optimization process (without having to start from scratch!)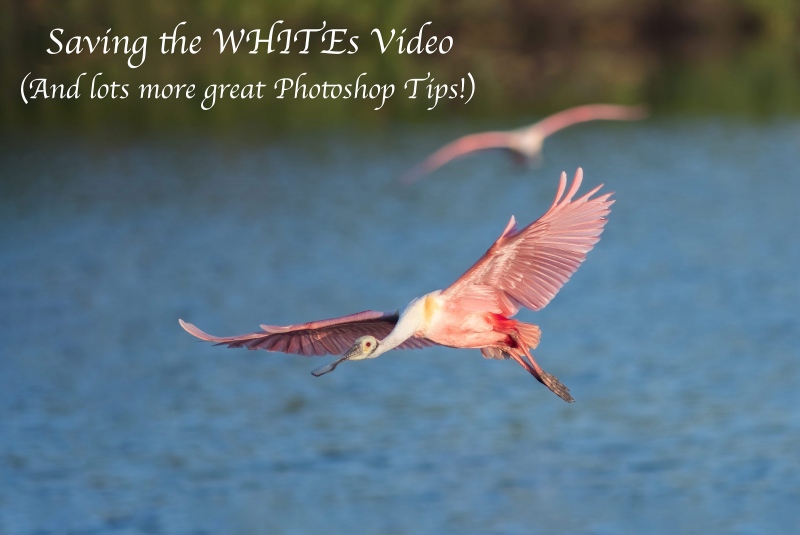 The Saving the WHITEs (and lots more!) Video image
The Saving the Whites (and lots more!) Video
My two biggest challenges when optimizing images are getting the BLUEs just right, and restoring detail to the WHITEs and highlights of properly exposed raw files. There are four things that I do to accomplish the latter. All are covered in detail in this 21+ minute video, along with a dirty trick to try if the first four do not work perfectly. Sit with me at my laptop as I teach you how to save the WHITEs. I begin with the raw conversions of two different raw files, today's featured Snowy Owl image, and Joe Usewicz's spoonbill image that was featured in the Extraordinary Over-Exposed (?) Spoonbill/Saving the WHITEs Optimization blog post here.
In addition to learning how to save the WHITEs (in both images), you will learn how to expand canvas using the amazingly convenient Content-Aware Crop Tool, to set the White Balance (color temperature), to set the WHITE and BLACK points, see Digital Eye Doctor and RawDigger in action, learn to make a Color Range Selection, and lots more.
To purchase your copy of the Saving the Whites Video (and lots more!) video, you can send a PayPal for $37.00 to us at birdsasart@verizon.net, call Jim in the office at 863-692-0906 with your credit card in hand, or visit the item in the BAA Online store by clicking here.
After clicking on each image, check out the nice detail in the white face of the owl in the optimized version (Image #1), with the virtually absent detail in the face of the owl in the Photo Mechanic screen capture (Image #1A). As I have been saying here often for two decades, properly exposed raw files will often appear washed out with little detail in the highlights …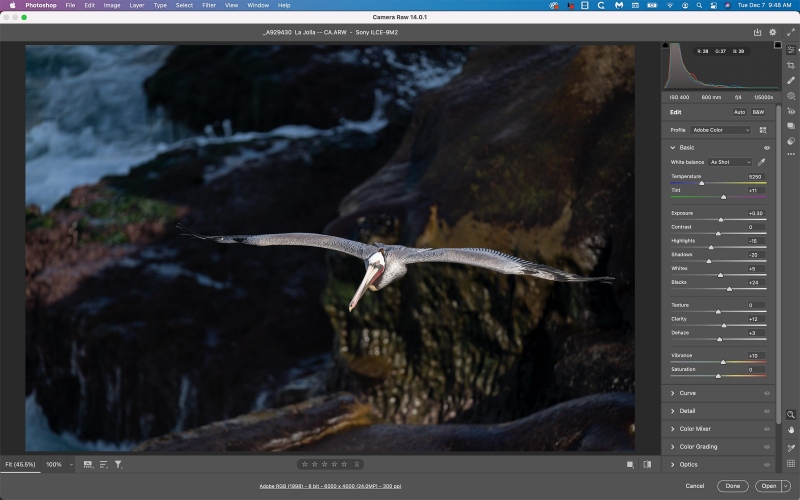 Click on the image to better read the fine print.
Image #1A: Adobe Camera Raw slider settings for the Brown Pelican – dorsal flight view against cliffs image
Raw Conversion Questions
1- With most images, we move the BLACK slider to the left. Why did I move the BLACK point to +24 with this image?
2- With most images, we move the Shadow slider to the right to open up the shadows. After moving the BLACK point for this image to +24, why did I move the shadow slider to the left, to -20?
Note that RawDigger showed that this image was about 1/3 stop under; that is why I moved the Exposure slider to +0.30 as the first step in my workflow. With images like this, with light-toned subjects and dark backgrounds, resist the urge to move the Highlights slider far to the left in an attempt to restore detail to the white head feathers; Doing so would render the (silvery) bird much too dark.
Typos
With all blog posts, feel free to e-mail or to leave a comment regarding any typos or errors.