This Just In!
The single slot on the 2nd Homer IPT has been filled by BAA-friend, multiple IPT veteran Mukesh Patel, who did the eagles with me in 2020. If you would like information on the 2023 or the 2024 Homer Bald Eagles IPTs, please shoot me an e-mail. There will be a 5-day and a 6-day IPT each year; the dates for both those trips will be announced soon.
What's Up?
I spent many hours yesterday trying to gather additional information regarding the permitting of the rehabilitation of Structure S-96 project at Stick Marsh. Gretchen Kelley, Senior Professional Engineer, Bureau of Projects and Construction, St. Johns River Water Management District, has been most kind in answering many of my questions sent in several e-mails. My first contact was with FWC (Florida Fish and Wildlife Conservation Commission); they got back to me quickly and gave me wrong information. Nobody from Florida DEP (Department of Environmental Protection, Audubon Florida, or the USFWS (United States Fish and Wildlife Service) has responded to my numerous e-mails and/or phone messages. I will continue my efforts today.
Considering that Roseate Spoonbill is protected both by the U.S. Migratory Bird Treaty Act and as a State-designated Threatened species by Florida's Endangered and Threatened Species Rule, I continue to be baffled on all accounts. I hope to be able to share my findings with you here very soon.
Today is Friday 10 December 2021. I will head down to the lake again this morning. (Thursday morning and evening were photographic busts.) But at least I am trying. Wherever you are, and whatever you are doing, I hope that you too have a great day. This blog post took about two hours to prepare and makes 31 consecutive days with a new one.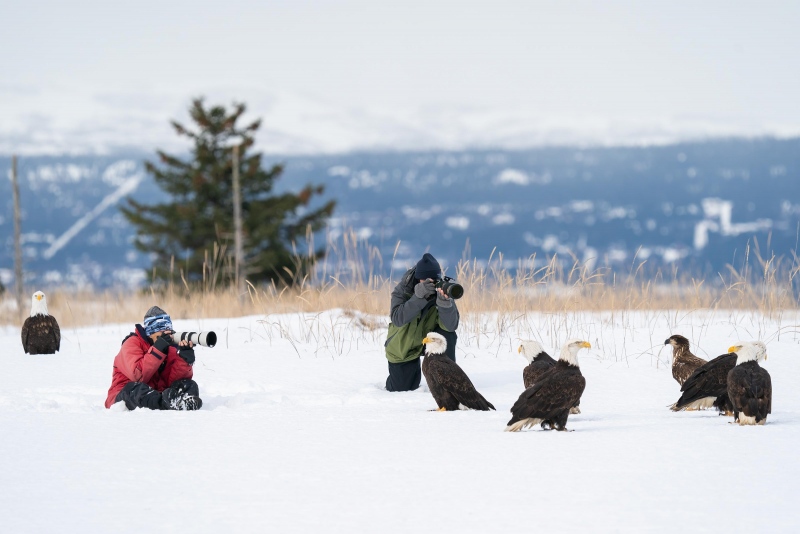 This could be you!
Homer Bald Eagle IPT Opening: This Could Be You!
The first call wins!
Due to a cancellation, there is one opening on the second Homer IPT. Both IPTs had been sold out pretty much from the get-go. If you have been dreaming of getting up to Homer for the best-in-the-world Bald Eagle photography trip, read all the details below and then call Jim at the office ASAP this morning at 863-692-0906 to leave your deposit. After that, or if Jim does not pick up the phone, call me on my cell at 863-221-2372. If I do not pick up, shoot me a text to secure this last spot. This trip has the best leader with more than 15 Homer trips under his belt, the best, most creative and most knowledgeable boat captain, and a mate to help us with all of our needs. Please read everything below carefully. A 70-200 lens is invaluable on this trip, and you could pretty much do the whole trip with any 100-400 lens, the Canon RF 100-500, or the Sony 200-600 G lens. See you in Homer!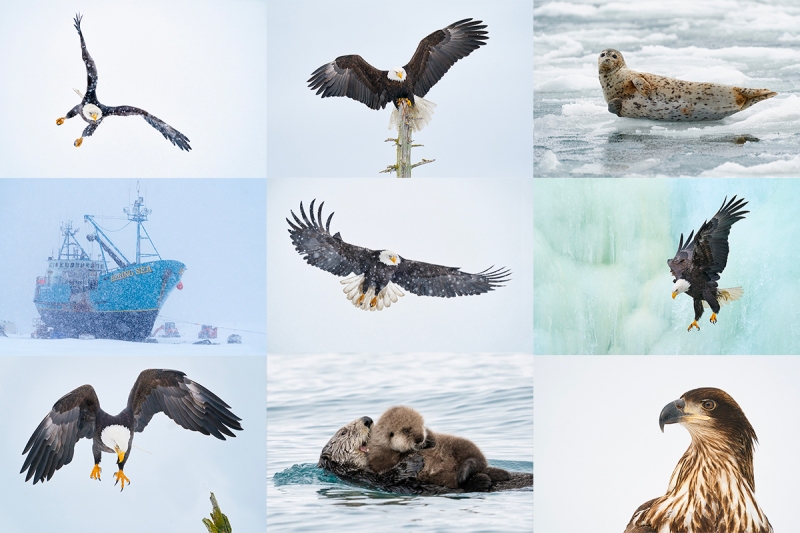 All images from Homer or Kachemak Bay, AK
2022 Homer/Kachemak Bay Bald Eagle IPTs
IPT #2: SAT 26 FEB 2022 through the full day on WED 2 MAR 2022. Five full days: $5500.00. Limit 5 photographers/Openings: 1
This trip features non-stop flight photography as well as many opportunities to create point-blank portraits of one of North America's most sought-after avian subjects: Bald Eagle (Haliaeetus leucocephalus).
Also featured are a professional leader, often referred to as the world's most knowledgeable bird photography trip leader who is conversant in Canon, Nikon, and SONY. You will learn practical and creative solutions to everyday photographic problems. You will learn to see the shot, to create dynamic image designs, to best utilize your camera's AF system, and how to analyze the wind, the sky conditions, and the direction and quality of the light. This is one of the very few trips Homer trips available where you will not be simply put on the birds and told to have fun. You will actually learn to be a better photographer.
The best and most creative boat captain.
A sturdy, spacious, sea worthy, open-deck craft.
An incredibly helpful professional first mate.
Only five photographers (not the usual six), plus the leader.
Small group Photoshop, Image Review, and Image critiquing sessions.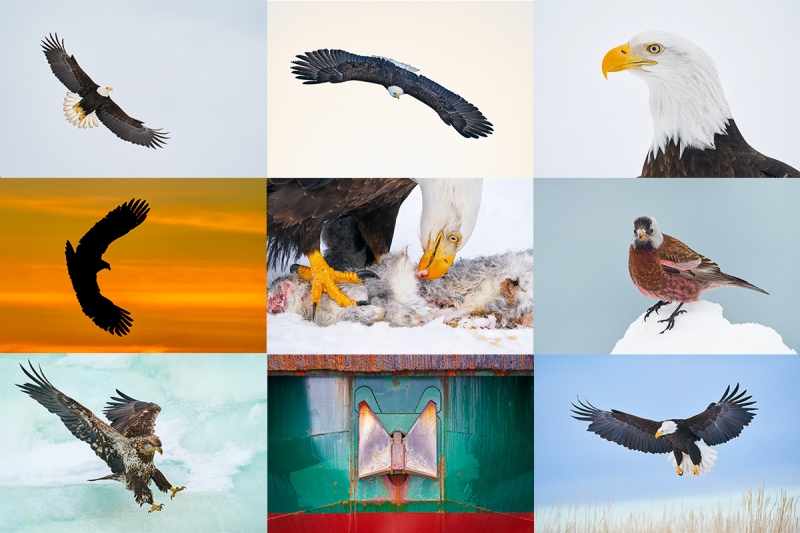 All images from Homer or Kachemak Bay, AK
What's Included
One four hour or two two-hour boat trips every day (weather permitting), all boat fees and boat-related expenses (excluding tips), ground transportation to and from the dock and back to the hotel each day, in-the-field instruction and guidance, pre-trip gear advice, small group post-processing and image review sessions, and a thank you dinner for all well-behaved participants.
What's Not Included
Your airfare to and from Homer, AK (via Anchorage), the cost of your room at Land's End Resort, all personal items, all meals and beverages, and tips for the boat captain and/or the first mate.
Please Note
On great days, the group may wish to photograph for more than four hours. If the total time on the boat exceeds 24 hours for the first trip, or 20 hours for the second trip, the group will share the additional expense at a rate of $225/hour.
Some folks may wish to rent their own vehicle to take advantage of local photographic opportunities around Homer.
Deposit Information
A $3000 non-refundable deposit/trip is required. You may pay your deposit with credit card or by personal check made out to BIRDS AS ART and sent via US mail only to Arthur Morris. PO Box 7245. Your balance, due 60 days before the date of departure, is payable only by check as above.
In Closing
I have been going to Homer off and on for close to two decades. Every trip has been nothing short of fantastic. Many folks go in mid-March. The earlier you go, the better the chances for snow. The only way to assure that you are on the best of the two trips is to sign up for both. If you have any questions or are good to go for one or for both trips, please get in touch via e-mail or give me a call on my cell phone at 863-221-2372.
Typos
With all blog posts, feel free to e-mail or to leave a comment regarding any typos or errors.