Your Favorite?
Which is your favorite image from the composite below. Please leave a comment and let s know why you made your choice.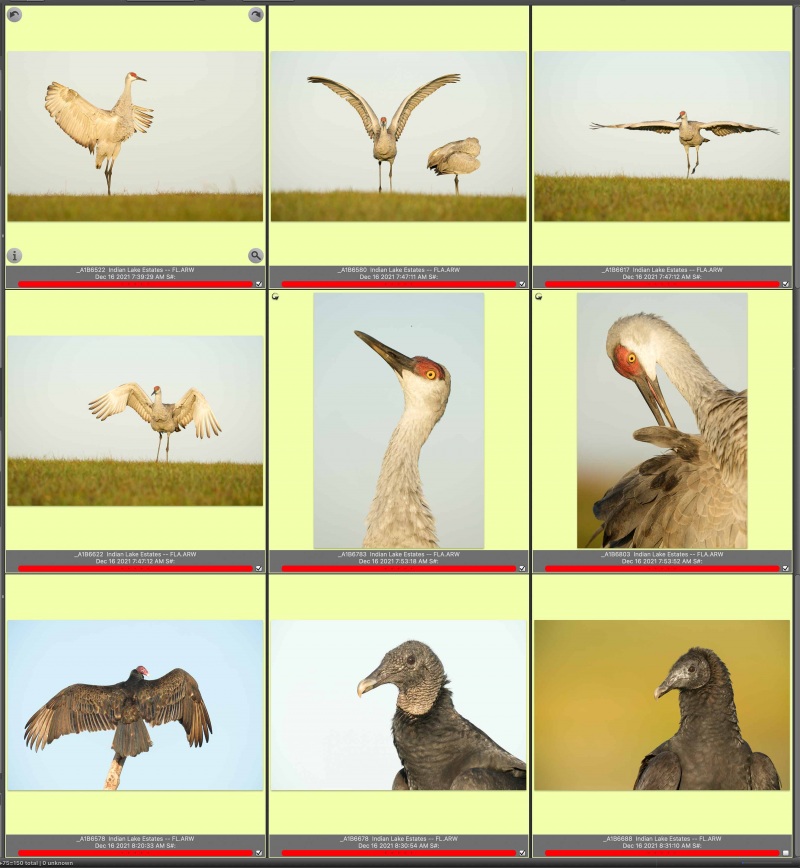 My nine favorites from a great morning at ILE: 16 December 2021.
This Just In!
Your Pick In-the-Field Sessions
I had a great morning down by the lake. I created 876 images by 9:00am and kept 75. The nine images above are my very favorites. During this great session, I came up with a plan for Your Pick In-the-Field Sessions. The beauty of the plans below are that I am free most days from now till mid-January. We can schedule sessions to coincide with the perfect weather forecast. They are ideal for central Florida locals or folks visiting the region for whatever reason. The Friday morning weather is looking dead-solid perfect for both ILE and Lakeland and Saturday is looking good as well. Interested? Get in touch via e-mail or better yet, try my cell at 863-221-2372. Please leave a message and shoot me a text if I do not pick up. Inquire for couples and group rates.
Indian Lake Estates In-the-Field Sessions
Two hours of intensive instruction: $300.00. Add a working brunch with image review: $100.00. Sunset shoot: $100.00. Guest room lodging available. Mix and match.
Sunny mornings with east winds are best. Likely subjects include Sandhill Crane, Black and Turkey Vultures, Crested Caracara, Limpkin, Great Egret, Great Blue Heron, and more.
Lakeland or Circle B Bar Preserve
Two hours of intensive instruction: $325.00. Add a working brunch with image review: $100.00. Guest room lodging available. Mix and match.
Sunny mornings with east winds are best at Lakeland. Likely subjects include point-blank American White Pelican, Anhinga, Limpkin, Common Moorhen, White Ibis, a variety of wintering ducks including Ring-necked and Wood Ducks, and more.
Cloudy mornings or afternoons (shooting session only) are best at Circle B Bar Preserve. Likely subjects include Great Blue Heron, Great Egret, Little Blue Heron, Snowy Egret, Tricolored Heron, White Ibis, Common Moorhen, Osprey, Red-shouldered Hawk, American Alligator, Wild Boar, and more.
What's Up?
Wednesday morning dawned clear and sunny. I spent some time with a pair of Sandhill Cranes and with a Great Blue Heron and some Mottled Ducks in the marsh. Then the clouds came. Right before I got into the pool for my swim, it poured for five minutes. By the time I was finished, the sun was out. I had hopes for some nice sunset color. I peeked at the western sky and things were looking good, but when I got down to the lake, the sun dropped behind a single large cloud on the western horizon. I made a few high-ISO images of the same pair of cranes and a pair of Crested Caracaras. I stayed till a good ten minutes after the time of sunset hoping to create some blurs of the large flocks of Icterids that had been present the night before at dusk. Aside from a very few small groups of grackles and blackbirds, nothing decent materialized. Tomorrow is another day.
Today is Thursday 16 December 2021. Again, the forecast is for sunny early, followed by clouds, all with a northeast breeze. That sounds good to me. Wherever you are, and whatever you are doing, I hope that you too have a great day. This blog post took almost three hours to prepare and makes 37 consecutive days with a new one.
Please remember that you can find some great photo accessories (and necessities, like surf booties!) on Amazon by clicking on the Stuff tab on the orange/yellow menu bar above. On a related note, it would be extremely helpful if blog-folks who, like me, spend too much money on Amazon, would get in the habit of clicking on the Amazon logo link on the right side of each blog post when they shop online. As you might expect, doing so will not cost you a single penny, but would be appreciated tremendously by yours truly. And doing so works seamlessly with your Amazon Prime account.
Please remember that if an item — a Delkin flash card, or a tripod head — for example, that is available from B&H and/or Bedfords, is also available in the BAA Online Store, it would be great, and greatly appreciated, if you would opt to purchase from us. We will match any price. Please remember also to use my B&H affiliate links or to save 3% at Bedfords by using the BIRDSASART discount code at checkout for your major gear purchases. Doing either often earns you free guides and/or discounts. And always earns my great appreciation.
Brand New and As-Good-As-Ever Bedfords BAA Discount Policy
Folks who have fallen in love with Bedfords can now use the BIRDSASART coupon code at checkout to enjoy a post-purchase, 3% off-statement credit (excluding taxes and shipping charges) on orders paid with a credit card. The 3% credit will be refunded to the card you used for your purchase. Be sure, also, to check the box for free shipping to enjoy free Second Day Air Fed-Ex. This offer does not apply to purchases of Classes, Gift Cards, or to any prior purchases.

Money Saving Reminder
Many have learned that if you need a hot photo item that is out of stock at B&H and would like to enjoy getting 3% back on your credit card along with free 2nd Day Air Fed-Ex Air shipping, your best bet is to click here, place an order with Bedfords, and enter the coupon code BIRDSASART at checkout. If an item is out of stock, contact Steve Elkins via e-mail or on his cell phone at (479) 381-2592 (Central time). Be sure to mention the BIRDSASART coupon code and check the box for Free Shipping. That will automatically upgrade to free 2nd Day Air Fed-Ex. Steve has been great at getting folks the hot items that are out of stock at B&H and everywhere else. The wait lists at the big stores can be a year or longer for the hard to get items. Steve will surely get you your gear long before that. For the past year, he has been helping BAA Blog folks get their hands on items like the SONY a 1, the SONY 200-600 G OSS lens, the Canon EOS R5, the Canon RF 100-500mm lens, and the Nikon 500mm PF. Steve is personable, helpful, and eager-to-please.
Important Note
As an Amazon Associate, I earn a small percentage when you purchase from Amazon after using any of the Amazon links on the blog (including the logo-link immediately above). My link works with Amazon Prime and using it will not cost you a single cent. Huge thanks, BTW 🙂
Please Remember Also
Please, if you enjoy and learn from the blog, remember to use one of my two affiliate programs when purchasing new gear. Doing so just might make it possible for me to avoid having to try to get a job as a Walmart greeter and will not cost you a single penny more. And if you use Bedfords and remember to enter the BIRDSASART code at checkout, you will (still!) save 3% on every order and enjoy free second-day air shipping. In these crazy times — I lost about fifty thousand dollars in income due to COVID 19 — remembering to use my B&H link or to shop at Bedfords will help me out a ton and be greatly appreciated. Overseas folks who cannot order from the US because of import fees, duties, and taxes, are invited to help out by clicking here to leave a blog thank you gift if they see fit.
Gear Questions and Advice
Too many folks attending BAA IPTs and dozens of photographers whom I see in the field and on BPN, are–out of ignorance–using the wrong gear, especially when it comes to tripods and more especially, tripod heads… Please know that I am always glad to answer your gear questions via e-mail. If you are desperate, you can try me on my cell at 863-221-2372. Please leave a message and shoot me a text if I do not pick up.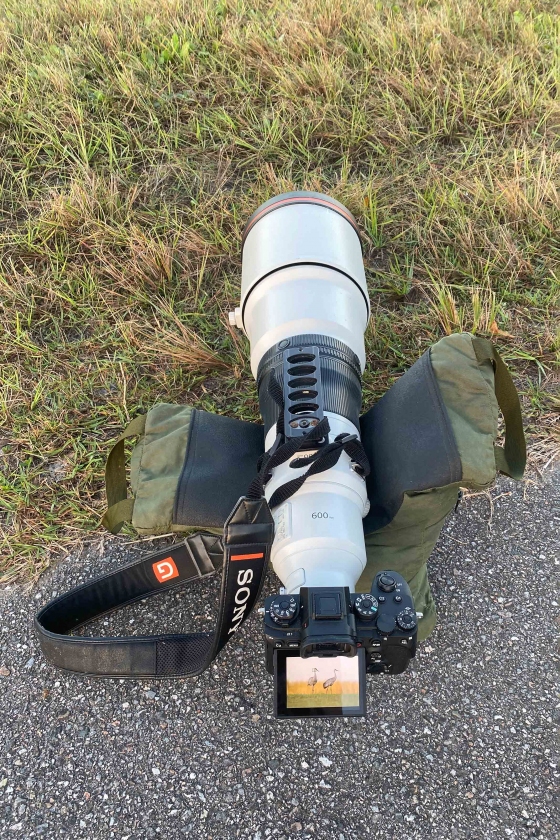 Image #1: My rig at ground level supported by an upside-down BLUBB
Your browser does not support iFrame.
Upside-Down BLUBB for Ground Level Photography
One of the many photo-blessings that comes with living at Indian Lake Estates is that I can often work close to my vehicle. On my sunset outings, I set up my ladder and tall tripod just yards from my SUV. When I saw a pair of cranes standing on the North Field, it looked like a decent opportunity. I drove to Palmetto Drive and parked. Then another new idea popped into my head. Rather than using the challenging ankle-pod technique or taking the time to set up the flattened tripod, I plopped the BLUBB on the ground and flipped it upside down. I placed the big lens on the "wrong" side of the BLUBB as it afforded a very low perspective. My rig balanced nicely.
I sat on the pavement, flipped up the rear screen, activated the electronic level, set 1/500 sec. at f/4, and dialed down the ISO until there were Zebras on most, but not all, of the sky — that to ensure not under-exposing the birds. I made only a very few images before the cranes began walking towards the road, and towards me. This, the first one, was the best of the lot.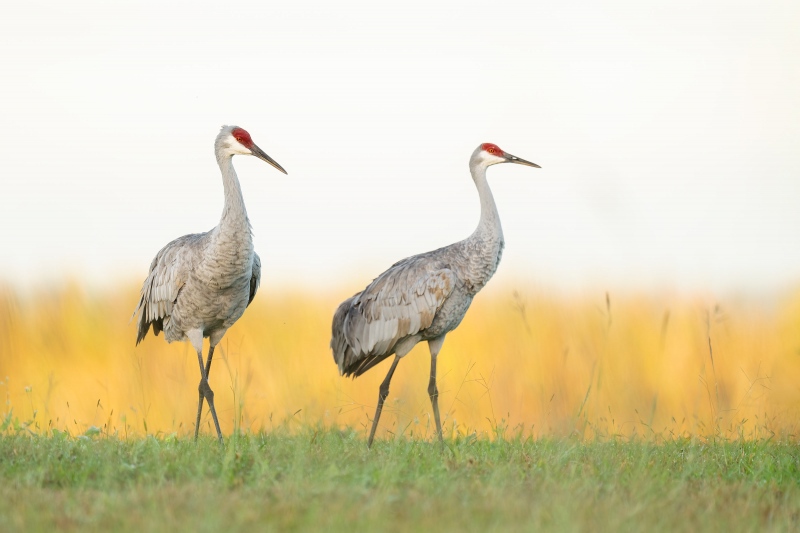 This image was created on 15 December 2021 down by the lake near my home in Indian Lake Estates. Working at ground level off the tilted rear screen the a1 with my rig supported by an upside-down BLUBB, I used the Sony FE 600mm f/4 GM OSS lens and The One, the Sony Alpha 1 Mirrorless Digital Camera.. The exposure was determined via Zebras with ISO on the wheel; rear dial. ISO 800: 1/500 sec. at f/4 (wide open) in Manual mode. AWB at 7:29:30am on a sunny morning.
Tracking: Spot S AF/C with Bird-Eye/Face Detection performed perfectly. Click on the image to enjoy a high-res version.
Image #2: Sandhill Crane pair on the North Field

Your browser does not support iFrame.
Subject in Shade, Background in Sun!
It is a rare combination, but when you find it, the results can be quite lovely, especially if there are some yellow grasses in the background. The trick, as noted above, is to be sure to expose for the subject(s), rather than for the background. Here, as often happens, the yellow grasses, lit by the still low-in-the-sky sun, seem to glow. The birds were still in the shadow of the houses behind me. Bingo!
Typos
With all blog posts, feel free to e-mail or to leave a comment regarding any typos or errors.