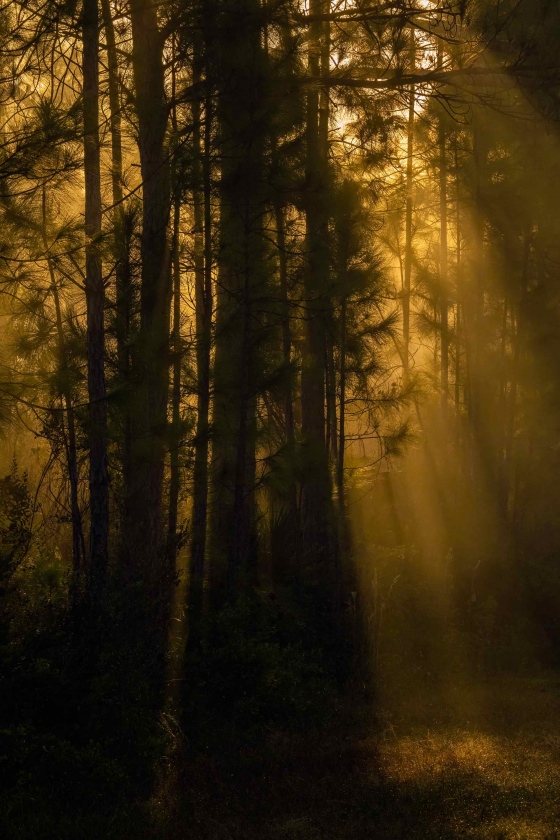 This image was created on 3 November 2021 at Indian Lake Estates. Talk about being lazy? This image was created from the driver's seat of my SUV. Talk about versatility? I used the hand held Sony FE 200-600mm f/5.6-6.3 G OSS lens (at 248mm), and The One, the Sony Alpha 1 Mirrorless digital camera. ) ISO 2500. Exposure determined via Zebras with ISO on the rear dial: 1/800 sec. at f/16 (stopped down 2 2/3 stops) in Manual mode. AWB at 7:49:10am on a soon-to-be sunny morning.
Click on the image to enjoy a high-res version.
To the Dawn of a New Year
Your browser does not support iFrame.
Happy New Year
Today is 1 January 2022. My right-hand man, Jim Litzenberg, my older daughter and BAA Executive Director & accountant, Jennifer Morris, and I wish you nothing but the best in the coming year. May all of you and your families enjoy good health and prosperity.
I am hoping that our country gets back on track in the coming year. If you think that everything is just dandy, you might want to stop and ask yourself: just exactly where are we with all the restrictions, mandates, shutdowns, vaccinations, joblessness, bankruptcies, foreclosures, and increasing rates of depression and suicide?
While I strive to keep the blog free of COVID-related and political topics, I am making an exception today. Why? I feel that I some point, someone has to speak up. I truly wish all of us the best …
What's Up?
Jim and I enjoyed another 2 1/2 mile walk at Circle B Bar Reserve in Lakeland on a cool, very cloudy morning. I continue to work on small-in-the-frame mostly Great Blue Heron bird-scapes with the tripod-mounted Sony 70-200 II and the a1. Yesterday, I made one at 70mm! At some point, I will share the best of those with you here. Sunset color was great again last night. Working from the pier has been challenging with very few keepers, but almost every night I have come up with one spectacular image. Last night it was a late Great Blue Heron that flew by right through the brightest color.
The forecast for this morning is for mostly to partly cloudy with a gentle breeze from the south. I will be heading down to the lake soon. Wherever you are, and whatever you are doing, I hope that you too have a great day. This blog post took about an hour to prepare and makes 51 consecutive days with a new one.
New Laws Proposed in New York State
If you think that the video above is completely bogus, below is a section of the proposed bill, A416, cut and pasted from the New York State Senate website here.
2. UPON DETERMINING BY CLEAR AND CONVINCING EVIDENCE THAT THE HEALTH OF OTHERS IS OR MAY BE ENDANGERED BY A CASE, CONTACT OR CARRIER, OR SUSPECTED CASE, CONTACT OR CARRIER OF A CONTAGIOUS DISEASE THAT, IN THE OPINION OF THE GOVERNOR, AFTER CONSULTATION WITH THE COMMISSIONER, MAY POSE AN IMMINENT AND SIGNIFICANT THREAT TO THE PUBLIC HEALTH RESULTING IN SEVERE MORBIDITY OR HIGH MORTALITY, THE GOVERNOR OR HIS OR HER DELEGEE, INCLUDING, BUT NOT LIMITED TO THE COMMISSIONER OR THE HEADS OF LOCAL HEALTH DEPARTMENTS, MAY ORDER THE REMOVAL AND/OR DETENTION OF SUCH A PERSON OR OF A GROUP OF SUCH PERSONS BY ISSUING A SINGLE ORDER, IDENTIFYING SUCH PERSONS EITHER BY NAME OR BY A REASONABLY SPECIFIC DESCRIPTION OF THE INDIVIDUALS OR GROUP BEING DETAINED. SUCH PERSON OR GROUP OF PERSONS SHALL BE DETAINED IN A MEDICAL FACILITY OR OTHER APPROPRIATE FACILITY OR PREMISES DESIGNATED BY THE GOVERNOR OR HIS OR HER DELEGEE AND COMPLYING WITH SUBDIVISION FIVE OF THIS SECTION.
(Bold italics mine.)
All civil comments are welcome.
Typos
With all blog posts, feel free to e-mail or to leave a comment regarding any typos or errors.