What's Up?
It was chilly and beyond breezy on Thursday morning. Despite the 20mph NW wind, I had fun and made a few good images. Many dozens of Great Egrets were flying from south to north past the pier, so I took a walk with the handheld 600 f/4, the 1.4X TC, and an a1. I must say, I am getting much better at handheld flight photography with the big lens. The more that I practice, the easier it becomes. Go figure …
I will be listing a Canon 500mm f/4L IS II lens on the Used Gear Page soon. If you are seriously interested, please contact me by e-mail.
Today is Friday 13 May 2022. Uh-oh! The morning forecast is for partly sunny to partly cloudy with a gentle NE breeze. It will be down to the lake for me. Wherever you are and whatever you are doing, I hope that you too have a great day. This blog post took about an hour to prepare and makes sixty-three days in a row with a new one.
Please remember to use the B&H and Amazon links that are found on most blog pages and to use the BIRDSASART discount code at checkout when purchasing your new gear from Bedfords. Please, also, consider joining a BAA IPT. You will be amazed at how much you will learn!
Last Two Gatorland In-the-Field Sessions
Saturday 14 May & Saturday 21 May 2022. 7:00 to 9:00am: $200.00/person
Two hours of intensive instruction. Cheap! You need to have a season photo pass or purchase one for that date to enter. If you are interested, please contact me ASAP via e-mail.
2022 Gatorland Photographer's Pass Program
Though the 2022 Gatorland Photographer's Pass Program (GPPP) is much improved from last year's program, it falls well short of the great program that was in effect BC (Before Covid). I am hoping that the program will be restored to its former greatness next year. This year's program included ten scheduled days. There are two remaining. With a pass, you can get into the park at 7:00 am instead of the normal 10:00 am entry time.
You can make reservations here on the Gatorland website, or by calling 407-855-5496 ext. 226 during business hours with your credit card in hand. There is no late stay option this year. The price is $25.00 + tax per visit and includes early entry at 7:00 AM at the SOUTH ENTRANCE. All tickets are date specific and non-transferable. You will not be able to leave until 10:00am when Gatorland opens.
Choose from the remaining 2022 dates:
May 14, 2022
May 21, 2022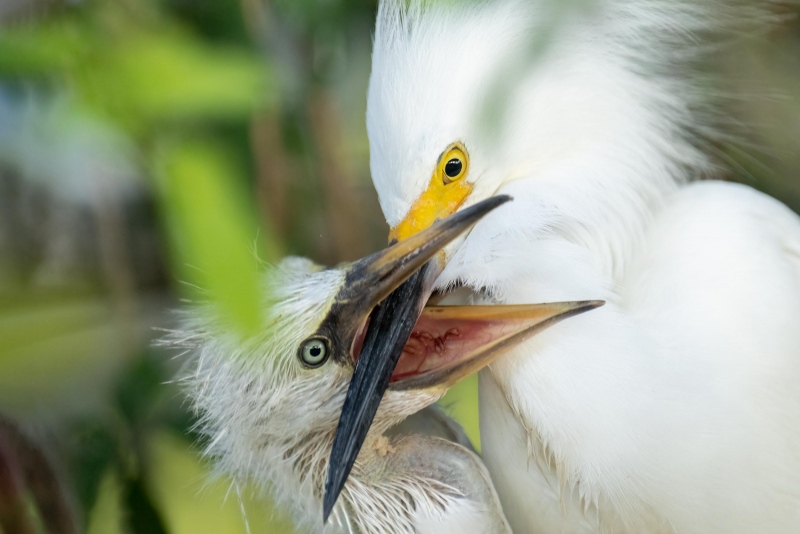 This image was created on 8 May 2022 at Gatorland in Kissimmee, FL. I used the hand held Sony FE 70-200mm f/2.8 GM OSS II lens with the Sony FE 2x Teleconverter (at 400mm) and The One, the Sony Alpha 1 Mirrorless Digital Camera.. The exposure was determined via Zebras with ISO on the thumb dial. ISO 5000: 1/1000 sec. at f/5.6 (wide open) in Manual mode. AWB at 8:22:45am in the shade on a sunny morning.
Tracking: Spot/S with Bird-Eye/Face Detection performed perfectly. Click on the image to enjoy a high-res version.
Image #1: Snowy Egret feeding chick

Your browser does not support iFrame.
Shooting Through and Around the Greenery
Take a close look at the heads of the two birds and you will see that each is partially blocked by out-of-focus vegetation. None-the-less, both eyes are in the clear. And we have a good look at the action. Crouching down, I could not get any lower as my left forearm rested on the boardwalk railing. Had I moved either left or right, the obstructions would have been fatal. Many of the images in the feeding sequence were ruined because vegetation blocked the eyes.
Learn more at the Finding the Clear Slot blog post here.
Why 1/1000 Second
Why did I choose such a high shutter speed?
Once I was at 1/1000 second, I simply dialed up the ISO until Zebras appeared on the brightest whites of the adult. Topaz DeNoise — see below, is so good that I do not concern myself with high ISO noise.
Topaz DeNoise
Be sure to let the animated GIF play to see how effective DeNoise AI and Sharpen AI was on today's featured image. I remember how thrilled we were when we learned that we could push Fuji Velvia (film) one stop to ISO 100!
As regular readers know, I run DeNoise on virtually every image that I process as the very first step in my Photoshop workflow. For images made in sunny conditions, I used Standard. For images made in low light, I use Low Light. You can check all four methods by using the Comparison View, but I rarely do that anymore as I am confident as noted above. After that was done, I selected the eyes and eyeskins of the two birds, put them on a layer, and applied Sharpen AI with both AUTO buttons activated. Then I reduced the Opacity of that layer to 80%. The results as you can see above were totally amazing.
Great Topaz News!
Folks who use the BAA Topaz link to purchase Sharpen AI, DeNoise AI, or the Utility Bundle (or any other Topaz plug-ins), will receive a 15% discount by entering the ARTHUR15 code at checkout. If the stuff is on sale (as it usually is), you save 15% off the sale price! To get the discount you must use my link and you must enter the discount code. Be sure to start with this link.
Those who purchase Sharpen AI, DeNoise AI, or any other Topaz plug-ins using my link and then entering the ARTHUR15 code at checkout can e-mail to request a short Getting Started with Topaz e-Guide. Please include a copy of your Topaz receipt that shows the discount. Aside from the basics, the guide explains how to install the plug-ins so that they appear in the Photoshop Filter Menu.
Typos
With all blog posts, feel free to e-mail or to leave a comment regarding any typos or errors.