What's Up?
Monday morning under hazy skies was pretty much of a same-old same-old day. I photographed the small crane colt family, the large crane colts family, my first-ever ILE Mallard, and the Black-bellied Whistling Ducks in the lake just south of the pier. Today is Tuesday 24 May 2022 and the forecast again is for partly cloudy with a SE breeze and a hazy sun. I just may take my new Sony 400mm f/2.8 GM lens out of the shipping box and out of the lens trunk and put it in the back of my SUV where I can grab it for hand holding … Wherever you are and whatever you are doing, I hope that you too have a great day. This blog post took more than two hours to prepare (including the time spent on the creating the video) and makes seventy-four days in a row with a new one.
Be sure to click on the words "Watch on YouTube (in white letters) in the lower left corner of the screen to view the video larger. As a late-registration enticement for the three Jacksonville IPTs, I will include the ride with me for free for the first two folks to sign up for each workshop. Please get in touch via e-mail with any questions.
Please remember to use the B&H and Amazon links that are found on most blog pages and to use the BIRDSASART discount code at checkout when purchasing your new gear from Bedfords. Please, also, consider joining a BAA IPT. You will be amazed at how much you will learn!
BIRDS AS ART Image Optimization Service (BAA IOS)
Send a PayPal for $62.00 to birdsasart@verizon.net or call Jim at 863-692-0906 and put $62.00 on your credit card. Pick one of your best images and upload the raw file using a large file sending service like Hightail or DropBox and then send me the link via e-mail. I will download and save your raw file, evaluate the exposure and sharpness, and optimize the image as if it were my own after converting the raw file in Adobe Camera Raw. Best of all, I will make a screen recording of the entire process and send you a link to the video to download, save and study.
Flight Photography at Jacksonville Till You Can't Lift Your Lens!
Join me on the beach at Huguenot Memorial Park to learn about photographing terns in flight. 8,000 pairs of Royal Terns nest there and there are birds in the air all the time, often carrying all kinds of fish and crabs for their young. Learn about how the relationship between the wind and the sun impacts flight photography and about the best gear for shooting birds in flight. Note that all the images in the video were created with the Sony a1 (and a variety of lenses). Join me on a workshop at Jacksonville this summer. See the details below.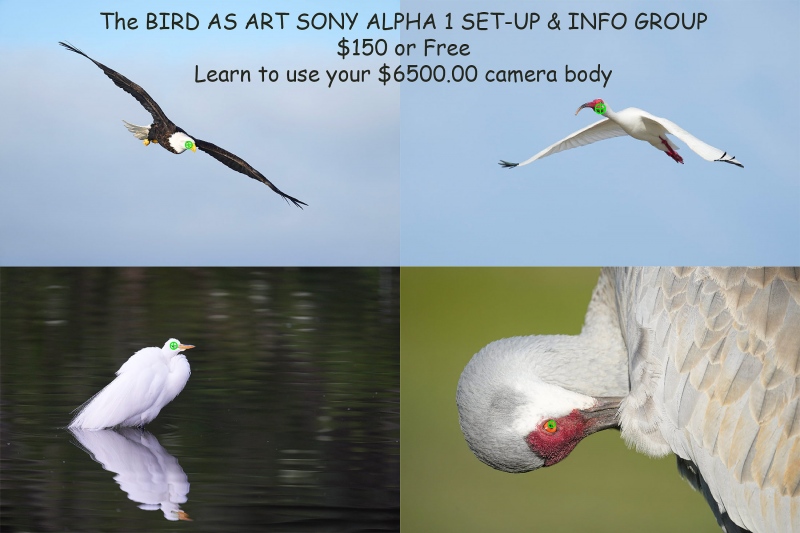 Click on the image to better see the green eye-AF boxes in action.
Sony Alpha 1 Flight Photography AF Points!
The SONY Alpha a1 Set-up Guide and Info Group: $150.00 (or Free)
The SONY Alpha a1 Set-up Guide and Info Group is going great guns as more and more folks chime in with thoughtful questions and experience-based answers. As the a1 is becoming more readily available, more and more folks are getting their hands on this amazing body. By early April, the group was up to an astounding 115 lucky and blessed folks. Early on, we discussed the myriad AF options. I gave my opinion as to the best one for flight and general bird photography. The best news is that everyone in the group receives an e-mail that includes a .DAT file with my a1 settings on it, and explicit directions on how to load my settings onto your a1; talk about convenience! I am now offering a .DAT file compatible with firmware update 1.20. Your entry into the group includes a consolidated Sony a1 CAMSETA2 INFO & GUIDE. New a1 folks will now receive four e-mails instead of the previous 28! You will see new e-mails as they are published. Simply put, this e-mail guide is an incredible resource for anyone with an a1.
All who purchased their Alpha 1 bodies via a BAA affiliate link — B&H or Bedfords — will receive a free Sony Alpha a1 Set-Up Guide and free entry into the Info Updates group after shooting me their receipts via e-mail. (Note: it may take me several days to confirm B&H orders.). Others can purchase their guide here in the BAA Online Store.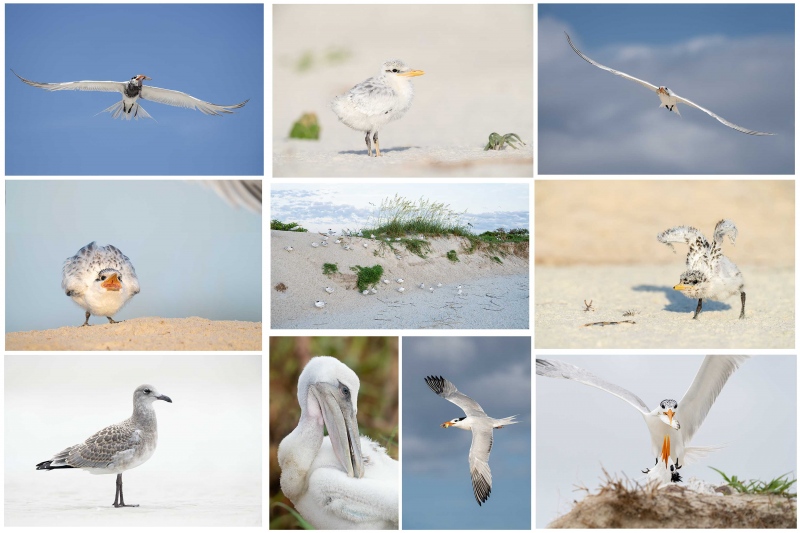 Click on the composite image to enjoy the incredible quality of the hi-res JPEG.
Clockwise from upper left clockwise and back around to the center: Royal Tern in flight with squid for chick; Royal Tern chick on beach; Royal Tern in flight with shrimp for young; Royal Tern chick — double overhead wing stretch; Royal Tern landing with greenback for chick; Royal Tern in flight with juvenile mahi mahi for chick; Brown Pelican — large chick preening; Laughing Gull in fresh juvenal plumage; Royal Tern chick begging; Many Royal Terns with many chicks on face of dune.
Jacksonville IPT: #1: 4 FULL DAYS — the afternoon of 16 June thru the morning of MON 20 June 2022: $2,099.00. (Limit 6 photographers)

Jacksonville IPT #2: 4 FULL DAYS — the afternoon of FRI 1 JULY thru the morning of TUES 5 July 2022: $2099.00 (Limit 6 photographers)

Jacksonville IPT #3: 4 FULL DAYS — the afternoon of FRI 15 JULY thru the morning of TUES 19 July 2022: $2099.00 (Limit 6 photographers/Openings: 5)

Ride with me: add $200.00. I do not like to disappoint: each trip will run with one participant. If necessary.
I first visited the breeding bird colony at Jacksonville in late June 2021. I was astounded. There were many thousands of pairs of Royal Terns nesting along with about 10,000 pairs of Laughing Gulls. In addition to the royals, there were some Sandwich Terns nesting. And there are several dozen pairs of Brown Pelicans nesting on the ground. Flight photography was non-stop astounding. And photographing the tern chicks was relatively easy. Folks could do the whole trip with the Sony 200-600, the Canon 100-500 RF, or the Nikon 500 PF or 200-500 VR. With a TC in your pocket for use on sunny days. Most of the action is within 100 yards of where we park (on the beach). As with all bird photography, there are times when a super-telephoto lens with either TC is the best tool for the job.
Morning sessions will average about three hours, afternoon sessions about 1 1/2 hours. On cloudy mornings with favorable winds, we may opt to stay out for one long session and skip the afternoon, especially when the afternoon forecast is poor. Lunch is included on the first three days of the IPT and will be served at my AirBnB. After the first lunch there will be an introductory program. On days two and three we will do image review and Photoshop after lunch.
We will be based somewhere west and a bit north of Jacksonville where there are many AirBnB possibilities. The deposit is $599.00. Call Jim at the office any weekday at 863-692-0906 to pay by credit card. Balances must be paid by check.
What You Will Learn on a Jacksonville IPT
1- First and foremast you will learn to become a better flight photographer. Much better.
2-You will learn the basics and fine points of digital exposure. Nikon and Canon folks will learn to get the right exposure every time after making a single test exposure, and SONY folks will learn to use Zebras so that they can be sure of making excellent exposures before pressing the shutter button.
3- You will learn to work in Manual exposure mode even if you fear it.
4- You will learn to evaluate wind and sky conditions and understand how they affect bird photography, especially the photography of birds in flight.
5- You will learn several pro secrets (for each system) that will help you to become a better flight photographer.
6- You will learn to zoom out in advance (because the birds are so close!) 🙂
7- You will learn how to approach free and wild birds without disturbing them.
8- You will learn to spot the good and the great situations.
9- You will learn to understand and predict bird behavior.
10- You will learn to design pleasing images by mastering your camera's AF system.
11- You will learn to choose the best perspective.
12- You will learn to see and control your backgrounds.
13- You will learn to see and understand the light.
14- You will learn to see and create pleasing blurs in pre-dawn situations.
15- You will learn to be ready for the most likely event.
And the best news is that you will be able to take everything you learn home with you so that you will be a better photographer wherever you are and whenever you photograph.
Typos
With all blog posts, feel free to e-mail or to leave a comment regarding any typos or errors.