World War II and Me
I recently realized that there were big holes in my understanding of World War II. At the suggestion of a friend, I enrolled in a free online course at Hillsdale College. "The Second World Wars," is taught by Victor Davis Hanson and Larry P. Arnn. It helped me understand this massive and complex conflict in new ways. You can learn more or enroll here. After watching the seven videos, and wanting to go deeper, I purchased a copy of The Story of World War II: Revised, expanded, and updated from the original text by Henry Steele Commager, by Donald L. Miller & Henry Steele Commager.
It was fantastic, packed with quotes from the men and women who were there. The sheer horror and fear and pain and suffering experienced and conveyed is so real that you could feel it. As my Dad, PFC Robert Edward Morris, had his right arm shot off in Okinawa, the book brought his experience to life for me through the words of others. You can learn more about my Dad's amazing life in the 2019 veteran's Day blog post here. And you can meet my mom as well.
In The Story of World War II, Commager and Miller told the stories of several war photographers and artists. They mentioned one specific painting. I sought it out.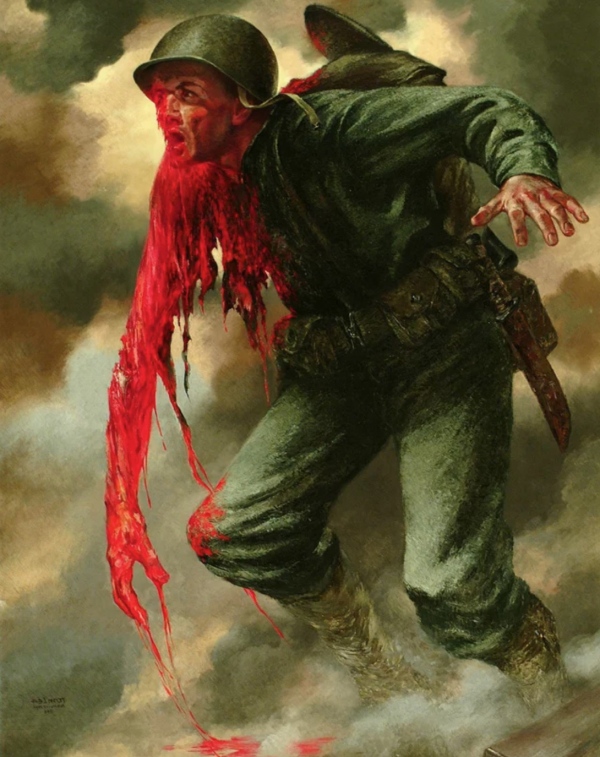 Note: I flopped this painting from the original to honor my Dad, who lost his right arm in WW II.
"The Price" by Tom Lea
The Price
That painting was "The Price," by Life Magazine WW II artist Tom Lea. My search brought me to the blog of Mark Vallen, Art for a Change. There, I found his Tom Lea & the Art of War post. I read it with great interest and followed many of the links. There you can see the field sketch that Lea based the painting on (when he got home). And there I found a link to the PBS gallery of artworks created by combat artists of World War II, They Drew Fire.
In Vallen's post, he quotes Tom Lea:
"I fell flat on my face just as I heard the whishhh of a mortar. I knew was too close. A red flash stabbed at my eyeballs. About fifteen yards away, on the upper edge of the beach, it smashed down four men from our boat. One figure seemed to fly to pieces. With terrible clarity I saw the head and one leg sail into the air.
I got up … ran a few steps, and fell into a small hole as another mortar burst threw dirt on me. Lying there in terror looking longingly up the slope for better cover, I saw a wounded man near me, staggering in the direction of the LVTs (Landing Vehicle – Tracked). His face was half bloody pulp and the mangled shreds of what was left of an arm hung down like a stick, as he bent over in his stumbling, shock-crazy walk. The half of his face that was still human had the most terrifying look of abject patience I have ever seen. He fell behind me, in a red puddle on the white sand.
It was established later that the invasion of Peleliu as a stepping stone to the invasion of the Philippines had not been necessary – Gen. MacArthur had already bypassed the Palaus and landed at Leyte in the Philippines."
If the word Peleliu does not ring any bells for you, you might wish to learn more about it. Learn more about Peleliu and Tome Lea's experience there in the History.Net article, "Fire for Effect: The Price," here. These two short quotes are from the piece.
On Peleliu, Lea closed that range with all the finality of a prison gate slamming shut. He felt the fear, heard the screams, and saw the different ways combat can shatter a man: physically by fire, or emotionally by the inhuman stress of the fight. Lea was pretty modest about his role. "My work [on Peleliu] consisted of trying to keep from getting killed," he later wrote. His short stay on the island changed him, however, and resulted in two of the war's most harrowing images.
Peleliu was the place where Tom Lea, artist, gazed into the face of war. Peleliu was where he learned the truth, and where he showed America the price its sons were paying every day.
Both Lea's painting and The Story of World War II were brutally sobering. I have lots more books to read.
Typos
With all blog posts, feel free to e-mail or to leave a comment regarding any typos or errors.