The One Big Secret to Making Great Bird Photographs
With Arthur Morris/BIRDS AS ART — Free NANPA Webinar
Yes, boys and girls. There really is just one big secret. It will be revealed at the very end of the webinar. Join me on July 13 from 4:00 to 5:00 pm EDT to learn a ton. Click here to register. This program is free and open to all. Covered topics will include seeing the shot, finding the best perspective, getting close to free and wild birds, the importance of wind direction in bird photography, understanding the direction and qualities of natural light, flight photography tips, getting the right exposure, image composition and design, and lots more.
This Just In
If you are interested in the first DeSoto IPT, 3 1/2 Days, now Tuesday 27 September through the morning session on Friday 30 September 2022, I just reserved a three bedroom AirBnB in Gulfport. Share it for four nights with many multiple IPT veteran Monte Brown and me and save a ton on lodging: $83.69/night/person for a whole home. Photos available upon request.
What's Up?
Conditions were perfect on Friday morning, but the pier was totally dead so I took a ride on the South Peninsula. I zigged when I should have zagged on a preening Sandhill Crane. Working down by the edge of a canal to be at eye-level with the bird, I went vertical with the 600 on the tripod with the 1.4X TC. Had I opted to go horizontal without the TC, I would have been famous when the bird flapped. The reality was that I clipped the wings in every vertical frame. Then I spent 45 minutes with a young Great Egret atop a big bush, a less than ideal perch. I made several hundred images as the bird preened half-heartedly. The best thing I got was a video.
Please note that I moved the first DeSoto IPT back one week to accommodate a friend. If you are interested in joining me, check out these two blog posts to see what you can do at DeSoto with "just" a Sony 200-600 and an a1:
Variety — the Spice of Bird Photography with the Sony 200-600 G Lens on the DeSoto IPT. Part I.
Variety — the Spice of Bird Photography with the Sony 200-600 G Lens on the DeSoto IPT. Part II.
And you can make similar great images with any gear. With the right guidance 🙂
Today is Saturday 9 July 2022. I'll be heading down to the lake early. I am very proud of this blog post as there is so much to learn. Wherever you are and whatever you are doing, I hope that you too have a great day. This blog post took about 90 minutes to prepare and makes one hundred eleven days in a row with a new one.
Please remember to use the B&H and Amazon links that are found on most blog pages and to use the BIRDSASART discount code at checkout when purchasing your new gear from Bedfords to get 3% back on your credit card and enjoy free second-day air FedEx. Please, also, consider joining a BAA IPT. You will be amazed at how much you will learn!
Unsolicited via e-mail from Pete Myers
I just spent 4 days in the field in a graduate course in bird photography taught by Artie Morris at Fort DeSoto. After almost 50 years of experience pointing cameras at birds from the Arctic to Tierra del Fuego, New Zealand and beyond, I thought I was good enough. But what I learned from Artie in just four days has taken me to a whole new level. As he aptly puts it, "birds as art," not simply bird photography. One of those 4 days was the most satisfying I'd ever experienced, anywhere. The IPT left me euphoric about what I'd learned, and frighteningly committed to recreating my portfolio with the techniques and insights he taught me.
JAX
If you would like to join me for the July 15-19 Jacksonville IPT, or for some In-the-Field sessions there on those dates, please get in touch via e-mail.
Instagram
Follow me on Instagram here. I am trying to feature both new and old images, especially images that have not appeared recently on the blog. Or search for birds_as_art.
BIRDS AS ART Image Optimization Service (BAA IOS)
Send a PayPal for $62.00 to birdsasart@verizon.net or call Jim at 863-692-0906 and put $62.00 on your credit card. Pick one of your best images and upload the raw file using a large file sending service like Hightail or DropBox and then send me the link via e-mail. I will download and save your raw file, evaluate the exposure and sharpness, and optimize the image as if it were my own after converting the raw file in Adobe Camera Raw. Best of all, I will make a screen recording of the entire process and send you a link to the video to download, save and study.
Induro GIT 304L Price Drop
Amazingly, we have two, brand-new-in-the-box Induro GIT 304L tripods in stock. They are $699.00 each (were $799.00) and the price now includes insured ground shipping to the lower 48 states. Weekday phone orders only: 863-692-0906.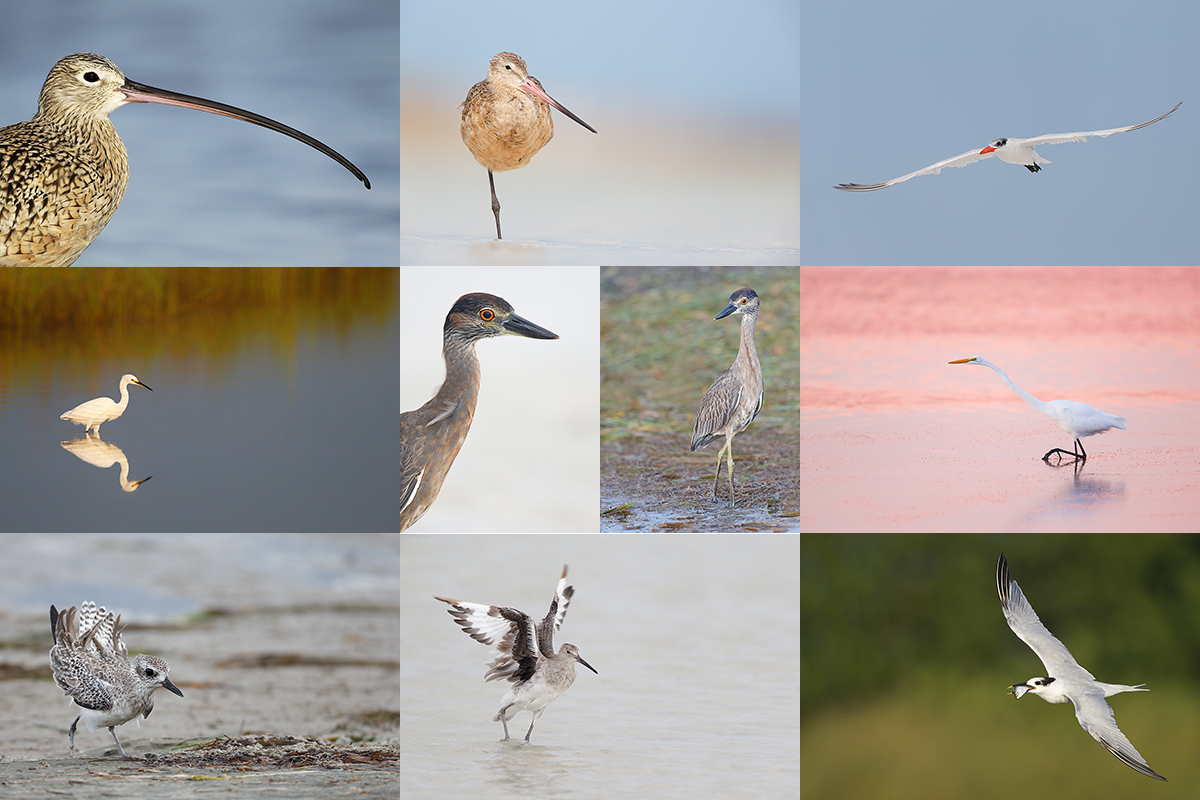 Fort DeSoto in fall is rife with tame birds. All the images on this card were created at Fort DeSoto in either late September or very early October. I hope that you can join me there this fall. Click on the composite to enjoy a larger version.
Clockwise from upper left to center: Long-billed Curlew, Marbled Godwit, Caspian Tern, Great Egret, Sandwich Tern with fish, Willet, Black-bellied Plover threat display, Snowy Egret, 2-year old Yellow-Crowned Night-Heron, juvenile Yellow-Crowned Night-Heron.
The Fall 2022 Fort DeSoto Instructional Photo-Tours
Fall 2022 Fort DeSoto Instructional Photo-Tour #1
3 1/2 Days: Tuesday 27 September through the morning session on Friday 30 September 2022. $1899.00 includes three working lunches. Limit six photographers/Openings five.
Fall 2022 Fort DeSoto Instructional Photo-Tour #2
3 1/2 Days: 7 October through the morning session on Monday 10 October 2022. $1899.00 includes three working lunches. Limit six photographers.
Fall 2022 Fort DeSoto Instructional Photo-Tour #3
3 1/2 Days: Monday 31 October through the morning session on Thursday 3 November 2022. $1899.00 includes three working lunches. Limit six photographers.
Fort DeSoto, located just south of St. Petersburg, FL, is a mecca for migrant shorebirds and terns in fall. There they join hundreds of egrets, herons, night-herons, and gulls that winter on the T-shaped peninsula. With any luck at all, we should get to photograph one of Florida's most desirable shorebird species: Marbled Godwit. Black-bellied Plover and Willet are easy, American Oystercatcher is pretty much guaranteed. Great Egret, Snowy Egret, Great Blue Heron, Tricolored Heron, and White Ibis are easy as well and we will almost surely come up with a tame Yellow-crowned Night-Heron or two. And we will get to do some Brown Pelican flight photography. In addition, Royal, Sandwich, Forster's, and Caspian Terns will likely provide us with some good flight opportunities as well. Though not guaranteed, Roseate Spoonbill and Wood Stork might well be expected. And we will be on the lookout for a migrant passerine fallout in the event of a thunderstorm or two.
On this IPT, all will learn the basics and fine points of digital exposure. Nikon and Canon folks will learn to get the right exposure every time after making a single test exposure, and SONY folks will learn to use Zebras so that they can be sure of making excellent exposures before pressing the shutter button. Everyone will learn how to approach free and wild birds without disturbing them, to understand and predict bird behavior, to identify many species of shorebirds, to spot the good situations, to choose the best perspective, to see and understand the light, and to design pleasing images by mastering your camera's AF system. Most importantly, you will surely learn to evaluate wind and sky conditions and understand how they affect bird photography. And you will learn how and why to work in Manual mode (even if you're scared of it). The best news is that you will be able to take everything you learn home with you so that you will be a better photographer wherever and whenever you photograph.
There will be a Photoshop/image review session during or after lunch (included) each full day. That will be followed by Instructor Nap Time.
These IPTs will run with only a single registrant (though that is not unlikely to happen). The best airport is Tampa (TPA). Once you register, you will receive an e-mail with Gulfport AirBnB information. If you register soon and would like to share an AirBnB with me, shoot me an e-mail. Other possibilities including taking a cab to and from the airport to our AirBnB and riding with me. This saves you both gas and the cost of a rental car.
A $600 deposit is due when you sign up and is payable by credit card. Balances must be paid by check two months before the trip. Your deposit is non-refundable unless the IPT sells out with six folks, so please check your plans carefully before committing. You can register by calling Jim or Jennifer during weekday business hours at 863-692-0906 with a credit card in hand, or by sending a check as follows: make the check out to: BIRDS AS ART and send it via US mail here: BIRDS AS ART, PO BOX 7245, Indian Lake Estates, FL 33855. You will receive a confirmation e-mail with detailed instructions, clothing, and gear advice. Please shoot me an e-mail if you plan to register or if you have any questions.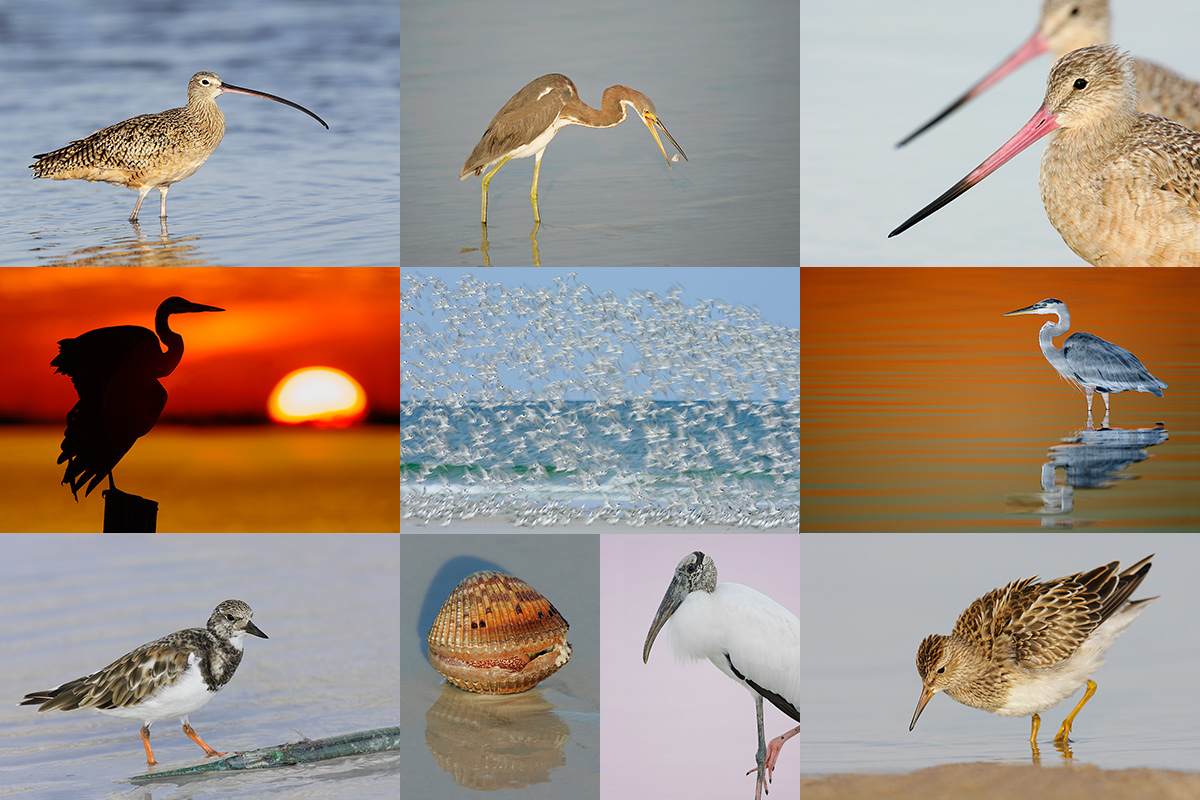 Clockwise from upper left to center: Long-billed Curlew, juvenile Tricolored Heron, Marbled Godwits, Great Blue Heron, juvenile Pectoral Sandpiper, Wood Stork, smiling Sea Scallop, Ruddy Turnstone scavenging needlefish, Great Blue Heron sunset silhouette at my secret spot, and southbound migrant tern flock blur.
Up Early, Stay Out Late!
Obviously, folks attending an IPT will be out in the field early and stay late to take advantage of the sweetest light and sunrise and sunset colors (when possible). The good news is that the days are relatively short in early fall. I really love it when I am leaving the beach on a sunny morning after a great session just as a carful or two of well-rested photographers are arriving. The length of cloudy morning sessions will often be extended. Click on the composite to enjoy a larger version.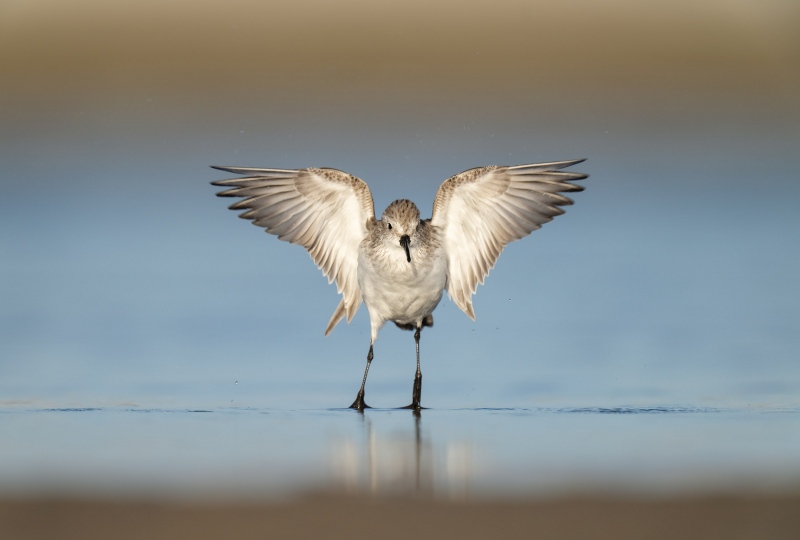 This image was created on 5 October 2021 on a Fort DeSoto IPT. Seated on damp sand and working off the tilted rear monitor, I used the Panning Ground Pod-supported Sony FE 600mm f/4 GM OSS lens with the Sony FE 1.4x Teleconverter, and The One, the Sony Alpha 1 Mirrorless Digital Camera.. ISO 640. The exposure was determined by Zebras with ISO on the rear wheel: 1/2500 second at f/5.6 (wide open) in Manual mode. RawDigger showed that the exposure was within 1/6 stop of being perfect. AWB at 8:25:36am on sunny morning with just a bit of haze.
Tracking: Zone/AF-C with Bird-Eye/Face Detection performed perfectly. Click on the image to enjoy the high-res version.
Image #1: Calidris sandpiper flapping after bath

Your browser does not support iFrame.
Flapping After Bathing
When you see a bird dipping its breast into shallow water, nine times out of ten it will flap when it finishes its bath. Sometimes it will drop back down into the water and bathe again. More often than not, it will fly to the nearest shoreline to preen. Yikes, I almost forgot a hugely important basic: the birds will almost always flapinto the wind. If they happen to be facing away when they bathe, ninety-nine times out of a hundred they will turn and flap into the wind.
The Lesson
The more you know about bird behavior, the better your bird photographs will be.
Anything Bug You?
The bird's underwings are evenly and beautifully lit, and the image is sharp. The layered o-o-f background is very sweet, and the bird is set against the blue water. What could have been slightly better with a bit of luck?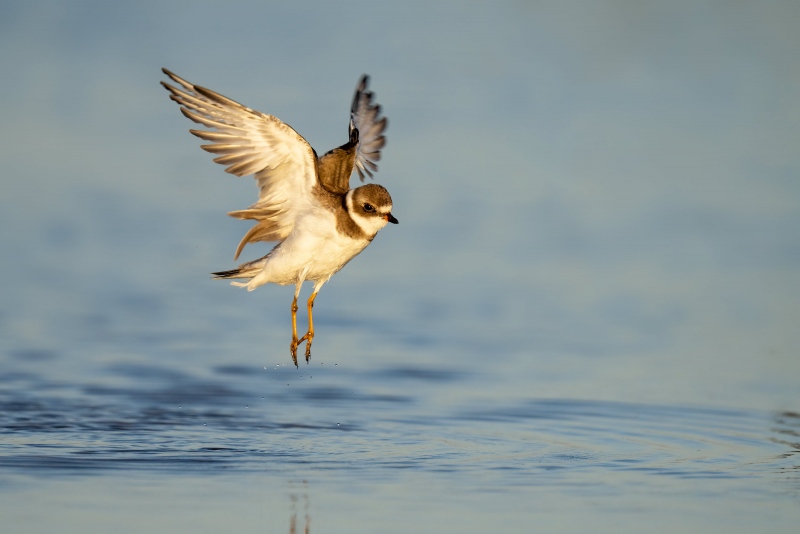 This image was created on 20 October 2021 on a DeSoto IPT. Using the knee-pod technique, I worked with the hand held Sony FE 200-600mm f/5.6-6.3 G OSS lens (at 600mm) and The One, the Sony Alpha 1 Mirrorless digital camera. ) The exposure was determined using Zebra technology with ISO on the Thumb Dial. ISO 1250. 1/3200 second at f/6.3 (wide-open) in Manual Mode. AWB at 7:59:34am on a clear morning. RawDigger showed that I could have gone one-half stop brighter.
Tracking: Zone/AF-C with Bird Face/Eye Detection performed perfectly. Be sure to click on the image to enjoy a high-res version.
Image #2: Semipalmated Plover flapping after bath
Your browser does not support iFrame.
Different Perspectives
Notice the different perspectives in today's two featured images. Using the Panning Ground Pod and working off the rear monitor provided a very low perspective with a layered background. Capturing the jump after the bath is a big challenge when working on a ground pod. It is a bit easier when using the ankle pod technique or when working on a Skimmer with a Levered-clamp FlexShooter Pro.
Using the knee-pod technique as I did for Image #2 makes it much easier to follow and frame the after-bath flap. And with the birds in a pool, you increase your chances of an all-water background.
Which perspective do you like best: super-low as in Image #1, or regular-low as in Image #2? Why?
The Lesson
Varying your perspective by using different techniques can yield a variety of very pleasing images.
Anything Phony?
Take a close look at the ripples in the lower right corner of the frame. If you had to bet your life on whether or not I added canvas, which way would you go?
Typos
With all blog posts, feel free to e-mail or to leave a comment regarding any typos or errors.