What's Up?
Tuesday was much like Monday had been. I took an early 2.4 miles rope flow walk, got some work done on my taxes, did some food shopping in town, napped, did my bursts, did the Mattes isolated active stretching routine for my shoulders, swam, and took a 1.7 mile walk down by the lake late in the day. I was glad to learn that the sale of Geri Georg's Canon 100-400II is pending and that multiple IPT veteran Micheal De Rosa and wife Norma will be joining me on DeSoto #3. As below, I am planning on using my Sony 400mm f/2.8 GM lens on the monopod every morning on the three DeSoto trips. That opens up the possibility of your renting my Sony 600mm lens on any of the DeSoto IPTs. Cheap, but on a you-drop-it, you-own-it-basis.
Today is Wednesday 7 September 2022. The schedule for today: finish this blog post, take an early rope flow walk, do some more serious work on my 2021 taxes, swim 1/2-mile, nap, do my bursts, watch some more tennis, and take another late walk. Wherever you are, and whatever you are doing, I hope that you too have a great day. This blog post took about three hours to prepare and makes one hundred sixty-six days in a row with a new one.
Please remember to use the B&H and Amazon links that are found on most blog pages and to use the BIRDSASART discount code at checkout when purchasing your new gear from Bedfords to get 3% back on your credit card and enjoy free second-day air FedEx. Please, also, consider joining a BAA IPT. You will be amazed at how much you will learn!
Canon 100-400mm EF f/4.5-5.6L IS II Zoom Lens (with extra)
BAA Record-low Price!
Sale possibly pending …
Galapagos IPT veteran (along with wife Sandy) Don Selesky is offering a Canon 100-400mm EF f/4.5-5.6L IS II zoom lens in excellent-plus condition (with an extra) for a BAA record-low $1248.00. There are some very minor scratches on the lens hood and the lens foot. The sale includes a Really Right Stuff L84 Multiuse Fore-Aft Plate with 1/4″-20 Screw (a $224.95 value), the original lens box, the front and rear lens caps, the carrying case with strap, and insured ground shipping via major courier to lower-40 US addresses only. Your item will not ship until your check clears unless other arrangements are made.
Please contact Don via e-mail or by phone at 1-970-219-4493 (Mountain time zone).
This incredibly versatile zoom lens — with its amazing .98 meter close focus — was my favorite Canon telephoto zoom lens ever. By far. It is easy to hand hold, great for tight portraits, for birds in flight, for quasi-macro stuff, and lots more. For flight, it is fabulous with an EOS R, R5, R6, or R7! This lens sells new for $2399.00 (not to mention the RRS plate) so you can save well more than $1151.00 by grabbing Don's lens right now. artie
YouTube Video: Tips and Thoughts on Using a Monopod with Big Glass
After 39 years, I finally tried using a monopod with a big lens this past July. Learn what I learned in this 6 1/2-minute video by Anke Frohlich. I talk about setting up, using, and carrying a monopod and cover lots of the positives and negatives in the video. I did forget to mention one problem when using a monopod at the beach: if you want to use the knee-pod, ankle-pod, or foot-pod techniques, you may have a hard time finding a place to put the monopod. You can order your Wimberley Monoball Gimbal head here. If you are at all interested in using a monopod, be sure to read the entire comprehensive blog post below.
My MonoPod Concerns
So why had I long been dead set against the use of monopods with big lenses for serious bird photography?
1- I've been sure that stability would be much more of an issue with a monopod than with a decent tripod and a decent head. That, in part, because when I am talking to someone, folks often ask with good reason, "Do you ever stand still?" My balance ain't so good anymore and when I try to stand still, I am always moving from side to side. I'd lead the league for sure in body-swaying index. That said, a monopod can never match the stability of a good tripod topped by a Levered-clamp FlexShooter Pro.
2- Some folks who use monopods successfully state that when they do flight photography, they shorten the monopod and lift it up with their rig. That might work with intermediate telephoto lenses, but, it would not work for me with any lens. Why? When you see a bird flying into range, you need to be ready almost instantly. I addition, the last thing I want to do is add weight to the 400 f/2.8/2X TC/a1 rig. That weighs 8 pounds, 6.8-ounces without the lens hood.
I firmly believed the above for almost 40 years. That said, I have been wrong many times in the past. For 39 years I firmly believed that the 400mm f/2.8 lenses were a bad choice for bird photography. Though I did not use it at all on Long Island, I am looking forward to using it a lot at DeSoto, at times, on a monopod.
My First Two Sessions With the MonoPod
I first set up the Robus RCM-439 4-Section Carbon Fiber Monopod, 65 with the Wimberley MonoGimbal Head early on 9 July. At first, I was pretty much lost. I could not even figure out how to carry the rig comfortably.
I put the head on the right side of the lens, figuring it would be easier to get my left hand on the lens. The monopod with the mono gimbal head weighs only 29.7 ounces — 1 pound, 13.7 ounces. If you compare that with the weight of the Robus RCC-5560 Vantage Series C 4-Section Carbon Fiber Compact Tripod that I am using now with a Levered-clamp FlexShooter Pro — 5 pounds 15.7 ounces — you will quickly learn one of the huge advantages of using a monopod.
I have been trying (and failing) to create a good Osprey-with-a-fish blur every morning for the past few weeks. I decided to see how I could do shooting flight off the monopod. That first morning, I did not have many chances. I struggled. Then, I was hanging out on the pier seeing what might fly by and just minutes after sunrise, a young Green Heron landed about sixty feet from me, 60.03937 feet to be exact. I made a few images and began to move forward. I found it much easier to approach the bird stealthily with the lightweight stick of a monopod than with one of the three-legged monsters. Holding the monopod vertically right in front of me I was able to approach to 42.847769 feet.
The light was from almost directly behind the bird, but it was so soft that I kept shooting even when it struck the upper part of the young bird's back. I was more than 90° off sun angle, a rarity for me. Working at ISO 1600 at 800mm/f/5.6, I began shooting at 1/125 sec. and ended at 1/160 second. I knew that I was pushing things. My fears were realized. I created more than 180 images and probably 80-90% of them were not sharp. But the best ones were very sharp, and those included the neatest poses (as above). Do understand that if I had been on the tripod I could not have gotten nearly as close without flushing the bird. And it was my first morning with the monopod, and I could have raised the ISO and the shutter speed significantly.
On my second morning with the monopod, also working at 800mm, there were a lot of low shutter speed Osprey opportunities, but little else to shoot. I did, however, make some huge and important discoveries. Here is what worked for me:
1- I mounted the monoball head so it was on the left side of the monopod. That simple change made things much easier. Why? See the video.
2- Be sure to balance your lens precisely (with or without a TC) in the clamp.
3- This may sound heretical to many, but once I did that, I began working with the monopod tilted about three degrees to the left. I kept the lens collar loose and used my kinesthetic sense to level the lens just as we have done for decades first with the Wimberley Head and then with the Mongoose. It took me a while to figure out why tilting the monopod was the way to go. Simply put, the center of gravity of your rig is placed right over the spot where the monopod contacts the ground.
4- For best results when using the mono-gimbal head you need a lens that rotates smoothly in the tripod collar. Many super-telephoto and telephoto zoom lenses do not rotate smoothly. With Sony, the 400 f/2.8 is a dream. The 200-600, on the other hand, is unusable on the monopod as the lens sticks badly in the tripod collar.
5- Increasing the length of the monopod so that the camera body was just above chin level, I found shooting flight to be a dream. It made it easy to frame the bird and easy to pan with it in flight. It is like handholding a big lens with an air hook.
6- The last thing that you want to do is to put a monopod (or tripod) with a heavy telephoto lens mounted on it on your shoulder. I did that for more than 25 years and lived to regret it. Ask my right shoulder about it some time. My solution for carrying a big lens mounted on this rig was to leave the tripod collar loosened, point the lens at the sky, tighten the big knob on the monoball, grab the monopod just below the lens, and rotate the lens so that the camera body is square to the ground. As seen in the video, the rig is easily carried using this method. And it works well on either side.
7- If you are set up at flight-height and need to shoot a bird on the ground, there are two options. You can lean the monopod forward or back to get lower almost instantly. If you have a moment, I believe it is better to lean the camera against your right shoulder, loosen the upper twist lock, and shorten the top leg section as needed, typical from four to six inches.
8- A word on the Robus monopods and tripods. They have the best twist locks I have ever encountered. They make it fast and easy to shorten or lengthen the monopod as needed. All the Robus gear is rugged and well made.
9- The Wimberley MonoGimbal Head is both light in weight and elegantly designed. It performs like a side-mounting gimbal head and renders big lenses practically weightless. And when properly set up, you can point the lens anywhere-anytime with ease. With the gimbal effect, you control the pitch simply by pointing the lens up or down. And you control the yaw, the side-to-side movement of the front of the lens, by panning. Like I said, anywhere, anytime.
More On Monopods
Here are some facts, "artie-facts" if you would. (Thanks, Gil.)
1- A tripod will always be more stable than a monopod.
2- When seated, using the knee-pod technique is more stable than using a shortened monopod.
3- When using a monopod to keep your lens on this or that subject for extended periods, the monopod supports the weight of your lens and camera body. Note, however, that fatigue will become a serious factor over time as it requires some effort on your part to stabilize the rig, to keep the monopod in the same spot. Lactic acid will build up, especially in your left arm. With a tripod the three legs provide the support needed to keep the lens in the exact same spot with no effort required on your part.
4- You cannot shoot at ground level with a monopod.
5- Unlike a tripod, you cannot use your monopod as a clothes horse on which to hang your vest. In the same vein, simple tasks that are easily done when working on a tripod are much more difficult to execute when working on a monopod. These tasks including adding or removing teleconverters, switching cards, or changing a battery. Why? You need to hold onto the monopod while executing a chore. You do not need to hold a tripod.
6- If you are doing flight photography at the beach with the monopod and you want to switch to the knee-pod technique, finding a good spot for the monopod can be difficult?
7- If you are close to your vehicle and waiting for action in an otherwise static situation, say at an eagle or Osprey nest, for example, choosing a monopod over a tripod is insanity.
8- Blog regular Adam posted this comment yesterday: I returned to the redtail nest the next day with a big lens and a monopod — I didn't want to drag the tripod through the overgrown field. I regretted every moment of as one of the fledglings kept making high speed passes at me; tracking the bird was problematic with the lens on the monopod. Once I went to handholding, there was no problem keeping the bird in the viewfinder.
Adam is 100% correct. If you can handhold a big lens or an intermediate telephoto lens for that matter for short periods of time, most folks will generally do a lot better handholding than working off a monopod or a tripod. But, here are the buts:
a- many folks including me are not capable of handholding a 600mm f/4 lens, even the latest greatest lightest versions, for more than a few minutes.
b- for most folks, including all mortals, handholding a big lens for extended shooting sessions is simply not possible.
9- Here is the great news. I have developed a new technique for shooting flight with big glass on a monopod. It's like handholding with the lens on a sky hook. It is much easier to shoot flight off the monopod using this method than it is when working off a tripod. At places like Jacksonville, where the flight photography is nonstop, but you want and need to be light and mobile, this new technique will be a Godsend. I used this setup and technique every morning at Jacksonville. Be sure to watch the free YouTube video that opens this post.
10- Folks who work with intermediate telephoto lenses who walk and stalk and point and shoot (can you say warblers and songbirds?) and have trouble with the weight of their rigs, may very well do much better with a monopod than with straight handholding. They too will benefit from the information in the Monopod/Monoball Video.
11- I have removed the hand strap from my Robus RCM-439 4-Section Carbon Fiber Monopod, 65 because I have no use for it and it occasionally gets in the way. On a related note, if you have a camera strap on your camera body when using any telephoto lens, ditch it fast.
12- Another slight revision: when doing pure flight, I lengthen the monopod so that the viewfinder is right at eye-level.
13- The Robus RCM-439 4-Section Carbon Fiber Monopod, 65 is 65 inches tall. It should be good for flight for folks as tall as about 6-foot 1 or 2 inches tall. The only viable option that I can find is the Gitzo GM4552L Series 4 Carbon Fiber Monopod. At nearly 75 inches tall, this one would work for flight for all but the very tallest NBA players, those over 7-foot 1 or 2 inches tall. It is, however, a Series 4 model that weighs 1.6 pounds, 1/2-pound heavier than the recommended Robus model. And it cost $300.88 more than the RCM-439 4.
Additional Monopod Comments
I forgot to mention that if you are using a ballhead atop your monopod rather than the Wimberley MonoGimbal Head you are making your life very difficult. For no reason at all.
It is obvious that you can get lower when using the toe-pod or foot-pod techniques and working off the tilted rear monitor than you can when working off a shortened monopod. In addition, I feel using the knee-pod technique is just about as stable as using the shortened monopod. At DeSoto, I will explore the possibility of using a hybrid technique: the shortened monopod/knee-pod technique. The big advantage there (if it wires!) would be that you do not have to find a parking spot for your monopod.
The Monopod Calming Effect?
One thing seems perfectly clear to me, approaching a bird is a lot easier with a monopod-mounted lens than it is with a tripod-mounted lens. Most of the Great Blue Herons that sit on the pier railings at ILE do not allow a close approach. They tend to fly off when you are a mile away. Perhaps the monopod/monoball combo has some sort of tranquilizing effect on the birds at ILE.
In My Opinion
In my opinion, purchasing a monopod stand (stabilizing base) makes no sense at all.
Summing Up
Monopods offer much less stability than tripods. On average, they weigh about 66% less than a tripod/Levered-clamp FlexShooter rig. And because they are much less cumbersome, it is easier to get close to birds with a big lens mounted on a monopod than it is with a tripod. For me, those three statements are irrefutable fact.
But from where I sit, the huge advantage of using a monopod with a Wimberley MonoGimbal Head will be for flight photography. I did great with it on my second visit to Jacksonville. On the first trip, handholding the 400mm f/2.8 for three straight shooting sessions was a huge challenge.
Thanks again to BPN-friend Joe Przybyla for urging me to try a monopod for the past two years. His efforts helped me to continue to learn and grow as a photographer and an educator.
Spoonbills at DeSoto
Over the past years, Roseate Spoonbill have been become regular visitors to Fort DeSoto Park. I know when and where to find them and can teach you to approach them successfully. Do consider joining me on a DeSoto IPT.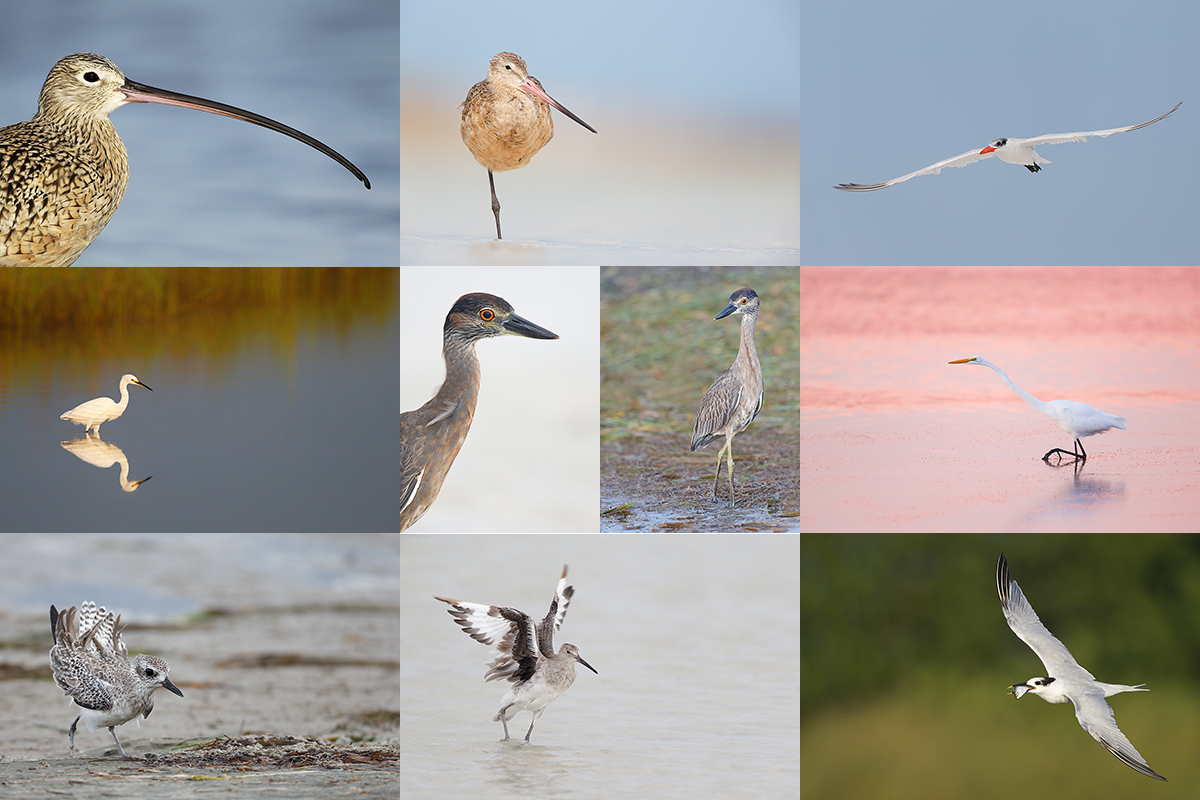 Fort DeSoto in fall is rife with tame birds. All the images on this card were created at Fort DeSoto in either late September or very early October. I hope that you can join me there this fall. Click on the composite to enjoy a larger version.
Clockwise from upper left to center: Long-billed Curlew, Marbled Godwit, Caspian Tern, Great Egret, Sandwich Tern with fish, Willet, Black-bellied Plover threat display, Snowy Egret, 2-year old Yellow-Crowned Night-Heron, juvenile Yellow-Crowned Night-Heron.
The Fall 2022 Fort DeSoto Instructional Photo-Tours
Fall 2022 Fort DeSoto Instructional Photo-Tour #1
3 1/2 Days: Tuesday 27 September through the morning session on Friday 30 September 2022. $1899.00 includes three working lunches. Limit six photographers/Openings five.
Fall 2022 Fort DeSoto Instructional Photo-Tour #2
3 1/2 Days: 7 October through the morning session on Monday 10 October 2022. $1899.00 includes three working lunches. Limit six photographers.
Fall 2022 Fort DeSoto Instructional Photo-Tour #3
3 1/2 Days: Monday 31 October through the morning session on Thursday 3 November 2022. $1899.00 includes three working lunches. Limit six photographers.
Fort DeSoto, located just south of St. Petersburg, FL, is a mecca for migrant shorebirds and terns in fall. There they join hundreds of egrets, herons, night-herons, and gulls that winter on the T-shaped peninsula. With any luck at all, we should get to photograph one of Florida's most desirable shorebird species: Marbled Godwit. Black-bellied Plover and Willet are easy, American Oystercatcher is pretty much guaranteed. Great Egret, Snowy Egret, Great Blue Heron, Tricolored Heron, and White Ibis are easy as well and we will almost surely come up with a tame Yellow-crowned Night-Heron or two. And we will get to do some Brown Pelican flight photography. In addition, Royal, Sandwich, Forster's, and Caspian Terns will likely provide us with some good flight opportunities as well. Though not guaranteed, Roseate Spoonbill and Wood Stork might well be expected. And we will be on the lookout for a migrant passerine fallout in the event of a thunderstorm or two.
On this IPT, all will learn the basics and fine points of digital exposure. Nikon and Canon folks will learn to get the right exposure every time after making a single test exposure, and SONY folks will learn to use Zebras so that they can be sure of making excellent exposures before pressing the shutter button. Everyone will learn how to approach free and wild birds without disturbing them, to understand and predict bird behavior, to identify many species of shorebirds, to spot the good situations, to choose the best perspective, to see and understand the light, and to design pleasing images by mastering your camera's AF system. Most importantly, you will surely learn to evaluate wind and sky conditions and understand how they affect bird photography. And you will learn how and why to work in Manual mode (even if you're scared of it). The best news is that you will be able to take everything you learn home with you so that you will be a better photographer wherever and whenever you photograph.
There will be a Photoshop/image review session during or after lunch (included) each full day. That will be followed by Instructor Nap Time.
These IPTs will run with only a single registrant (though that is not unlikely to happen). The best airport is Tampa (TPA). Once you register, you will receive an e-mail with Gulfport AirBnB information. If you register soon and would like to share an AirBnB with me, shoot me an e-mail. Other possibilities including taking a cab to and from the airport to our AirBnB and riding with me. This saves you both gas and the cost of a rental car.
A $600 deposit is due when you sign up and is payable by credit card. Balances must be paid by check two months before the trip. Your deposit is non-refundable unless the IPT sells out with six folks, so please check your plans carefully before committing. You can register by calling Jim or Jennifer during weekday business hours at 863-692-0906 with a credit card in hand, or by sending a check as follows: make the check out to: BIRDS AS ART and send it via US mail here: BIRDS AS ART, PO BOX 7245, Indian Lake Estates, FL 33855. You will receive a confirmation e-mail with detailed instructions, clothing, and gear advice. Please shoot me an e-mail if you plan to register or if you have any questions.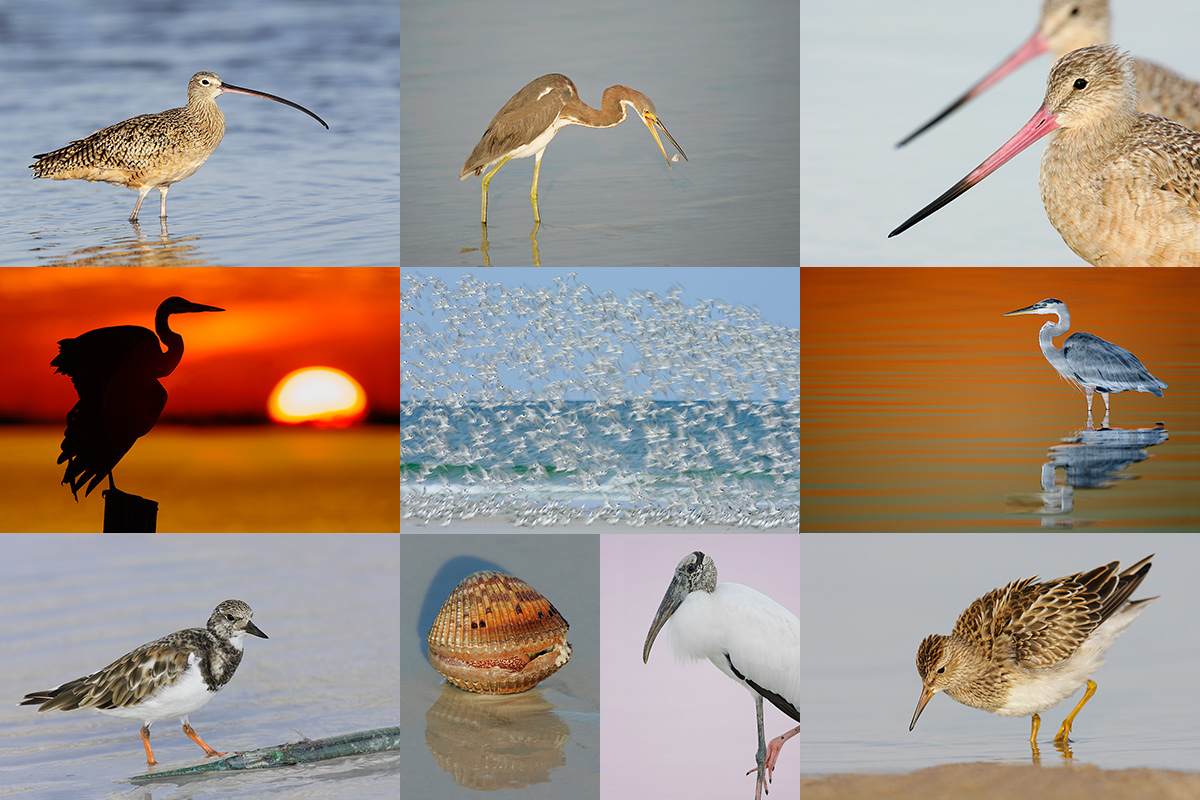 Clockwise from upper left to center: Long-billed Curlew, juvenile Tricolored Heron, Marbled Godwits, Great Blue Heron, juvenile Pectoral Sandpiper, Wood Stork, smiling Sea Scallop, Ruddy Turnstone scavenging needlefish, Great Blue Heron sunset silhouette at my secret spot, and southbound migrant tern flock blur.
Up Early, Stay Out Late!
Obviously, folks attending an IPT will be out in the field early and stay late to take advantage of the sweetest light and sunrise and sunset colors (when possible). The good news is that the days are relatively short in early fall. I really love it when I am leaving the beach on a sunny morning after a great session just as a carful or two of well-rested photographers are arriving. The length of cloudy morning sessions will often be extended. Click on the composite to enjoy a larger version.
Typos
With all blog posts, feel free to e-mail or to leave a comment regarding any typos or errors.