Canon 100-400mm EF f/4.5-5.6L IS II Zoom Lens
BAA Record-low Price!
Many multiple IPT veteran Warren Robb is offering a Canon 100-400mm EF f/4.5-5.6L IS II zoom lens in near-mint condition for a BAA record-low $1248.00. The sale includes the rear lens cap, the front lens cap, the lens case, the original product box, a digital-camo LensCoat lens cover (worn since day one), and insured ground shipping via major courier to lower-48 US addresses only.
Your item will not ship until your check clears unless other arrangements are made.
Please contact Warren via e-mail or by phone at 817-915-5820 (Central time zone).
This incredibly versatile zoom lens — with its amazing .98 meter close focus — was my favorite Canon telephoto zoom lens ever. By far. It is easy to hand hold, great for tight portraits, for birds in flight, for quasi-macro stuff, and lots more. For flight, it is fabulous with an EOS R, R5, R6, or R7! This lens sells new for $2399.00 so you can save a handsome $1151.00 by grabbing Warren's lens right now. artie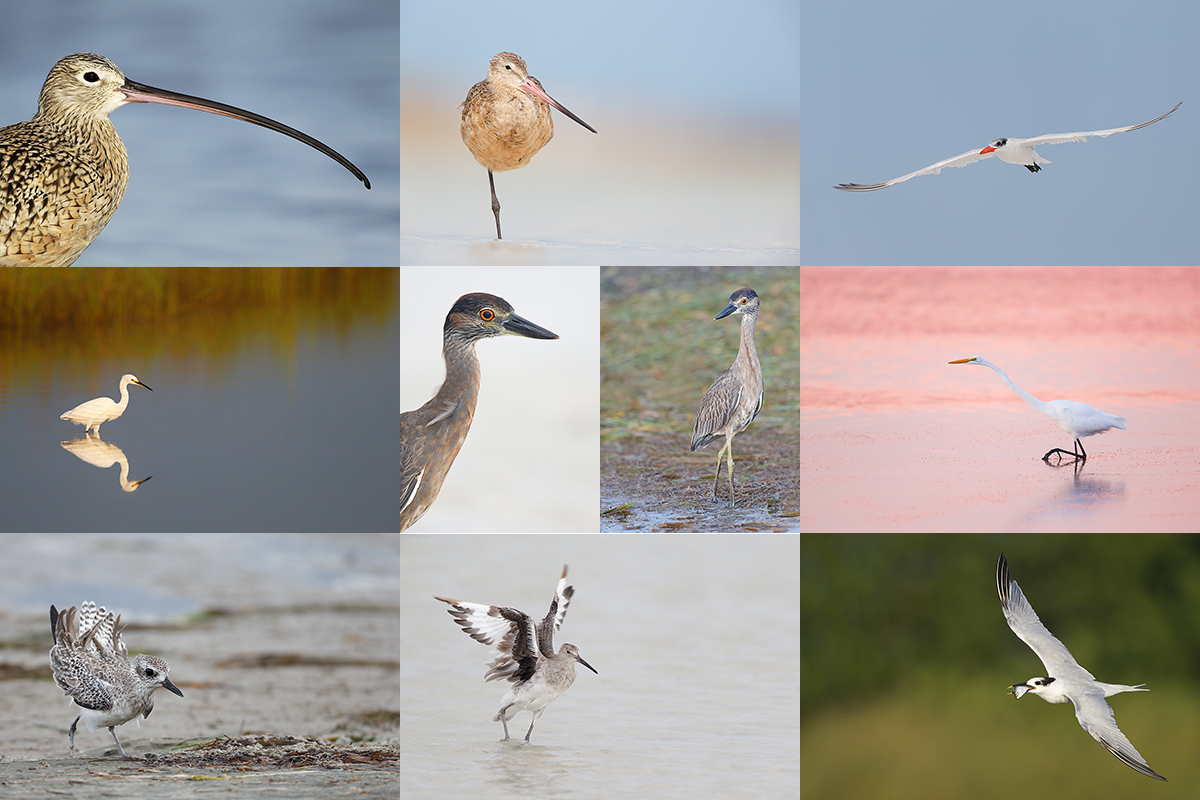 Fort DeSoto in fall is rife with tame birds. All the images on this card were created at Fort DeSoto in either late September or very early October. I hope that you can join me there this fall. Click on the composite to enjoy a larger version.
Clockwise from upper left to center: Long-billed Curlew, Marbled Godwit, Caspian Tern, Great Egret, Sandwich Tern with fish, Willet, Black-bellied Plover threat display, Snowy Egret, 2-year old Yellow-Crowned Night-Heron, juvenile Yellow-Crowned Night-Heron.
The Fall 2022 Fort DeSoto Instructional Photo-Tours
Fall 2022 Fort DeSoto Instructional Photo-Tour #1
3 1/2 Days: Tuesday 27 September through the morning session on Friday 30 September 2022. $1899.00 includes three working lunches. Limit six photographers/Openings five.
Fall 2022 Fort DeSoto Instructional Photo-Tour #2
3 1/2 Days: 7 October through the morning session on Monday 10 October 2022. $1899.00 includes three working lunches. Limit six photographers/Openings five.
Fall 2022 Fort DeSoto Instructional Photo-Tour #3
3 1/2 Days: Monday 31 October through the morning session on Thursday 3 November 2022. $1899.00 includes three working lunches. Limit six photographers/Openings: 5.
Fort DeSoto, located just south of St. Petersburg, FL, is a mecca for migrant shorebirds and terns in fall. There they join hundreds of egrets, herons, night-herons, and gulls that winter on the T-shaped peninsula. With any luck at all, we should get to photograph one of Florida's most desirable shorebird species: Marbled Godwit. Black-bellied Plover and Willet are easy, American Oystercatcher is pretty much guaranteed. Great Egret, Snowy Egret, Great Blue Heron, Tricolored Heron, and White Ibis are easy as well and we will almost surely come up with a tame Yellow-crowned Night-Heron or two. And we will get to do some Brown Pelican flight photography. In addition, Royal, Sandwich, Forster's, and Caspian Terns will likely provide us with some good flight opportunities as well. Though not guaranteed, Roseate Spoonbill and Wood Stork might well be expected. And we will be on the lookout for a migrant passerine fallout in the event of a thunderstorm or two.
On this IPT, all will learn the basics and fine points of digital exposure. Nikon and Canon folks will learn to get the right exposure every time after making a single test exposure, and SONY folks will learn to use Zebras so that they can be sure of making excellent exposures before pressing the shutter button. Everyone will learn how to approach free and wild birds without disturbing them, to understand and predict bird behavior, to identify many species of shorebirds, to spot the good situations, to choose the best perspective, to see and understand the light, and to design pleasing images by mastering your camera's AF system. Most importantly, you will surely learn to evaluate wind and sky conditions and understand how they affect bird photography. And you will learn how and why to work in Manual mode (even if you're scared of it). The best news is that you will be able to take everything you learn home with you so that you will be a better photographer wherever and whenever you photograph.
There will be a Photoshop/image review session during or after lunch (included) each full day. That will be followed by Instructor Nap Time.
These IPTs will run with only a single registrant (though that is not likely to happen). The best airport is Tampa (TPA). Once you register, you will receive an e-mail with Gulfport AirBnB information. If you register soon and would like to share an AirBnB with me, shoot me an e-mail. Other possibilities including taking a cab to and from the airport to our AirBnB and riding with me. This saves you both gas and the cost of a rental car.
A $600 deposit is due when you sign up and is payable by credit card. Balances must be paid by check two months before the trip. Your deposit is non-refundable unless the IPT sells out with six folks, so please check your plans carefully before committing. You can register by calling Jim or Jennifer during weekday business hours at 863-692-0906 with a credit card in hand, or by sending a check as follows: make the check out to: BIRDS AS ART and send it via US mail here: BIRDS AS ART, PO BOX 7245, Indian Lake Estates, FL 33855. You will receive a confirmation e-mail with detailed instructions, clothing, and gear advice. Please shoot me an e-mail if you plan to register or if you have any questions.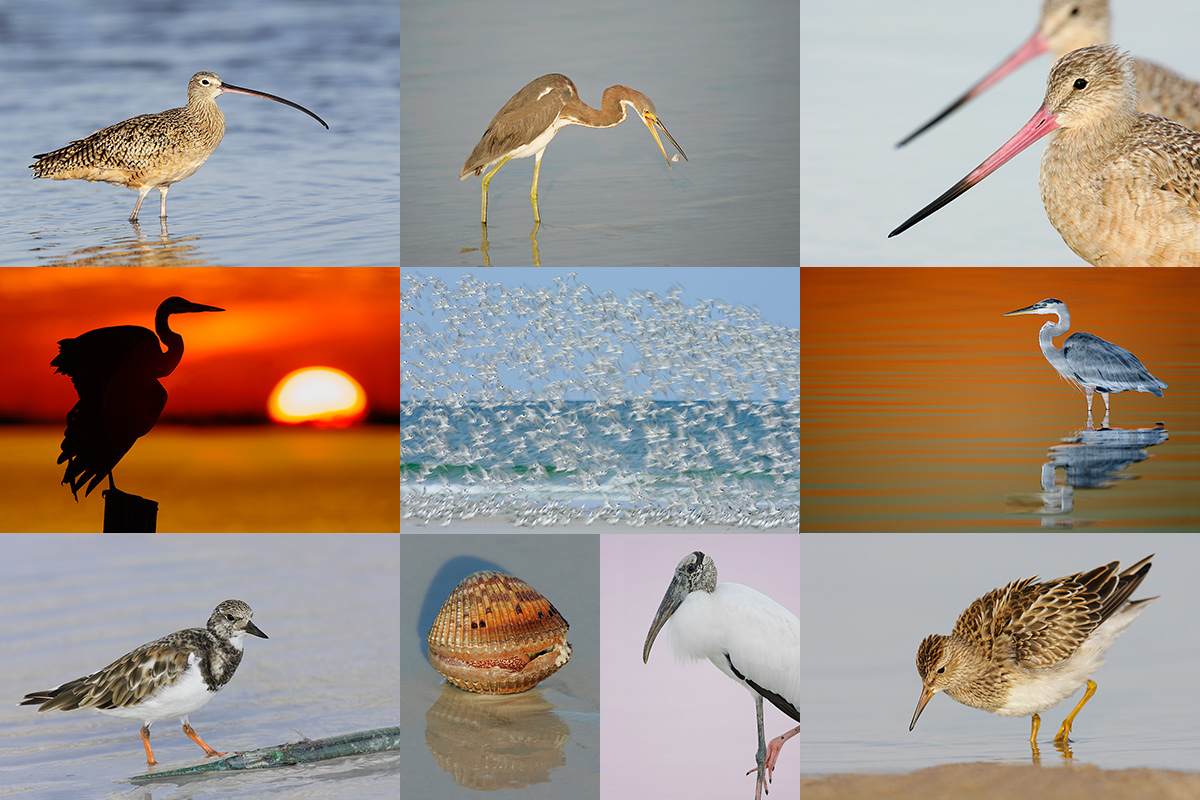 Clockwise from upper left to center: Long-billed Curlew, juvenile Tricolored Heron, Marbled Godwits, Great Blue Heron, juvenile Pectoral Sandpiper, Wood Stork, smiling Sea Scallop, Ruddy Turnstone scavenging needlefish, Great Blue Heron sunset silhouette at my secret spot, and southbound migrant tern flock blur.
Up Early, Stay Out Late!
Obviously, folks attending an IPT will be out in the field early and stay late to take advantage of the sweetest light and sunrise and sunset colors (when possible). The good news is that the days are relatively short in early fall. I really love it when I am leaving the beach on a sunny morning after a great session just as a carful or two of well-rested photographers are arriving. The length of cloudy morning sessions will often be extended. Click on the composite to enjoy a larger version.
Spoonbills at DeSoto
Over the past years, Roseate Spoonbills have become regular visitors to Fort DeSoto Park. I know when and where to find them and can teach you to approach them successfully. Do consider joining me on a DeSoto IPT.
What's Up?
I headed down to the lake in the dark on Tuesday morning and did a 2.4-mile rope flow walk. When I was done, I headed to the Vulture Trees and created 421 images and two videos, most of preening Turkey and Black Vultures. It was the first time I photographed since returning from Long Island on the first of September. I did my bursts after my nap and then an easy 1/2-mile swim. The shoulder is feeling great as I've gotten back to doing my hanging and stretching exercises every day.
I was glad to learn of the sale of Jim Miller's a7R IV and Don Selesky's Canon 100-400 II, the latter before it was even listed. And I was thrilled to learn that long-ago multiple IPT veteran Greg Hritzo and wife Jenni will be joining me on the second DeSoto IPT. And Greg is thrilled to be getting back into bird photography after 15 years of abstinence. He will be trying out a Sony A1 and a variety of super-telephoto lenses.
I am offering a late-registration discount on the first DeSoto IPT. Please e-mail for details.
Today is Wednesday 14 September 2022. Wherever you are, and whatever you are doing, I hope that you too have a great day. This blog post took about two hours to prepare and makes one hundred seventy-three days in a row with a new one.
Please remember to use the B&H and Amazon links that are found on most blog pages and to use the BIRDSASART discount code at checkout when purchasing your new gear from Bedfords to get 3% back on your credit card and enjoy free second-day air FedEx. Please, also, consider joining a BAA IPT. You will be amazed at how much you will learn!
Instagram
Follow me on Instagram here. I am trying to feature both new and old images, especially images that have not appeared recently on the blog. Or search for birds_as_art.
BIRDS AS ART Image Optimization Service (BAA IOS)
Send a PayPal for $62.00 to birdsasart@verizon.net or call Jim at 863-692-0906 and put $62.00 on your credit card. Pick one of your best images and upload the raw file using a large file sending service like Hightail or DropBox and then send me the link via e-mail. I will download and save your raw file, evaluate the exposure and sharpness, and optimize the image as if it were my own after converting the raw file in Adobe Camera Raw. Best of all, I will make a screen recording of the entire process and send you a link to the video to download, save and study.
Induro GIT 304L Price Drop
Amazingly, we have two, brand-new-in-the-box Induro GIT 304L tripods in stock. They are $699.00 each (were $799.00) and the price now includes the insured ground shipping to the lower 48 states. Weekday phone orders only: 863-692-0906. Order yours here while they last.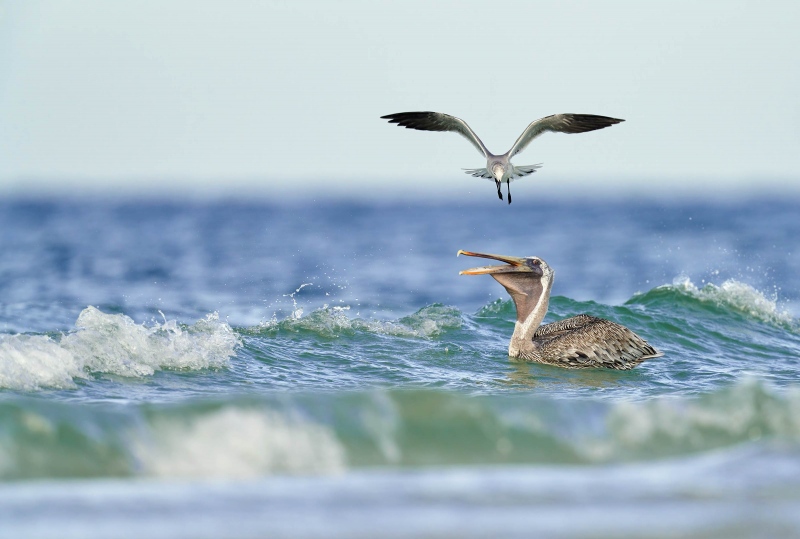 This image was created on 24 September 2020 on a Fort DeSoto IPT. Seated on damp sand I used the hand held Sony FE 600mm f/4 GM OSS lens with the Sony FE 1.4x Teleconverter, and the mega-mega-pixel a7R IV (now replaced, for me by The One, the Sony Alpha 1 Mirrorless Digital Camera.). ISO 2000. The exposure was determined by Zebras with ISO on the rear wheel: 1/1600 second at f/5.6 (wide open) in Manual mode. RawDigger showed that the exposure was perfect. AWB at 8:31:21am on a party cloudy morning.
Zone/AF-C performed perfectly. Click on the image to enjoy the high-res version.
Laughing Gull attempting to steal baitfish from Brown Pelican

Your browser does not support iFrame.
Your Opinion
All are invited to leave a comment letting us know what they like or do not like about today's featured image.
It's Always Something!
Aside from the fact that Fort DeSoto has the potential to offer great photography every day of the year, it is the great variety of avian action and flight opportunities that get me juiced up ever time that I walk onto the beach with a super-telephoto lens. As the late Gilda Radner said often in the role of Roseanne Roseannadanna on Saturday Night Live, "It's always something!" At DeSoto, it seems that there is "always something" interesting to photograph. Looking back, it is hard to believe that Radner died (of ovarian cancer) in 1989, more than five years before I lost Elaine (to breast cancer).
Kleptoparasitism
K. Nishimura, in Encyclopedia of Animal Behavior, 2010
Kleptoparasitism, literally meaning parasitism by theft, is a form of resource acquisition where one animal takes resources from another. Although kleptoparasitism of food is the best-known example, the stolen resources may be food or another resource such as nesting materials. As with theft in human society, kleptoparasitism may be stealthy or aggressive.
Guy Beauchamp, in Social Predation, 2014
In kleptoparasitism, a predator loses some or all its prey to competitors from either the same or different species (Brockmann and Barnard, 1979). Kleptoparasites obtain food without actually expending time and energy searching and capturing prey. Kleptoparasitism is a form of contest competition as it results in the loss of resources through direct interactions.
Hugh Powell, an excerpt from Winged Pirates: Kleptoparasitism As A Lifestyle
from All About Birds on TheCornellLab website. You can read the entire article here.
Next time you go out birding, watch for pirates. They may not brandish cutlasses, guzzle grog, or walk the plank, but they're out there, lounging in the leafy shade or plying the winds, just waiting to pounce on passing treasures.
Piracy, or "kleptoparasitism" to use the technical term, is quite common in the animal world, occurring in everything from mollusks to mammals and 197 species of birds (representing 33 families). The slender-winged frigatebirds of tropical seas are so adept that an entire pirate ship has become embedded in their name. Benjamin Franklin cited the Bald Eagle's habit of stealing fish as a reason not to use it as the national symbol of the United States.
The Common Raven commits larceny of all kinds, including (according to Native American legend) stealing a piece of the sun to bring light to the people of the Pacific Northwest. And gulls don't even limit their misdeeds to other birds: they nab ice cream cones from beachgoers and shoplift Doritos from convenience stores.
Doing the research for this blog post really opened my eyes. On Galapagos Photo-Cruises, the frigatebirds are constantly harassing several species of boobies to steal their prey. The chases are often spectacular. And the Brown Noddies often grab tidbits brought to the surface by predatory fish or diving Blue-footed Boobies. In San Diego, the Brand's Cormorants repeatedly and persistently steal nesting material from their neighbors, often grabbing the entire nest made of seaweed in one fell swoop. And Brown Pelicans, gulls, and cormorants often join huge feeding sprees on baitfish brought to the surface, again by predatory fish. At Jacksonville, the Laughing Gulls — often in groups, harass the terns forcing them to drop the baitfish they are carrying. The gulls are adept at grabbing the meal out of the air as it plummets down to the sand.
And at DeSoto, the Laughing gulls frequently land on the heads of fishing pelicans hoping to grab a morsel as the larger birds squeeze the water out of their bill pouches after scooping up a bill-full of small baitfish.
If you have seen any neat or different examples of kleptoparasitism, please do share by leaving a comment. Eagles after Ospreys, anyone?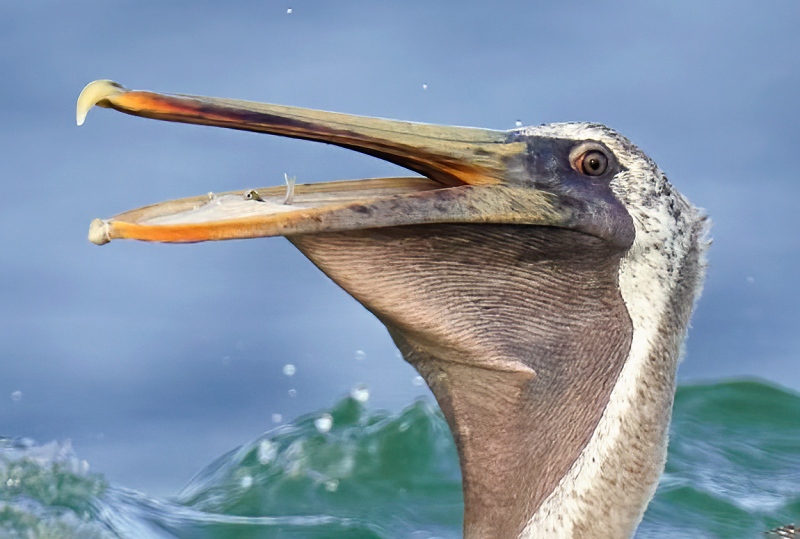 Huge crop of the Laughing Gull attempting to steal baitfish from Brown Pelican image
The Sony a7R IV was No Slouch for Bird Photography
Out of curiosity, I re-opened the optimized file for today's featured image and zoomed in to about 225% and was amazed to see a tiny wriggling baitfish in the pelican's bill pouch.
When selling multiple IPT veteran Jim Miller's a7R IV three weeks ago on the Used Gear Page, I wrote:
For the past several years you have seen the incredible detail in my a7r IV images made with a variety of SONY lenses and both teleconverters. Before the a1, I typically used my 7r IV for about 50% of my bird photography and my a9 II in pure flight situations. As the a7r IVA sells new right now for $3498.00 (and the only "improvement" over the original a7R IV is more resolution in the rear monitor), you can save a cool $1601.00 by grabbing Jim's sweet a7r IV ASAP. Though this 61-MP body is especially attractive to landscape and macro photographers, it is great for birds as well; you can pretty much crop to your heart's content. For photographing bird in flight, I do not recommend its use with the 200-600 G lens. artie
Typos
With all blog posts, feel free to e-mail or to leave a comment regarding any typos or errors.