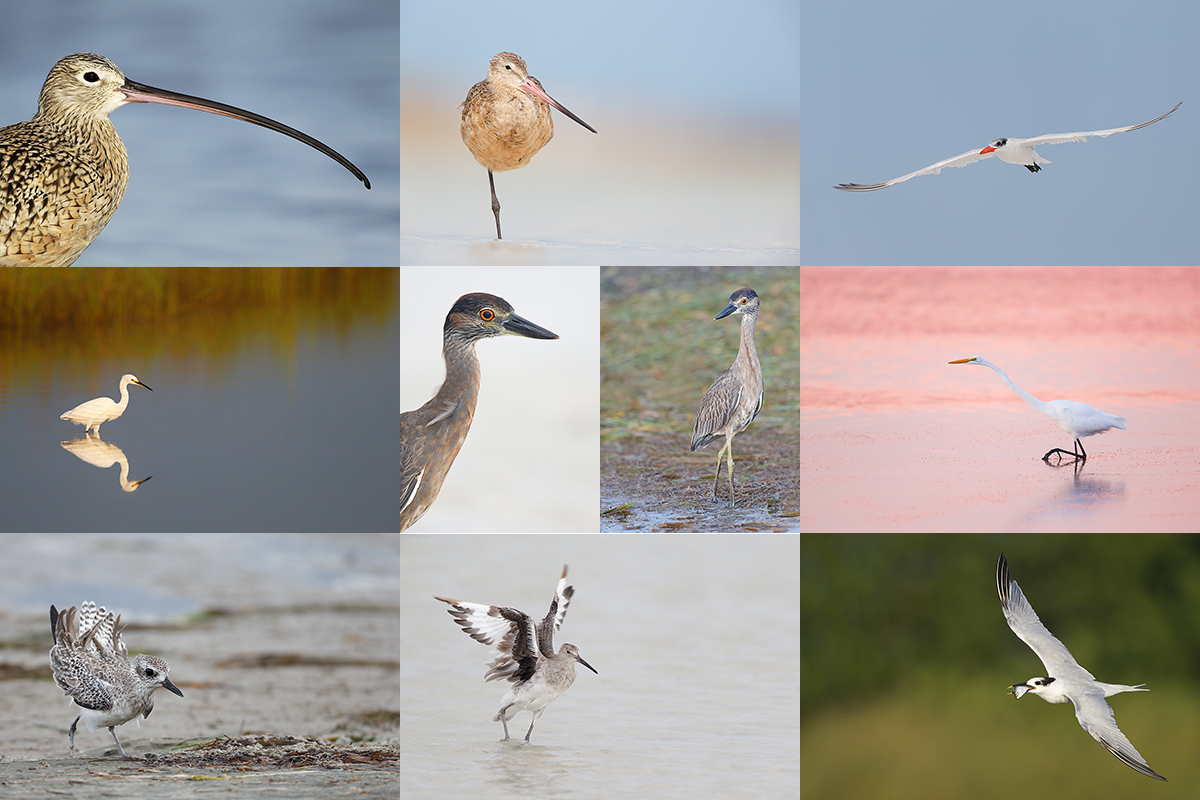 Fort DeSoto in fall is rife with tame birds. All the images on this card were created at Fort DeSoto in either late September or very early October. I hope that you can join me there this fall. Click on the composite to enjoy a larger version.
Clockwise from upper left to center: Long-billed Curlew, Marbled Godwit, Caspian Tern, Great Egret, Sandwich Tern with fish, Willet, Black-bellied Plover threat display, Snowy Egret, 2-year old Yellow-Crowned Night-Heron, juvenile Yellow-Crowned Night-Heron.
The Fall 2022 Fort DeSoto Instructional Photo-Tours
Fall 2022 Fort DeSoto Instructional Photo-Tour #1
3 1/2 Days: Tuesday 27 September through the morning session on Friday 30 September 2022. $1899.00 includes three working lunches. Limit six photographers/Openings five.
Fall 2022 Fort DeSoto Instructional Photo-Tour #2
3 1/2 Days: 7 October through the morning session on Monday 10 October 2022. $1899.00 includes three working lunches. Limit six photographers/Openings five.
Fall 2022 Fort DeSoto Instructional Photo-Tour #3
3 1/2 Days: Monday 31 October through the morning session on Thursday 3 November 2022. $1899.00 includes three working lunches. Limit six photographers/Openings: 5.
Fort DeSoto, located just south of St. Petersburg, FL, is a mecca for migrant shorebirds and terns in fall. There they join hundreds of egrets, herons, night-herons, and gulls that winter on the T-shaped peninsula. With any luck at all, we should get to photograph one of Florida's most desirable shorebird species: Marbled Godwit. Black-bellied Plover and Willet are easy, American Oystercatcher is pretty much guaranteed. Great Egret, Snowy Egret, Great Blue Heron, Tricolored Heron, and White Ibis are easy as well and we will almost surely come up with a tame Yellow-crowned Night-Heron or two. And we will get to do some Brown Pelican flight photography. In addition, Royal, Sandwich, Forster's, and Caspian Terns will likely provide us with some good flight opportunities as well. Though not guaranteed, Roseate Spoonbill and Wood Stork might well be expected. And we will be on the lookout for a migrant passerine fallout in the event of a thunderstorm or two.
On this IPT, all will learn the basics and fine points of digital exposure. Nikon and Canon folks will learn to get the right exposure every time after making a single test exposure, and SONY folks will learn to use Zebras so that they can be sure of making excellent exposures before pressing the shutter button. Everyone will learn how to approach free and wild birds without disturbing them, to understand and predict bird behavior, to identify many species of shorebirds, to spot the good situations, to choose the best perspective, to see and understand the light, and to design pleasing images by mastering your camera's AF system. Most importantly, you will surely learn to evaluate wind and sky conditions and understand how they affect bird photography. And you will learn how and why to work in Manual mode (even if you're scared of it). The best news is that you will be able to take everything you learn home with you so that you will be a better photographer wherever and whenever you photograph.
There will be a Photoshop/image review session during or after lunch (included) each full day. That will be followed by Instructor Nap Time.
These IPTs will run with only a single registrant (though that is not likely to happen). The best airport is Tampa (TPA). Once you register, you will receive an e-mail with Gulfport AirBnB information. If you register soon and would like to share an AirBnB with me, shoot me an e-mail. Other possibilities including taking a cab to and from the airport to our AirBnB and riding with me. This saves you both gas and the cost of a rental car.
A $600 deposit is due when you sign up and is payable by credit card. Balances must be paid by check two months before the trip. Your deposit is non-refundable unless the IPT sells out with six folks, so please check your plans carefully before committing. You can register by calling Jim or Jennifer during weekday business hours at 863-692-0906 with a credit card in hand, or by sending a check as follows: make the check out to: BIRDS AS ART and send it via US mail here: BIRDS AS ART, PO BOX 7245, Indian Lake Estates, FL 33855. You will receive a confirmation e-mail with detailed instructions, clothing, and gear advice. Please shoot me an e-mail if you plan to register or if you have any questions.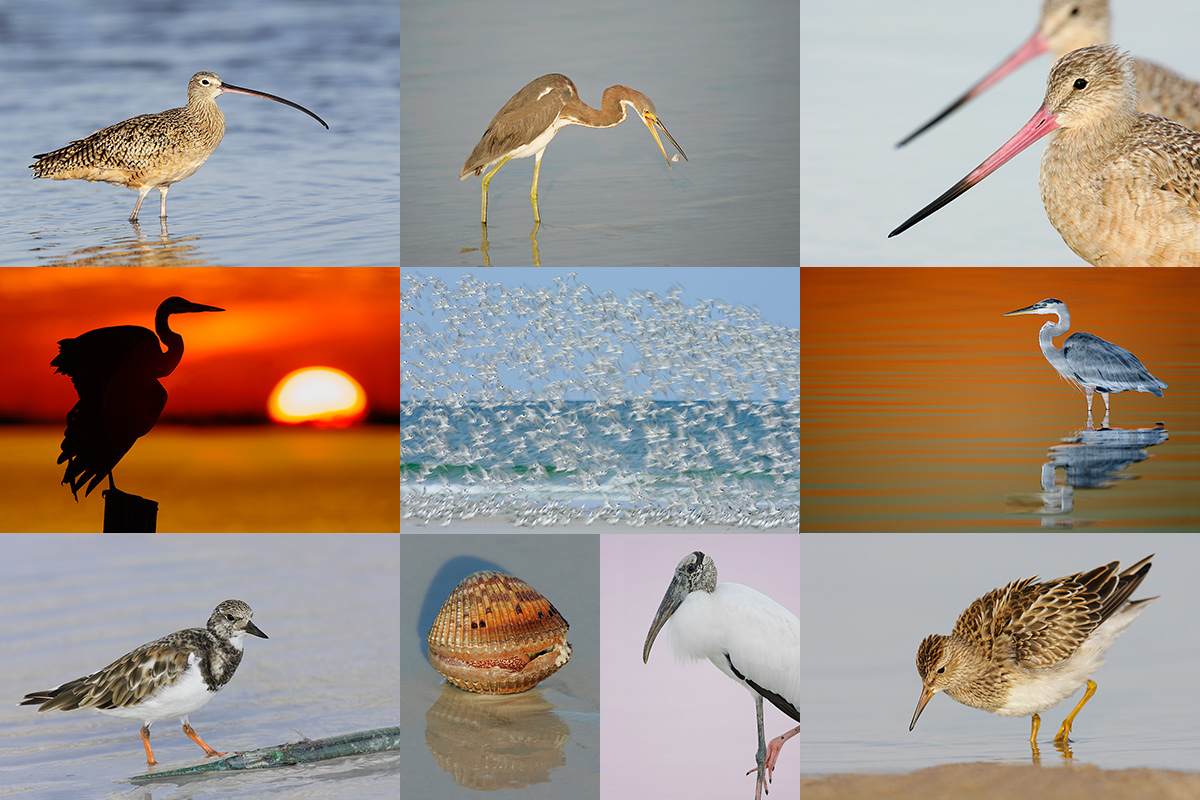 Clockwise from upper left to center: Long-billed Curlew, juvenile Tricolored Heron, Marbled Godwits, Great Blue Heron, juvenile Pectoral Sandpiper, Wood Stork, smiling Sea Scallop, Ruddy Turnstone scavenging needlefish, Great Blue Heron sunset silhouette at my secret spot, and southbound migrant tern flock blur.
Up Early, Stay Out Late!
Obviously, folks attending an IPT will be out in the field early and stay late to take advantage of the sweetest light and sunrise and sunset colors (when possible). The good news is that the days are relatively short in early fall. I really love it when I am leaving the beach on a sunny morning after a great session just as a carful or two of well-rested photographers are arriving. The length of cloudy morning sessions will often be extended. Click on the composite to enjoy a larger version.
Spoonbills at DeSoto
Over the past few years, Roseate Spoonbills have become regular visitors to Fort DeSoto Park. I know when and where to find them and can teach you to approach them successfully. Do consider joining me on a DeSoto IPT.
What's Up?
I did a 2.2-mile rope flow walk and spent a bit more time at the Vulture Trees early on Thursday morning. I got my easy 1/2-mile swim in just before the daily afternoon rains came. I got a ton of work done on my taxes and on the 2023 Galapagos Photo-cruise of a Lifetime.
I am still offering a late-registration discount on the first DeSoto IPT. Please e-mail for details.
Be sure to read about one of the top ten days in my life, below. All are welcome to share a great day in their life that comes to mind.
Today is Thursday 15 September 2022 and I have lots to do in addition to my daily rope flow walk and an afternoon swim. Wherever you are, and whatever you are doing, I hope that you too have a great day. This blog post took about 90 minutes to prepare and makes one hundred seventy-four days in a row with a new one.
Please remember to use the B&H and Amazon links that are found on most blog pages and to use the BIRDSASART discount code at checkout when purchasing your new gear from Bedfords to get 3% back on your credit card and enjoy free second-day air FedEx. Please, also, consider joining a BAA IPT. You will be amazed at how much you will learn!
Instagram
Follow me on Instagram here. I am trying to feature both new and old images, especially images that have not appeared recently on the blog. Or search for birds_as_art.
BIRDS AS ART Image Optimization Service (BAA IOS)
Send a PayPal for $62.00 to birdsasart@verizon.net or call Jim at 863-692-0906 and put $62.00 on your credit card. Pick one of your best images and upload the raw file using a large file sending service like Hightail or DropBox and then send me the link via e-mail. I will download and save your raw file, evaluate the exposure and sharpness, and optimize the image as if it were my own after converting the raw file in Adobe Camera Raw. Best of all, I will make a screen recording of the entire process and send you a link to the video to download, save and study.
Induro GIT 304L Price Drop
Amazingly, we have two, brand-new-in-the-box Induro GIT 304L tripods in stock. They are $699.00 each (were $799.00) and the price now includes the insured ground shipping to the lower 48 states. Weekday phone orders only: 863-692-0906. Order yours here while they last.
Please Remember
You can find some great photo accessories (and necessities, like surf booties!) on Amazon by clicking on the Stuff tab on the orange/yellow menu bar above. On a related note, it would be extremely helpful if blog-folks who, like me, spend too much money on Amazon, would get in the habit of clicking on the Amazon logo link on the right side of each blog post when they shop online. As you might expect, doing so will not cost you a single penny, but would be appreciated tremendously by yours truly. And doing so works seamlessly with your Amazon Prime account.
Please remember that if an item — a Delkin flash card, or a tripod head — for example, that is available from B&H and/or Bedfords, is also available in the BAA Online Store, it would be great, and greatly appreciated, if you would opt to purchase from us. We will match any price. Please remember also to use my B&H affiliate links or to earn 3% cash back at Bedfords by using the BIRDSASART discount code at checkout for your major gear purchases. Doing either often earns you free guides and/or discounts. And always earns my great appreciation.
Brand-New and As-Good-As-Ever Bedfords BAA Discount Policy
Folks who have fallen in love with Bedfords can now use the BIRDSASART coupon code at checkout to enjoy a post-purchase, 3% off-statement credit (excluding taxes and shipping charges) on orders paid with a credit card. The 3% credit will be refunded to the card you used for your purchase. Be sure, also, to check the box for free shipping to enjoy free Second Day Air Fed-Ex. This offer does not apply to purchases of Classes, Gift Cards, or to any prior purchases.

Money Saving Reminder
Many have learned that if you need a hot photo item that is out of stock at B&H and would like to enjoy getting 3% back on your credit card along with free 2nd Day Air Fed-Ex Air shipping, your best bet is to click here, place an order with Bedfords, and enter the coupon code BIRDSASART at checkout. If an item is out of stock, contact Steve Elkins via e-mail or on his cell phone at (479) 381-2592 (Central time). Be sure to mention the BIRDSASART coupon code and check the box for Free Shipping. That will automatically upgrade to free 2nd Day Air Fed-Ex. Steve has been great at getting folks the hot items that are out of stock at B&H and everywhere else. The waitlists at the big stores can be a year or longer for the hard-to-get items. Steve will surely get you your gear long before that. For the past year, he has been helping BAA Blog folks get their hands on items like the SONY a 1, the SONY 200-600 G OSS lens, the Canon EOS R5, the Canon RF 100-500mm lens, and the Nikon 500mm PF. Steve is personable, helpful, and eager to please.
Important Note
As an Amazon Associate, I earn a small percentage when you purchase from Amazon after using any of the Amazon links on the blog (including the logo-link on the right side of each blog post page). My affiliate link works fine with Amazon Prime and using it will not cost you a single cent. Huge thanks, BTW 🙂
Gear Questions and Advice
Too many folks attending BAA IPTs and dozens of photographers whom I see in the field and on BPN, are — out of ignorance — using the wrong gear, especially when it comes to tripods and more especially, tripod heads. And the same is true in spades when ordering new camera bodies or lenses. My advice will often save you some serious money and may help you avoid making a seriously bad choice. Please know that I am always glad to answer your gear questions via e-mail. If you are desperate, you can try me on my cell at 863-221-2372. Please leave a message and shoot me a text if I do not pick up.
Musings, and Clearing Up Confusions
Blinkies and Zebras Confusions
Veit — September 6, 2022 at 6:12pm
From the blog post here.
It was great re-reading pages 58-63 on Applied Exposure Theory in your book. I had forgotten most of it (OK, all). But it did pose this question: If I use zebras (or blinkies in my Fuji X-H2s) to expose to the right until I can't see zebras any longer, as taught in your RawDigger guide, I should get the best possible exposure, even although it may not be a theoretically perfect exposure. Would you agree with that?
Arthur Morris/BIRDS AS ART — September 6, 2022 at 8:11pm
Hi Veit, Thanks for the plug for The Art of Bird Photography. I believe that all serious photographers should know that stuff cold. But, well less than 1% do. First off, blinkies (highlight alerts) are not at all similar to Zebras. In addition, nothing about Zebras (or blinkies) is taught in the RawDigger guide; all that RawDigger does is to accurately evaluate the exposure or brightness of your raw files. Zebras only work if the Zebra levels on your camera is set up properly. I wish that I could help more, but you are very confused about lots of things. Where do you live? with love, artie
A Top Ten Day in My Life
Bob Eastman — September 7, 2022 at 2:50pm
At the blog post here.
Interesting video on the monopod. Thank you for your input. I have a little different setup with both pieces and learning, but often, I find myself picking up the whole works to get the shot in different flights, experimenting. The guy coming out of the crapper was funny; you handled it well when he said that he thought you were in the other room.:-) Always with love b
Arthur Morris/BIRDS AS ART — September 8, 2022 at 9:06am
Hey Bob, Thanks! When the guy walked unexpectedly out of the bathroom at Nickerson in the middle of the video, it instantly reminded me of attending a ceremony honoring NYC Impact II grant recipients more than thirty years ago. It was at the NY Historical Society. Peter Yarrow of Peter, Paul, & Mary fame, was the speaker. But he only sang. He did several old hit tunes with new lyrics that he had written to honor the folks getting the grants when a fire alarm went off. He did not miss a beat, instantly inserting several lines that dealt seamlessly with the untoward fire alarm. It was obvious that he was a very skilled, prepared professional, and that he had done this before.
In that instant when the guy walked out of the bathroom, I was brought right back to that day. Elaine was there. After honoring the grantees, he ended with a bunch of old Peter, Paul, and Mary hits. Puff the Magic Dragon was the last of those with a happy ending that was added only at live performances. Most of the crowd was my age and there was not a dry eye in the house. I found him over wine and cheese, thanked him profusely, and gave him a huge hug.
It was easily one of the top ten days of my life. Heck, top five.
with love, a
To see and listen to a comic-strip-style illustrated version that will likely make you cry, click here. "A dragon lives forever, but not so little boys …" The sound of their voices is very special.
A Common Depth of Field Misconception
Note: Ryan is a skilled and experienced photographer.
Ryan Sanderson — September 9, 2022 at 8:41am
From the blog post here.
Hi Artie, I'm not sure about your specific depth of field program, but my understanding of depth of field relative to the plane of focus is that 1/3 of the sharply focused portion of the image is in front of the plane if focus (closer to the camera) and 2/3 of it is beyond the plane of focus, not a 50/50 split as suggested in your discussion of your tern image. Ryan
Arthur Morris/BIRDS AS ART — September 9, 2022 at 9:20am
Thanks for commenting, Ryan. You are correct when it comes to shorter focal lengths, but dead wrong as far as telephoto lenses where DOF is roughly 50-50. For today's image this is pretty accurate:
Depth of field in front 0.14 m (49.58%)
Depth of field behind 0.14 m (50.42%)
And typical of DOF with long focal lengths. I am sure that this has been mentioned here before, but it never hurts to repeat the various lessons. with love, artie
On Adjusting the White Slider in Adobe Camera Raw
Glen Fox — September 10, 2022 at 3:03pm
From the blog post here.
Hi Artie, Thank you for this video. Why did you reduce the slider value by 2/3 when setting the "white point"?
Arthur Morris/BIRDS AS ART — September 10, 2022 at 4:03pm
My pleasure. If you set the slider to the spot where the OvEXP warnings begin to disappear, your whites will be at 255. It is difficult to impossible to restore the detail. For years, I reduced the white slider value by half. More recently, I began reducing it by 2/3 so that I would have less work to do restoring detail to the whites. Please note that in the video I neglected to move the Highlight Slider to the left (as I should have). with love, artie
On the Crazy Osprey Crop
James R Saxon — September 11, 2022 at 12:06pm
From the blog post here.
I prefer image #1. I would have cropped much tighter in 1a, to highlight the tail feathers and make the image more of an abstract. Have you thought about rotating the image 90 degrees CCW to make it a vertical where the bird appears diving? (Just a thought.)
Arthur Morris/BIRDS AS ART — September 11, 2022 at 5:29pm
Thanks, Jim. I played around with the crop here several times. I did not have much room to come in some more on the left while keeping the 3X2 proportion. Your first idea however is good one. If I rotated it 90° that would have either brought the head into the photo (and I did not want to have anything to do with that very poor head angle) or I would have had to cut the tail in half. Neither of those appealed to me. Not to mention that changes the orientation of an image messes with my brain.
Sometime in the mid-1980s when I was a pure beginner, VIREO (then Visual Resources for Ornithology at the Philadelphia Academy of Natural Sciences), unbeknownst to me, sold a (film) image of a preening Anhinga of mine to what was then TLBQ, The Living Bird Quarterly. They rotated it 90 degrees and used it on the front cover. That was my first cover on a nationally distributed magazine. It turned out to be the first of many. About thirty-five years ago I said to myself, "I'll stick with this hobby until I get my first cover and then go on to something else." Not.
with love, artie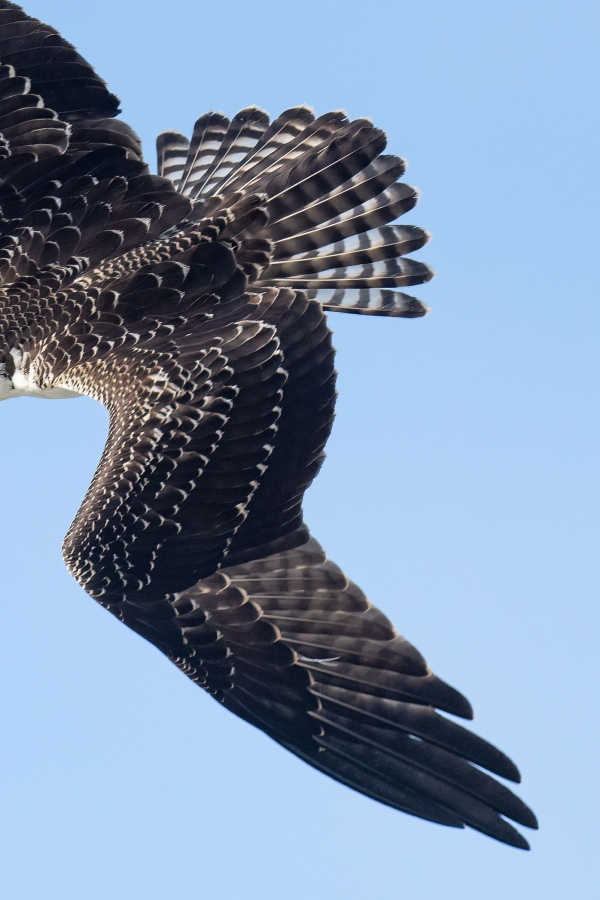 This image was created on 15 August 2022 at Nickerson Beach Park, Lido Beach, NY. While standing at full height, I used the handheld Sony FE 600mm f/4 GM OSS lens and The One, the Sony Alpha 1 Mirrorless digital camera. ISO 640. Exposure was determined via Zebras with ISO on the rear dial: 1/4000 sec. at f/4 (wide open). RawDigger showed that the raw file brightness was within 1/3-stop of being perfect. AWB at 8:19:29am on a sunny morning.
Tracking: Spot Zone/AF-C was active at the moment of exposure and performed perfectly. Be sure to click on the image to enjoy the larger version.
Image #1A: Vertical out-of-the-box crop of the Osprey — fresh juvenal plumage in flight image

Your browser does not support iFrame.
Speaking of the Crazy Osprey Crop (from the blog post mentioned above)
The few folks who commented did not like my crop, a crop that arose from the fact that the bird was looking out to sea. Simply put, the head angle was terrible. I thought that the crop was neat, creative, and effective. I am of course, a bit biased, but I still like it 🙂
Over-sharpened Eyes?
Neil Hickman — September 13, 2022 at 7:35pm
From the blog post here.
I much prefer the pose and feather detail in 1. However, I thought (that the) eye in both 1 and 2A had been over-sharpened and lightened. If I haven't explained that properly – when both images popped up, (the) detail in the eyes just appeared "too much". Also, the water under the head in 2A appeared extra sharp adding to my first impression for that image.
Arthur Morris/BIRDS AS ART — September 14, 2022 at 4:51pm
Thanks, Neil. You might be on to something. But …
With both images I selected the eye and the lores only, applied some Topaz Sharpen AI, and then reduced that layer to 75% opacity. The eyes were not lightened. And there was no sharpening below the bird's head in Image #2. So, either you have amazing eyesight, or you are imagining things. I am not sure which. Anyhoo, I will cut back to 50% next time I sharpen an eye with Sharpen AI.
with love, artie
ps: I will post #1 to BPN where there are lots of eagle-eyed folks.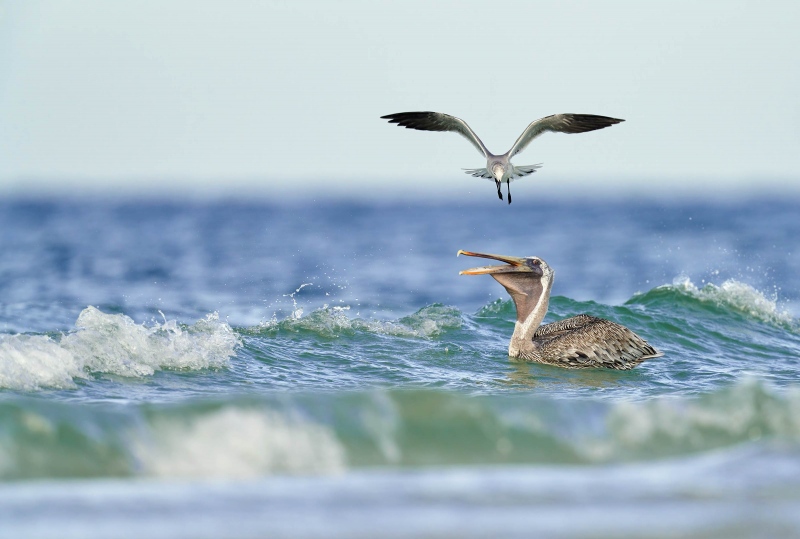 This image was created on 24 September 2020 on a Fort DeSoto IPT. Seated on damp sand I used the hand held Sony FE 600mm f/4 GM OSS lens with the Sony FE 1.4x Teleconverter, and the mega-mega-pixel a7R IV (now replaced, for me by The One, the Sony Alpha 1 Mirrorless Digital Camera.). ISO 2000. The exposure was determined by Zebras with ISO on the rear wheel: 1/1600 second at f/5.6 (wide open) in Manual mode. RawDigger showed that the exposure was perfect. AWB at 8:31:21am on a party cloudy morning.
Zone/AF-C performed perfectly. Click on the image to enjoy the high-res version.
Laughing Gull attempting to steal baitfish from Brown Pelican

Your browser does not support iFrame.
In the Blog Post Here
I posted this below the image above:
Your Opinion
All are invited to leave a comment letting us know what they like or do not like about today's featured image.
Nobody responded.
I loved the way the pelican was framed in front and behind by the two breaking waves. I loved green water in the lower third, and the blue water in the middle third. I liked that the gull was above the horizon line. I like the soft light. I like that the pelican's bill is open, and that the tiny fish could be seen. I like the gull's spread tail and the view of its underwings as it braked. My only problem with the image is with the gull's (black) bill that is merged with its (black) right leg. In a perfect world, the bill would have been centered between the two legs of the gull.
Typos
With all blog posts, feel free to e-mail or to leave a comment regarding any typos or errors.