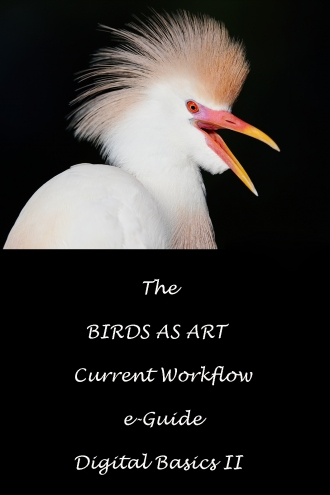 The BIRDS AS ART Current Workflow e-Guide (Digital Basics II).
You can order your copy from the BAA Online Store here, by sending a PayPal for $40 here, or by calling Jim or Jennifer weekdays at 863-692-0906 with your credit card in hand. Be sure to specify Digital Basics II.
The BIRDS AS ART Current Workflow e-Guide (Digital Basics II)
The techniques mentioned below, the basics of Quick Masking, and tons more great Photoshop tips and techniques — along with my complete digital workflow, Digital Eye Doctor Techniques, and all my personalized Keyboard Shortcuts — are covered in detail in the BIRDS AS ART Current Workflow e-Guide (Digital Basics II), an instructional PDF that is sent via e-mail. Note: folks working on a PC and/or those who do not want to miss anything Photoshop may wish to purchase the original Digital Basics along with DB II while saving $15 by clicking here to buy the DB Bundle.
Folks who learn well by following along rather than by reading can check out the complete collection of MP 4 Photoshop Tutorial Videos by clicking here. Note: most of the videos are now priced at an amazingly low $5.00 each.
You can learn how and why I converted all of my Canon digital RAW files in DPP 4 in the DPP 4 RAW Conversion Guide here. More recently, I became proficient at converting my Nikon RAW (NEF) files in Adobe Camera Raw. About three years ago I began converting my Nikon and Sony RAW files in Capture One and did that for two years. You can learn more about Capture One in the Capture One Pro 12 Simplified MP4 Video here. The next step would be to get a copy of Arash Hazeghi's "The Nikon Photographers' Guide to Phase One Capture One Pro e-Guide" in the blog post here. Today, I convert my Sony raw files in Photoshop with Adobe Camera Raw.
You can learn advanced Quick Masking and advanced Layer Masking techniques in APTATS I & II. You can save $15 by purchasing the pair.
What' Up?
Same old, same old. I started Thursday with a 2.7-mile rope flow walk, did my bursts after my nap, did my chinning bar hanging and shoulder stretching, and enjoyed a 1/2-mile swim in the afternoon. I drove by the vulture trees after my walk but returned home to get to work.
I've been meaning to mention that I've seen as many as three Spotted Sandpipers on the pier at once, had the first-of-season juvenile Laughing Gull on Tuesday, and the first-of-season Belted Kingfisher on Wednesday. And yesterday, just as I was driving up to the vulture trees, an adult Bald Eagle dove on the vultures and scattered them before flying off. It was the second time that I missed that.
I am still offering a late-registration discount on the first DeSoto IPT. See yesterday's blog post for complete details and e-mail for the discount details
Today is Friday 16 September 2022. For me, there is more of the same on tap. I am really looking forward to DeSoto #1 — I just love photographing at the beach. Wherever you are, and whatever you are doing, I hope that you too have a great day. This blog post took about 90 minutes to prepare and makes one hundred seventy-five days in a row with a new one.
Please remember to use the B&H and Amazon links that are found on most blog pages and to use the BIRDSASART discount code at checkout when purchasing your new gear from Bedfords to get 3% back on your credit card and enjoy free second-day air FedEx. Please, also, consider joining a BAA IPT. You will be amazed at how much you will learn!
Instagram
Follow me on Instagram here. I am trying to feature both new and old images, especially images that have not appeared recently on the blog. Or search for birds_as_art.
BIRDS AS ART Image Optimization Service (BAA IOS)
Send a PayPal for $62.00 to birdsasart@verizon.net or call Jim at 863-692-0906 and put $62.00 on your credit card. Pick one of your best images and upload the raw file using a large file sending service like Hightail or DropBox and then send me the link via e-mail. I will download and save your raw file, evaluate the exposure and sharpness, and optimize the image as if it were my own after converting the raw file in Adobe Camera Raw. Best of all, I will make a screen recording of the entire process and send you a link to the video to download, save and study.
Induro GIT 304L Price Drop
Amazingly, we have two, brand-new-in-the-box Induro GIT 304L tripods in stock. They are $699.00 each (were $799.00) and the price now includes the insured ground shipping to the lower 48 states. Weekday phone orders only: 863-692-0906. Order yours here while they last.
The Candelabra Vulture Tree — Hard to Resist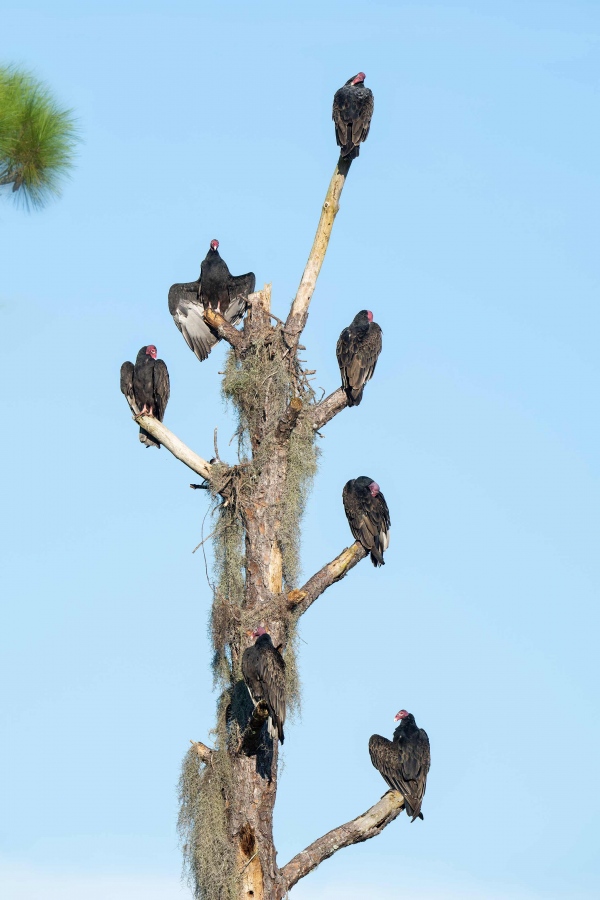 This image was created on 13 September 2022 down by the lake near my home at ILE. Standing at full height, I used the handheld Sony FE 400mm f/2.8 GM OSS lens and The One, the Sony Alpha 1 Mirrorless Digital Camera). The exposure was determined via Zebra technology with ISO on the Thumb Dial. ISO 500. 1/1000 sec. at f/7.1 (stopped down 2 2/3 stops) in Manual mode. When evaluated in RawDigger, the raw file brightness was determined to be dead-solid perfect (ho hum). AWB at 8:35:13am on mostly sunny morning.
Tracking: Spot S AF-C with Bird Face/Eye detection enabled performed to perfection. Be sure to click on the image to enjoy a high-res version.
Image #1: Turkey Vultures on the candelabra perch tree

Your browser does not support iFrame.
The Candelabra Vulture Tree
From November through early summer, bird photography at ILE is often excellent. Late summer and early fall? Not so much. The Sandhill Cranes are not doing much, and seasonal heavy rains keep me from driving on the three large fields in fear of having to call a tow truck. At the south end of the South Field, however, there are almost always Turkey and Black Vultures perched in a series of six scattered pine trees. I call them the Vulture Trees. The tree on the very left was best for years as it was well apart from the other five. It offered some clean perches with sky backgrounds and some fabulous flight photography opportunities on mornings with an easterly component to the wind. Now, there are just two prongs available as perches; the birds rarely land there anymore.
Over the past few years, most of the large branches on the rightmost tree have fallen off (seen immediately above), leaving a sort of candelabra with the vultures as candles. I can stand on Banyan Drive, keep my sneakers dry, and work with the 600 GM alone or with either TC. The birds are relatively tame and allow a fairly close approach. To do that now, I would need to wear my surf booties.
To get wide enough to create Image #1, I switched the 600 for the 400 f/2.8 and walked away from the tree onto the lawn of the nice lady that lives in the last house on the block. I am glad that I did.
Image Questions
Was I right on sun angle? How do you know?
Which bird has the worst head angle?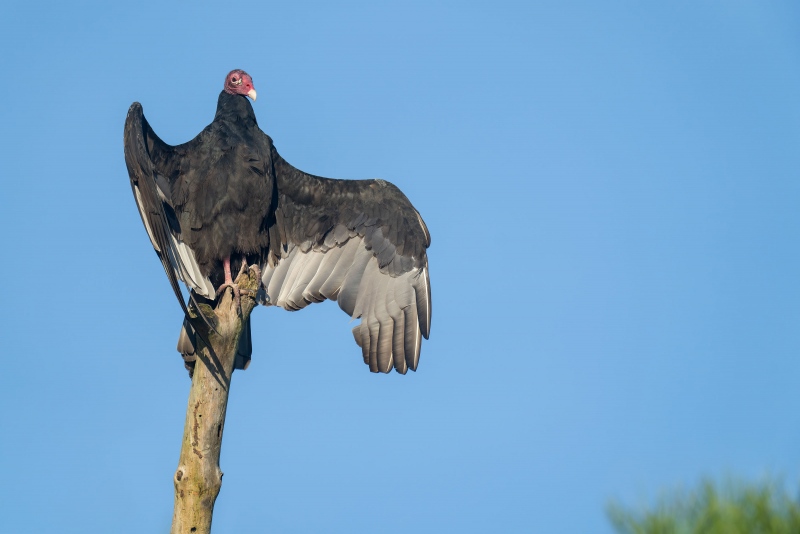 This image was also created on 13 September 2022 down by the lake near my home at ILE. Standing at full height, I used the no-longer available (except from BAA) Induro GIT 304L tripod/Levered-Clamp FlexShooter Pro-mounted Sony FE 600mm f/4 GM OSS lens with the Sony FE 1.4x Teleconverter (at 840mm), and The One, the Sony Alpha 1 Mirrorless Digital Camera.. ISO 500. The exposure was determined by Zebras with ISO on the rear wheel: 1/1600 second at f/5.6 (wide open) in Manual mode. RawDigger showed that the exposure was perfect plus. AWB at 8:19:59am on sunny morning with just a bit of haze in the air.
Tracking: Spot S/AF-C with Bird-Eye/Face Detection performed perfectly. Click on the image to enjoy the high-res version.
Image #2: Turkey Vulture — adult sunning

Your browser does not support iFrame.
The Tip-top Perch
My favorite perch is the tall, topmost branch on the candelabra tree. It offers clean sky backgrounds. The bird in Image #2 is the same bird seen on that perch in Image #1.
All are invited to leave a comment letting us know what they like or don't like about today's featured Image #1. Or not.
Moving the Green
To improve compositional balance, the pine bough in Image #1 was moved from the center of the left frame-edge to the upper left frame-edge. And, for the same reason, the pine bough in Image #2 was moved from the lower left corner to the lower right corner. I moved the green boughs and covered them in their original position using Quick Masks. I applied a Gaussian Blur to the green in Image #1. In Image #2, it was pleasingly out of focus in the original frame.
Typos
With all blog posts, feel free to e-mail or to leave a comment regarding any typos or errors.