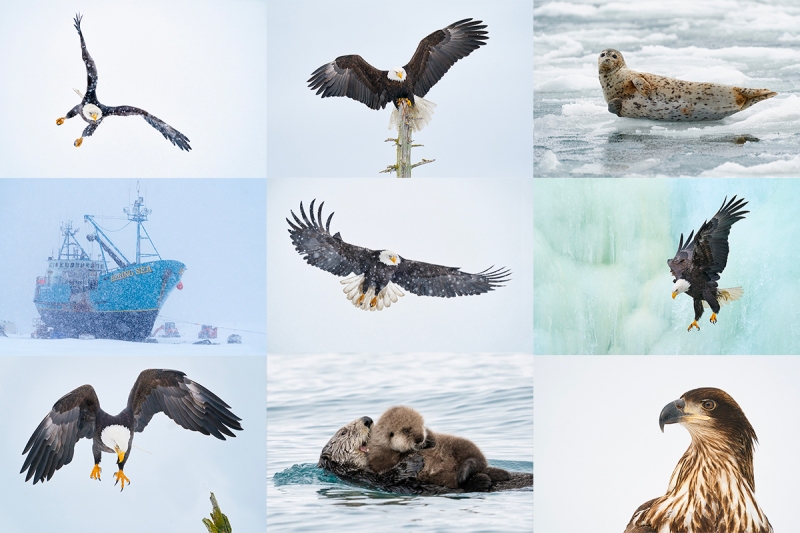 All images from Homer or Kachemak Bay, AK
2023 Homer/Kachemak Bay Bald Eagle IPTs
IPT #1: MON 20 FEB 2023 through the full day on FRI 24 FEB 2023. Five full days/20 hours on the boat: $5500.00. Limit 5 photographers/Openings: 3.

IPT #2: SAT 25 FEB 2023 through the full day on THURS 2 MAR 2023. Six full days/24 hours on the boat: $6600.00. Limit 5 photographers/Openings: 3.

IPT #3: FRI 3 MAR 2023 through the full day on TUES 7 MAR 2023. Five full days/20 hours on the boat: $5500.00. Limit 5 photographers. Openings: 3.

Save $1,000.00 by doing back-to-back trips.
These trips feature non-stop flight photography as well as many opportunities to create both environmental and point-blank portraits of one of North America's most sought-after avian subjects: Bald Eagle (Haliaeetus leucocephalus). Other reliable subjects will include Sea Otter, Glaucous-winged and Short-billed (formerly Mew) Gulls.
In addition, we should see Common Murre, Black Guillemot, Pelagic Cormorant, two or three species of loons, and a smattering of ducks including two species of merganser, all three scoters, Common and Barrow's Goldeneyes, Bufflehead, Harlequin, and Long-tailed Ducks. Close-range photographic chances for these species will require a ton of good luck. Some of these species, especially when in flocks, can, however, often be used effectively when creating bird-scapes.
If we need to be out early, we will be the first boat out. If conditions are great, we will stay out. And when there is a chance for sunset silhouettes, we will stay out and be in the right spot.
We will be traveling through gorgeous wilderness country; landscape and scenic opportunities abound.
Also featured is a professional leader, often referred to as the world's most knowledgeable bird photography trip leader, who is conversant in Canon, Nikon, and Sony.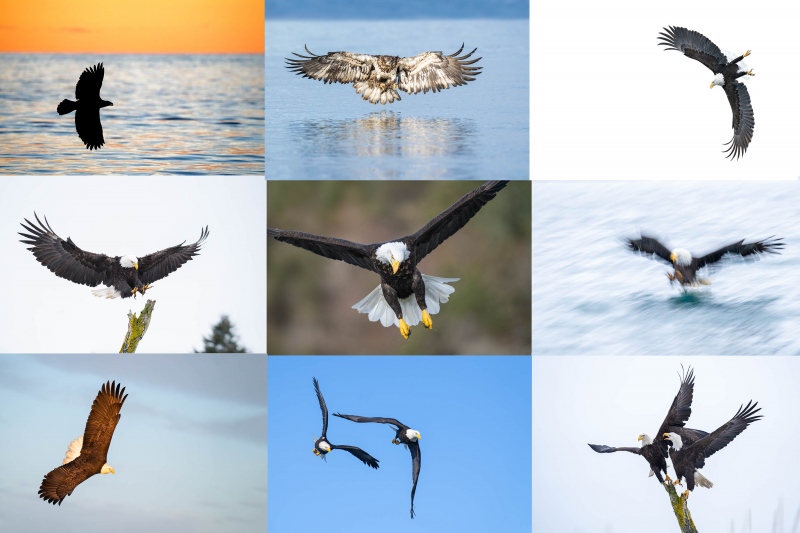 All images from Kachemak Bay in 2022!
What You Will Learn
You will learn practical and creative solutions to everyday photographic problems. You will learn to see the shot, to create dynamic images by fine-tuning your compositions, to best utilize your camera's AF system, and how to analyze the wind, the sky conditions, and the direction and quality of the light. This is one of the very few trips Homer trips available where you will not be simply put on the birds and told to have fun. You will learn to be a better photographer. But only if that is what you want.
You will learn to get the right exposure when it is sunny, when it cloudy-bright, when it is cloudy, when it is cloudy-dark, or when it is foggy. Not to mention getting the right exposure when creating silhouettes.
You will learn to make pleasing blurs working in manual mode and to create silhouettes working in Shutter Priority mode.
Most importantly you will learn to pick your best flight images from tens of thousands of images.
You will enjoy working with the two best and most creative boat captains on their sturdy, photography-spacious, seaworthy, open-deck crafts.
The second and third IPTs are the only Bald Eagle workshops that feature an incredibly helpful first mate.
Only five photographers (not the usual six), plus the leader.
Small group Photoshop, Image Review, and Image Critiquing sessions.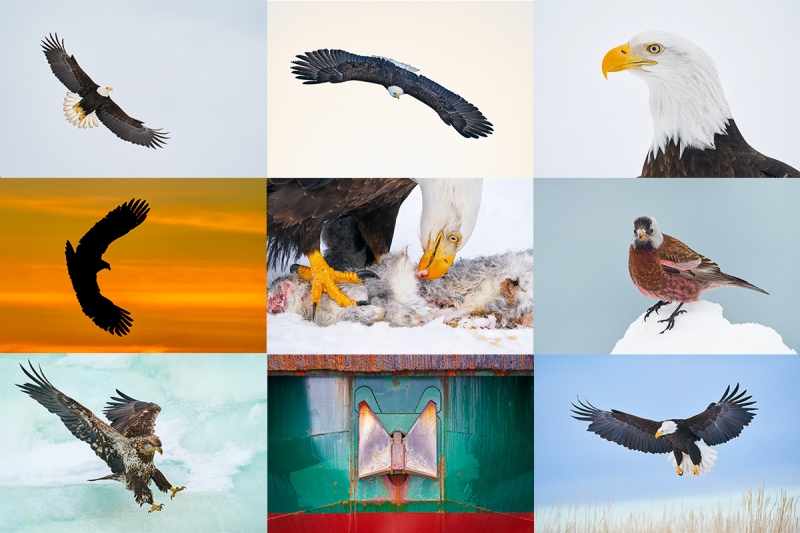 All images from Homer or Kachemak Bay, AK
What's Included
One four hour or two two-hour boat trips every day (weather permitting), all boat fees and boat-related expenses (excluding tips), ground transportation to and from the dock and back to the hotel each day, in-the-field instruction and guidance, pre-trip gear advice, small group post-processing and image review sessions, and a thank you dinner for all well-behaved participants.
What's Not Included
Your airfare to and from Homer, AK (via Anchorage), the cost of your room at Land's End Resort, all personal items, all meals and beverages, and tips for the boat captain and/or the first mate.
Please Note
On great days, the group may wish to photograph for more than four hours. If the total time on the boat exceeds 20 hours for the five-day trips, or 24 hours for the second trip, the group will share the additional expense at a rate of $225/hour.
Some folks may wish to rent their own vehicle to take advantage of local photographic opportunities around Homer.
Deposit Information
A $3000 non-refundable deposit/trip is required. You may pay your deposit with credit card or by personal check (made out to BIRDS AS ART) and sent via US mail only to Arthur Morris. PO Box 7245. Indian Lake Estates, FL 33855. Your balance, due 90 days before the date of departure, is payable only by check as above.
In Closing
I have been going to Homer off and on for close to two decades. Every trip has been nothing short of fantastic. Many folks go in mid-March. The earlier you go, the better the chances for snow. The only way to assure that you are on the best of the three trips is to sign up for all of them. Can you keep up with me? If you have any questions, or are good to go for one, two, or all three trips, please let me know via e-mail or give me a call on my cell phone at 863-221-2372.
What's Up?
Same old same old as for my daily regimen, but for the fact that the late afternoon swim was cut well short by yet more thunder and lightning. I did a bit of photography in the morning while taking a walk with the 400mm f/2.8 and the monopod.
Today is Tuesday 20 September 2022 and I need to get down to the lake soon. Wherever you are, and whatever you are doing, I hope that you too have a great day. This blog post about an hour to prepare and makes one hundred seventy-nine days in a row with a new one.
Please remember to use the B&H and Amazon links that are found on most blog pages and to use the BIRDSASART discount code at checkout when purchasing your new gear from Bedfords to get 3% back on your credit card and enjoy free second-day air FedEx. Please, also, consider joining a BAA IPT. You will be amazed at how much you will learn!
Bon Voyage to Clemens!
Long-ago student and long-time friend Clemens Van der Werf, wife Adri, and Toby and Jake, their two beloved golden retrievers, came by for a pool deck dinner. Clemens recently sold his home in Fort Lauderdale, FL, and his flats boat. The family (including the two dogs, in very large crates), is flying to Frankfurt, Germany in three days and then driving to the Netherlands. They are renting a home for a month with an option to extend if need be. Clemens is looking good for his dream job. If that works out, they will be buying a home near his new place of employment.
When Clemens began taking IPTs, he had no interest in photographing birds or wildlife; he only wanted to learn to photograph his beloved Golden Retrievers and American's Cup class sailing yachts. A fellow Canon Explorer of Light recommended that he take a course or two with me. You can read the whole story here, but the photos are no longer available). As they say, the rest is history; Clemens quickly developed into a world-class nature photographer. His work has been featured many times here on the blog. Type "Clemens" into the little white search box and ten pages of links will pop up. Here are two:
The Success of the Student Often Puts a Proud and Envious Smile on the Face of the Teacher
So, What is Clemens Van der Werf Doing Now?
Over the past two decades, we have done a ton of photography together. I wish him good luck with the move, and with his new and exciting endeavors.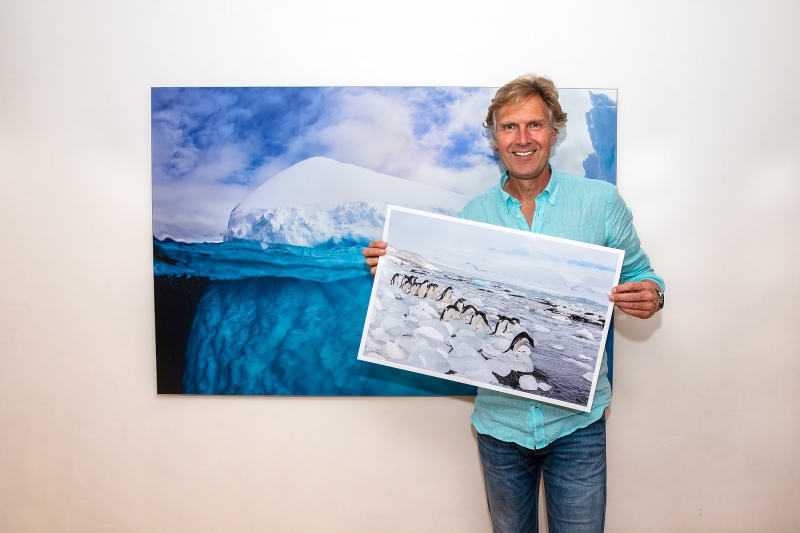 The image that Clemens is holding was created on 19 December 2013 at Brown Bluff, Antarctica. Clemens used a handheld Sigma 50-500mm lens with the Canon EOS-1D X. ISO 400: 1/800 sec. at f/13.AWB at 11:55am on blessedly cloudy day.
Clemens' Online Virtual Print Gallery
Image courtesy of and copyright 2014: Clemens Van der Werf Photography
Clemens Online Virtual Print Gallery
Mazel tov to Clemens on the move, and on continued success with his online virtual print gallery at Shop.clemensvanderwerf.com.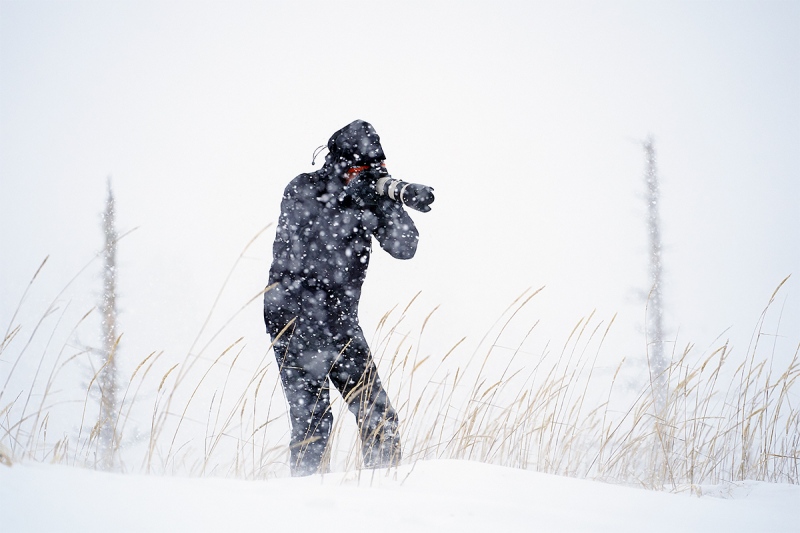 This image was created at Kachemak Bay, AK on 25 FEB 2020. I used the handheld Sony FE 70-200mm f/2.8 GM OSS lens (at 200mm) with the blazingly fast AF King, the Sony Alpha a9 II Mirrorless Digital camera body) that features incredibly accurate AF. ISO 1600. Exposure determined via Zebras on the rear wheel: 1/1600 sec. at f/3.2. AWB at 11:45am in a snowstorm.
Image copyright 2020: Arthur Morris/BIRDS AS ART.
Clemens Van der Werf at Homer in a blizzard — the man in black!

Your browser does not support iFrame.
Clemens in Action at Kachemak Bay, Homer, AK
Pray for snow in Homer as it offers spectacular photographic opportunities (as you can see below).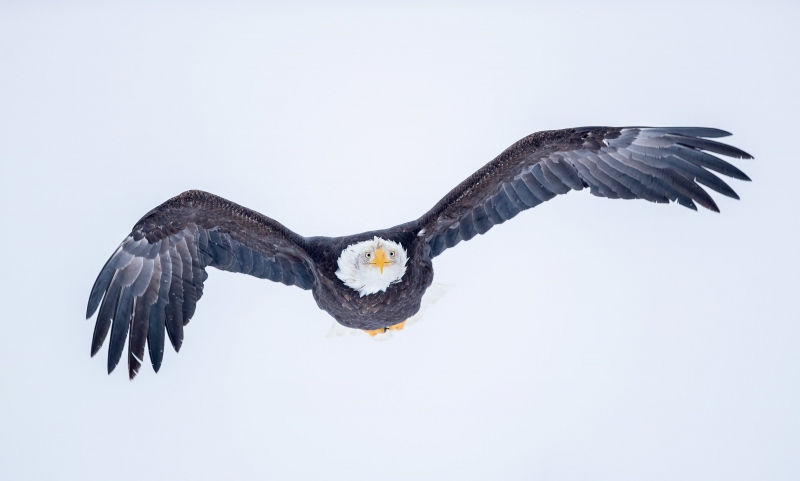 This image was also created at Kachemak Bay, AK on 21 February 2020. Again, I used the handheld Canon EF 300mm f/2.8 L IS II lens and the EOS-1D X Mark II. ISO 800: 1/2000 sec at f/3.2. As the image was created before I had begun working with RawDigger, the evaluation by this great app this morning showed that the raw file is more than 1/3 stop too dark. AWB at 11:37:53am on a cloudy morning.
Image #1: Adult Bald Eagle in flight — in your face
I Have No Clue
Because I had been shooting with Nikon and Sony at one time in about 2019, I have no clue as to how I wound up shooting with Canon on one of the 2020 Homer IPTs. I do, however, remember that Clemens loaned me his 300mm f/2.8L IS lens. I am not sure if the 1DX II was his or mine.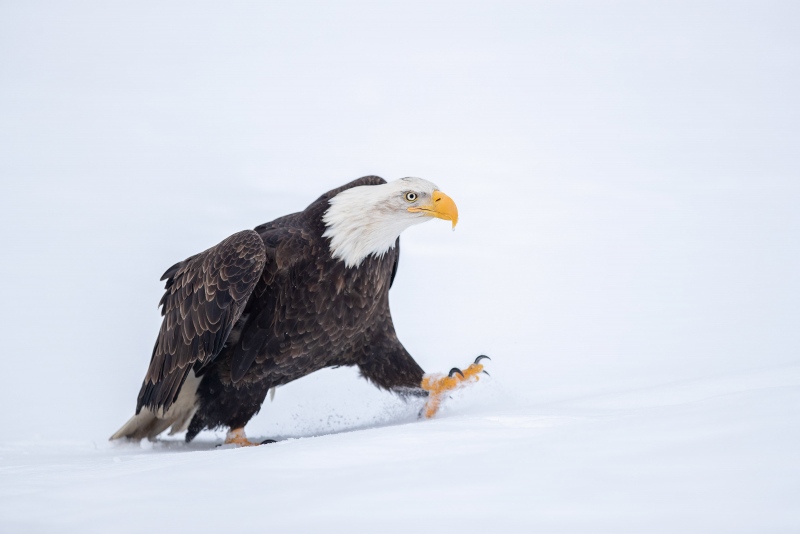 This image was created at Kachemak Bay, AK on 21 February 2020. I used the handheld Canon EF 300mm f/2.8 L IS II lens and the EOS-1D X Mark II. ISO 640: 1/3200 sec at f/3.2. As the image was created before I had begun working with RawDigger, the evaluation by this great app this morning showed that the raw file is more than one full stop too dark. AWB at 1:21:06pm on a cloudy afternoon.
Image #2: Adult Bald Eagle walking on fresh snow
Snow is the Bomb!
Blizzards, fresh snow on the ground, large snowflakes, and even snow squalls are more than welcome on the Homer Bald Eagle IPTs. Last year we had only a single snow squall, so we are overdue for more than a few snowfalls this year. Do consider joining me.
The Stronger Image?
Which of today's featured Bald Eagle images do you like best? All are invited to leave a comment and let us know why they made their choice. Or not. Life is about choices.
Typos
With all blog posts, feel free to e-mail or to leave a comment regarding any typos or errors.